We're starting today off with a beautiful, intimate rustic pink and red wedding from Amanda McMahon Photography! I think my favorite part of this wedding is that the bride and groom took time out of their wedding day to have a little "picnic" after their ceremony! But of course the rustic details and a beautiful location definitely are a plus too! The bride, Marissa, is here to share some of her insight with us today too, so be on the lookout for her tips!
What (or who) helped you most in your planning process and/or on your wedding day?
My planning process was driven by utilizing the talents and resources of friends and family and local vendors whenever possible.  I did most of the planning myself.
What was the most important thing to you when deciding who to work with for your wedding?
The most important thing to me when deciding who to work with for my wedding was that they understood my vision.  Sometimes, a vendor is simply the wrong fit, so no matter how many times or ways you try to get on the same page, you might never get there… that's when it's time to choose another option.  Choosing people and vendors that you already have a relationship with is ideal.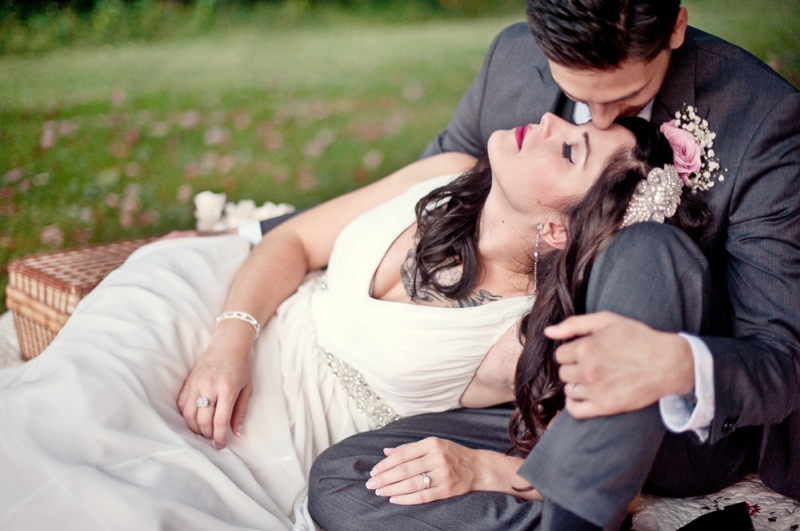 What was your favorite thing about your wedding?
My favorite thing about my wedding is that it so represented Josh and I as a couple, and our personal style.  We didn't "break the bank" but we didn't feel short-changed by any means.  We managed to choose vendors who were reasonably priced, but still delivered on our vision.  We also nixed usual wedding formalities like the bouquet/garter toss and seating arrangements.  My favorite moment was when Josh and I took a few minutes between the ceremony and reception, to have a quick picnic.  It was such a great time because we got to relax and be alone before returning to the party.
What was your inspiration for your wedding details and/or design?
My inspiration was the venue.  It's a lodge, so we used a lot of natural textures, colors and objects to let the natural beauty of the venue and surrounding park speak for itself.  I think its important to chose a venue that matches your vision in its current state.  This way, you are only responsible for enhancing that beauty and atmosphere.
What is your best piece of advice for other brides?
My best piece of advice for other brides is to utilize the talents of those close to you and to think outside of the box.  For example, picking up my grandmother for lunch one day, I noticed her neighbor was cutting down a tree in his yard.  I asked my grandmother to ask this neighbor if he wouldn't mind slicing some pieces of the wood to use in our center pieces!  Free and absolutely beautiful.  Inspiration can come from anywhere, so keep your eyes open for unique and budget-friendly options.
I love Marissa's advice! And I love that she and her husband had a little picnic after their ceremony- it's such a great idea to have a few minutes alone and to get away from the hustle and bustle of the day!
So are any of you planning on "getting away" for a few minutes after your ceremony? What's your plan?
Vendors who made it all happen…
The following two tabs change content below.
Lauren Grove is the editor and owner of Every Last Detail. A clueless bride-turned-wedding planner, Lauren uses her experiences and knowledge to educate and inspire brides all over the world.