An aqua and gray wedding will never cease to be a favorite of mine. This rustic eclectic wedding planned by DPNAK Weddings and photographed by Michael Pangilinan Photography is filled with rustic elements, eclectic style, and some fabulous details! Handcrafted coasters, wooden-slit place-card holders, and intricately woven table numbers are just a few of the details that were handmade with love. And not only are there amazing details, but this whole day is absolutely overflowing with love! The bride, Susan, is here to share more as you view it all for yourself…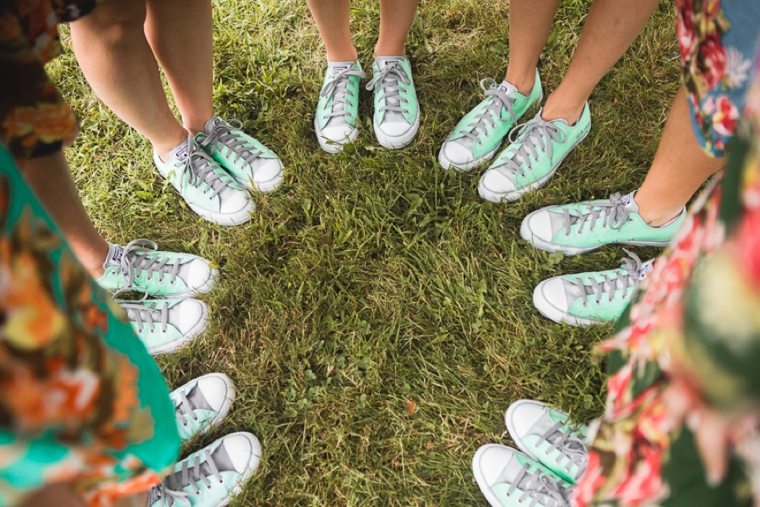 What (or who) helped you most in your planning process and/or on your wedding day?
Danielle Pasternak of DPNAK Weddings. Goodness. We couldn't have pulled off the seamlessness of it all without her uber-awesome, direct, and inspirational strategic tinkering. Throughout the planning process she would send monthly "to-dos" that really helped keep us on track for what needed to be done at what time. She was always available for questions, motivation, a laugh, a sanity-check, and suggestions. She was the puppet master the "day of" – knowing the ins and outs of absolutely everyone involved in making the day fabulous. 
(About the above image, from the photographer: "One of my favorite moments of the day was before all the feet hit the dance floor, before the dinner was served, and before any guests were even present. Susan and Sam were two incredibly talented souls. When deciding how they would do their First Look, they had some ideas but Susan kept a little secret from Sam. She had been practicing and perfecting a song for him on her acoustic guitar. We decided, without Sam knowing, that we'd place Susan behind the closed barn doors, place Sam on the other side of the doors, telling him to wait there. As we opened the doors, Susan began singing and serenading her husband-to-be as he sat on the other side. It was one of the most touching moments I've ever had the chance to document. As they finally faced one another at the end of the song, their love just poured out.")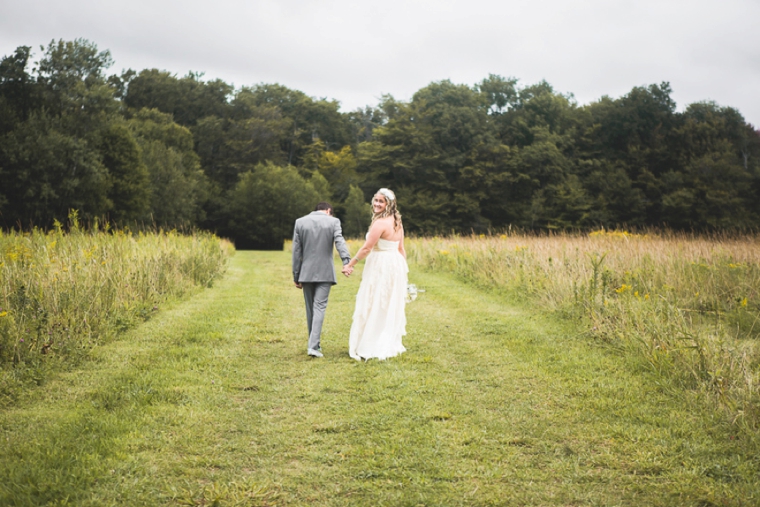 What was the most important thing to you when deciding who to work with for your wedding?
Because our venue was hours from home, we didn't know any "locals".  After developing trust in our photographer, Michael Pangilinan, and the venue owners, Pam and Craig Benson, we asked for recommendations from them. The most important thing was hearing from those we trusted for suggestions. Amazing ones, they were. This is how we found DPNAK Weddings, Epicurean Delight, and Jim and Kim's Catering.
What was your inspiration for your wedding details and/or design?
Hand-making the bridal party invites inspired the overall "vibe". I used slices of branches, moss, and ink stamps. Everyone said "yes" to the "will you be my…" trinkets so I figured we'd try to stick to it.  A lot of "design" really came from the natural rustic setup at Fiddle Lake Farm and RSG Event Design's implementation that made my dreamed vision come to life. 
What was your favorite thing about your wedding?
Hands down, my favorite part was finally bringing together both of our families and friends from near and far to celebrate our love for each other and those that taught us how to love. <3
What is your best piece of advice for other brides?
If you find yourself or your "hubby-to-be" overwhelmed by a variety of forces, remind each other that this planning phase is only temporary, and this is why you are only doing this thing (getting married) once. So, take the time to inhale and exhale and find perspective about what's important to you, because everything will turn out perfectly (you both will be married by the end of it all- and that's the entire point of this intricate shin-dig). 
Susan's advice is spot-on! I love her recommendation to know what's important to you- because that is the most important part about the celebration of your love!
Susan and Sam's wedding was filled with meaningful details. Do you have any particular details that you're planning on incorporating into your wedding that are especially meaningful to you?
Vendors who made it all happen…
The following two tabs change content below.
Lauren Grove is the editor and owner of Every Last Detail. A clueless bride-turned-wedding planner, Lauren uses her experiences and knowledge to educate and inspire brides all over the world.