I have some wonderful insight from Jamie of Cape Cod Celebrations for you today! You may have heard about "unplugged ceremonies"- a ceremony in which couples ask their guests to put away their cell phones and cameras so they can be fully present at the ceremony. Well, Jamie recently did one of these, and she's here to share some tips with us on how to have an "unplugged" wedding ceremony!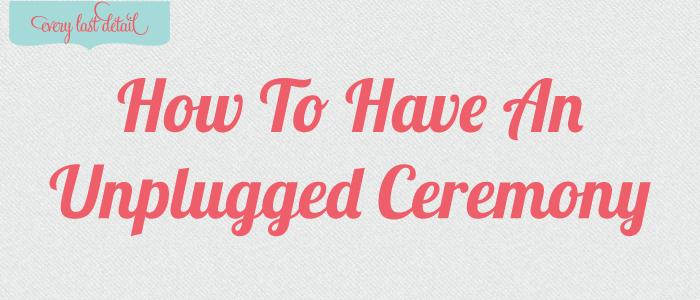 I had the pleasure of working a recent wedding in which the couple had a new type of wedding ceremony called the "Unplugged Ceremony". Basically, the couple formally asked their guests to put away their cell phones and cameras during the ceremony so that everyone could be "in the moment" with the couple as they shared their vows and exchange their rings. Professional photos can be- and have been- ruined by guests standing in the way or having their camera flashes go off at inopportune times. Not to mention that most couples have probably spent a pretty penny on their professional photographer, who will surely be getting fabulous shots throughout the ceremony.
Mallory and Matt's photographer, Leah Haydock, was their inspiration for this ceremony, as Leah shared a bit about having an unplugged wedding on her blog shortly before their wedding. If you take a look at it, you will see some of the photos she shares and how insane it can be! Even if you do a quick search for it on Google, you will see how popular this idea has become! When you think about the last time you were at a ceremony, did you have your camera at the ready for photos, or were you giving 100% of your attention to the ceremony?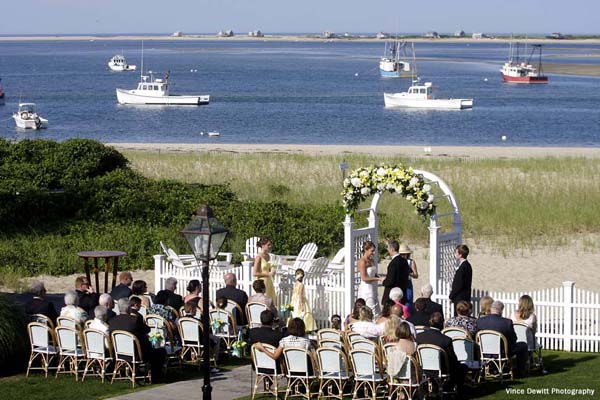 Photo via
Now an unplugged ceremony is not for everyone – but I have to say, I was definitely into it. I mean, let's face it- the ceremony is the real reason why you are having the party, so why not just chill for those 20-40 minutes, be in the moment and save the photos for the crazy fun night you are about to have!
After running an unplugged ceremony, I came up with a list of suggestions for how you can facilitate your own.
1. Include it on your wedding website
It doesn't hurt to give your guests advanced notice – so include it on the ceremony page of your wedding website. It is even better if they can read a bit more about the idea on your website first by including links to blog posts (like this one!).
2. Include it in your welcome basket note
If you are planning to do welcome baskets with a timeline for guests, you might as well include it when you mention the ceremony. "Leave your cameras at home and join us as we say I DO" – or something like that.
3. Have a sign posted
As guests arrive, have a super cute sign made to post outside of the church or at the beginning of your aisle. Make sure your ushers point it out to guests as well. (From Lauren: This is a perfect opportunity to infuse some of your wedding's style into your ceremony!)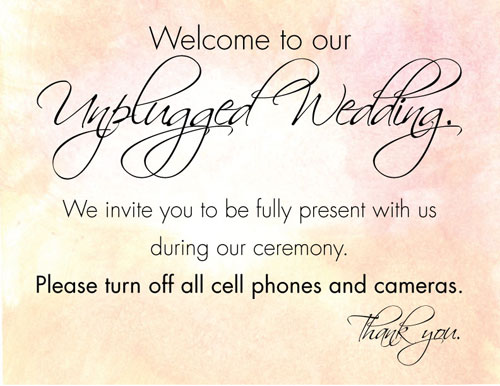 Download this and other Unplugged templates at Offbeat Bride
4. Include it in your program
Before the ceremony starts the guests will have the program in their hand and to kill time while they are waiting, they will read through it. Include it near your thank you and be sure that the wording is friendly – like Matt and Mallory's above – as you want your guests to understand why you are asking for them to turn everything off.
5. Have it announced before the processional begins
Most of the photos take place while everyone is walking down the aisle, so having a small announcement before the processional begins is the way to go. Have the officiant briefly thank everyone for coming on your behalf, and ask that everyone turn off all cell phones and cameras so that they can be in the moment and truly appreciate the reason why everyone is celebrating today. The wording is important because you don't want to annoy anyone, but rather give them that "Ah-ha" moment and appreciate what you are asking them to do.
Now I would not recommend doing ALL of these ideas, as it would be overkill, but if you do a nice mix of a couple of them, it will ensure that your guests respect your choice.
So what do you think? Plugged or Unplugged? Have you thought about what this for your own ceremony?
————————————————————————-
Thank you so much for sharing this information Jamie! Brides, be sure to head over to ELV to "meet" Jamie of Cape Cod Celebrations! But I'm definitely curious about your answer to Jamie's questions- will you be doing anything like this for your own wedding? Have you even thought about it yet? 
The following two tabs change content below.
Lauren Grove is the editor and owner of Every Last Detail. A clueless bride-turned-wedding planner, Lauren uses her experiences and knowledge to educate and inspire brides all over the world.