I'm not going to sugarcoat it- choosing bridesmaid dresses is a pretty daunting task. One of my big "musts" in choosing dresses for my bridesmaids was making sure they would be able to wear the dresses after the wedding. Well let me tell you… that is a pretty hard requirement to fill! A more popular option now is to let your bridesmaids choose their own dresses, but this can be a bit difficult, especially if you want to make sure everyone matches in some way. But I have awesome news- you don't have to deal with any of these issues, because Brideside can help you!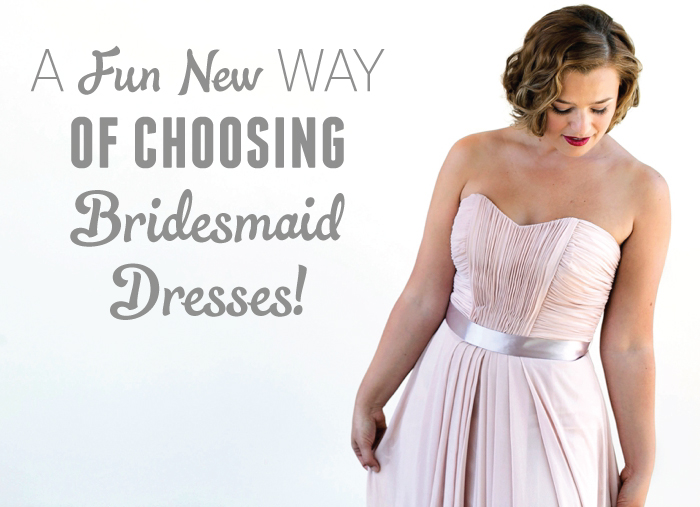 Image by Emilia Jane Photography
Brideside is one of my favorite bridesmaid dress websites. The ladies of Brideside have hand-picked the best bridesmaid dresses from the best designers, and you can browse their collections by color, fabric, fit or style- but they're not your typical bridesmaid dress website! Brideside provides you with tons of assistance in choosing bridesmaid dresses- from having a personal stylist help you choose dresses, to trying on dresses at home- so there will be no question that you're choosing the right dresses.
My absolute favorite thing about Brideside is the "Brideside Box", which gives you the option to have 3 bridesmaid dresses sent right to your home to try on! You choose 3 dresses from their website, pay just $10 to have them shipped to you, and then you can try them on your own time with your best gals! Simple as that. This is a great option if you have girls out of town, if your schedules are jam-packed and everyone can't get to a bridal shop appointment, or if you just want to avoid the stress of trying dresses on in a store. You and your bridesmaids can try on potential dresses and decide on the best option (or options)!
The Brideside Box is a great option if you're wanting to mix-and-match your dress colors too. I myself am a HUGE fan of doing this- it looks awesome in photos, and will give your bridesmaids a bit more of an option when it comes to choosing their dress.
See how the Brideside Box works via the fun video below:
I of course love making something fun out of every opportunity, so I actually recommend creating an intimate get-together with your bridesmaids out of the Brideside Box experience! In fact, I did a little inspiration shoot last year showcasing this very concept- featuring Brideside's dresses of course! A few of the images are below…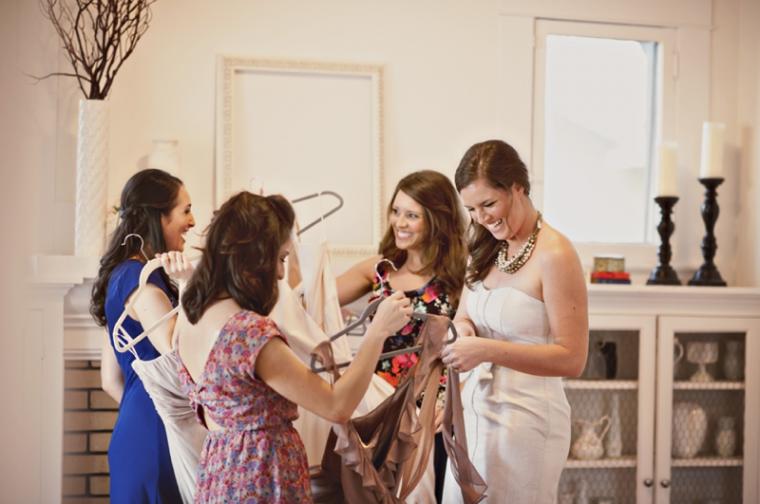 Images by Kismis Ink Photography  via CHOOSE BRIDESMAID DRESSES WITH A MIX-N-GLITZ PARTY!
Another awesome part of Brideside is that you get a personal stylist to assist you and your bridal party throughout the entire process of ordering dresses. Your stylist will make recommendations, keep track of your favorite dress options, make sure you order in enough time for your wedding, and even track your order for you. This is especially helpful if you're wanting to do mix-and-match dresses (shown above), because she will know all the different designers, colors, and styles that are available to you. She'll even help you figure out how to take measurements and make recommendations for what dress styles will work best for your girls' body shapes. Pretty awesome, right?! Oh, and did I mention they have great videos to help you too? I love them!!
You want to make things easy on yourself and your gals, and Brideside is the answer to all of your bridesmaid dress shopping woes. No need to be stressed about one more thing while planning your wedding, right?!
———————————————
———————————————
And now for the fun part of this post… Brideside is offering Every Last Detail readers $20 off dress purchases made before 10/31/14 (excludes Joanna August collection). Just head on over to the site and use the code "ELD2014" to get the discount!
[Dress designers showcased: Joanna August, Dessy, Alfred Angelo, Wtoo by Watters, Alfred Sung]
This post is sponsored by Brideside. All commentary and opinions are the author's own.
The following two tabs change content below.
Lauren Grove is the editor and owner of Every Last Detail. A clueless bride-turned-wedding planner, Lauren uses her experiences and knowledge to educate and inspire brides all over the world.