Modern, chic, and oh-so-stylish, this green and white wedding captured by Catherine Ann Photography is an absolute stunner! Planned and designed by The V List member Ashton Events, James and Kathryn's wedding was reflective of them in so many beautiful ways- from the modern, elegant aesthetic, to using citrus trees grown by James' father, this Florida wedding is surely one that will inspire you! Lucky for us, Kathryn is here with us today to share all about her planning process- and she has some amazing insights!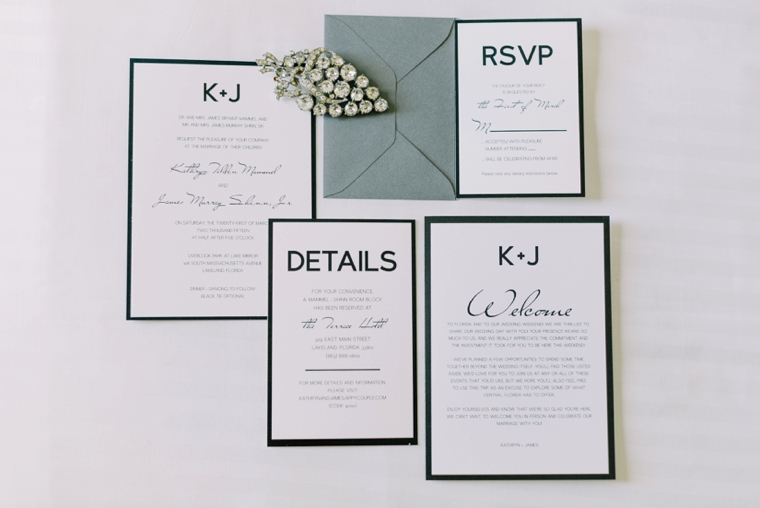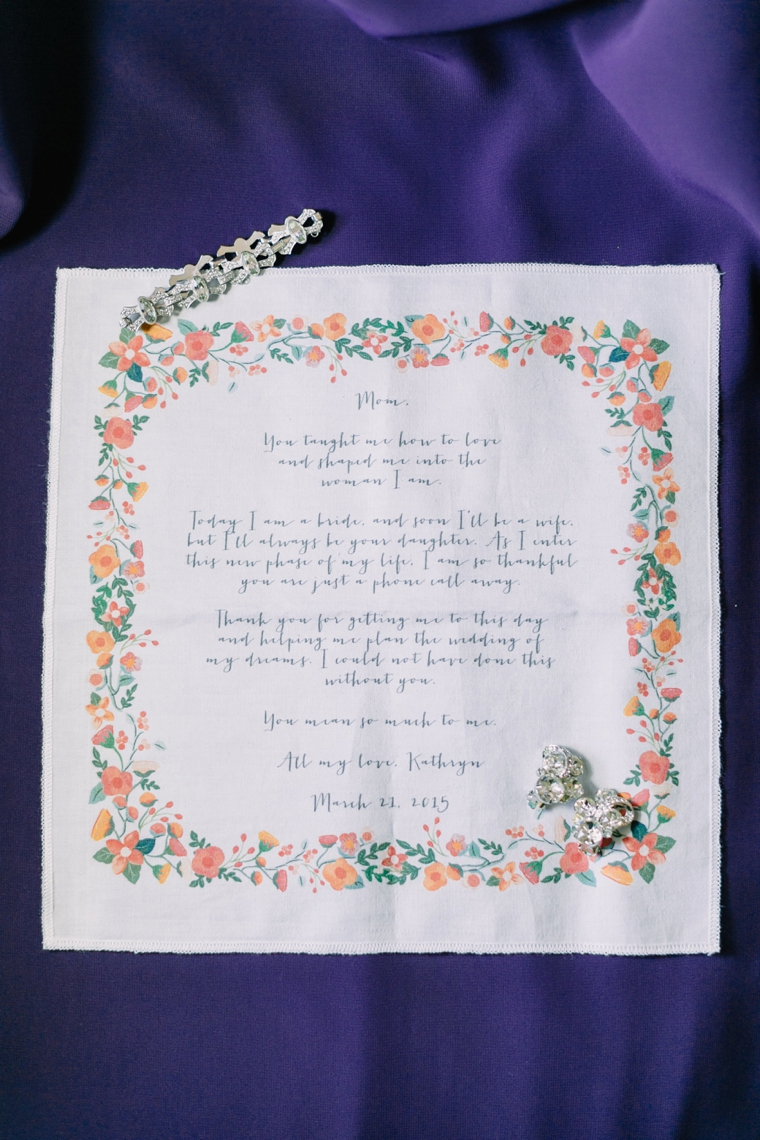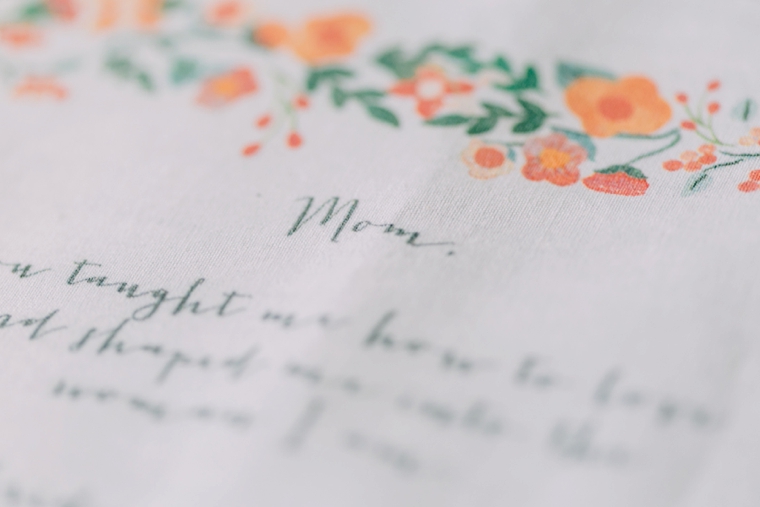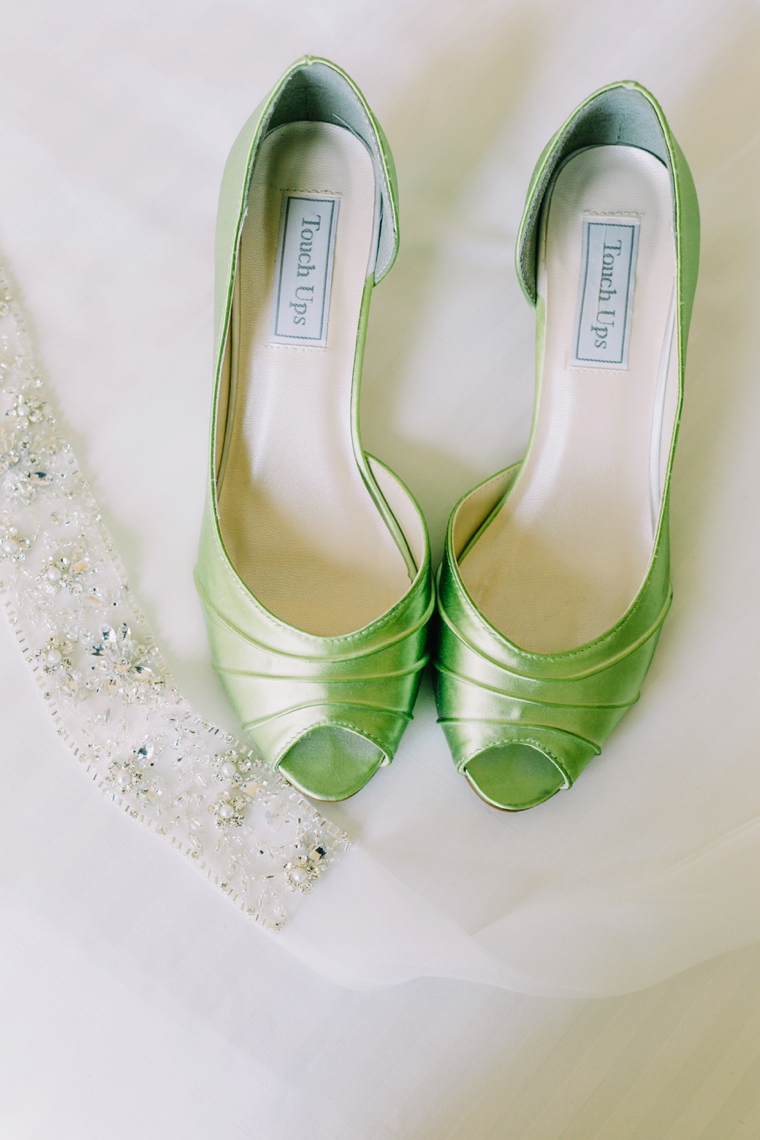 What (or who) helped you most in your planning process and/or on your wedding day?
My wedding planner, Laura Helm of Ashton Events (whose beautiful work has been featured on ELD before), and her amazing team of assistants were so instrumental in helping me turn my vision for my wedding into a reality. I was planning my Florida wedding from Connecticut (while trying to finish up law school!) and my venue was very much a blank slate, so I knew from the outset that having a planner would be a worthwhile investment. What I didn't anticipate was just how helpful Laura and her team would be. When I couldn't find invitations the felt true to my style and a good fit for my budget, Laura worked with me to design just what I wanted. When I had a hard time getting in touch with a busy vendor, a quick phone call from Laura meant I was suddenly on that vendor's radar again. On my wedding day, when the wrong color table runners showed up and unexpected wind gusts knocked over and broke some of the taller centerpieces just minutes before guests were supposed to come in from the cocktail hour location, Laura and her team fixed it all without it ever being a source of stress for me. I could go on and on with examples, but to put it simply, Laura and the Ashton Events team were truly amazing!

I am also so grateful to my mother and my mother-in-law for all their help with so many little, on-the-ground details throughout the planning process. And I'm still so touched that my father-in-law spent a year-and-a-half growing trees for our wedding and that my father secretly worked with Laura to plan the most amazing fireworks surprise (more on that below!). In short, this wedding was definitely a team effort, and I feel so blessed to have had so much help in making the day so special!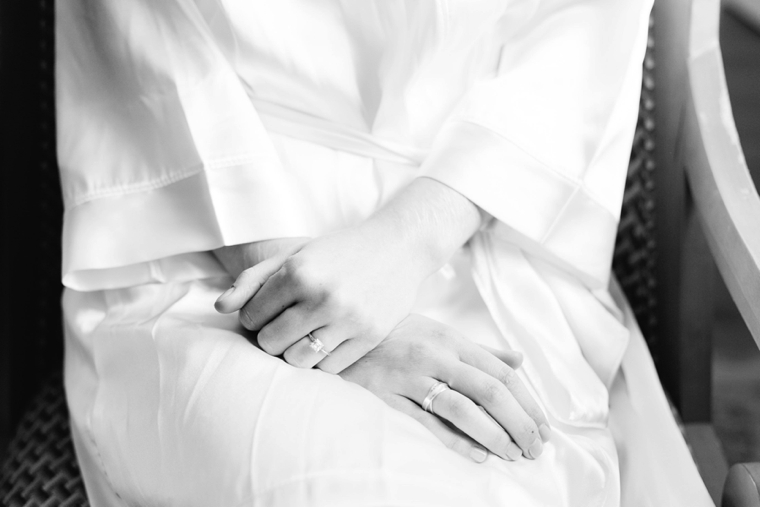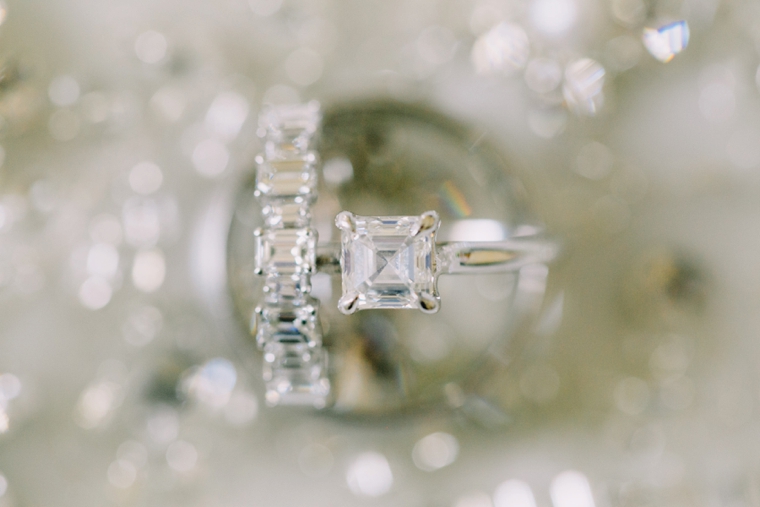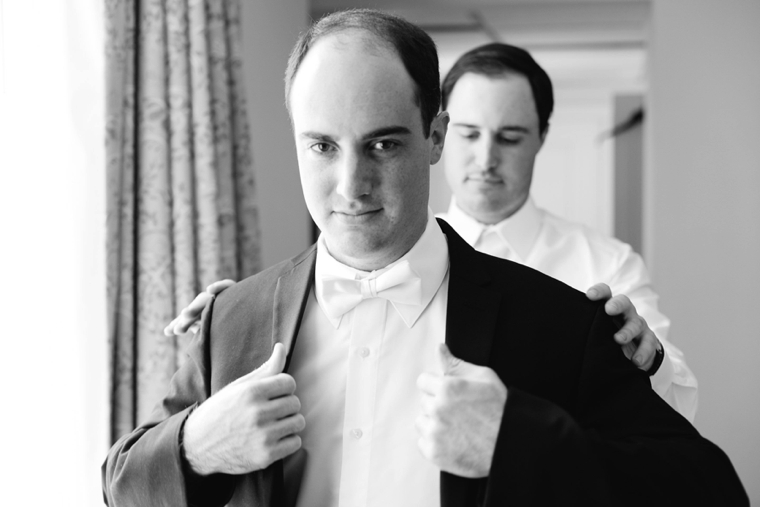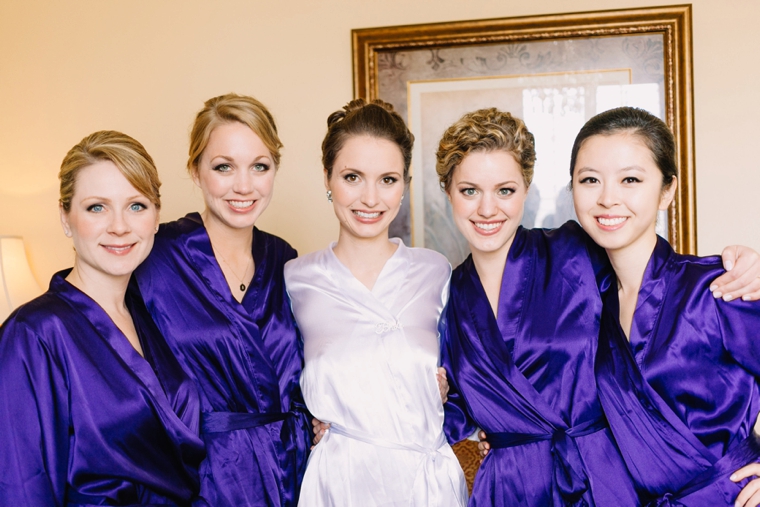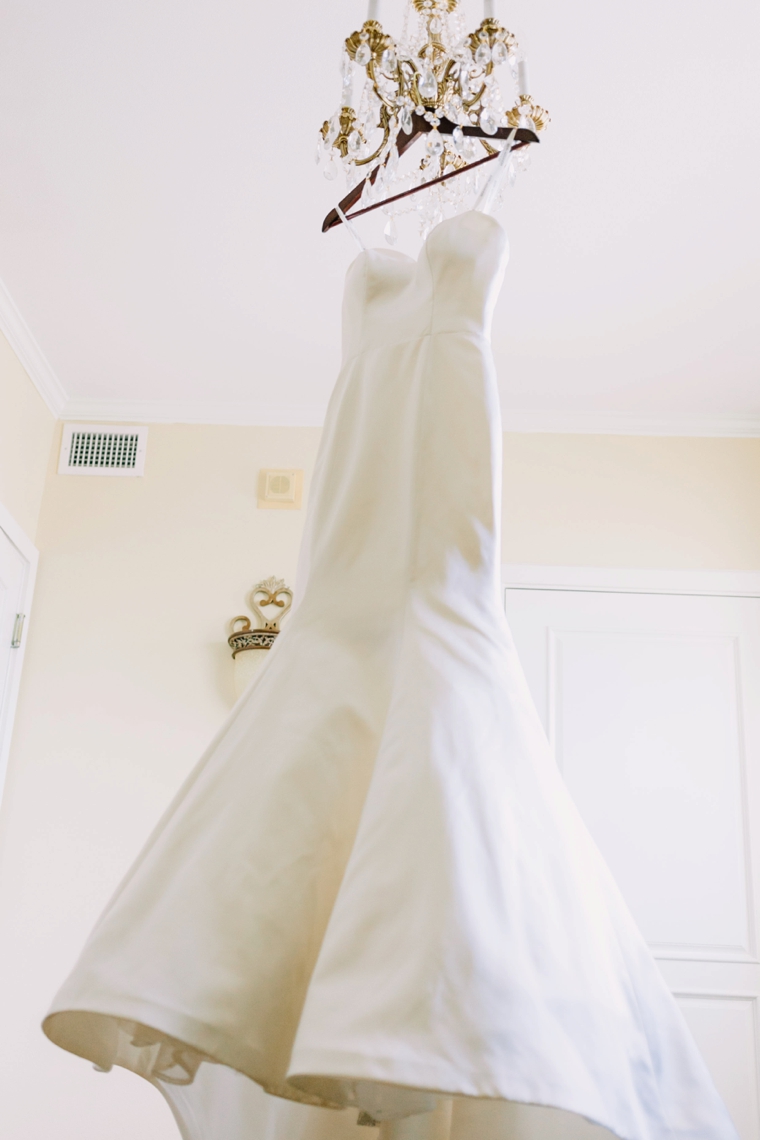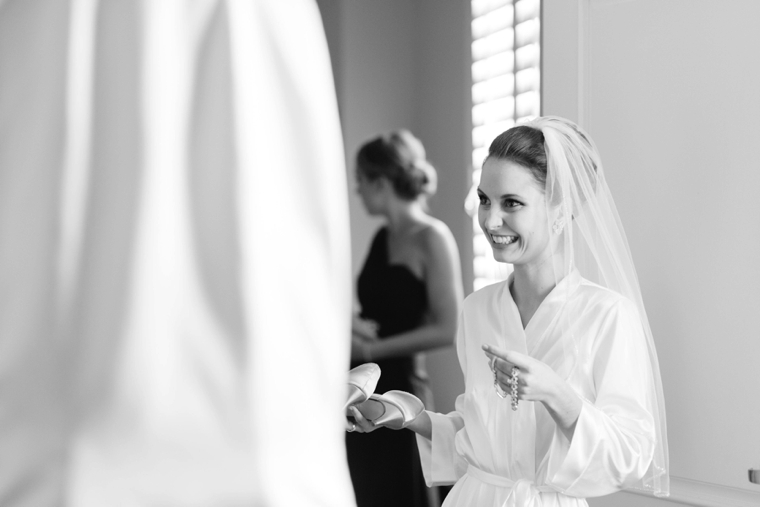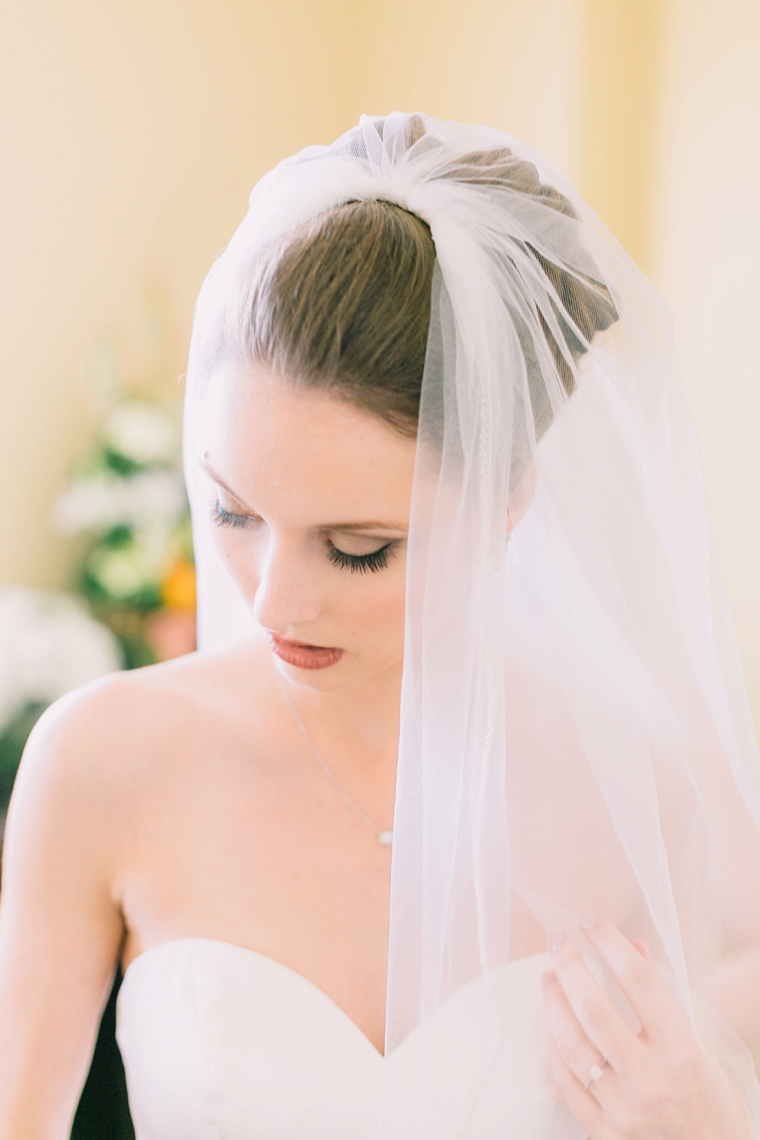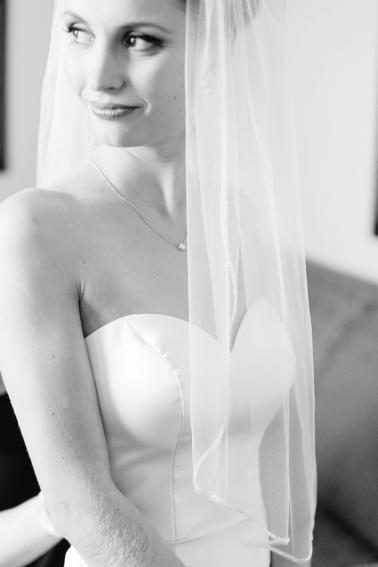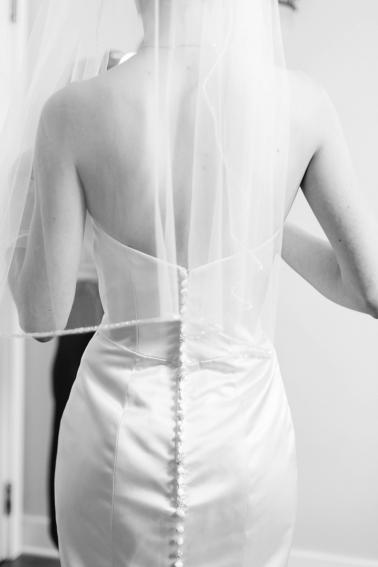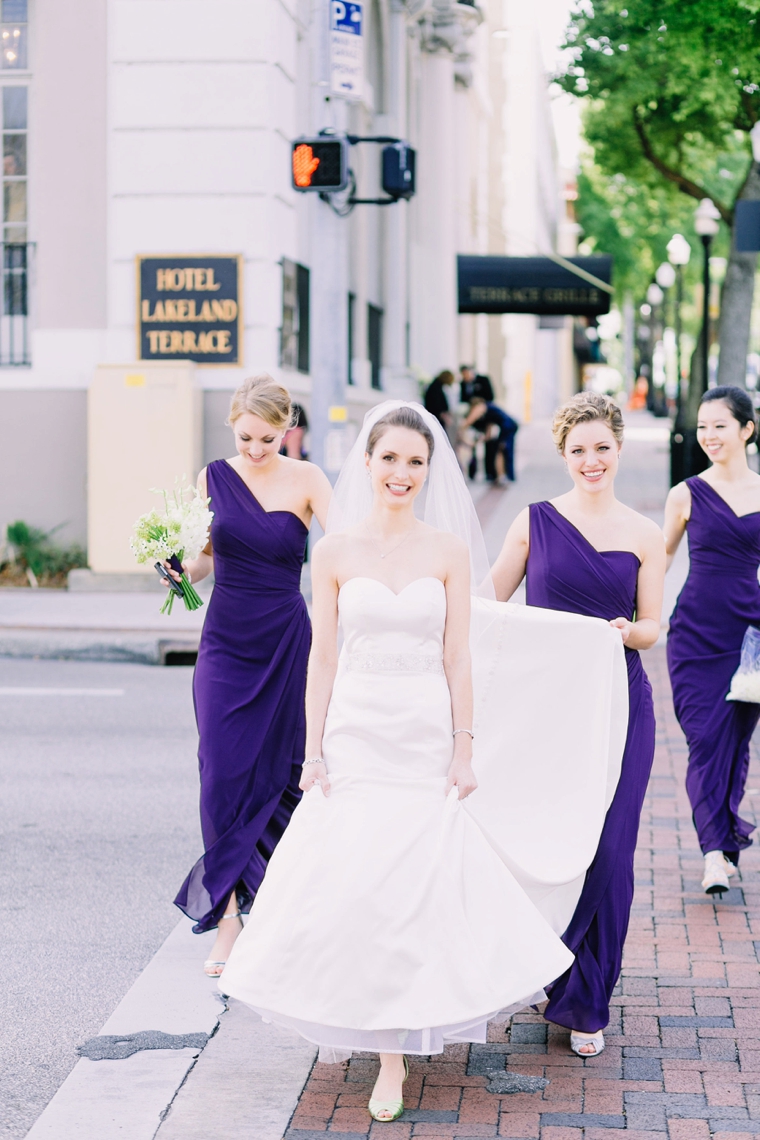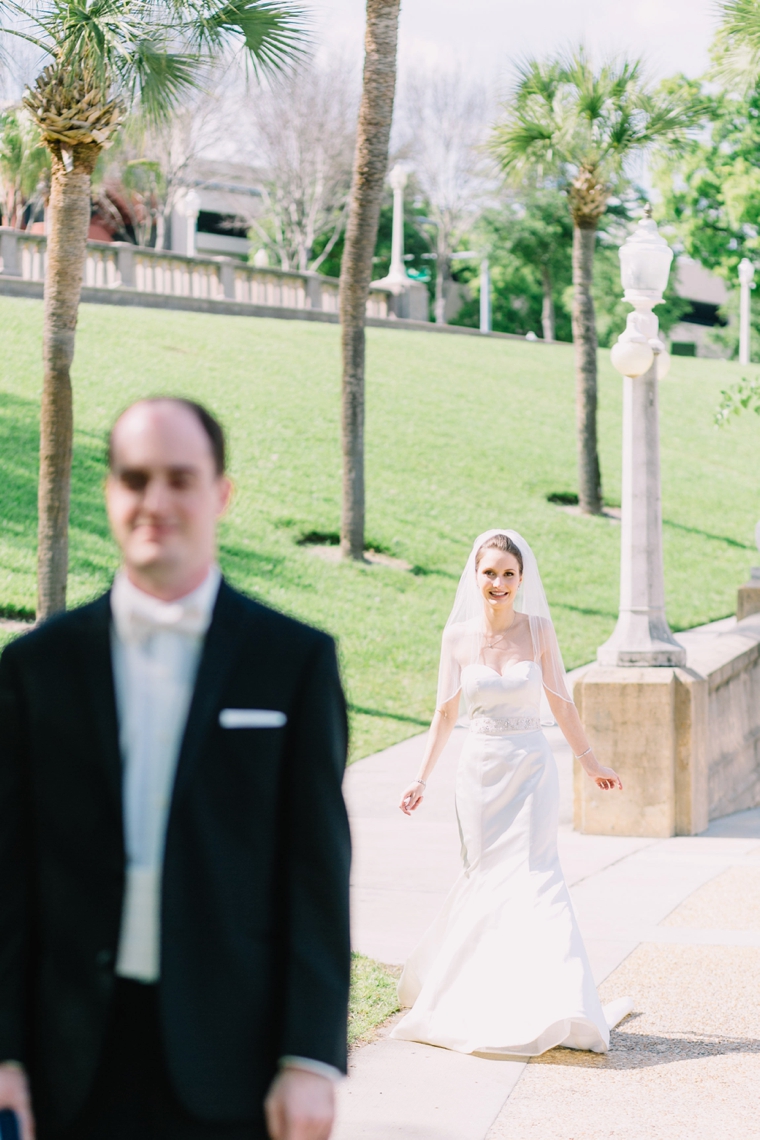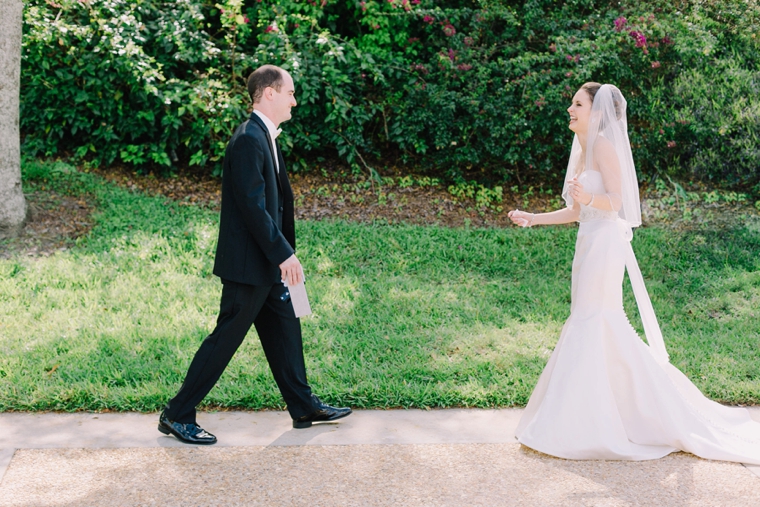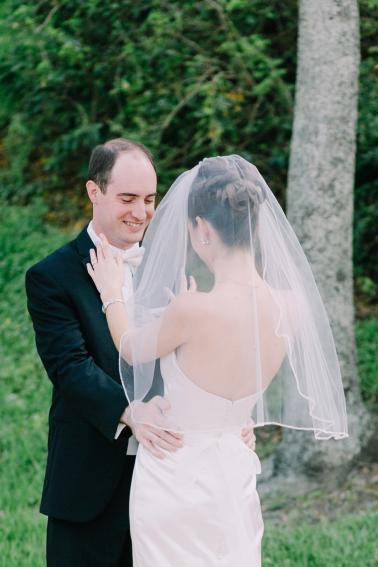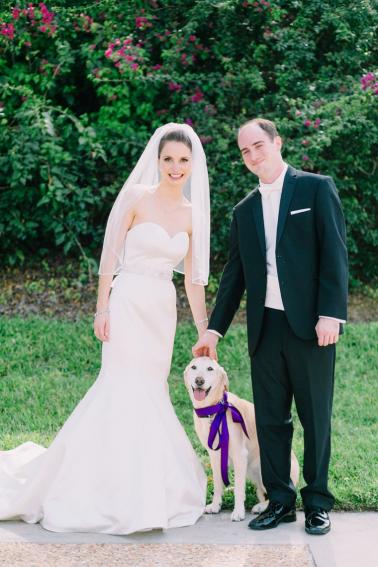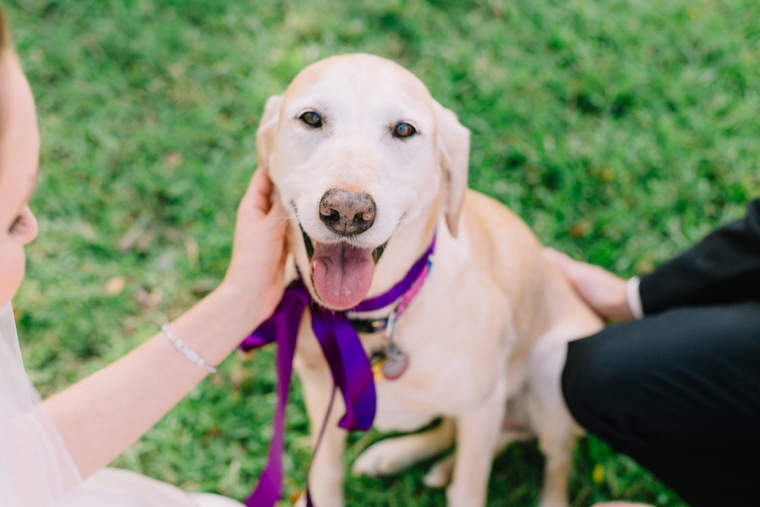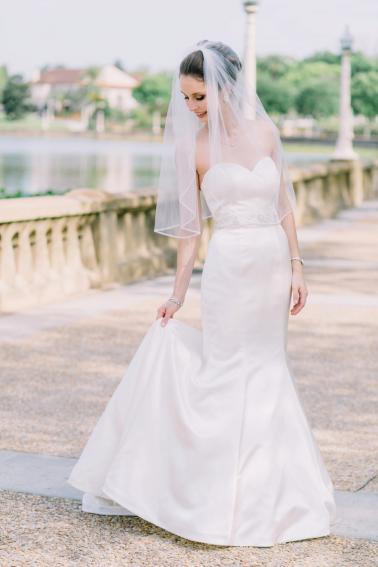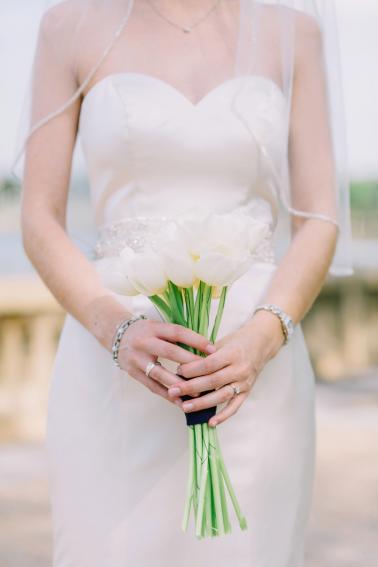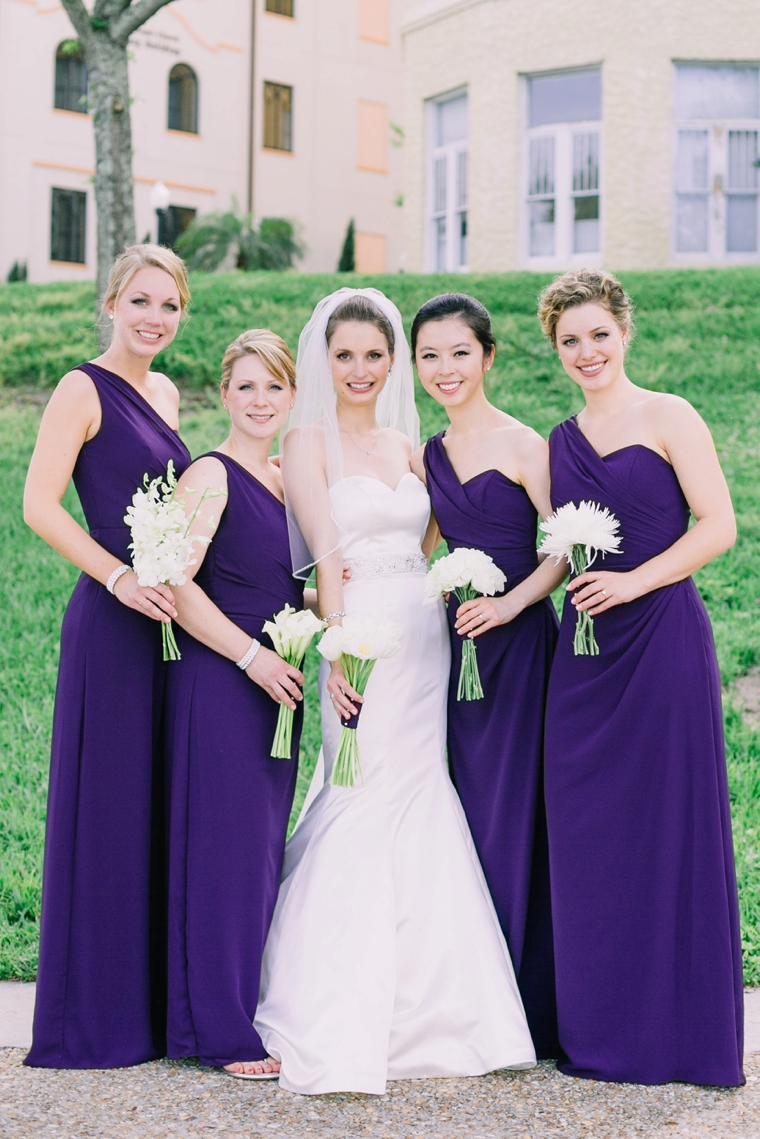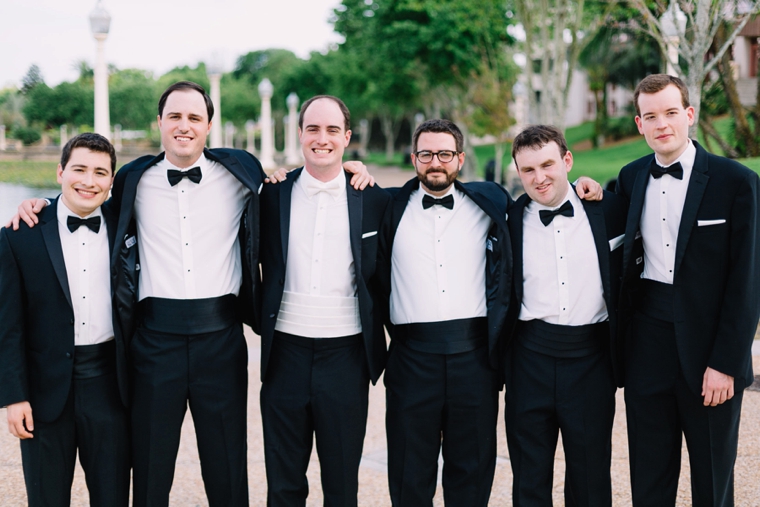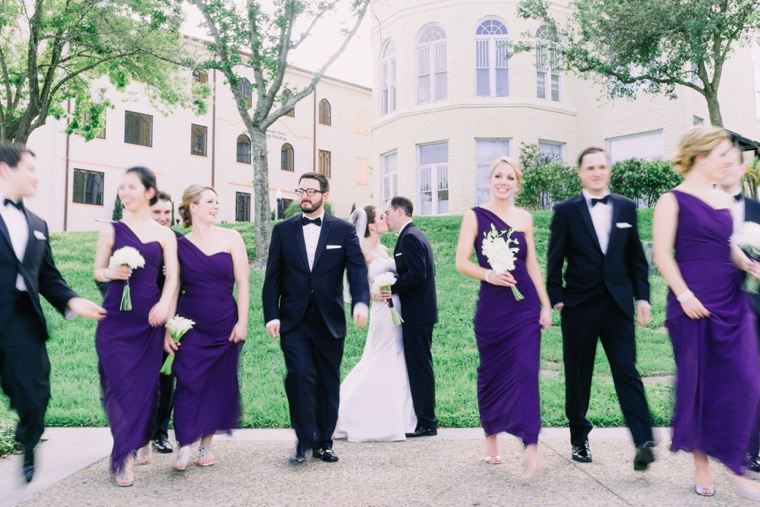 What was the most important thing to you when deciding who to work with for your wedding?
It was really important to me that we find vendors who were a good fit both for our budget and for our vision of the evening. Laura was really helpful on that front, recommending several options for each type of vendor that she thought would be a good match for our style and our personalities and that she had a good track record with. I wanted to make sure we hired vendors who appreciated the little details I spent so much time dreaming up. From our caterer, Frescos of Lakeland, FL, who was super excited to help us figure out a signature cocktail that incorporated the produce my in-laws grow, to our photographer, Catherine of Catherine Ann Photography, who was in love with all our personalized details (like the dried rose petals my mother has been saving from bouquets throughout my life), it was so helpful knowing that our vendors—especially the ones we interacted with the most—were as committed to my vision as I was. And Laura and her team were so helpful in making sure all the vendors had a very clear idea of what that vision was!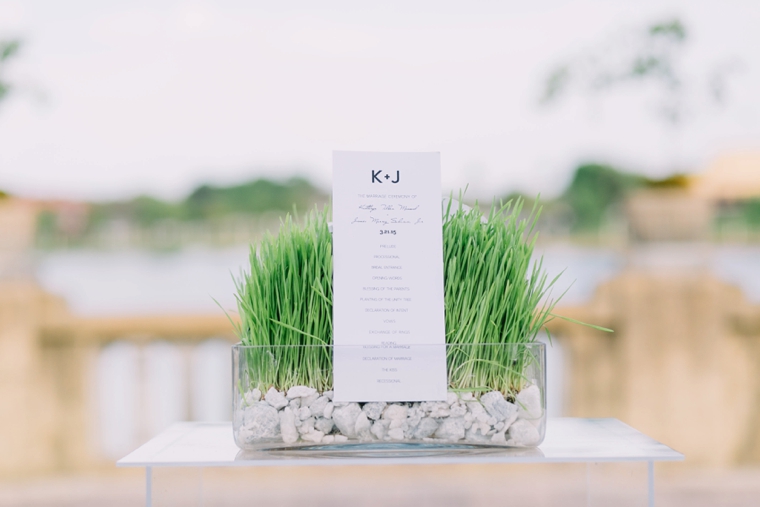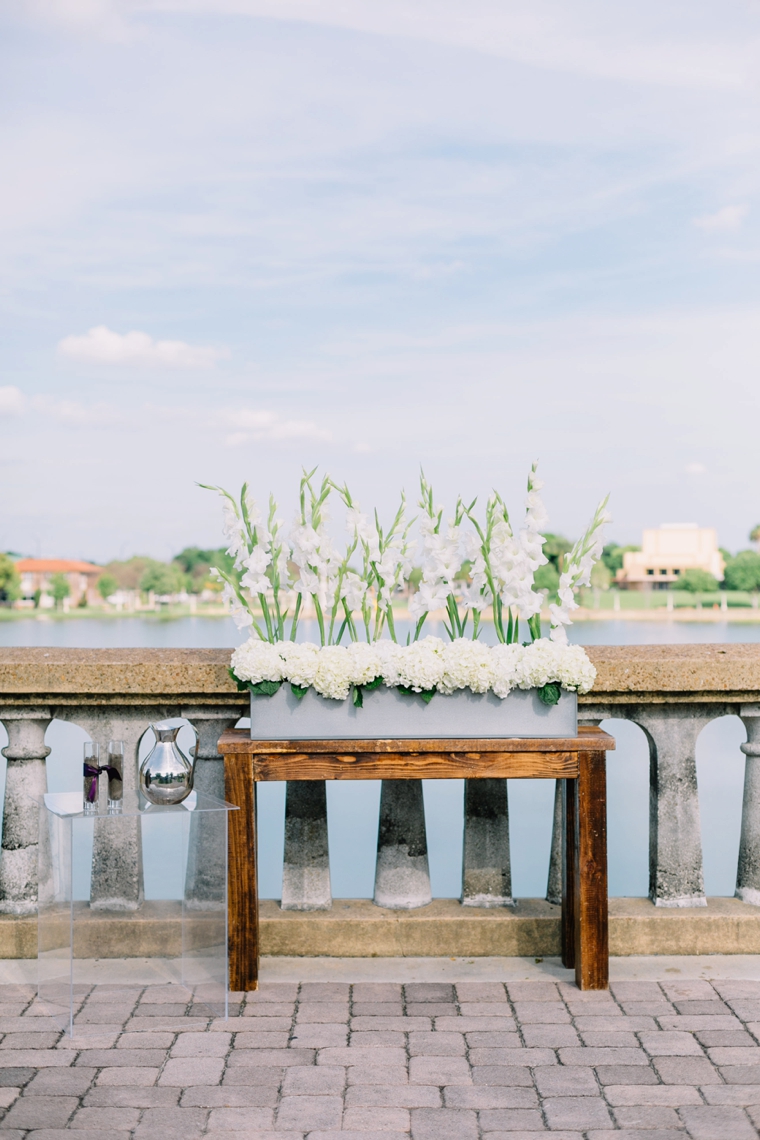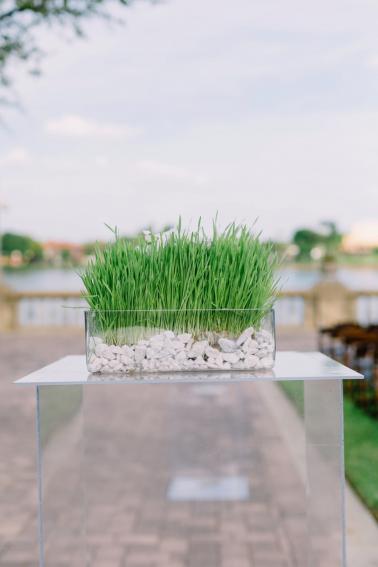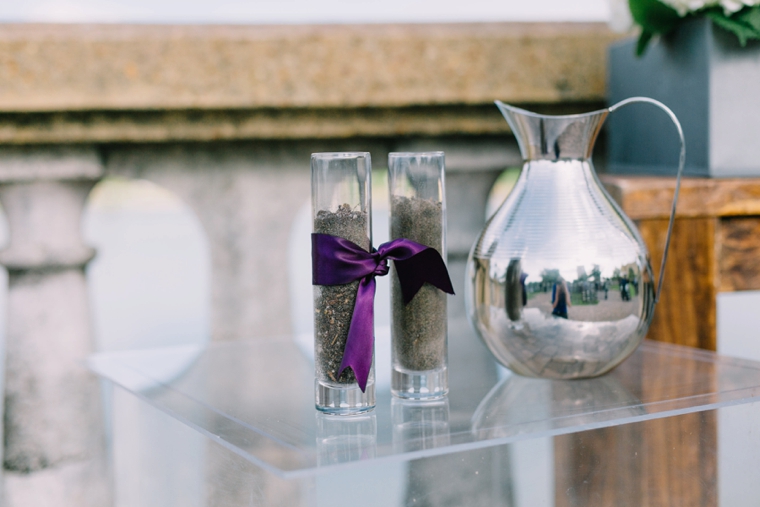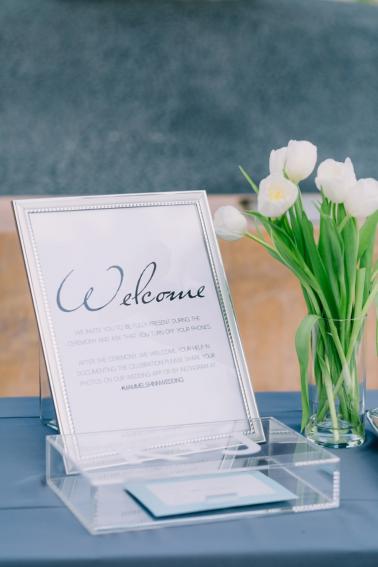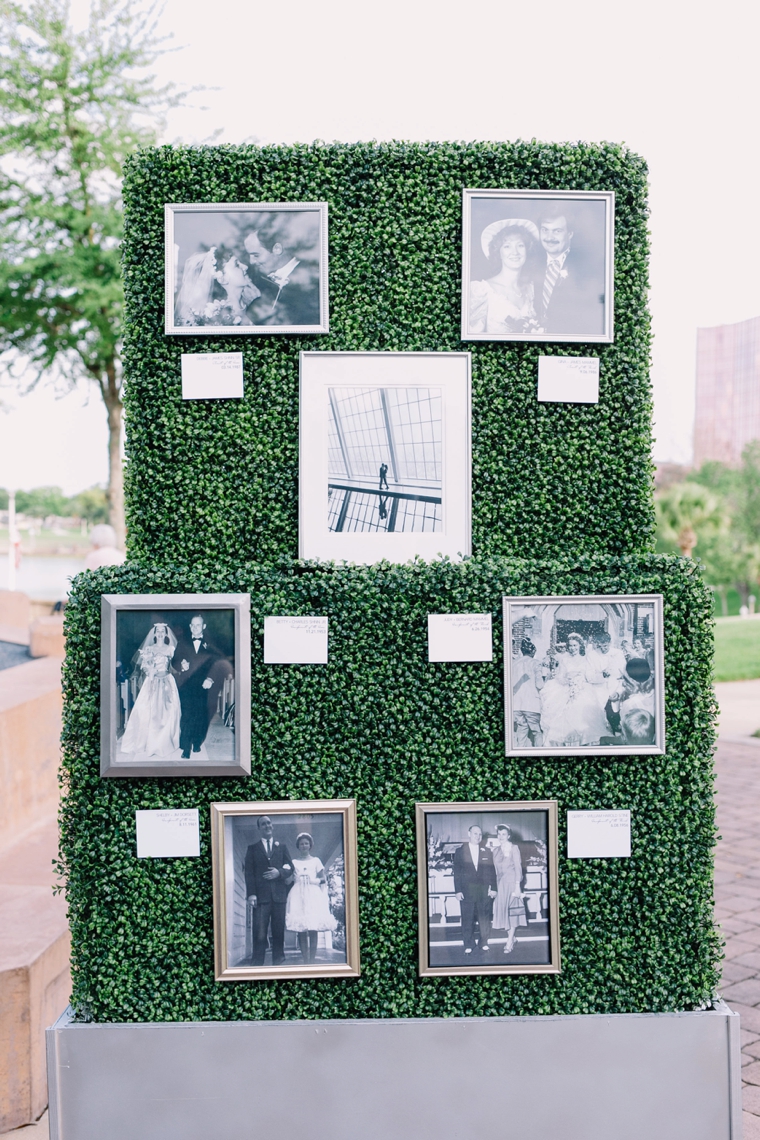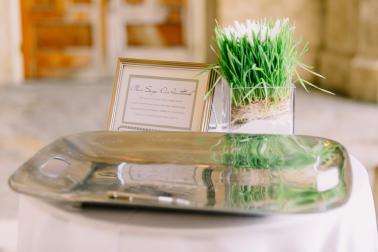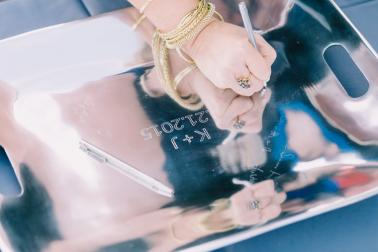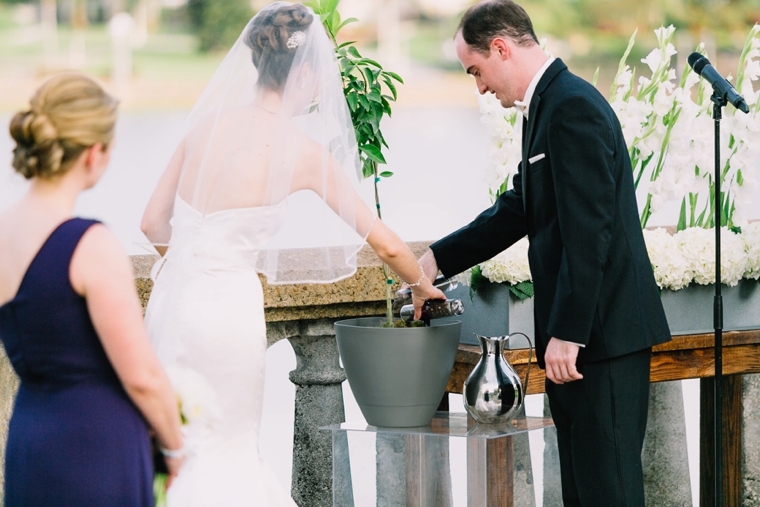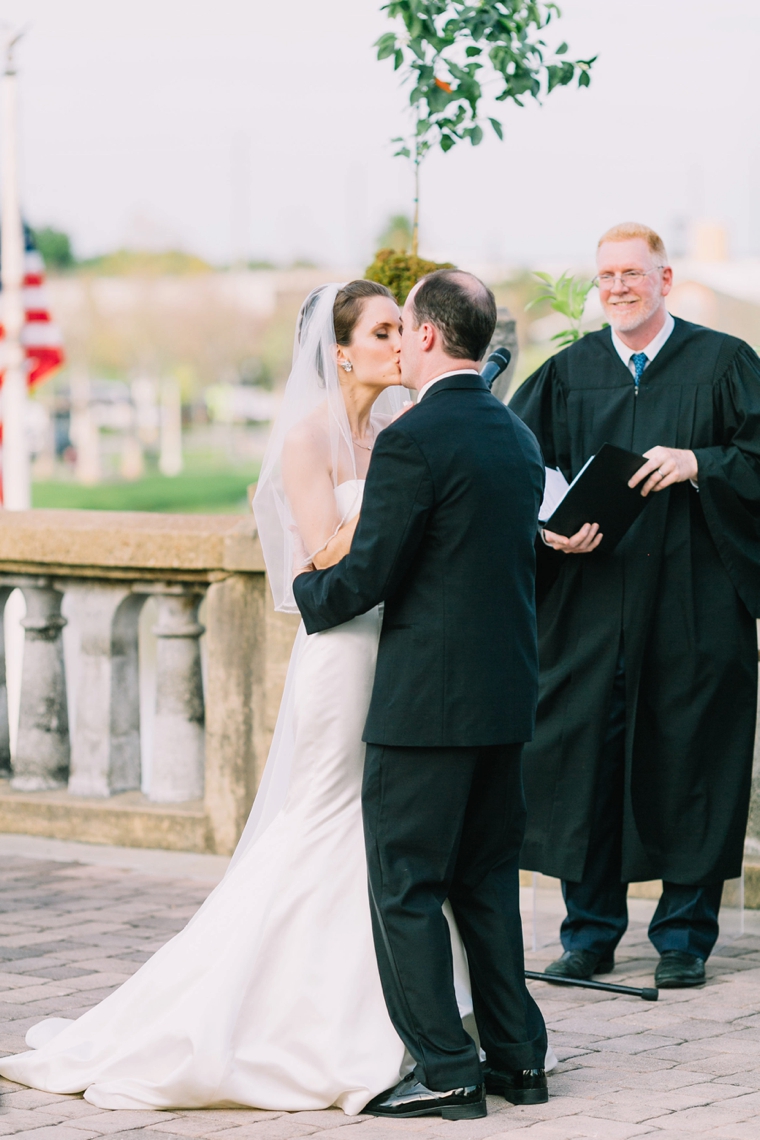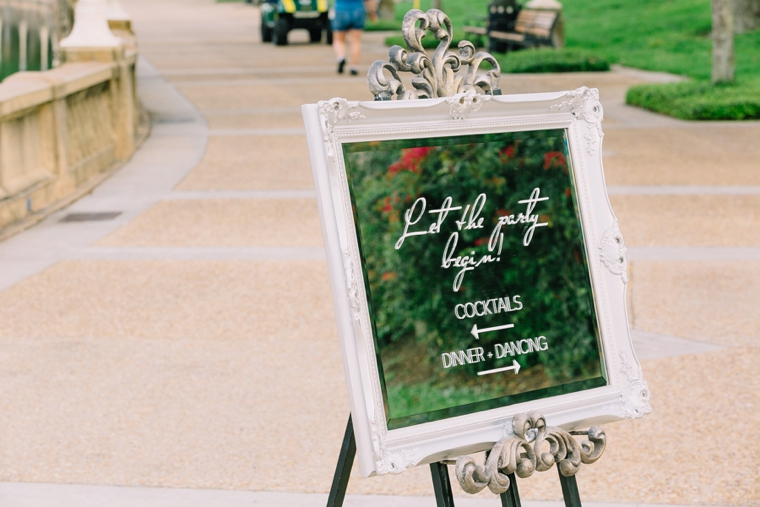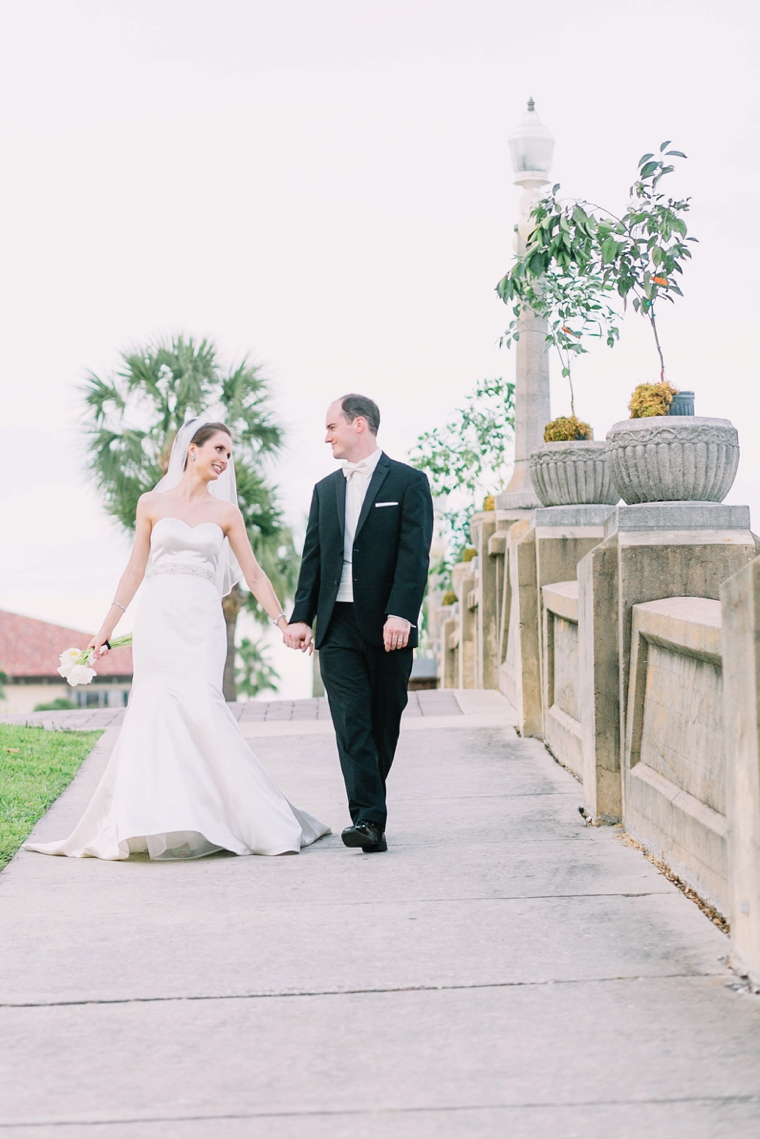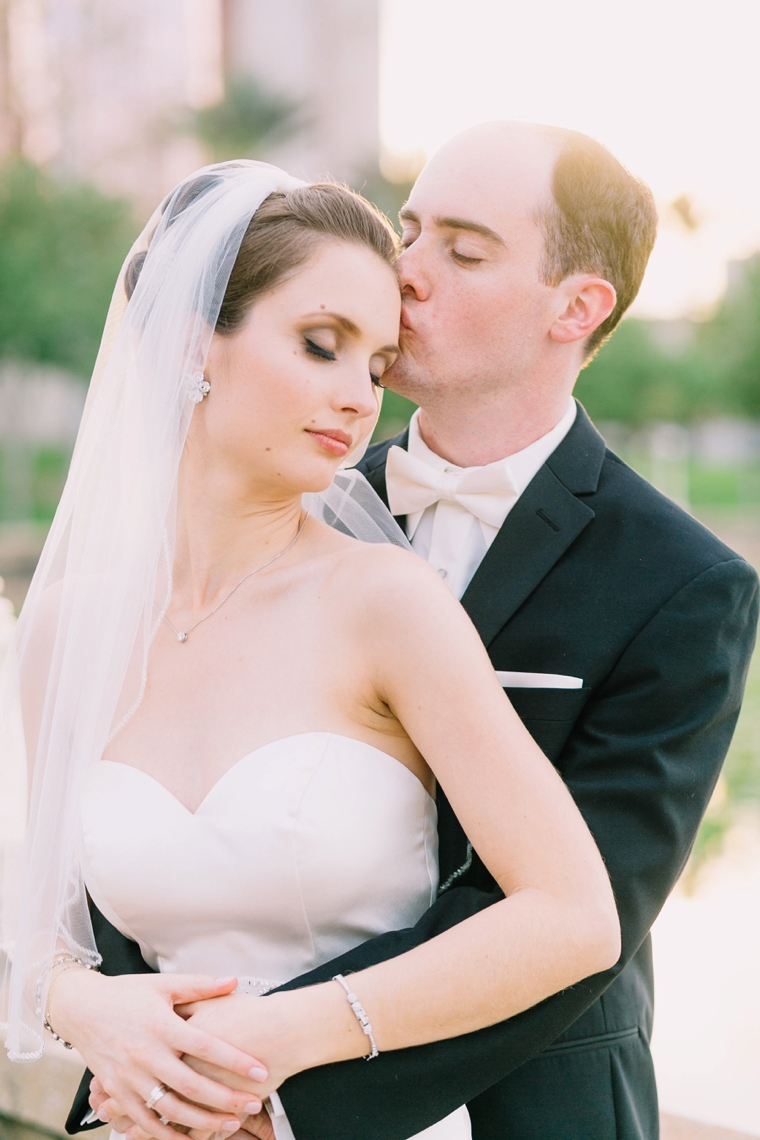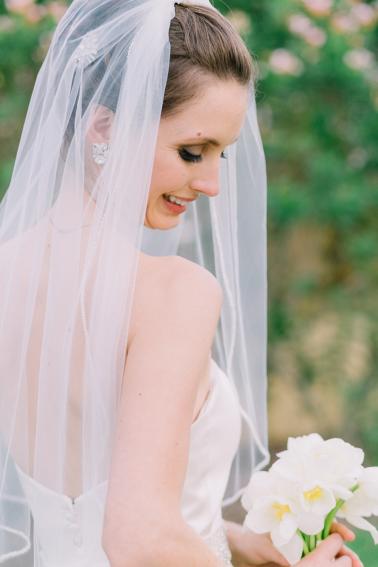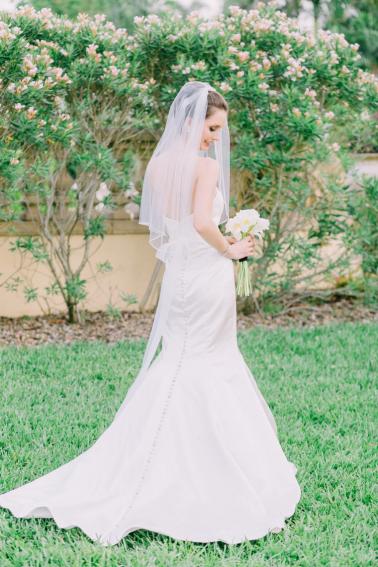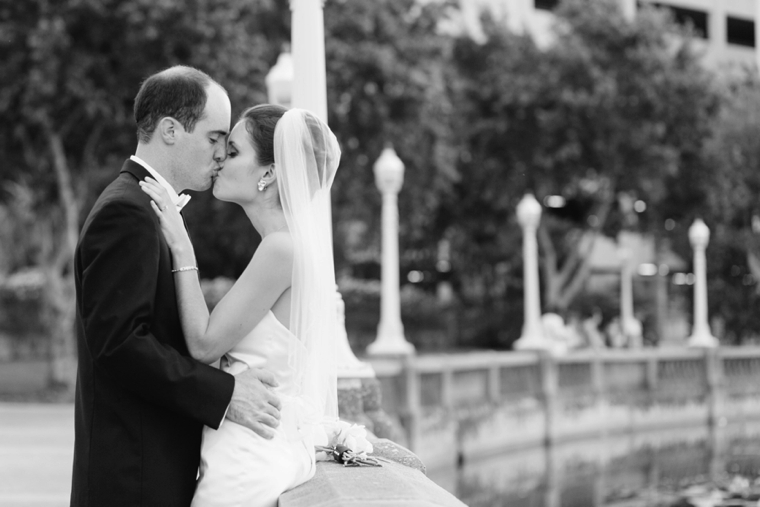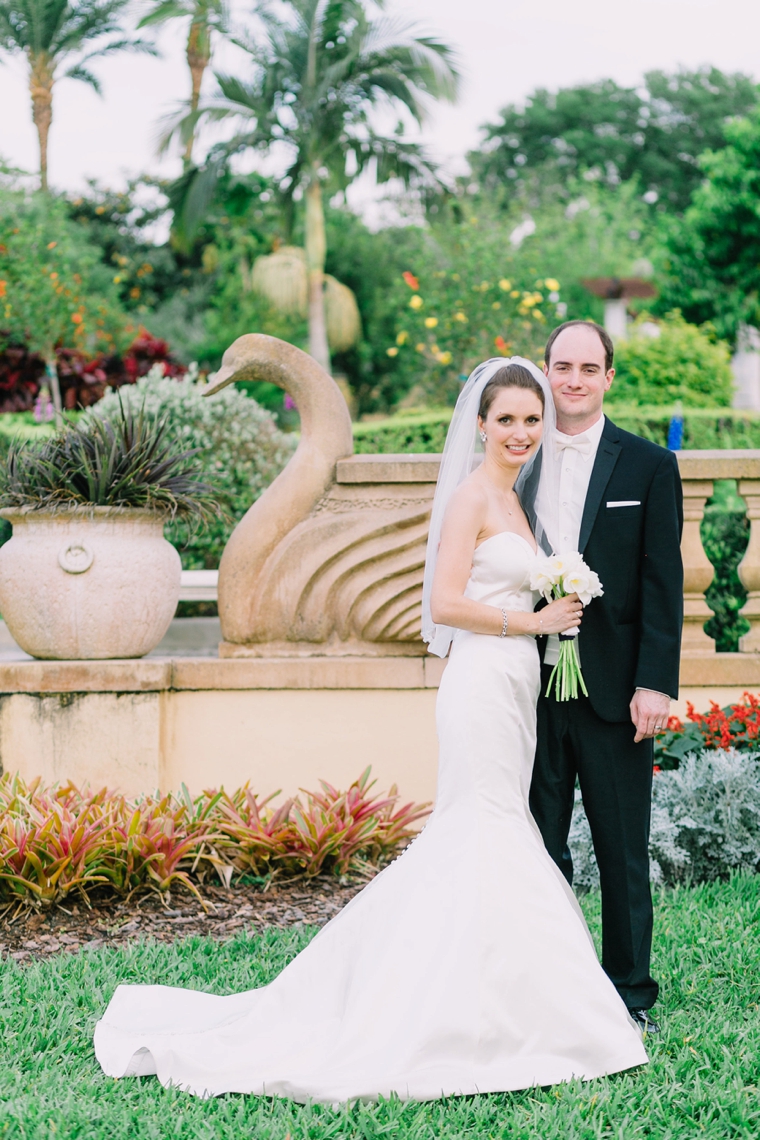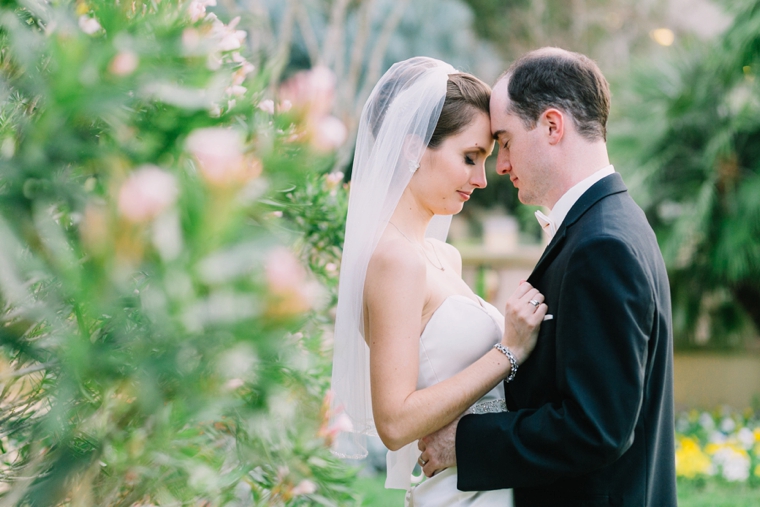 What was your inspiration for your wedding details and/or design?
I knew from the outset that I wanted the evening to be really elegant and classy but still very personalized. My husband's family is in the citrus industry, so I started dreaming up a full-on citrus-themed event, but James and I quickly decided that was a bit over-the-top for us. About that time, I happened upon an image on Pinterest of an escort display that incorporated limes in a really clean, sophisticated way. I pared back our citrus theme to just limes and fresh green young (fruitless) orange trees that my father-in-law grew for us, and we used this deep, fresh green as an accent color against a a simple modern palette of black, white, and grey. And because neither lime green nor grey are great colors on everyone, I went with a deep "concord" purple for the bridesmaids dresses and added a few pops of concord here and there to tie it all together.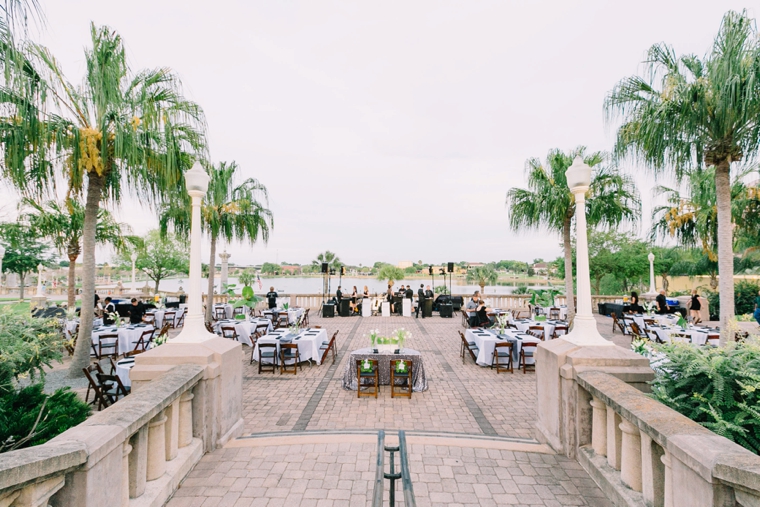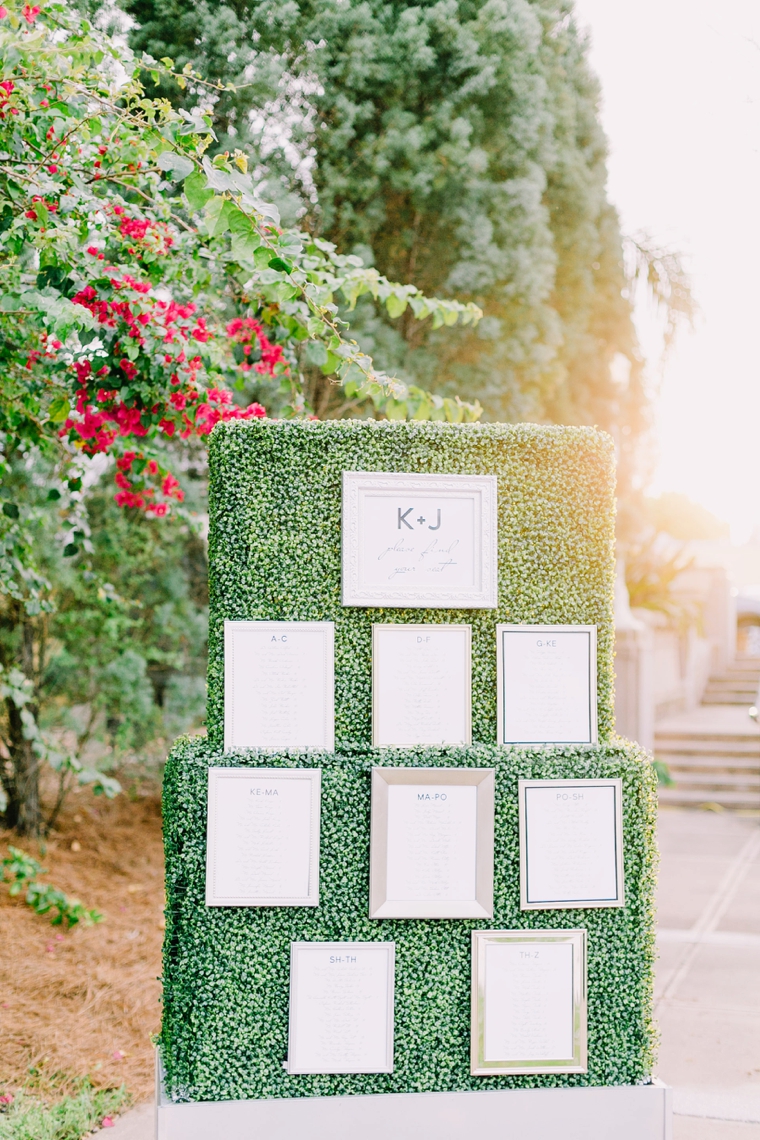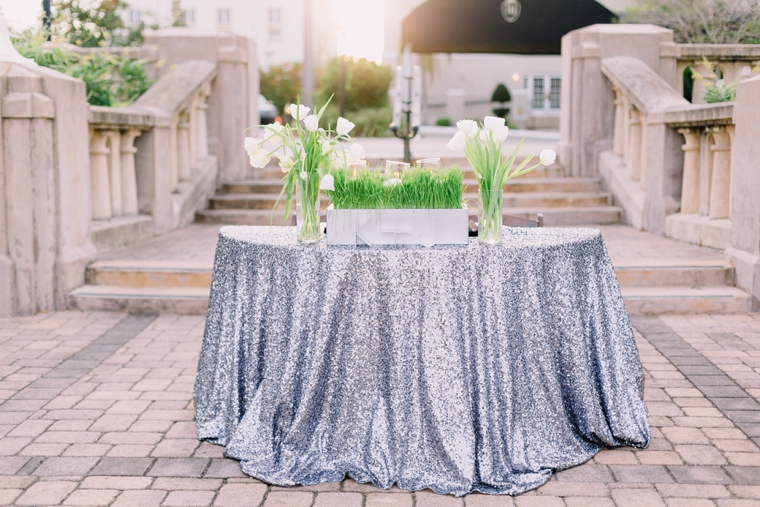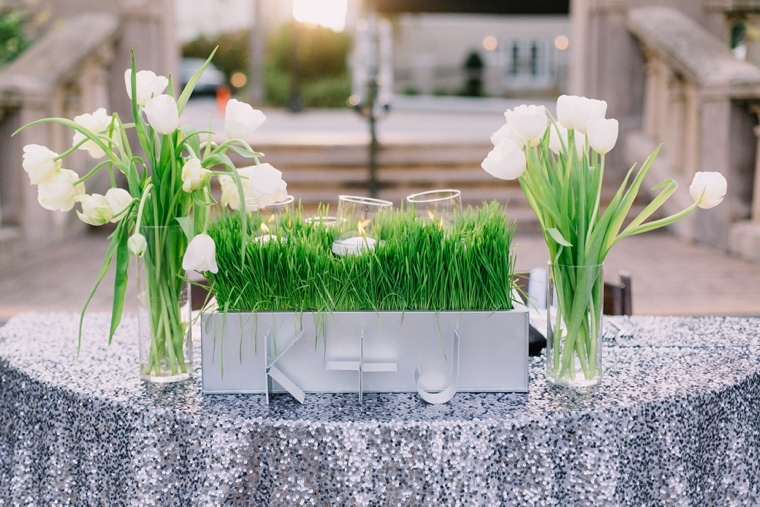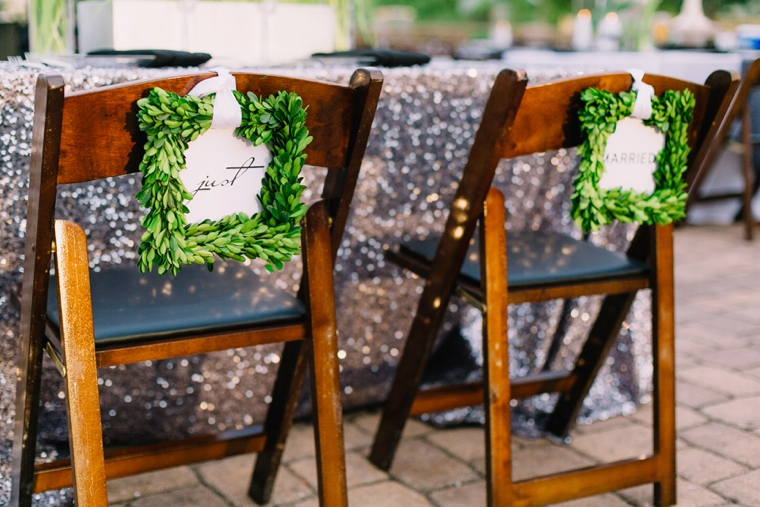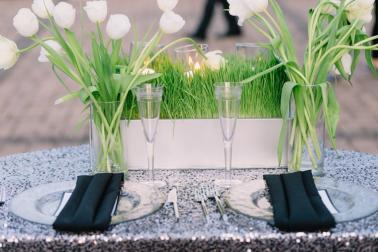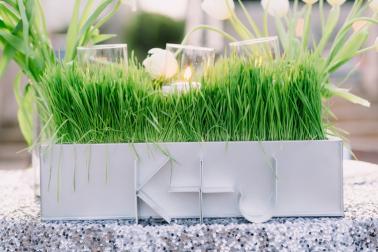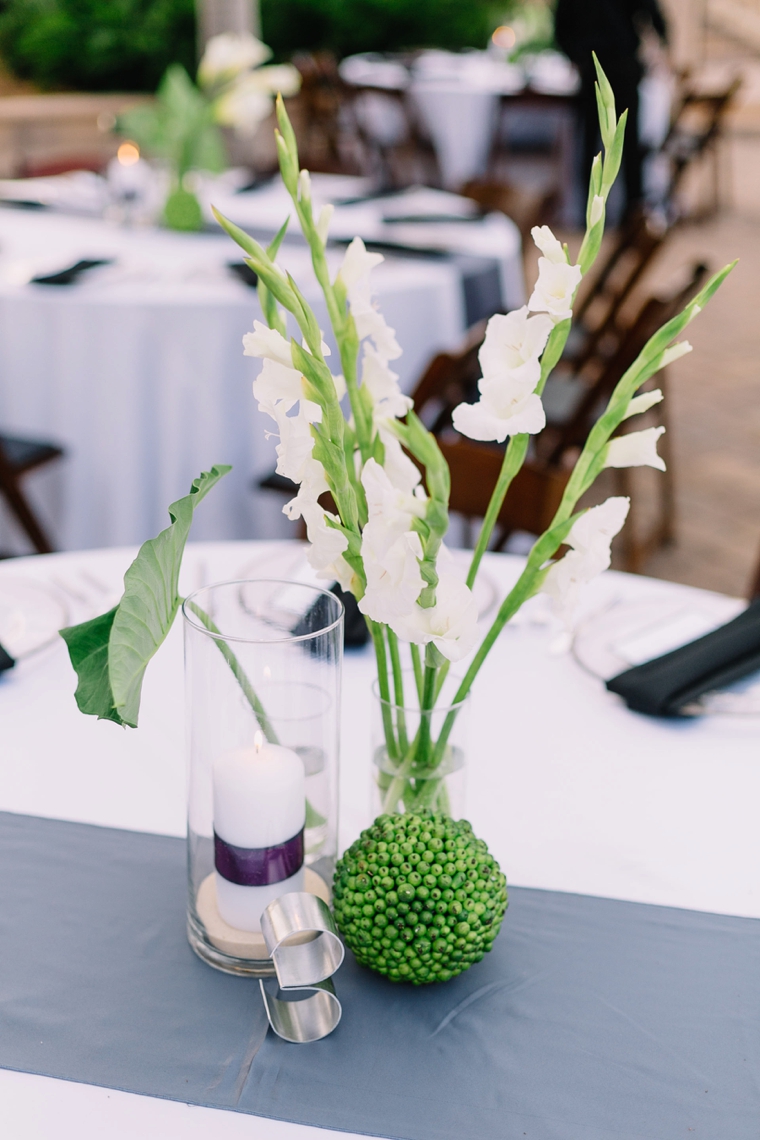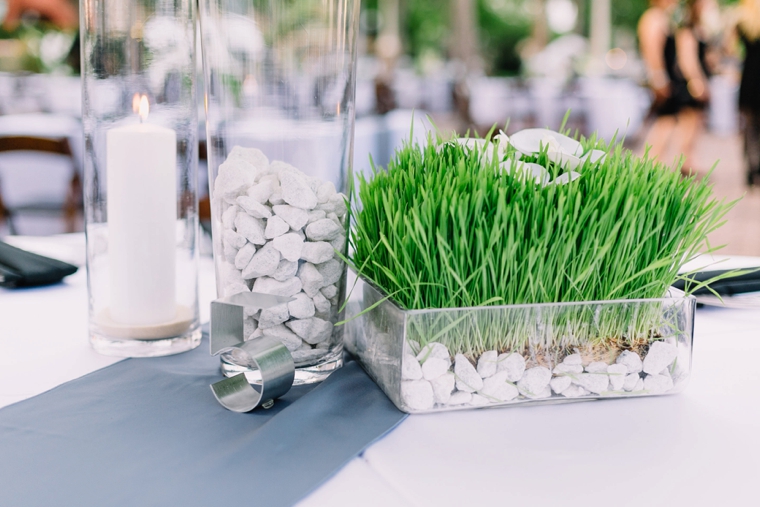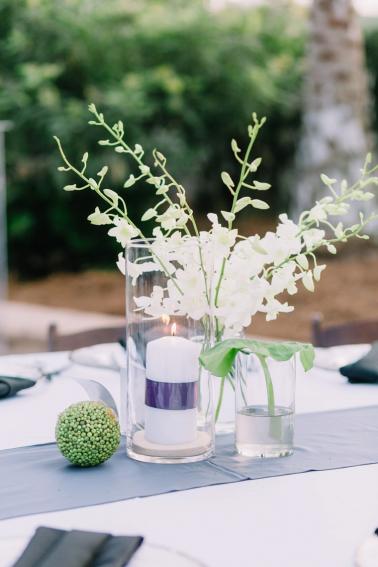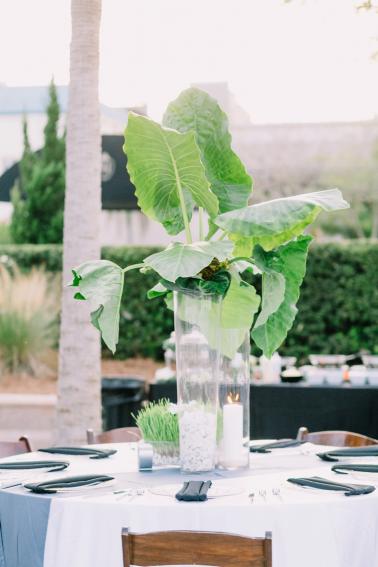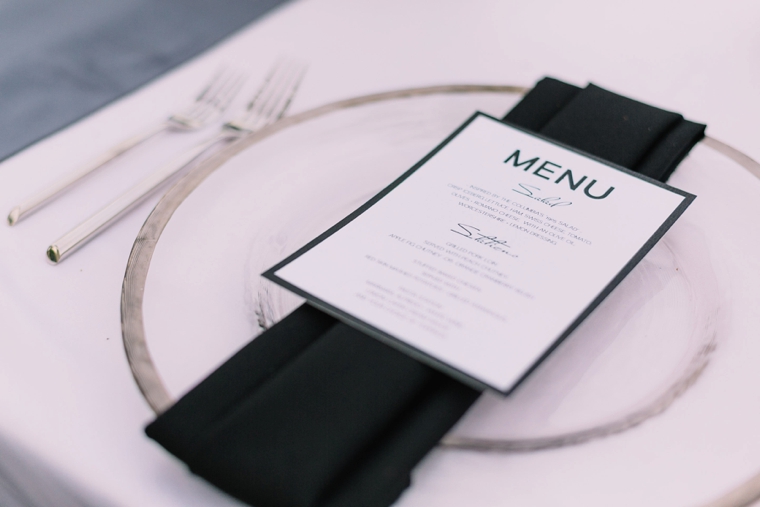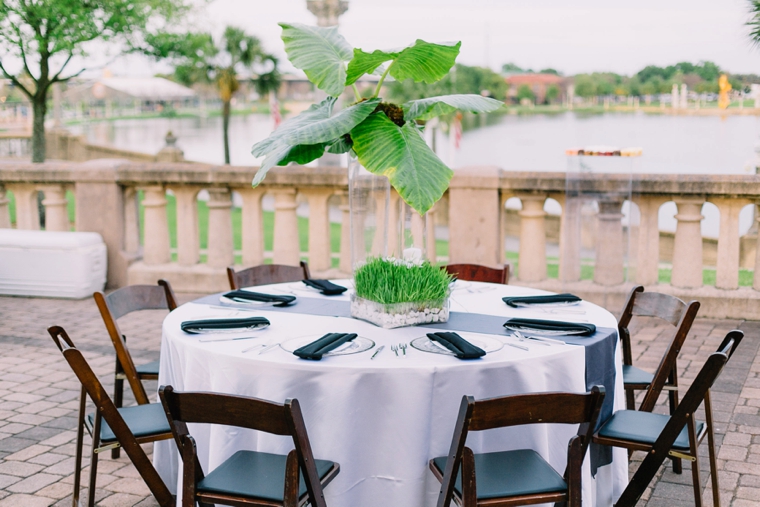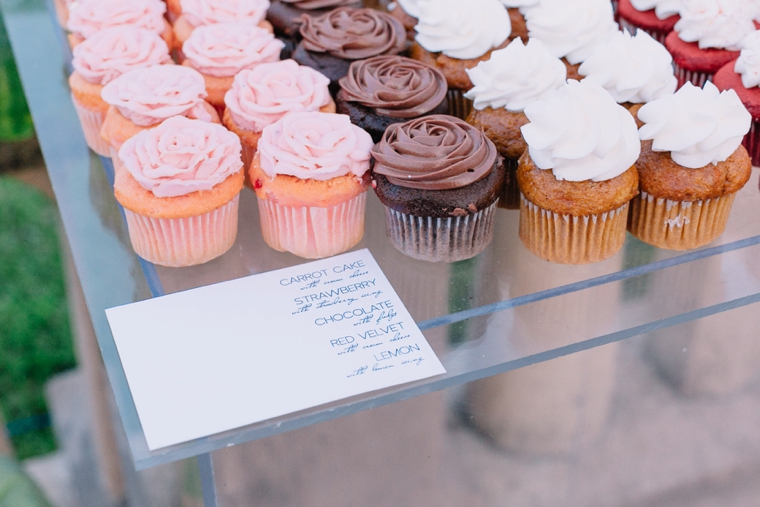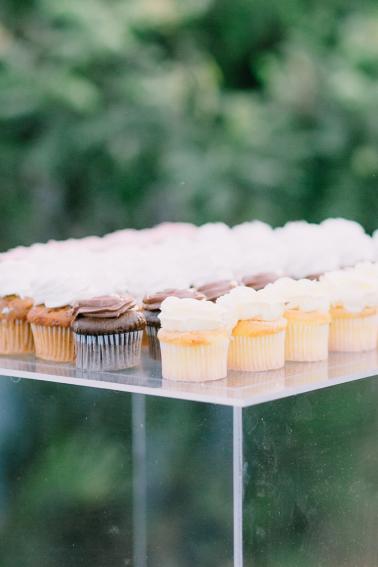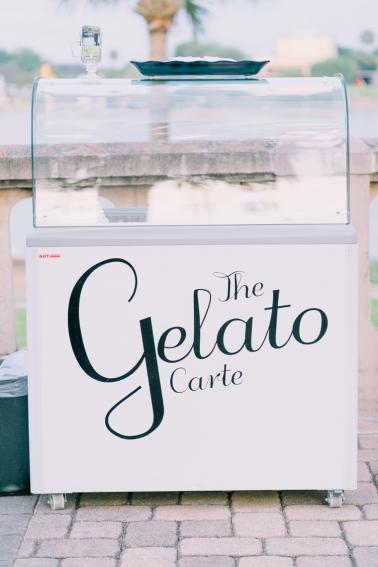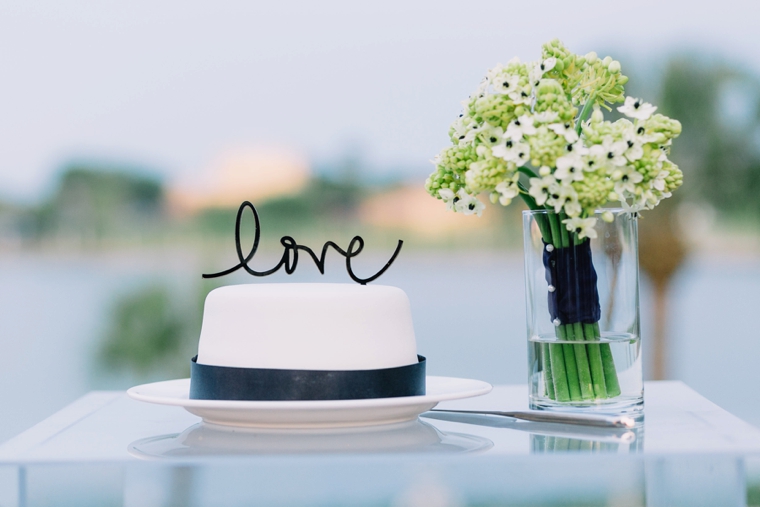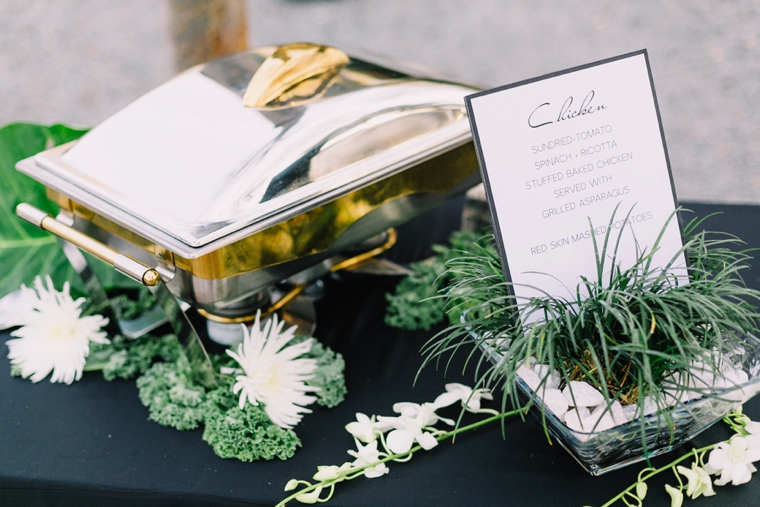 What was your favorite thing about your wedding?
Everything about the wedding day was so, so special; I got to marry the man I love surrounded by family and friends! But one moment sticks out as a real highlight and it was something I didn't even have a role in planning: my father's fireworks surprise.

I've dreamed of having fireworks at my wedding since I was a little girl and used to watch fireworks displays over the lake next to our wedding venue on the Fourth of July and New Years Eve. Almost as soon as I got engaged, I began researching local fireworks companies, but once I got a quote or two, I decided it was definitely not in the budget and I never mentioned it to my parents. Somehow, though, my father knew about my girlhood dream of wedding fireworks and he secretly worked with Laura for several months to plan an amazing fireworks surprise. It was such a secret, he didn't even tell my mother until 48 hours before the wedding! Towards the end of his toast, one firework went off just a little bit too soon; it dawned on me what was happening, and I immediately teared up, I was so touched and surprised. What followed was a truly stunning fireworks show; the fireworks company had even worked to coordinate with our band, DeLeon Entertainment, who played Gershwin's Rhapsody in Blue beneath the fireworks—coincidentally one of my husband's favorite songs. Standing beneath the fireworks with my family and my new husband, laughing, crying, and taking it all in was such a thrilling and memorable experience. I'm grinning ear to ear and tearing up even as I write about it now.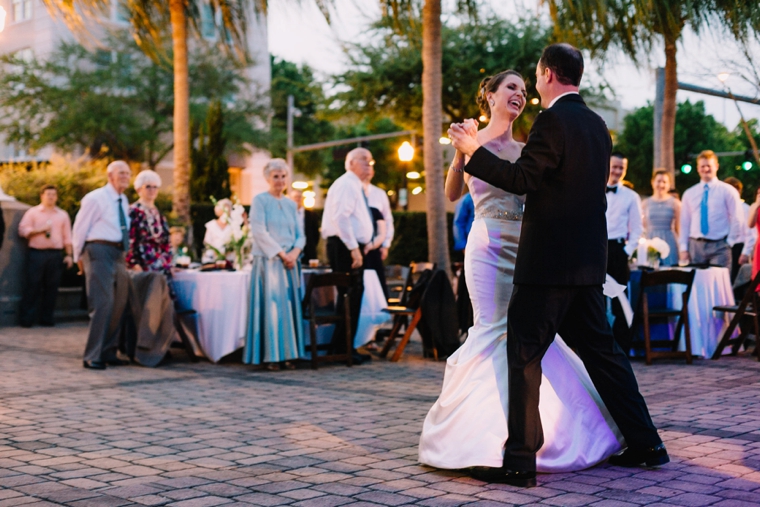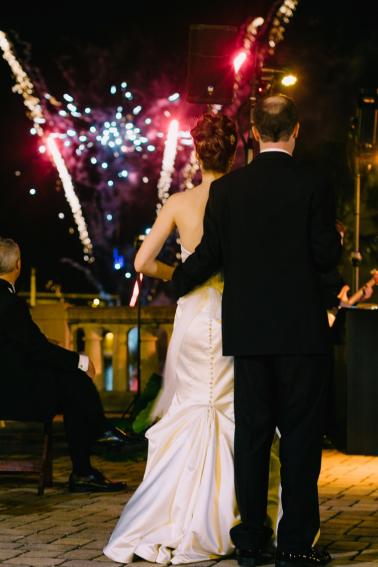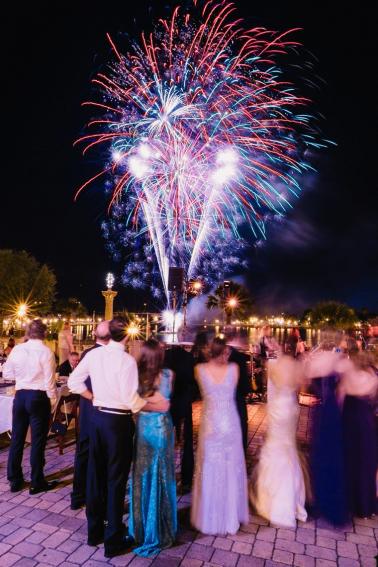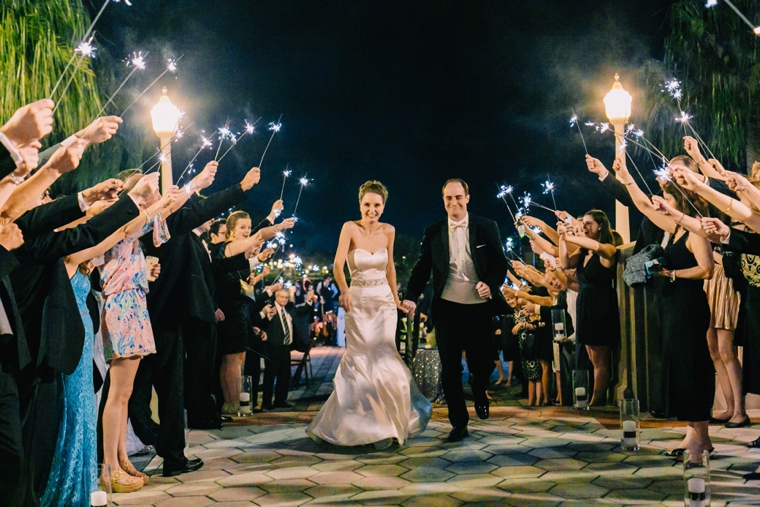 What is your best piece of advice for other brides?
Hopefully my earlier responses have sold you already on what a worthwhile investment a wedding planner is. I'm so, so happy I hired Laura and the Ashton Events team! Beyond that, I have two key pieces of advice:

First: Be sure to invest in a photographer whose work you love and whom you love working with. Much of the event itself is now just a blissful blur in my memory, so having amazing shots of so many moments from the wedding and the reception—including lots I never witnessed myself—is so special. I'm especially thrilled (1) that our wedding package came with the digital rights to all the photos, allowing us as well as our wedding guests to print any of the photos, and (2) that our photographer, Catherine Ann Photography, is a two-person team, allowing the two photographers to divide and conquer to capture so much more of the day itself! It's definitely worth negotiating on digital rights and a second shooter if those are not automatically part of your photography package.

My other main piece of advice for brides planning outdoor weddings and receptions is to make sure you have a back-up plan that you are happy with. James and I really lucked out, and the weather ended up being perfect on our wedding day. But we were anxiously watching the ever-changing weather forecast all week. Laura and my parents had come up with some back-up arrangements that we would have thrown ourselves into finalizing in the last few days if the forecast hadn't taken a turn for the better. But because I had not been as involved in that part as all the other planning, I was pretty nervous about the weather. We got lucky, and hopefully you will too, but it definitely helps keep stress levels down if you have a backup plan you're comfortable and happy with!
Oh wow- Kathryn's advice and insight might be some of the best I've heard! And how amazing were all of the personal touches at her wedding?! A surprise fireworks show, rose petals down the aisle consisting of flowers her mom saved throughout the years, and citrus trees grown by the groom's dad? So very heartwarming, and such a wonderful example of how you can truly personalize your wedding to reflect your life! [Oh, and PS- did you catch the amazing things Kathryn had to say about her planner, Ashton Events? I have actually done a few weddings with Ashton Events and even attended one too, and I can attest that they are absolutely amazing! :)]
So what kinds of things are you planning on doing to personalize your wedding? Anything in particular you're thinking of?
Vendors who made it all happen…
The following two tabs change content below.
Lauren Grove is the editor and owner of Every Last Detail. A clueless bride-turned-wedding planner, Lauren uses her experiences and knowledge to educate and inspire brides all over the world.