Your wedding photos are one of the most important parts of your wedding day- in addition to of course actually getting married! These images are going to be hung on your wall for years to come- probably for the rest of your life. They will be viewed by your kids, grandkids, and great-grandkids… and in essence, they become a legacy!
Images above by Justin DeMutiis Photography, The Hons, & Best Photography
So my guess is that you want to look your best for your wedding photos, right? A huge part of that involves your smile, but with all of the other beauty prep you go through prior to your wedding day, your smile can be something that sometimes can be forgotten. Well friends, don't you worry, because I've partnered with my friends at Crest 3D White to show you exactly how you can make your smile beautiful and ready to shine on your wedding day! Because after all- you want your photographer to capture your love and happiness on your wedding day, and that without a doubt includes your beautiful smile!
So with all of this said, let's talk about whitening your teeth for your wedding day! If you're anything like me, you want to know as much information about something as you possibly can before doing it. So I've put together a simple, step-by-step guide for you on how to use Crest 3D White Whitestrips!
1) Purchase the Crest 3D White Whitestrips you want. There are a few different options you can choose from:
Crest 3D White Supreme FlexFit Whitestrips– The exclusive FlexFit technology design stretches and molds to custom fit your smile, whitening teeth like $500 Professional Treatment.* Use for 1 hour daily for 14 days.
Crest 3D White Professional Effects Whitestrips– With strong grip, no slip technology these Whitestrips remove 14 years of stains. Use for 30 minutes daily for 20 days.
Crest 3D White Glamorous White Whitestrips– The strong grip, no slip technology allows you to talk and even drink water while whitening your teeth. Use them daily for 30 minutes for 14 days to elevate your smile to the next level.
Crest 3D White Vivid Whitestrips– These strips use the enamel-safe ingredient found in all Whitestrips to give you visibly whiter teeth with noticeable results in just 12 days. Use for 30 minutes for 12 days.
Crest 3D White 1 Hour Express Whitestrips– Enamel safe, 1 Hour Express Whitestrips will reveal same-day results for a brighter, whiter smile that shows. Use full kit for full results.
Crest 3D White Gentle Routine Whitestrips– Gently remove years of stains for teeth that are sensitive to whitening.
I chose to go with the "Glamorous White" Whitestrips because they have a good grip and won't slip… and because Glamorous sounded awesome too. :)
2) Open up the package and read the instructions. It's really quite a simple process, but instructions are always helpful to have!
3) Open a package of strips (1 upper, 1 lower). Peel Crest 3D White Whitestrips from the backing liner.
[Note: It is best to not brush your teeth immediately before applying the strips!]
4) Apply the lower strip first. While looking in the mirror, apply the gel side of the strip on the front of your lower teeth. Align the straight edge of the strip with your gum line. Press gently onto the front side of the strip for 2-3 seconds. Fold the strip over your teeth. Press gently onto back side of your teeth for 2-3 seconds.
[Editor's note: Get ready for some funny looking faces y'all! This process is super easy, but it's hard to not look funny while doing it!]
5) Repeat the process above for the top strip!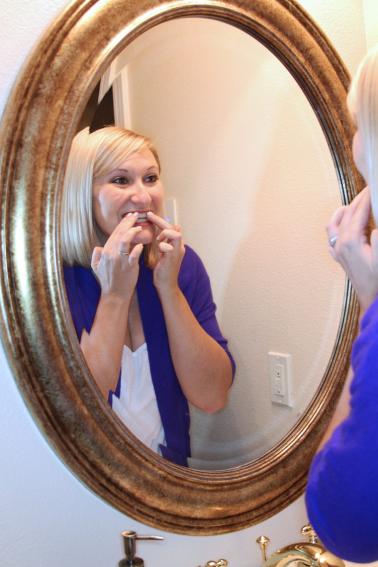 6) Wear the strips for the recommended time frame included with your Whitestrips (anywhere from 5 minutes to 1 hour, depending on which you are using)- in fact, I wrote this post with my Whitestrips on! Once your time frame is done, remove the strips and discard!
7) So simple! Just use the full number of treatments in the kit and do one treatment per day until all of the Whitestrips are gone!
PS: If you're in a hurry, you can use the Crest 3D White 1 Hour Express Whitestrips to remove years of stains in just 1 hour!
8) Oh, and it doesn't hurt to also use a Crest 3D White toothpaste after your Whitestrips treatments. I've been using the Crest 3D White Radiant Mint whitening toothpaste, and I love it! Did I mention that I'm really picky about my toothpaste?
Now I know what you're thinking… how exactly do these things work? Crest 3D White Whitestrips are thin, flexible strips that are coated with a peroxide-infused gel uniquely designed to conform to the shape of your teeth. The product works by keeping the whitening gel on your teeth to get at stain build-up below the enamel surface to visibly whiten your teeth.
There are certainly other options out there when it comes to whitening your teeth, including going to a dentist. I myself have actually experienced the use of whitening trays from a dentist (thanks to the fact that my dad is a dentist) and these Crest 3D White Whitestrips are so much easier! It's easy to talk and continue to go about your day normally (sans eating anything of course), which is incredibly important for me as a business owner, but also for you as a busy bride!
So friends, don't forget about what will be one of the most important things when it comes to your wedding photos- your smile! Make sure your smile is the whitest and brightest it can be by using Crest 3D White!
I'd love to hear from you all- have any of you considered whitening your teeth for your wedding day? I know it was definitely something that I did for my own day! 
This blog post was sponsored by Crest 3D White. All experiences and opinions are the author's own.
The following two tabs change content below.
Lauren Grove is the editor and owner of Every Last Detail. A clueless bride-turned-wedding planner, Lauren uses her experiences and knowledge to educate and inspire brides all over the world.