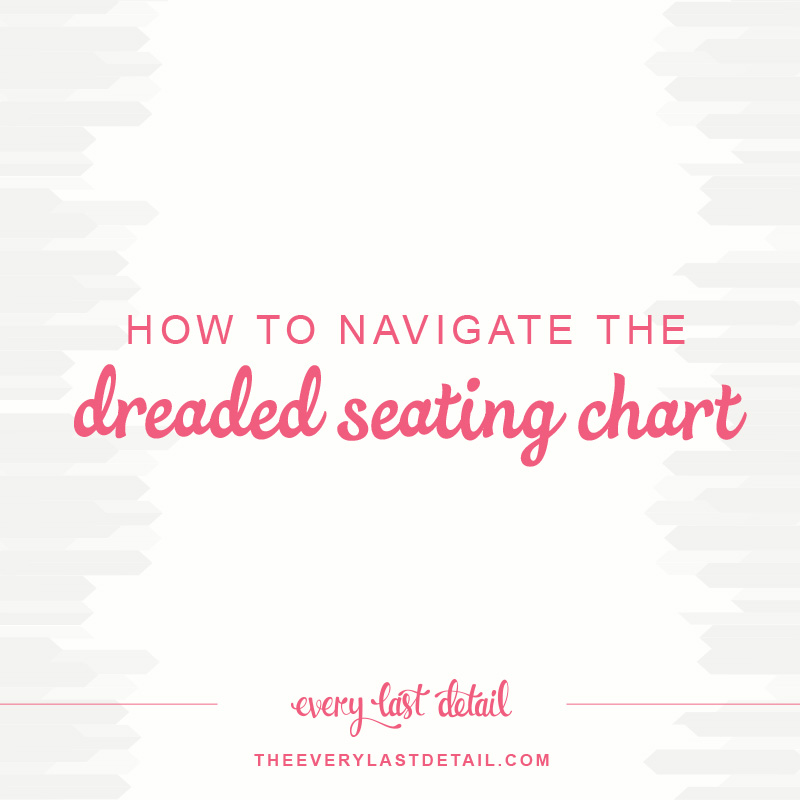 How To Navigate the Dreaded Seating Chart
---
Mapping out the seating chart seems to be widely regarded as the least favorite aspect of wedding planning, according to couples. But let's think about why – is it because of the overwhelming number of guests? Is the thought of a family feud anxiety-inducing? Do you have to separate fighting friends? Whatever the case may be, these tips from event pros have everything you need to tackle the problem head-on.
Be Mindful of your Budget
While the breakdown of your reception seating does impact other areas of the Big Day, most don't realize that budget also comes into play. "You may love the idea of seating 8 per table at a round versus 10, so everyone has a bit more elbow room," shares Danielle Gonzalez of Blooms by the Box. "At the same time, you'll then need additional tables, which means more linens and centerpieces. If you're particularly looking for areas to save, consider giving your seating arrangements a onceover."

If you have your hopes set on long rectangular tables, you benefit from the ability to fit more people in together. Gonzalez adds, "with this 'family style' set up, you can do a garland and floral runner in lieu of centerpieces in containers, which can save money."
Start with the Absolutes
When in doubt, start off with planning the assigned tables first. These are the ones you know are going to remain fairly consistent, like the bridal party table or the kids table. Tracie Domino of Tracie Domino Events notes that if you decide on a head table to seat the bridal party, you also have to be mindful to include their significant others. "No one wants to be seated across the room from the person they attended with and the date might not know anyone at the wedding," she says.
Managing Seating Conflicts
Having family members or friends that just don't get along is very common and unfortunately unavoidable. However, you don't have to let this rain on your big day, and there are small things you can do to ease the tension.

Tommy Waters, Event Coordinator of The Renaissance says, "Of course, you'll always have those guests that are better off seated separately. But on such an important day, you can count on most (if not all) of your guests to come on their best behavior. I also always suggest to consider mixing up the seating chart a bit if you're at a loss – friends and family that may not have been able to spend much time together before will now have a great opportunity to!"

Conflicts can go beyond organizing a few place cards. Waters continues, noting that not making room for additional guests is a common mistake couples make. "Be sure you have space to add tables! Chances are, you'll inevitably have guests contact you at the last minute and ask to bring along an extra person. More than likely, this will add a table to the floor plan. This means more place settings and centerpieces, too."

For Kevin Dennis of Fantasy Sound Event Services, you may even come to a crossroads where you have to cut people from the guest list. "If you're on the fence about where to place a difficult guest, my rule of thumb would be this – anyone who doesn't 100 percent support your marriage should stay home. Whether it's a friend that don't want you to get married or a family member that has been overly judgmental or difficult to deal with. Whatever their reason, if they aren't as excited for you as everyone who is attending and you're truly worried about how they'll interact with other guests, then they shouldn't get an invite."
What about the Little Ones?
Whether or not you decide to invite children is entirely up to you, but if you do have young ones in attendance, you'll need to decide whether the children should sit with their families or at their own dedicated table.

Domino expands, "It depends on the age of the kids. I probably wouldn't try this for kids under age 6, as smaller children should sit with their parents, but anyone old enough to cut their own dinner can sit at their own table. We also recommend checking to see if the hotel has a 'Kids Club' with babysitting services to help entertain the kids and keep them under control."

If you do decide to create a kids table, remember to notify parents in advance and budget for a few small activities and toys to keep your youngest guests entertained.
Apps and Programs to Make Planning Painless
Luckily, we've seen a sharp incline in incorporating technology into wedding planning in recent years. The endless spreadsheets can be overwhelming, but new seating chart tools take the headache out of organizing from scratch. AllSeated can provide 2D/3D floor plans along with guest list management, while favorites such as DropBox and Google Drive come in handy for storing documents securely all in one place.
Wedding trends are making a huge shift to the unconventional, and this is especially true for how you decide to combine your guests at your wedding. Largely formal dinners and receptions are becoming increasingly rare, so rest assured that however you choose to approach the seating chart task, your comfort and vision reigns above all!

The following two tabs change content below.
This post was written by an ELD Team Member... and there's a good chance she likely loves weddings, Kate Spade, and wedding details, as all of #TeamELD does!