Mixing and matching bridesmaid dresses is quite popular today, and it's actually one of my favorite things! It's something that I myself wish I had done for my own wedding, but alas, I couldn't quite figure out how to mix and match bridesmaid dresses in a manner that would be effective and beautiful.
Well good news friends, because Donna Morgan bridesmaid dresses are PERFECT for mixing and matching! Not only do they have a wide range of colors and styles, but they have dresses in patterns that gorgeously complement their dresses too! And to help you figure out this whole mix and match thing, I've put together a few tips…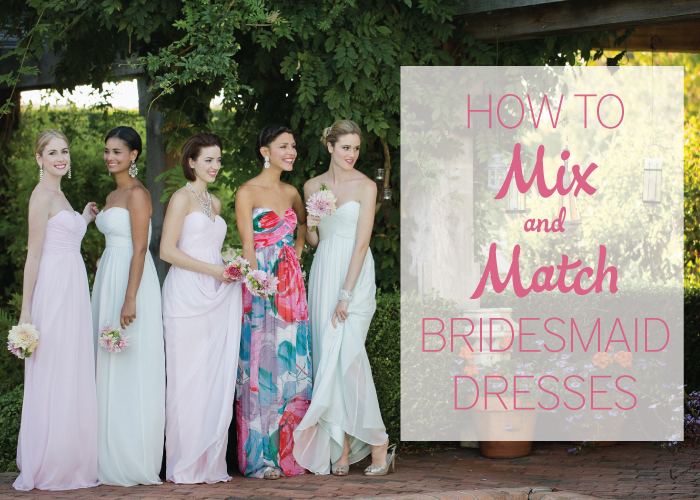 1) Mix and match in the same color palette.
Pick two or three colors that are the same color, but different shades. Looking at the coloring (skin, hair, eyes) of your bridesmaids, choose who will be wearing which color. Or, you can always ask your girls which color they prefer too!

Donna Morgan has lots of dresses in the same color family that you can choose from. So for example, if your color palette is blush, you could go with pastel pink and off-white dresses. Mixing colors looks AWESOME in photos, adding a bit of dimension to the images that will be captured on your wedding day.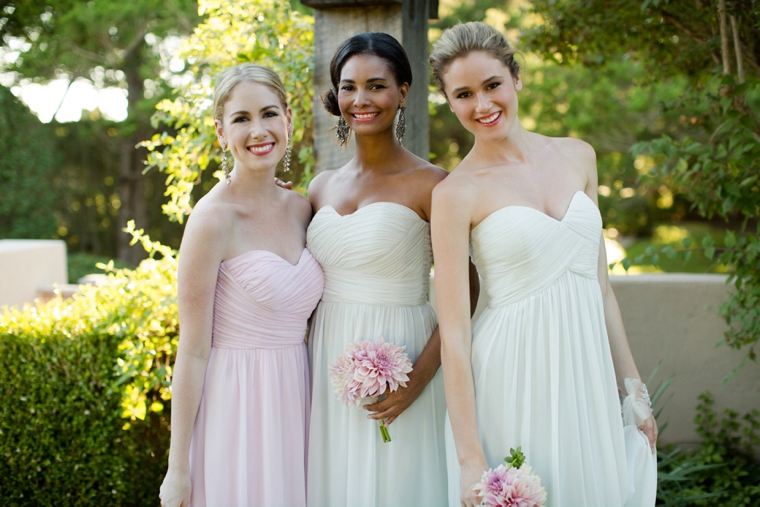 2) Let your Maid of Honor standout.
You can either choose to have your Maid of Honor be the only one wearing a different color or pattern, or you can put her in a pattern while all your other girls wear varying solid colors! If you don't want to have your bridesmaids stand out TOO much, just having your Maid of Honor be the only one wearing a different dress is a good option.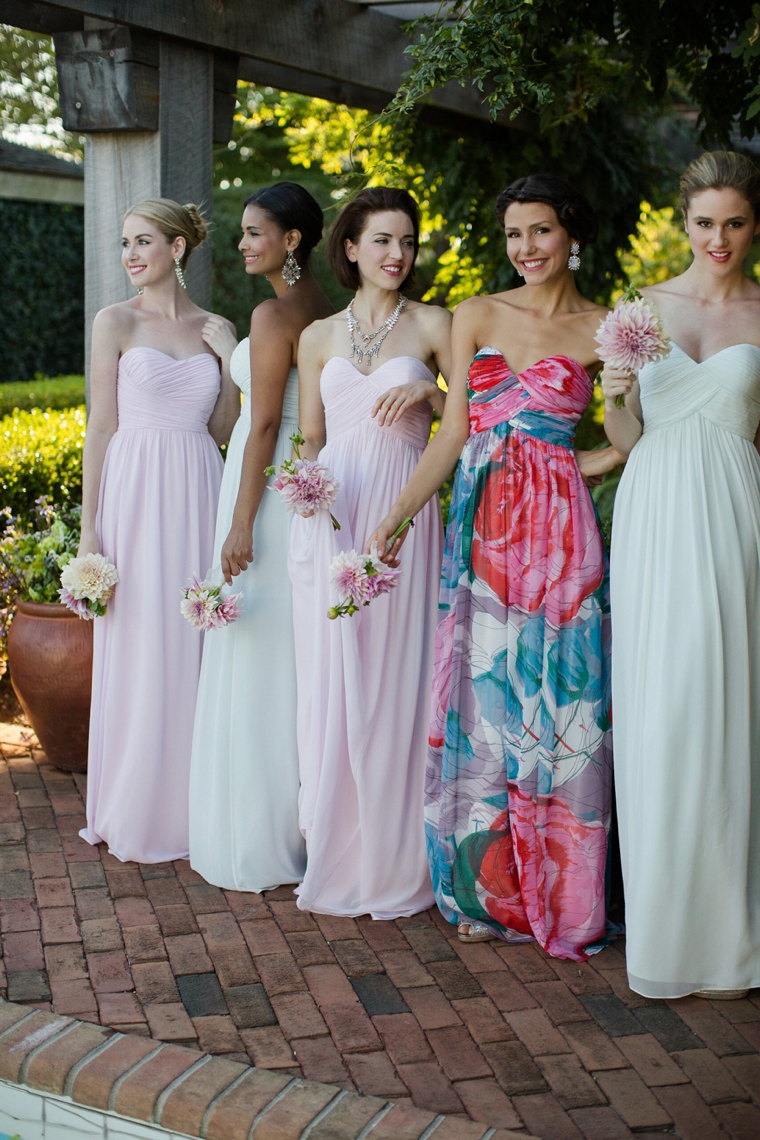 3) Embrace various styles.
If you don't want to go through the trouble of deciding on colors, choose one color and then let your bridesmaids choose from a variety of styles of dresses. This is most effective if you use dresses from the same designer who will have the same color available in different styles. Hint: The dresses don't even have to be the same fabric- they will still look awesome!
4) Don't be afraid of patterns!
More and more bridesmaid dresses are coming in patterns now, which as a pattern-loving gal, I LOVE! If you're wanting to change things up when it comes to mixing and matching your bridesmaid dresses, don't be afraid to throw a pattern in the mix!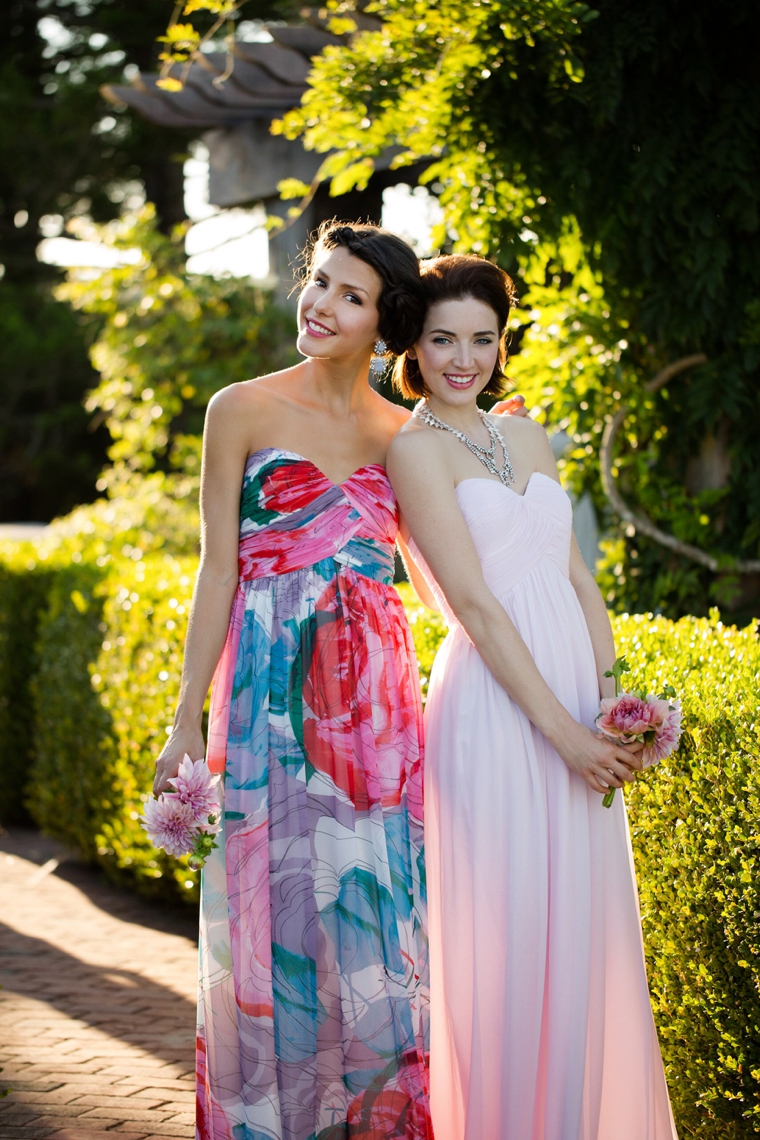 5) Vary your colors but stay in the same tone.
I know I mentioned staying in the same color family before, but it's also quite alright to choose colors that aren't in the same color family. Your bridesmaid dresses are a great way to showcase your wedding's color palette, so if your colors are blush and mint, then go for blush and mint bridesmaid dresses! What I *do* recommend when it comes to varying your colors is staying in the same "tone"… so if you're going with pastel for one color, stay in that lighter, pastel tone. If you're going for rich, dark colors, keep things in the darker tones.
---
So there you have it! A few of my tips for how to mix and match bridesmaid dresses! And believe me- I sure wish I had a designer with tons of options like Donna Morgan back when I was planning. My photos would have looked SO much better if my bridesmaids had dresses that were "mix and match"!

This post is sponsored by Donna Morgan. All ideas and opinions are the author's own. 
The following two tabs change content below.
Lauren Grove is the editor and owner of Every Last Detail. A clueless bride-turned-wedding planner, Lauren uses her experiences and knowledge to educate and inspire brides all over the world.