Just like the bride and her bridesmaids pay careful attention to the fit and appearance of their dresses, the groom and his groomsmen should also be paying attention to the fit of their suits!
Your wedding photos will become some of your most treasured images in the home and life you share and build together. And chances are good that your eyes will wander to what you wore and how you looked while wearing it. So much attention is paid to the bride, her dress, her veil, and her accessories, and that attention is well deserved.
But, what about the gents? How does the groom look in his suit? More importantly, how is the fit?
There are plenty of options for ladies to search for the perfect wedding day attire, but the options always feel much more limited for the guys. The go-to idea is to rent a suit or tuxedo, but the fit is almost always off, the styles are sometimes a thing of the past, and the colors available are not always on point. (Not to mention, have you ever thought about the fact that someone else wore the same suit the weekend before?! 😳) Plus, the cost to rent can sometimes leaves you wondering if the gents would be better off purchasing a suit that fits properly and can be worn again.
We think the answer to this question is a resounding YES!
And, we've found a great source: The Modern Groom.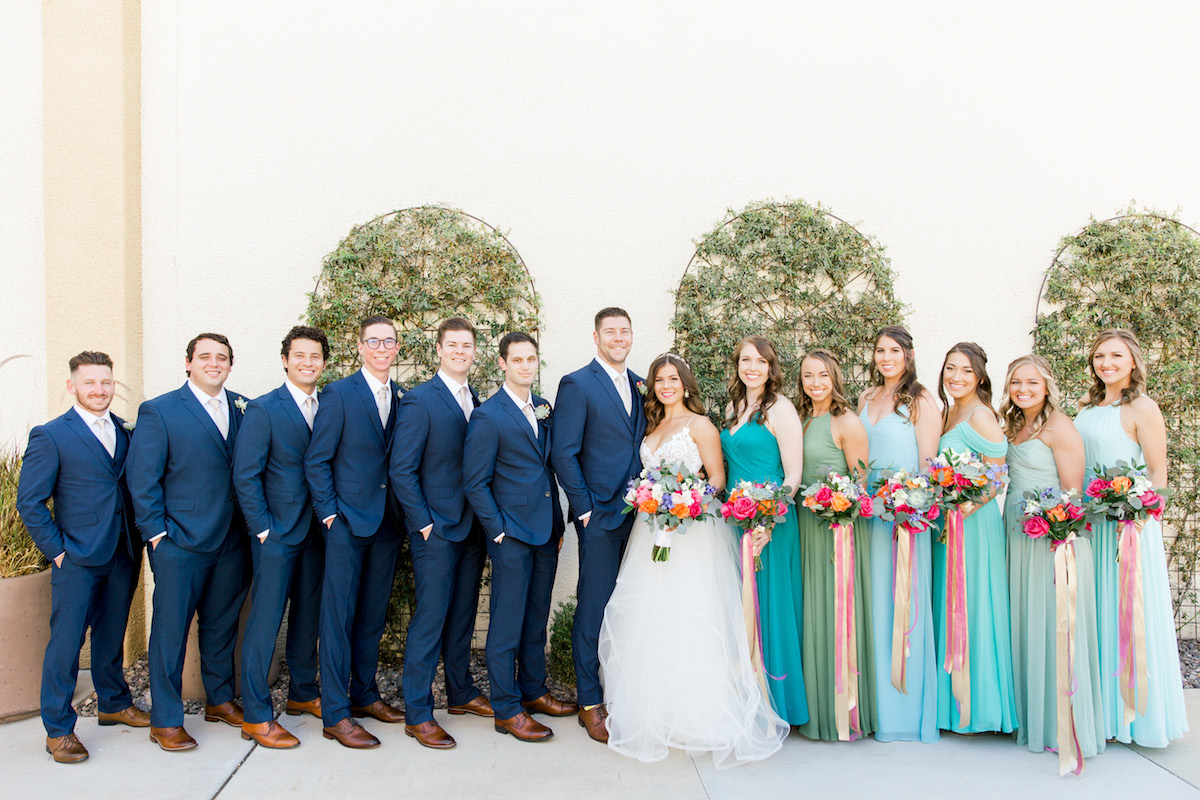 Groomsmen suits in The Modern Groom Signature Blue, Photo by Monique Hessler
The idea behind The Modern Groom is to make groom and groomsmen look AMAZING with affordable suits. For as little as $195, the groom and groomsmen can easily order a suit that's going to fit them perfectly for just about the same price as a rental that would be ill-fitting. A suit that has never been worn (or even tried on) by anyone else, that fits perfectly, and that they can keep and wear again and again! And, The Modern Groom ticks off all of the necessary boxes of suiting up, including a few you didn't even realized mattered! Let's dive in to a few of the details:
The Modern Groom team knows men's suits. Combined, they have over 100 years of experience dressing gents! 
We love that The Modern Groom is born and bred in the United States – Scottsdale, Arizona to be exact!
There are five suit colors, 100+ bowtie and pocket square colors, and 20+ sock colors and styles from which to choose.
You will be teamed with a virtual stylist who will help you choose your suit (more on this in a moment!).
Everyone, including your groom and your groomsmen, will order their suits online, try them on at home, and get them tailored at your chosen shop. The Modern Groom had us at "order online"!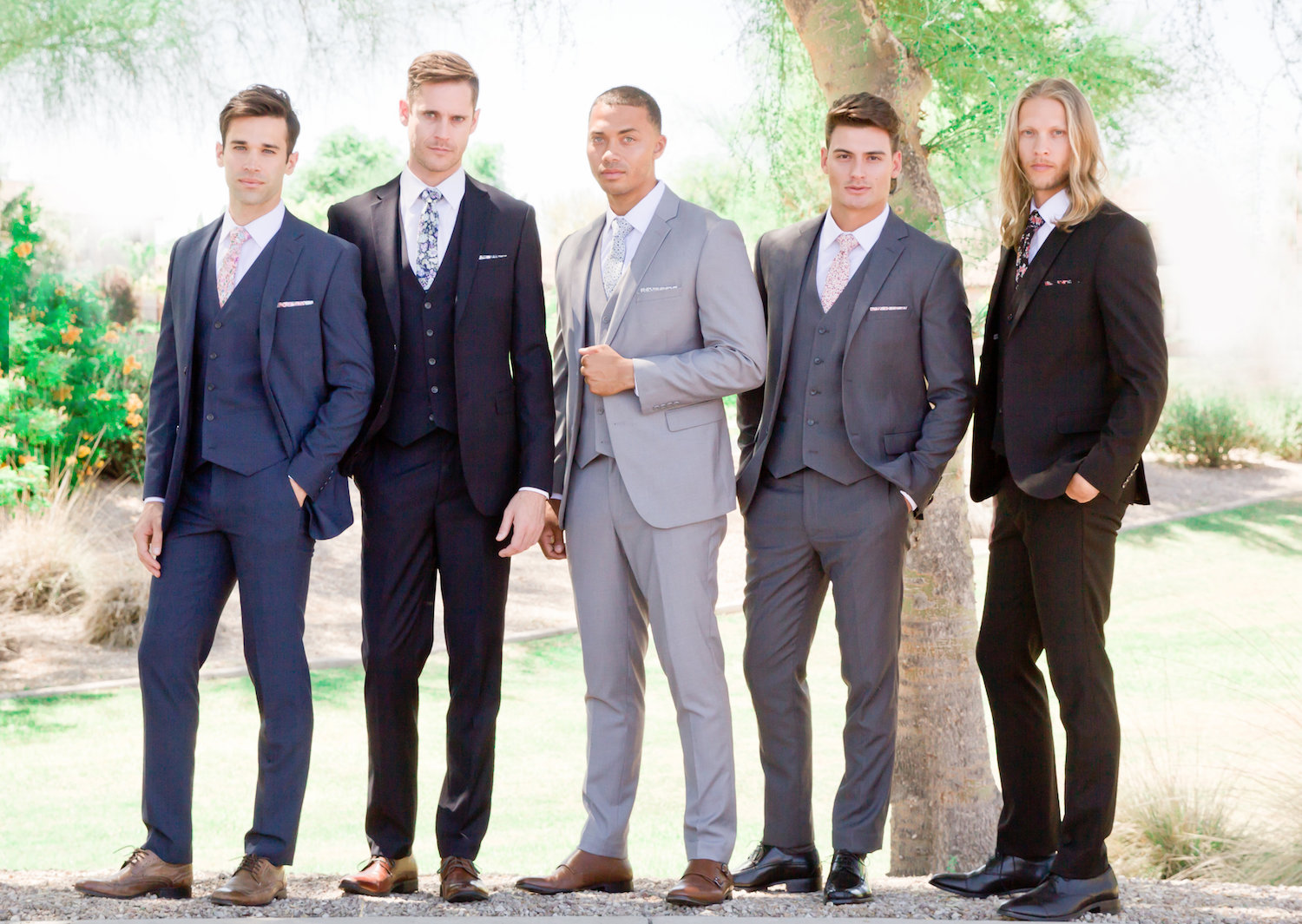 The Modern Groom's 5 Suit Colors: Blue, Navy, Light Grey, Grey, and Black
If you and your future husband decide to learn about getting a suit from The Modern Groom, the first thing to do is to book an appointment with a virtual stylist. During your appointment, The Modern Groom's team will walk you through all of the suit styles, options, and costs. Together, you will virtually build the look of your suit, including all of the details, like the jacket, vest, and pants. You can also opt to include additional items, like shirts, ties, and pocket squares. And if you really want to experience a completely styled look, you can even add belts, socks, and shoes!
Once you make your selections, The Modern Groom stylist will talk you through sizing. Then your complete look will be shipped to your door for you to try on at home. You will want to plan to take photos to send to your stylist, so The Modern Groom team can evaluate the look and fit. As long as everyone is on the same page (and looking great), you'll then share the details with your groomsmen. The Modern Groom's team will walk each member through the process of ordering, suits will be shipped, and each person will visit a local tailor to them to have any adjustments made with guidance from your stylist. It's so easy!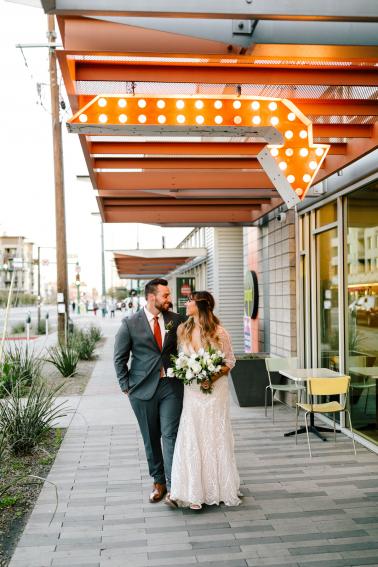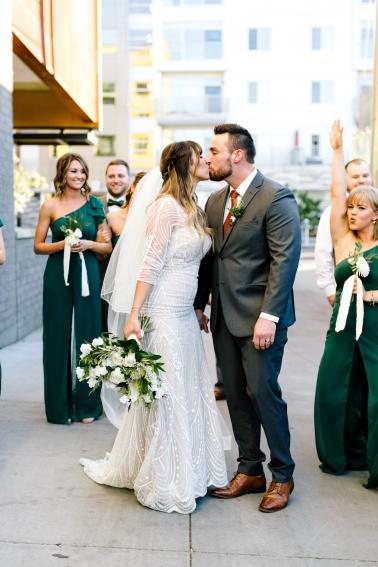 Photos by Thomas Shull Photography
We think the best way to ensure everyone from the bride and groom to the bridesmaids, groomsmen, and family looks awesome in wedding photos is to make the process of shopping for wedding day attire seamless and simple. Plus, we don't know anyone who wants to purchase (or even rent) something that doesn't fit properly!
The Modern Groom has made suit shopping, fit, and style quick and easy for grooms and groomsmen, and we're 100% on board. Are you?
Editor's Note: This post has been sponsored by The Modern Groom. 
The following two tabs change content below.
This post was written by an ELD Team Member... and there's a good chance she likely loves weddings, Kate Spade, and wedding details, as all of #TeamELD does!