Hey friends! I am SO excited to be starting a new little series to add to Friday's beauty here on ELD… "Film Friday"! I'm lucky enough to be able to see amazing wedding films all the time, and so I wanted to start something that would highlight *just* those amazing wedding films. You see, in the wedding blog world, sometimes the films aren't ready by the time the photos get submitted, or sometimes they're just overlooked. So I've decided that it's about time wedding films get some attention of their own! Because cinematography has a special place in my heart. I've seen memorable moments happen at weddings several times- moments that unfortunately couldn't be captured by photography. Whether it was an awesome toast, or a dance-off between the bride and groom, the truth is, every couple deserves to be able to have both still and action moments from their wedding captured. :)
So to start off the new Film Friday series, I have a fun, loving, and emotional film from Imprint Cinema! They had this to say about Hannah and Gabe's wedding:
"Hannah and Gabe were just about the cutest couple you'd ever seen. From the moment we walked into Hannah's room on the morning of her wedding day you could tell (as so wonderfully described by her maid of honor) she was so excited to marry the man of her dreams! We spent the morning laughing and reminiscing with her about their relationship, watching her do her "I love Gabe" dance many many times, and as I walked her down to see him for the first time for their first look, she turned to me and said, "I look beautiful right? I want to look beautiful for him." Adorable. There was not a moment during this day everyone was not smiling. The words spoken were true and heartfelt and the reception was a true party."
The Wedding of Hannah and Gabe Captured and Created by Imprint Cinema from Imprint Cinema on Vimeo.
Don't you just LOVE their excitement and love for each other? I definitely teared up a little bit… that's always my indicator of an amazing wedding film! I have a little still-moment of their wedding for you all too, captured by Brandy & Beau Photography…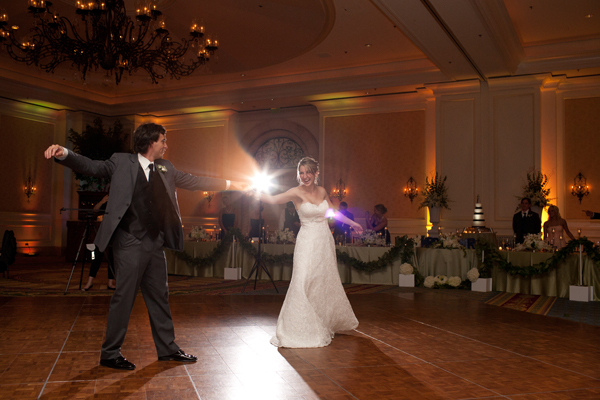 I hope you all enjoyed this fabulous film from Imprint Cinema! I'm looking forward to being able to share amazing wedding films with you all in the upcoming "Film Friday" features! Happy Weekend!!
Vendors who made it all happen…
The following two tabs change content below.
Lauren Grove is the editor and owner of Every Last Detail. A clueless bride-turned-wedding planner, Lauren uses her experiences and knowledge to educate and inspire brides all over the world.