So today I have a bit of very important information to share with you all:
Day-of wedding coordinators do NOT exist!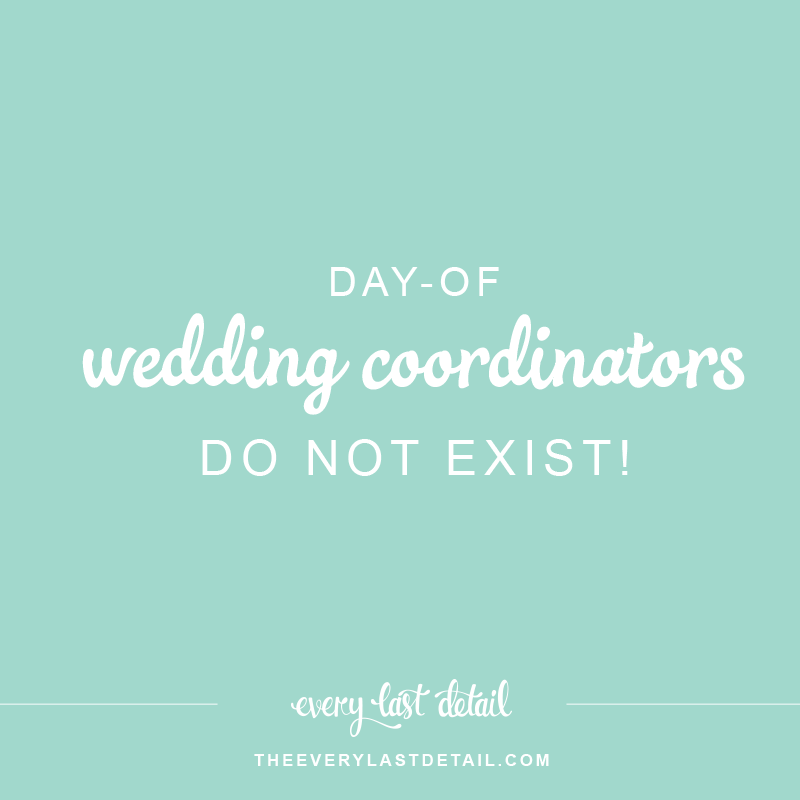 I know, I know… they do exist. And a day-of coordinator is what everyone (myself included) says that you at least need to have for your wedding day to run smoothly. But the reality is that in order for a wedding day to run smoothly, a coordinator doesn't just work for the day of the wedding. So in essence, we really shouldn't be referring to these coordinators as "Day-of"!
Think about it- would you want someone walking into your wedding on the day-of when they have no idea about anything that is supposed to happen?
Definitely not, right? Having a coordinator for the day of your wedding is of course something that I highly recommend, but you must realize that for a coordinator to successfully carry out your wedding day, they need to be able to work BEFORE your wedding day too. Well thankfully, there are alternatives to "Day-Of" Coordination – "Month-of" Coordination and "Event Management"!
Month-of coordination certainly isn't a new concept, because it's pretty much how the former "day-of" coordination service has been done for some time. Essentially, all of this is just a matter of recognizing that the term "day-of coordinator" isn't correct.
Wedding planners all over have decided that starting their coordination services 4-6 weeks before a wedding is enough time to get everything figured out and organized. This means that you hand over just about everything to your coordinator, and then they take over for you. You've done the planning up until this moment, and now your month-of coordinator is going to handle the rest. Vendor confirmations, creating your timeline, making sure everyone knows where to be, making sure you're not forgetting anything- all of these are definitely things that you want done in the weeks before your wedding day, not on the day-of or the day before! And what makes it even better is that you get to enjoy (hopefully) the weeks leading up to your wedding!
I asked some of my wedding planner friends about their thoughts on month-of coordination, and they had some excellent insight:
"I always tell clients (both potential new clients and those that are retained) that day-of coordination doesn't really exist. The best way to illustrate my point is to tell them that the last thing they want is for someone to literally come in the day before (or even day of) your wedding and try to interpret your months and months of planning and execute it to a tee. The benefit of having a month of coordinator is have someone there to help you in those last 30 days when everything is hectic and stress is at its highest point. Head counts are due, floor plans need to be finalized, payments ate due, wedding party members (and family) are driving you nuts with questions, etc. it's exhausting and it's always nice to have someone that you can hand off many of the items to. It is also the critical time to develop and solidify a wedding weekend schedule. I like to be able to develop a special relationship with my clients through the planning process, which allows me to be understand their needs, wants, likes, dislikes, etc. so that they feel comfortable coming to me throughout the process, but more so in those last 30 days." – Kelly of Just Save The Date Events
"I think it's important for couples to realize that it's impossible for someone to effectively run an event if they are just doing "day-of." We can't know the details, the vendors, create a timeline, backup plans, and fully pour into the event if we aren't putting in the hours before hand with the couple, the vendors, the venue, and fully understand every aspect to create the special day." – Emily of Treasury Rentals
And then we have "event management", which is a little bit of a newer term in the wedding world. Event management is meant to be more literal in definition, viewing the service as literally having your event managed, both on day of and in the months leading up to it. Often times with this service, it is starting more than a month prior to your wedding- usually around 2 months before. In my opinion, having an event manager is way better than just month-of coordination, because it means that the planner is going to be more knowledgable and aligned with your wedding and your expectations.
We asked a few of our V List experts to share more insight into this type of service:
"Because day of coordination really isn't a thing and I come in 60 days prior to wedding day, it's wedding management. I collect all the details of what you've planned, connect with and become your point person with vendors, help organize and finalize any list bits of planning and make sure I fully understand how to implement your day properly. Being thorough and learning all I can leading up to your wedding helps us be successful in creating a seamless timeline and pulling it off on wedding day. Month of and day of aren't real expectations if you want a planner to get to know you, understand you and to be your ambassador at your wedding. We manage all the details that make your day run on time and fix anything you may have left out in your planning process." – Karen of KMC Weddings & Events
"Imagine waking up on the morning of your wedding and not stressing about one single detail. You breathe a huge sigh of relief that you made the decision to hire a professional wedding planner to manage all the details of the wedding day. All you have to do is relax and enjoy each moment as your wedding day unfolds.
In Event Management, starting two months prior to your wedding day, we will work with you to gather all of the planning details, review a detailed wedding checklist, create timelines, attend a final walkthrough at your venue, and finalize timing and logistics with your team of event professionals. During the wedding weekend, we will coordinate your ceremony rehearsal, alongside your officiant, and oversee all the details on the wedding day including timing, logistics, setup, decor placement and clean-up." – Sarah of Sincerely Pete Events 
"Wedding Management: Managing the event for our couples, providing resources, management. We don't start just 30 or 45 days out, as most couples need some sort of guidance. To ensure the day is much smoother for us, we want to ensure our couples have the best resources available. While we don't attend vendor meetings or design, we offer resources, consult over the phone/email and recommend our creative partners, ensuring the day to be more seamless and less stressful all the way around." – Claudia of A Day To Remember
"Event Management is a more accurate term for what many planners used to call "Day of Coordination." We believe it's impossible to just "show up" on the wedding day and organize vendors, decor and people. Our Event Management service begins once the couple signs the contract with vendor referrals and access to online planning tools. We'll meet with you several times- once at your venue to discuss the floor plan/layout and decor setup needs, and once in our studio to finalize your timeline. We're also always available by phone or email throughout the planning process for logistics and timeline related questions. We'll communicate timeline details to your vendors, coordinate your rehearsal and of course, coordinate the wedding day itself. As you can see, there are TONS of details that need to be managed, so we are happy to be available for our couples from the get-go!" – Cassie of Flaire Weddings & Events 
---
And let me add- as someone who has done "day-of" and "month-of" coordination, I can most certainly tell you that things go SO much better when your coordinator knows all of the nuances of your wedding. Because how else will you be able to have the day that you've dreamed of if you don't let someone know about your plans and expectations? :)
So tell me- are any of you planning on hiring a "month-of" coordinator or event manager? How are you going to make sure your wedding day runs smoothly? 

A version of this post was originally published in June 2013, and it has since been updated. 
The following two tabs change content below.
Lauren Grove is the editor and owner of Every Last Detail. A clueless bride-turned-wedding planner, Lauren uses her experiences and knowledge to educate and inspire brides all over the world.