I'm loving this colorful, rustic wedding I have for you all today! With fabulous photography by Emily Heizer, and a bride with amazing taste, this wedding will most definitely start your day off right!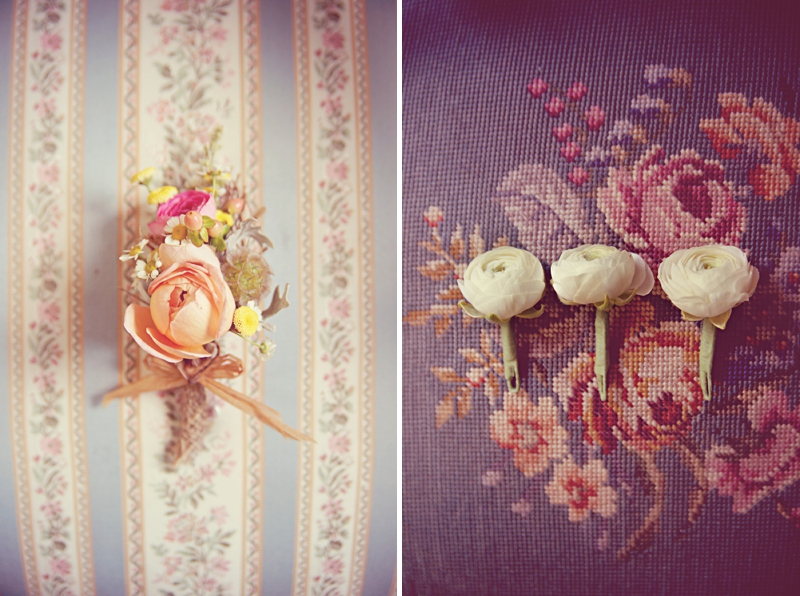 From the bride, Katie:
What (or who) helped you most in your planning process and/or on your wedding day?
Etsy!! God, I love Etsy!! I wanted a wedding that was totally personal and unique. I wanted to get away from the cookie cutter look. I found so many great things on Etsy. My bridesmaid dresses were custom made by a lady on there. My save the date cards and wedding invitations were from two different women on there. Also, my favors, which were cupcakes in cute decorated jars was from a wonderful baker on there. Plus, so many other little odds and ends. I loved having one of a kind items. It made me feel very special to know that all those items were created just for me!! Apart from Etsy, my wedding coordinator at Bare Ranch, my friends and mom all helped me out tremendously!!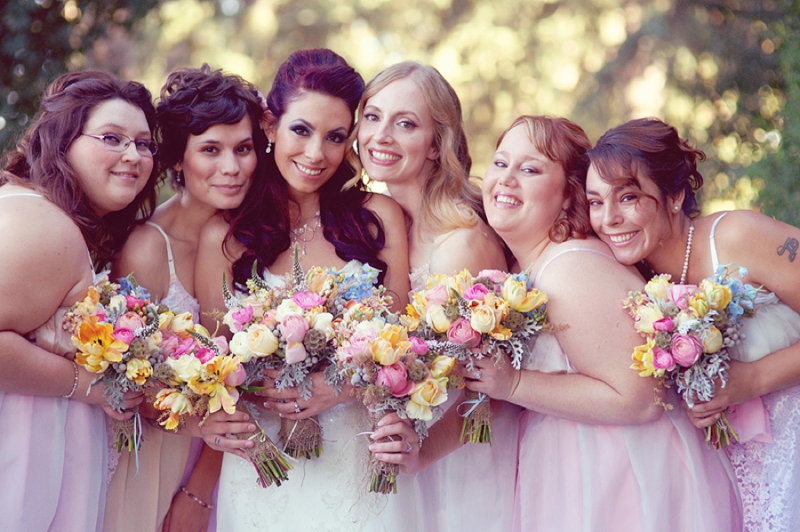 What was the most important thing to you when deciding who to work with for your wedding?
The most important thing to me when deciding where to get married was the level of involvement I could have in planning it. The city I live in, Lodi, CA, is famous for being a wine town and there are many great wineries to get married at. My husband and I checked out many of them, but there was very little room to get creative and have a wedding that I could truly make my own. Many of them were strict with what you could bring in, and for some of the outrageous prices that the wineries charge around here, I thought that was just a rotten deal. I knew I wanted an outside wedding, both the ceremony and reception. I was looking for a beautiful place that was outside, where I would be allowed to decorate how I wanted to. And then… I visited Bare Ranch. Right away I was struck by how beautiful it was. After talking to the event coordinator, Lori, I just thought, this is it. Not only were they reasonably priced, but I was given so much help by Lori. Plus, I was able to bring in anything I wanted for my big day. I got to be in charge of where things went and how things looked and all that awesome stuff. It was a big undertaking, because I know many brides that prefer to have a venue take care of all those things for you. Not me though- I wanted it to be how I envisioned it, not some other people who dont know me. As far as my other vendors, my caterer and DJ were recommended by Bare Ranch and they are both known in the area for being quite good, so I did not hesitate to go with them. I found some of my vendors online. I saw work by my photographer and videographer online and knew that they were the ones for me. The quality of their work was amazing. Really, when it came to deciding who to work with, I took a chance and picked some people who I had never heard of, and it certainly paid off in the end. I just kinda went with my heart :)
What was your inspiration for your wedding details and/or design?
As for my inspiration, I have always been a fan of the shabby chic and vintage look. I tried to put a little bit of both in my wedding. Luckily, my mother owns two shabby chic/vintage stores, so I was able to get many of my pieces from there. I wanted the colors to be light, and even though our wedding was in the fall, we were having an outdoor wedding, so it worked. I love white and soft blues and greens and pinks. I didnt want my weddings to revolve around certain colors- I just thought that was too restricting. I think that by going with a theme, you have way more options because then you can use all the colors that fit it!
What was your favorite thing about your wedding?
I loved every minute of it! I think my most favorite memory though is getting dressed and realizing that I had left my shoes at home, which meant that I had none to wear for the wedding. My wonderful maid of honor gave me her shoes her and the rest of my bridesmaids all went barefoot! I don't know if it was because it was an outside wedding and the bridesmaid dresses were vintage-y looking, but it totally worked and came out looking cute!!
What is your best piece of advice for other brides?
My best piece of advice is dont rush the planning of your wedding. Many brides want to get married quickly, so they give themselves 6 months or so to plan their wedding. Don't do it!! My husband and I were engaged for a year and a half, so I had 18 months to plan everything. It worked out great, because then I could take my time picking out vendors who were right for me. Rushing is no fun, especially because many good (and inexpensive) vendors get booked early on. Give yourself enough time! Also, many brides are looking for that DIY look and I was no exception. However, many women either do not have the time to make all the stuff themselves or are like me and lack the crafting know how. Etsy is a wonderful site where you can still get all of those unique handmade items, and thats an awesome thing for busy brides! Many Etsy shops are inexpensive and almost all the wedding items can be custom made to fit your theme and color. Plus, they make it super easy to order!
How great are the colors in this wedding? And I love all of Katie's advice- it's so helpful!
Are any of you planning on using Etsy for some of your wedding details like Katie did? What will you be getting?
Vendors who made it all happen…
The following two tabs change content below.
Lauren Grove is the editor and owner of Every Last Detail. A clueless bride-turned-wedding planner, Lauren uses her experiences and knowledge to educate and inspire brides all over the world.