Despite the scorching heat (it was 105 that day!), Aurora and Jeff's classic California wedding day was absolutely beautiful. They chose to incorporate nautical elements in the design of their day since not only do they live by the beach, but they spend much of their free time sailing. They even used some of the existing decor in their home, which made things even more personal, and those pieces now hold an extra special meaning as they decorate their home. We also love that they quite literally "tied the knot," and created a ceremony that was incredibly special and personal to them.
These two took a hands on approach to the design of their day. They took advantage of their wood-staining and painting skills, and created items like their signage and table numbers themselves, and the mother of the bride embroidered robes for the bridesmaids and painted cute door hangers for the bridal party.
So much celebration and joy in this wedding day, and Jennifer Lourie Photography captured everything so beautifully! We can't wait for you to see it all, and glean some insight from the bride regarding the details of her special day.
What (or who) helped you most in your planning process and/or on your wedding day? 
My partner-in-everything, husband-to-be was the most helpful in planning everything for our wedding and honeymoon. We handled everything mostly by ourselves, as a way of avoiding "too many cooks in the kitchen." We knew the vibe we wanted for our big day, and planning as a team really brought us together and helped us stay focused on what we wanted, and not what others may have wanted for us. We also knew how to split tasks efficiently to play to each of our strengths: I am better at designing details and ensuring everything looked the way we wanted it to, and coordinated together; Jeff (my husband) is better at handling overall logistics, scheduling, and communicating with various vendors.
What was the most important thing to you when deciding who to work with for your wedding? 
When looking at vendors, we of course needed to take cost into major consideration — but focused more on the value we were getting for our money, as opposed to just the lowest bid overall. It was important to us that our vendors seemed to match our style and mood, and that when meeting them we walked away feeling like they truly understood "us" and what we wanted our day to feel like and look like. And of course, that they were professional, responsive to emails, and confident in what they do and what they could deliver.
What was your inspiration for your wedding details and/or design?  
We live by the beach and go sailing whenever we can, so we knew we wanted to incorporate a bit of a nautical and beachy theme in a subtle way, without it being over-the-top. We actually employ a similar tactic in our home decor, so our wedding details were truly a reflection of us as a couple and the life we are building together. In fact, some of the items we took directly from our house — and then just put them back after the big day! (Side note: it ended up being really nice that we got to do this, as it's added more meaning to those items and we love looking around our home and seeing all these elements that were a part of our wedding.)

We spent a lot of time on Pinterest looking for inspiration for what we could do. Scouring through all those photos was a great starting point to get an idea of the overall style we both liked, and then we could incorporate bits and pieces of various ideas into something we could DIY or pass along to a vendor to personalize for us (in the case of things like flowers and the cake).

Jeff's extensive sailing and scouting experience (he actually teaches a knots course for the Boy Scouts!) is what inspired us to literally tie the knot during the ceremony.
What was your favorite thing about your wedding? 
A favorite moment from the wedding itself was our knot-tying ceremony: it was really fun for us, and was an unexpected, memorable moment for our guests — it was the one thing everyone kept talking about during the reception. 

Another, more personal, favorite moment was when we got to hide away from all the guests and commotion and just sit together in a secluded spot for 5 minutes after the ceremony to let everything sink in. Having this moment to relax together really let us appreciate the moment, and how much love from friends and family there was for us in one place.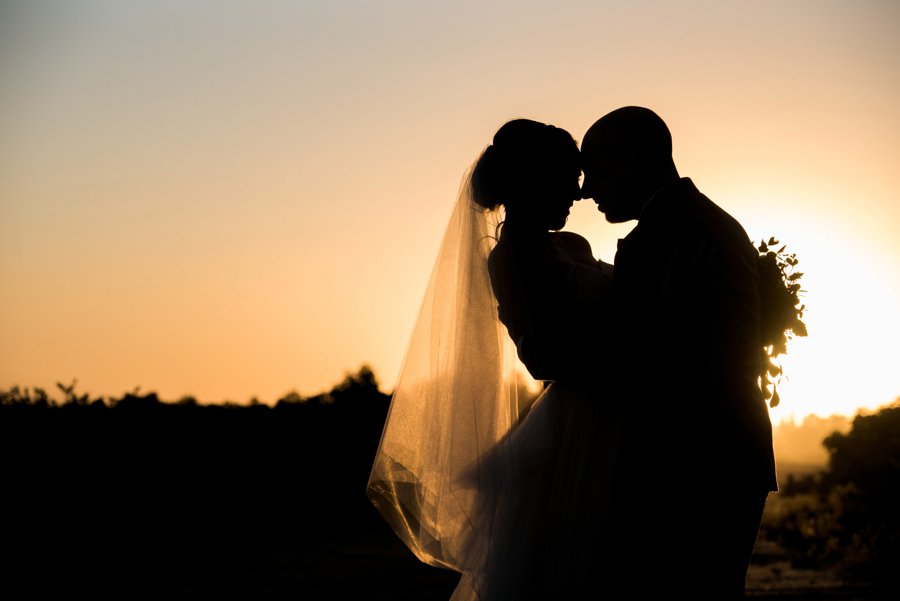 What is your best piece of advice for other brides? 
Make a list of priorities of what is important to both of you; always refer back to that when making decisions. This will help you decide where to spend more and where to spend less.

Don't lose sight of the bigger picture: the day is really just about you as a couple, and everyone is there because they love you and support you, and want to celebrate with you! They don't care what color the napkins are, how they're folded, or any of those other details that weddings sites and other people can make you believe are important, but really are more stress than they're worth.
Such great advice, Aurora! We love when brides can put their wedding day in perspective. Thank you for sharing these special moments with us!
VENDORS WHO MADE IT ALL HAPPEN…
Photographer:  Jennifer Lourie Photography // Makeup Artist: Carly Jonell Makeup // Floral Designer: Casi Cielo Events & Flowers // Cake Designer: Delicious Artistry // Event Venue: Gerry Ranch // DJ: GTZ Entertainment // Bridesmaid Dresses: Joanna August // Caterer:Omni Catering // Dress Designer: WillowbyWatters
The following two tabs change content below.
Lauren Grove is the editor and owner of Every Last Detail. A clueless bride-turned-wedding planner, Lauren uses her experiences and knowledge to educate and inspire brides all over the world.