When it comes to choosing a wedding photographer, it may seem simple at first. But once you start to research, you might realize that it's not quite as easy as just doing a quick search on Instagram. Not only that, but chances are good that you may also have some "friends" come out of the woodwork who are telling you that they would loooooove to do your photos for you. 
Well, you may have seen one of my posts about hiring professionals instead of "friends" for your wedding. While the post was quite broad and aimed at hiring ANY type of professional vendor, there is SO much more to it. I could go into several more in-depth reasons for each and every type of vendor, and so today, we have reasons for why to hire a professional photographer!
The thing is, I prefer to write about what I myself know- planning, logistics, design, pretty things, etc. And while I know a little bit about photography, I don't know the ins and outs of it. So when I received an email from a photographer saying that her comment on the aforementioned blog post turned into way more than just a comment, I told her to send it on over.
Please note that this photographer is anonymous- so much to the point that even I don't know who she is! She is not a member of The V List or an advertiser- she just wants to help me educate all of you. I do know that she knows her stuff though, so let's learn a little bit from her, shall we?!
[You will be seeing my comments throughout the article in italics and within brackets like this.]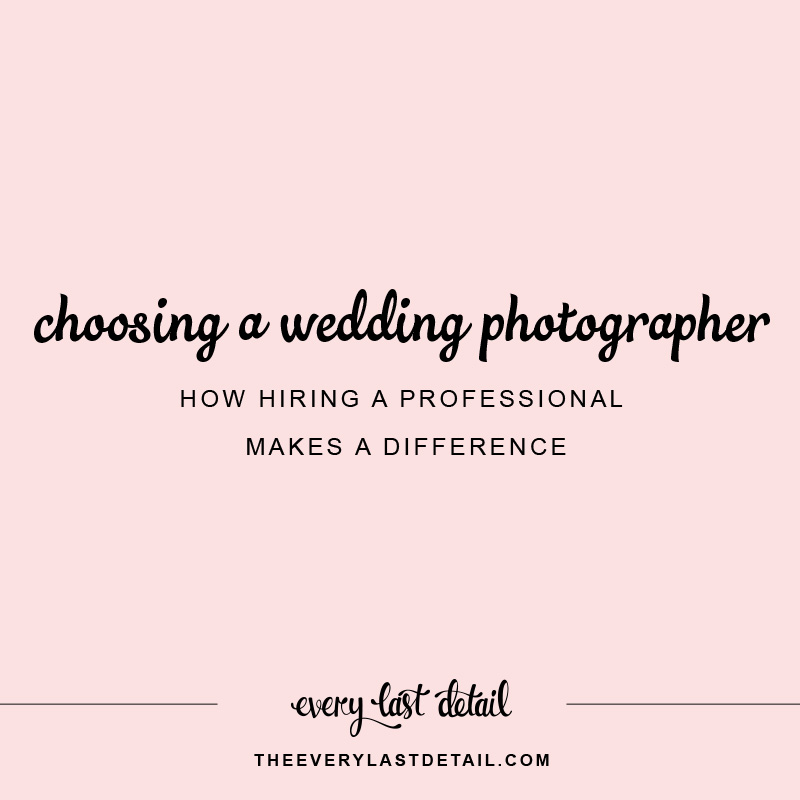 I am currently dealing with a bride who is deciding between hiring us or a friend with a camera. When brides tell me this, I want to gently grab them by the shoulders and shake them! It's not just that I am potentially losing business, but I want to stop them from making a huge mistake that will haunt them the rest of their lives. I'm not being melodramatic. It seems like the most bitter and gut-wrenching bridal horror stories almost always revolve around the wedding photos being destroyed or the photographer being incompetent. Photos are literally the thing people run into burning buildings to save, after their family and pets. Photos are important. [Oh wow, I never even thought of that, but it really is so true! Think about it- what's one of the things that people always say that they're sad they lost in a disaster?]
I understand photography seems expensive, and it's tempting to go with a friend, but there is such a VAST difference in what I can do for you as a professional, and what your friend can do. Lauren's article is a great start, but here are some things to consider from a photographer's perspective:
A "nice" camera doesn't make you a good photographer.
Are you asking your friend with the really nice pots to do your catering? Or the friend with the amazing collection of vases to do your floral? [Seems kind of crazy/funny when you put it that way, huh?]  Just because someone has a nice camera doesn't mean they really know how to use it. All dSLRs today have an "auto" mode, which will take okay photos, but they are not going to give you the same results a pro can.
Wedding photographers don't just rely on cameras and lenses.
We usually bring several flashes for different uses, strobe lights, light modifiers, video lights for constant lighting, and tons of other gadgets to control white balance, clean sensor dust, and so on. We also know how and when to use this stuff.
We know how to pose you so you look your best.
This is true even with "photojournalism" style coverage. We will make suggestions throughout the day to naturally position you in the best light and at the most flattering angle. [This is so true. Those group photos that occur when going out friends are what come to mind for me. You don't want photos that look like just another night out, do you?]
We have insurance.
If our gear is stolen the week before your wedding, we'll have an insurance check and all new gear in time for your event. If a lightstand freakishly falls over and hits your uninsured nephew in the head, his medical expenses will be paid for. Likewise, if one of your guests breaks our stuff, we aren't going to sue you.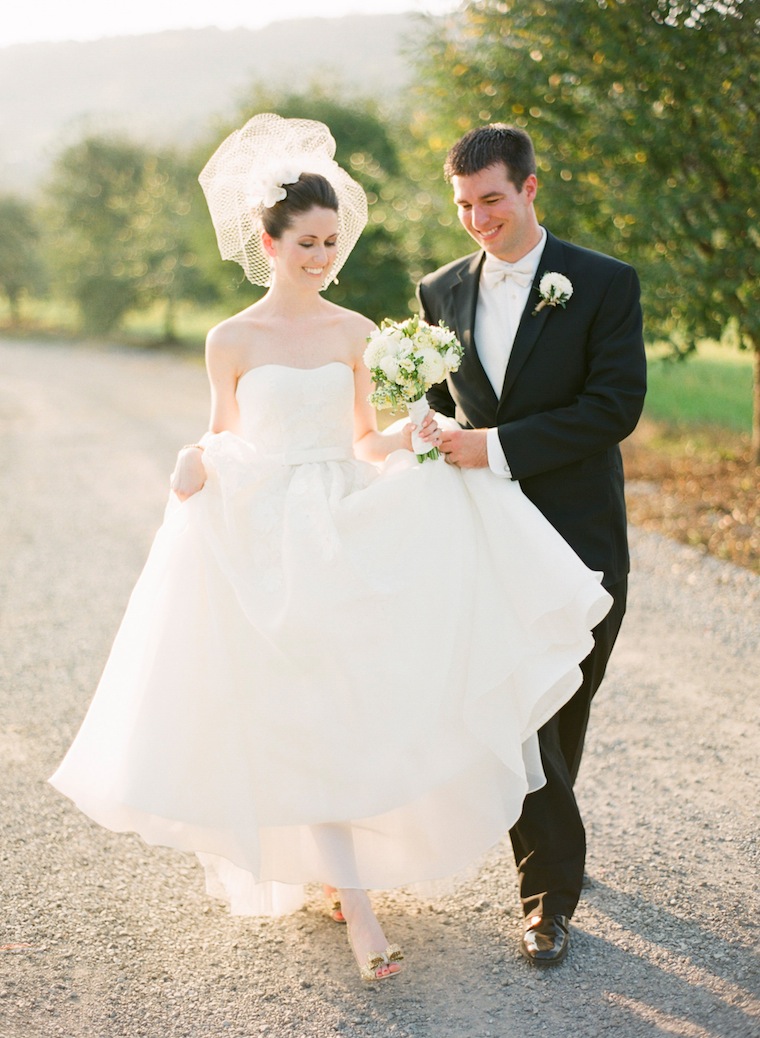 Image by Justin DeMutiis Photography
We have back-up cameras, back-up lenses, back-up everything.
If your friend with a nice camera realizes his lens is malfunctioning, what's he going to do?
We have an ironclad system to keep your images safe, with multiple fail-safes.
An amateur may not even realize he needs more than 1-2 memory cards to shoot a wedding (we bring about 10 8GB cards each), and probably doesn't have several hard drives to make multiple back-ups and ensure your images are safe even if his computer crashes or lighting shorts out all his electronics and fries his hard drives. [All these things really do, unfortunately happen. Of course it's not an often occurrence, but there is no guarantee it won't happen.] 
We can make magic happen in the most mundane and challenging of conditions.
A good photographer can make a budget wedding look elegant and charming. We know how to work in ALL kinds of lighting and in all kinds of conditions. Your friend with a nice camera probably doesn't shoot in a lot of dark churches and doesn't know how to deal with harsh, contrasty sunlight at 12pm, which is very unflattering. We do. If it starts pouring rain at your outdoor ceremony, your friend is likely to run indoors to save his one and only precious camera. We have brought 4 or 5 cameras and they are weather-sealed and we have rain covers. [Amen to this. I always say that an awesome photographer can make a so-so wedding look fabulous!]
You will get your images faster.
A typical wedding photographer takes anywhere from 1,500-2,500 images, per photographer. That is a LOT of images to go through, cull, edit, and export into JPGs. Your friend probably isn't used to dealing with that many files, and probably lacks the appropriate software and computer power to batch process that many files. Which means it's going to take him a lot longer to get the files back to you, or he will just give up and hand you unedited images that aren't as good as they could be. Editing a wedding takes several hours, and perhaps your friend is really only interested in helping you on your wedding day and isn't prepared for all the work that comes before and after the event.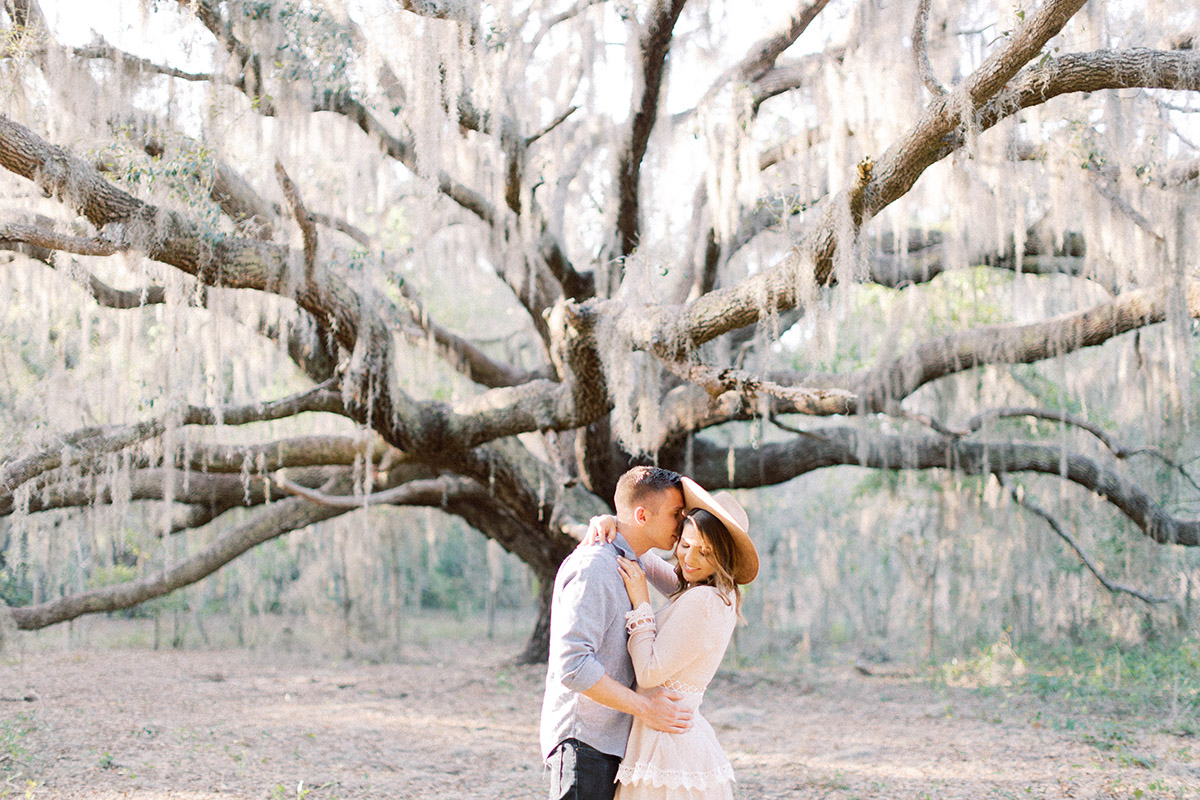 Image by Chantell Rae Photography
If we get sick or injured, we have a pool of professionals we actively network with and we can find someone competent to replace us.
And as most professional photography packages include two photographers, the risk of your photographer not showing up is minimized further. What will happen if your friend with a camera can't attend your wedding? [Yep, I've seen this happen. A bride was counting on a friend to take photos of her wedding, and a month before, the friend stopped responding. With a month to go, I had to help her find a PRO photographer to shoot her wedding!]
If something, god forbid, does go wrong, we have a contract we have all agreed on beforehand that explains how we deal with any pitfalls.
Your wedding photographer is oftentimes the guardian of your timeline.
I know that sounds a little silly, but it's true. We are one of the first vendors to arrive, and one of the last to leave. If you don't have a coordinator, a lot of day-of coordination falls on us.[BUT you should totally have a coordinator- because no vendor should be doing another vendor's job!] We are going to review your timeline before the wedding and point out possible problems and make suggestions. On the day of, we will give other vendors a gentle push if they are letting things run behind. We can anticipate delays and somehow find ways to still get our shots and make up for that lost time. This is a skill your friend with a camera most likely does not have. Your friend with the camera will probably be panicking and crying in the corner somewhere. :)
We have access to the most gorgeous, high quality albums and our vendors only work with professional photographers.
We are highly skilled at album design. Working with a friend, you will most likely end up with a book from Blurb, and you'll have to do the design yourself, which is a daunting task. We also have access to all kinds of wonderful print products that the photo lab at Costco can't provide.
Finally, every point Lauren made is absolutely true, but I'd like to especially reiterate that working with a friend can really put a strain on your relationship. The friend may mean well but has no idea how big of a project he/she has signed up for. He may find himself completely overwhelmed and ill-equipped for the challenge of photographing a wedding. He may go out in a panic and spend several hundreds of dollars on gear so he feels like he has what he needs, and that expense may create a hardship. He may realize later that he wasn't given enough compensation for his time and costs and then resentment grows. After the wedding, your friend may feel he slaved on your wedding day and wants to be done, but there's still 2,000 photos to edit. He drags his feet, you are forced to nag him and feel like your photos are being held hostage. It's not a good situation. You didn't pay him enough to press the issue hard, or you don't have a contract that says when images will be ready. So you are basically in limbo, hoping your friend will deliver. When the images do finally come back, you may find yourself feeling unhappy with the images, but you have little recourse because you don't want to criticize your friend…and instead you grow apart. Oftentimes when brides work with friends, there is no contract, which means there is no agreement on expectations – this pretty much guarantees that someone will walk away being disappointed or feeling taken advantage of.
Just remember this: the most expensive photographer is the one who creates low quality work- at any price point.
[AMEN TO THAT! Case in point, my own wedding photography experience.]
---
My friends, I have witnessed the "friend" photographer thing go wrong too many times. Have I seen it go right one or two times? Sure, but that's usually because the friend was indeed a PRO, or if they weren't yet, they went into it truly wanting to go PRO. And with all of the things that I hear about weddings and from brides, I have never ever heard anyone say that they regret booking an awesome, professional photographer.  
As you may know by now, I ABSOLUTELY want you all to have awesome weddings. It's why I started ELD, and it's why I share information that might not always be exactly what you want to hear. So if you're thinking of having a friend with a camera shoot your wedding, please think twice- I don't want you to regret it! Hiring a professional really does make ALL the difference!
Of course now I want to hear from you all! Have you had any friends that you considered working with for your wedding? Did you decide to work with them, or no? Have any horror or success stories?
A version of this post was originally published in 2012, and it has since been updated.
The following two tabs change content below.
Lauren Grove is the editor and owner of Every Last Detail. A clueless bride-turned-wedding planner, Lauren uses her experiences and knowledge to educate and inspire brides all over the world.