Oh my goodness, I am SO excited to share this concept shoot with you all today! A few months back, I got together with the lovely Megan of Glamour & Grace to showcase a new idea we had to help brides and bridesmaids choose bridesmaid dresses. Because let's face it- deciding on a bridesmaid dress can be pretty stressful. You want your bridesmaids to be involved, but sometimes that just adds stress- making appointments at stores, coordinating schedules, everyone piling into cars, etc. And then there's the issue of deciding on accessories- what kind of accessories should they wear? Do they need to buy something in particular? If they're like me, they'll probably just bring every single piece of jewelry they own on the wedding day and choose from that, and then you have a mess. All of this doesn't sound like much fun, does it?
Well this is exactly why we came up with something *new* to make picking out bridesmaid dresses fun for everyone- a Bridesmaid Mix-n-Glitz Party! Just get your bridesmaids together, and you can all have a fun evening of trying on dresses, mixing and matching, and accessorizing! It's a great way to spend some quality time with your bridesmaids, plus you'll knock a few things off your To Do list!
 To make this Mix-n-Glitz Party happen, we teamed up with the bridesmaid dress website Brideside to provide a bevy of gorgeous dresses for our girls to mix, match, and try on. For accessories, we brought in some fabulous Stella & Dot jewelry for our girls to choose from. Then we called in Kismis Ink Photography and Imprint Cinema to capture the experience, and FH Weddings to provide us with "living room" furniture and a few bouquets!
I know you're wondering how exactly a Mix-n-Glitz party works, so first watch this video by Imprint Cinema so you can get a feel for the whole concept:
ELD & G&G Bridesmaid Party 1 from Imprint Cinema on Vimeo.
The awesome thing about a Mix-n-Glitz party is that you and your bridesmaids can choose dresses all together. They can be the same style, or different styles, various colors or all the same color. Now, I know what you're thinking- where do you get dresses that you can have sent to your house to try on without buying them?! Well, that's the awesome thing about Brideside– you can get dresses sent to you to try on before you buy them! This makes it incredibly fun and easy to mix and match based on colors and dress style- so everyone is getting something that they love!
Options are always awesome, so we opted for a second color palette- a bright, colorful mix of colors that I personally LOVE: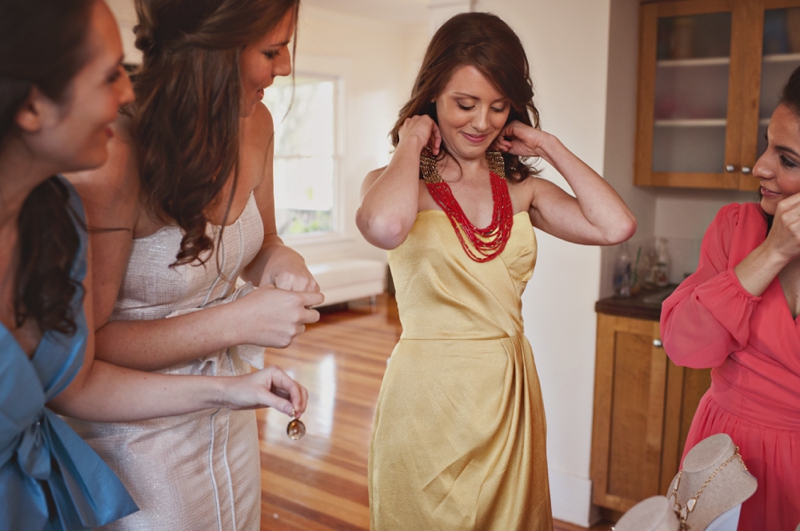 Of course the bride has to pull her own dress out of hiding to show everyone and accessorize too!
And the final bridesmaid looks, complete with gorgeous bouquets!
Of course you have to end the whole fete with some champagne!
If you want to see more of the looks with the jewelry, head over to see Glamour & Grace's feature of Mix-n-Glitz! And I have to send a BIG thank you to my beautiful friends who modeled and played dress up for us, and everyone who helped out!
So tell me- what do you think of this new concept of a "Bridesmaid Mix-n-Glitz Party"? Is this something that you would do? I know I would have totally done this- I was at such a loss when it came to choosing my bridesmaid dresses!
Vendors who made it all happen…
The following two tabs change content below.
Lauren Grove is the editor and owner of Every Last Detail. A clueless bride-turned-wedding planner, Lauren uses her experiences and knowledge to educate and inspire brides all over the world.