With a switch in location two days before their Florida wedding and rain interrupting their ceremony, Catina and Hays had a few reasons to feel a little extra stress on their wedding day. Luckily, they didn't allow these inconveniences to bother them, because with an incredible team of vendors, their day came together with elegant rustic perfection.
You'll definitely want to catch the incredible details that Catina shared with us about the throws of planning their special day along with their favorite moments that made their wedding so special. From the care and detail that NK Productions Wedding Planning attended to throughout planning and executing the day, to MMD Events pulling their vision together in a way that was beyond what they could have imagined, we are absolutely taken with the fun and unique details that made their day so special. Lush florals, tables full of romantic candlelight, and a stunning hanging cake are just a few of the details we love that were on-so-well thought out and executed with intention.
These two didn't allow a little rain to put a damper on their day, and we think you'll love the beauty and magic that Sarah and Ben Photography captured throughout this stunning day of celebration.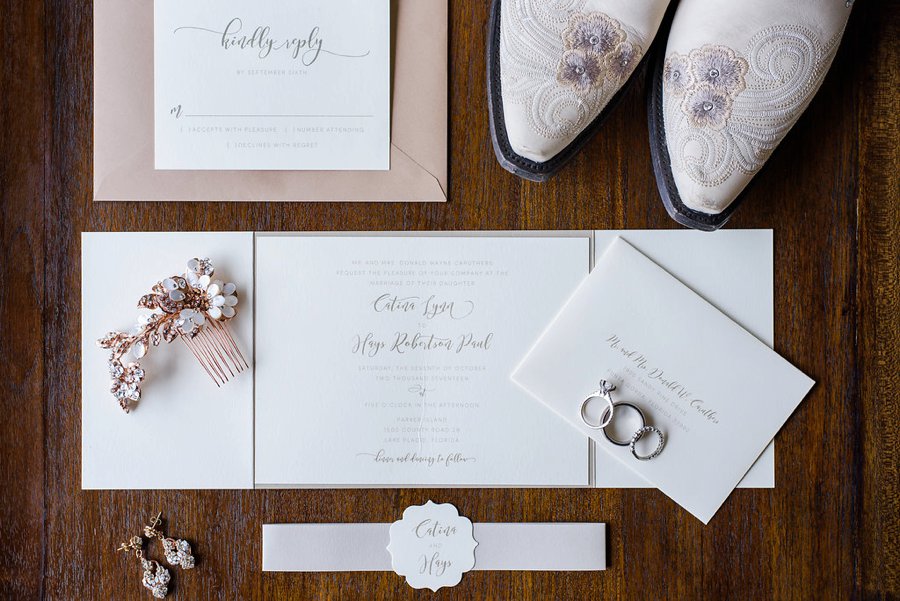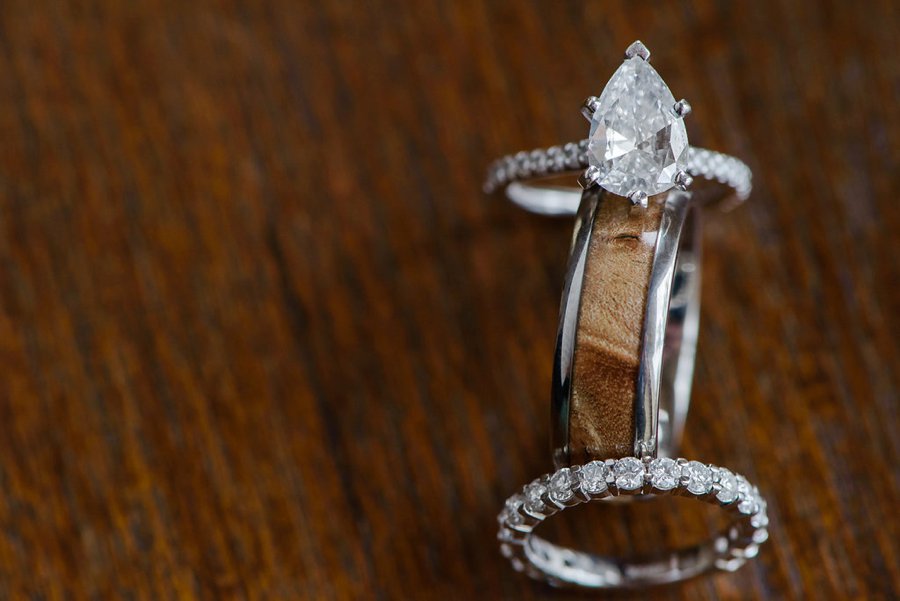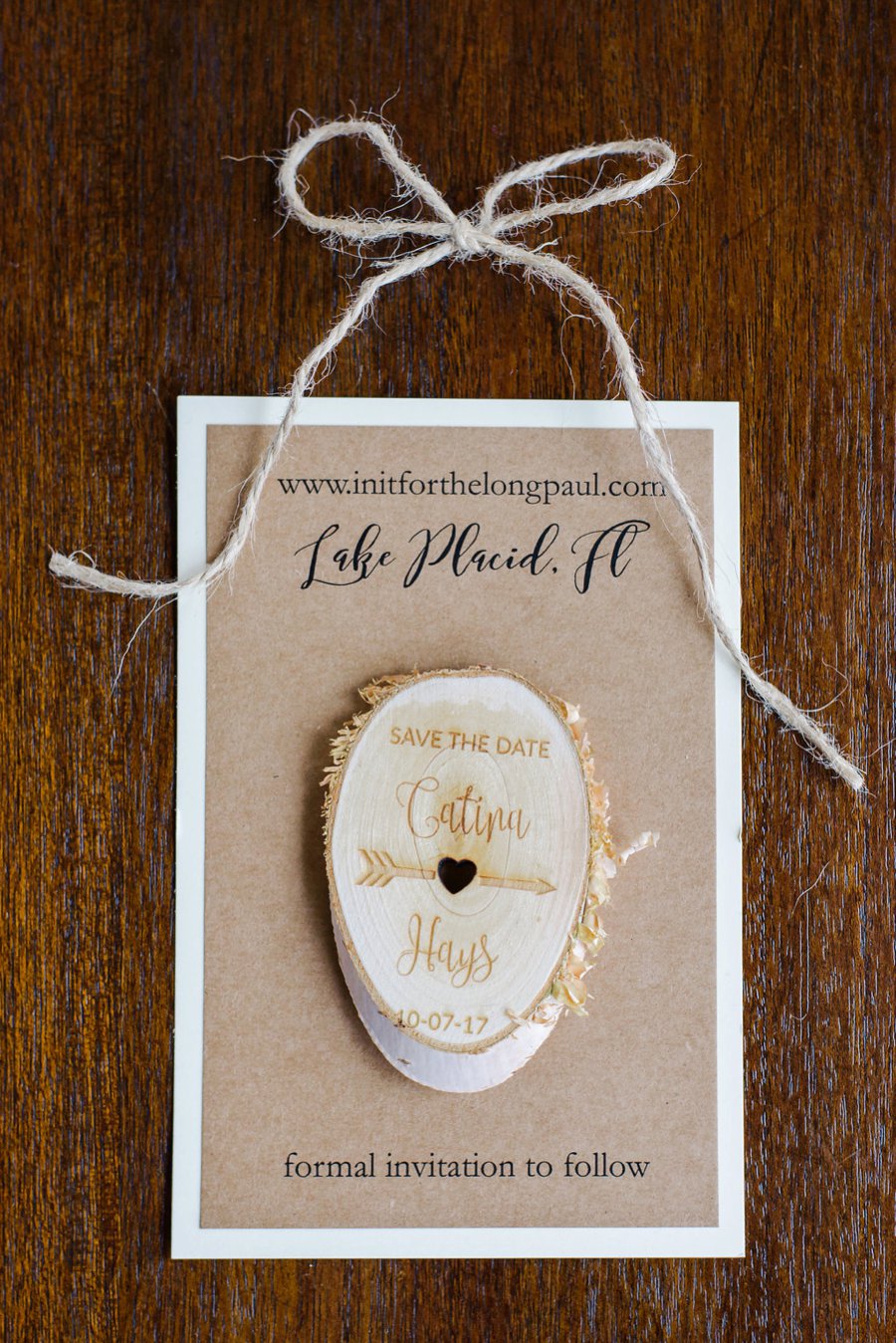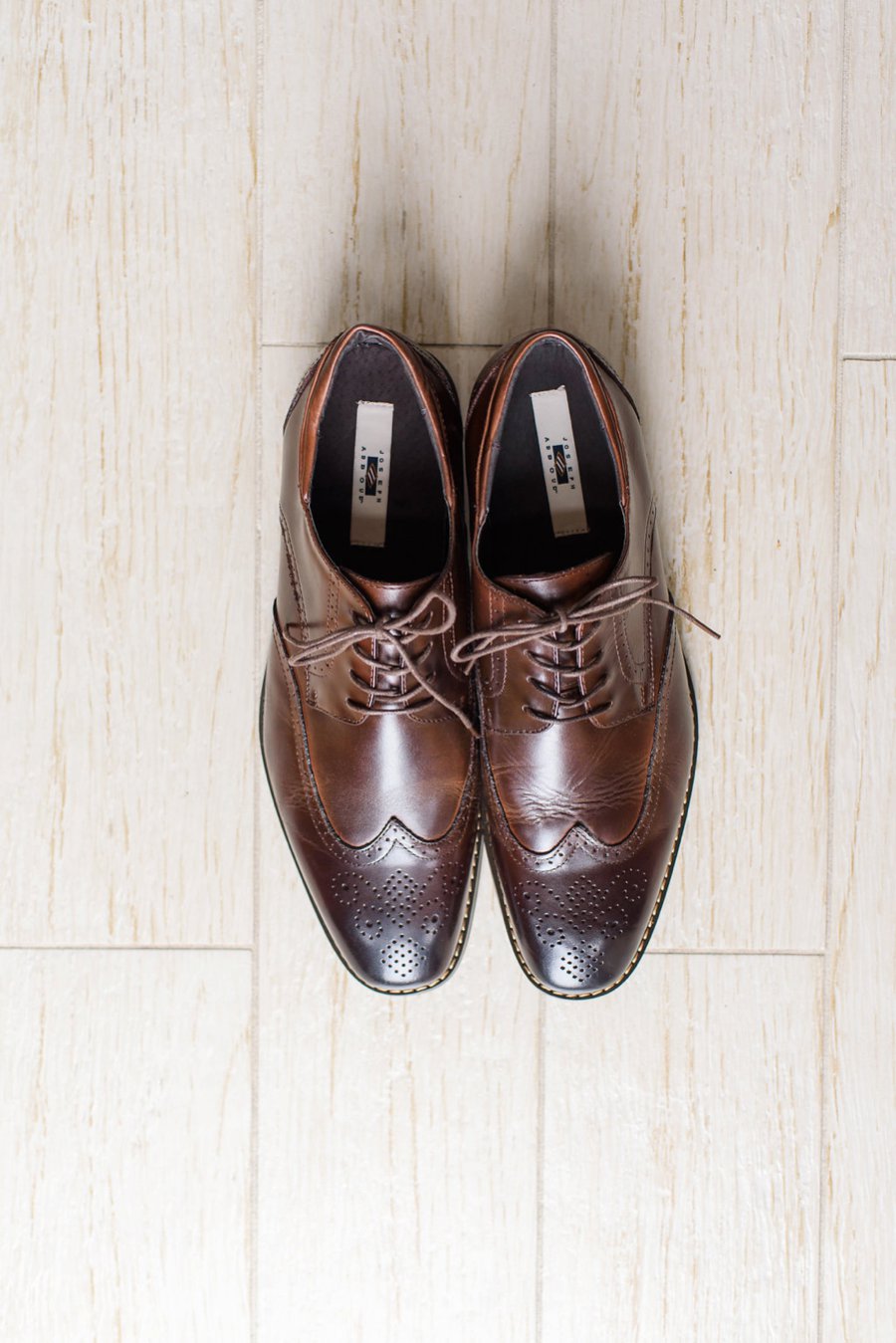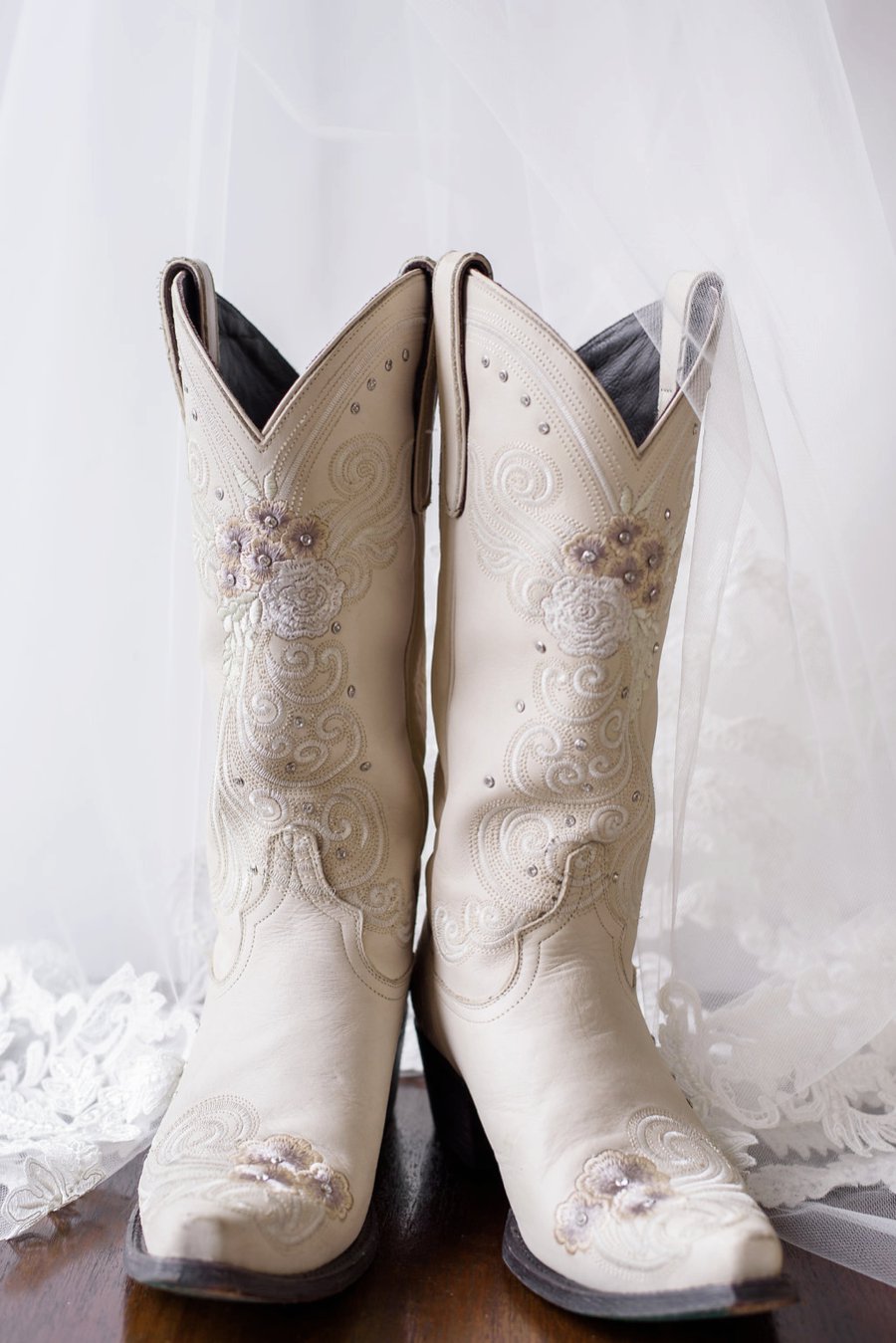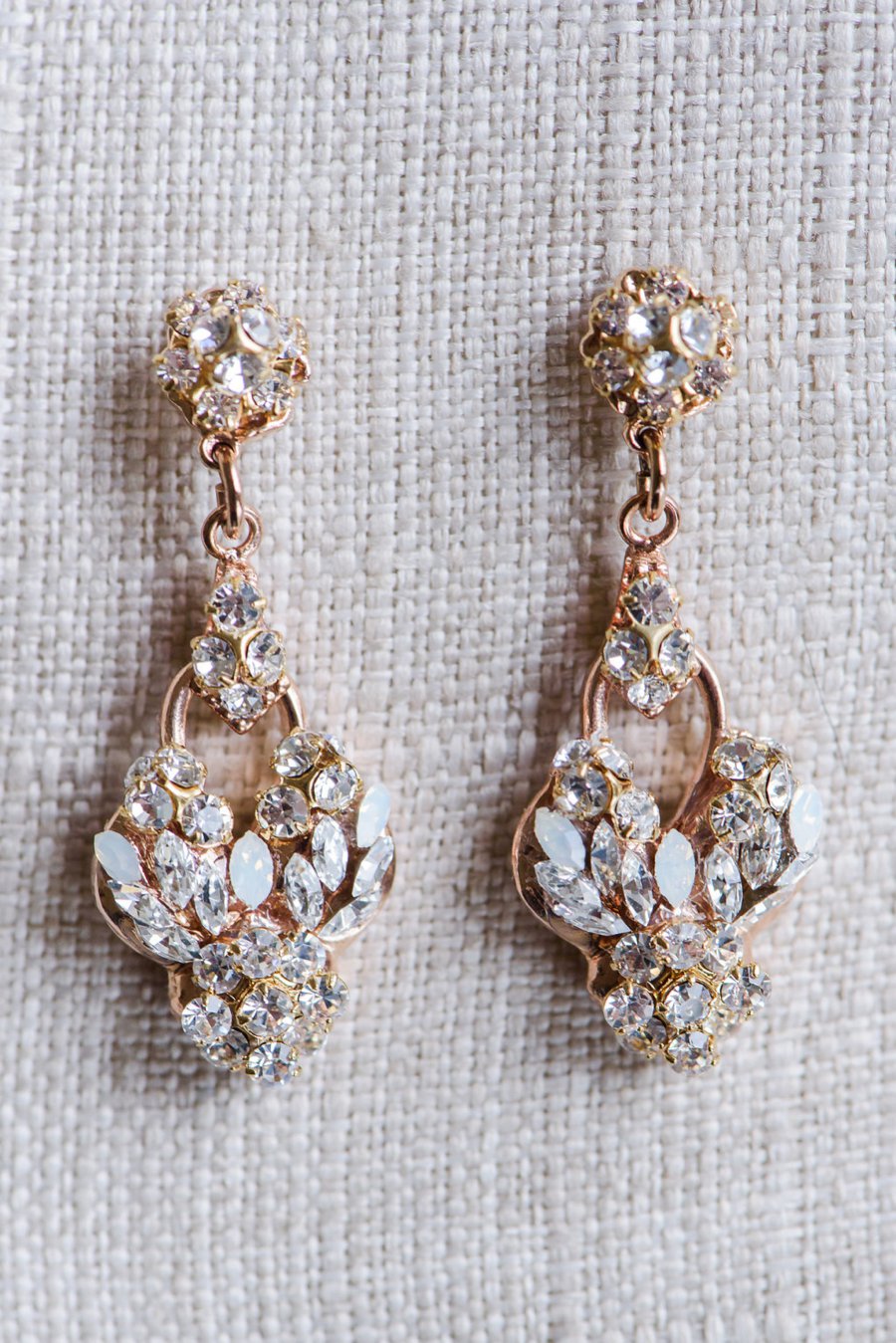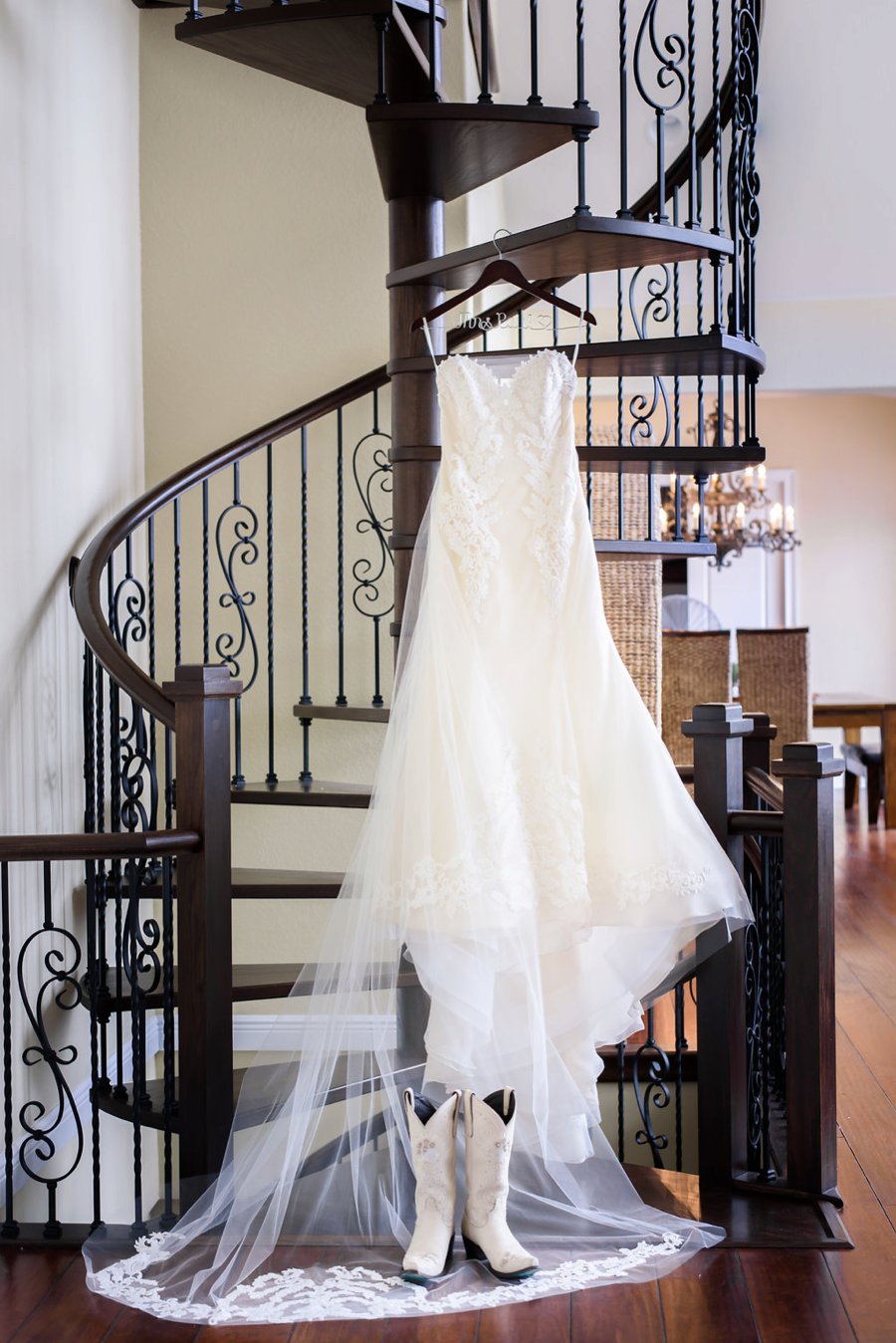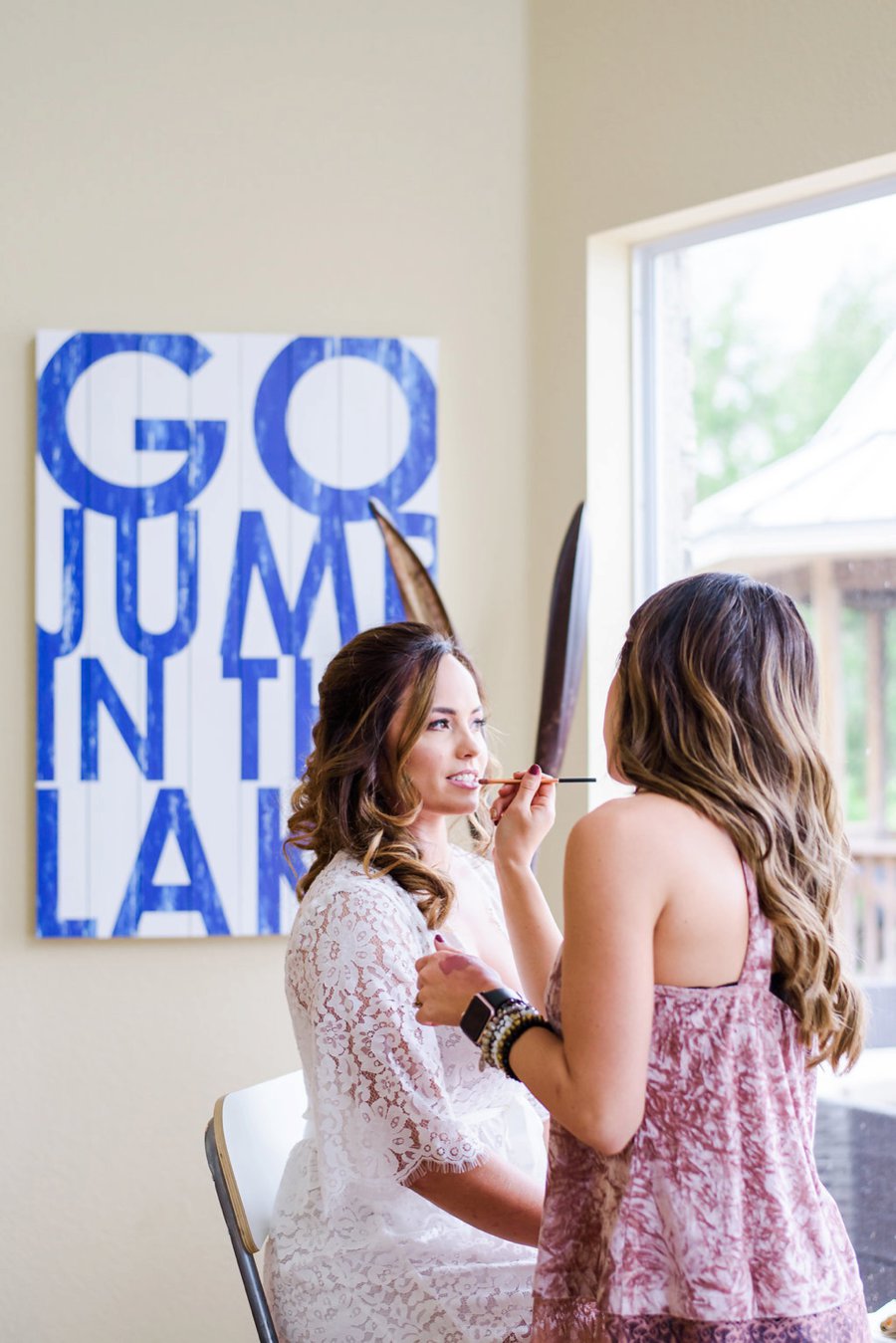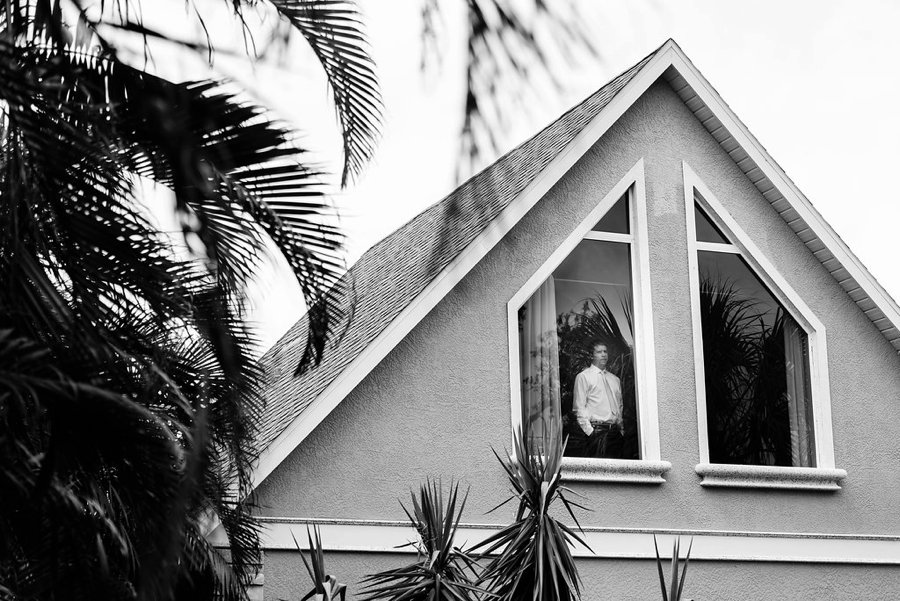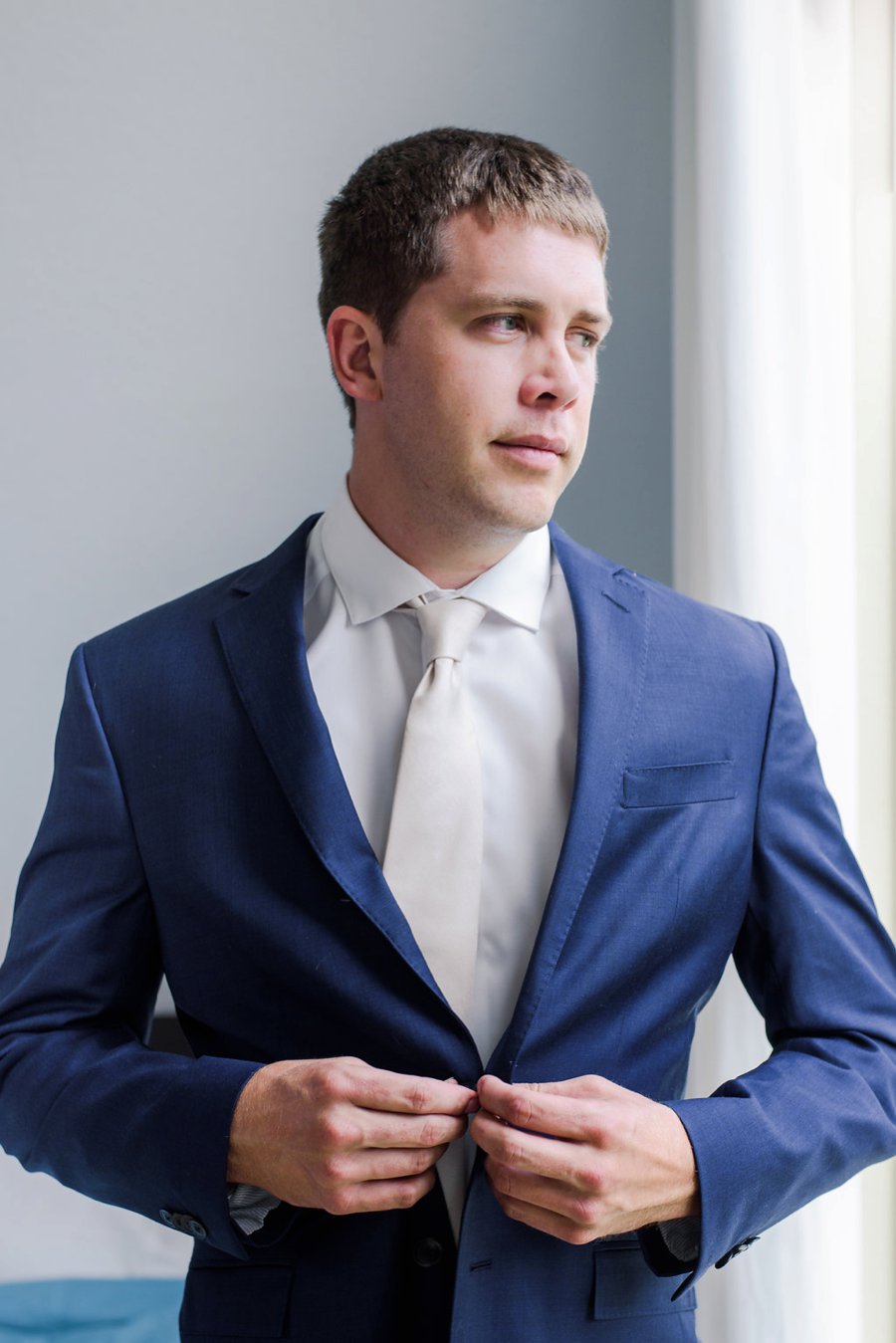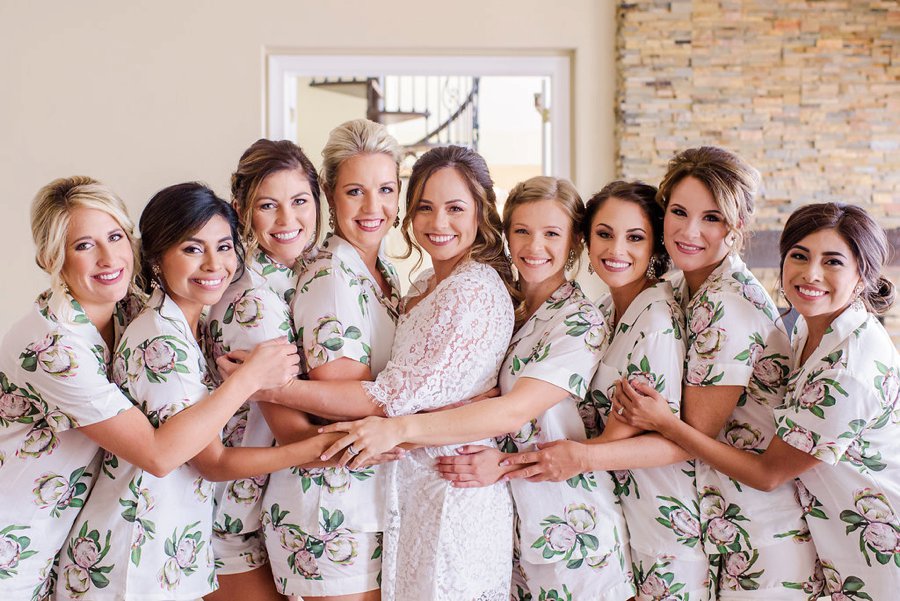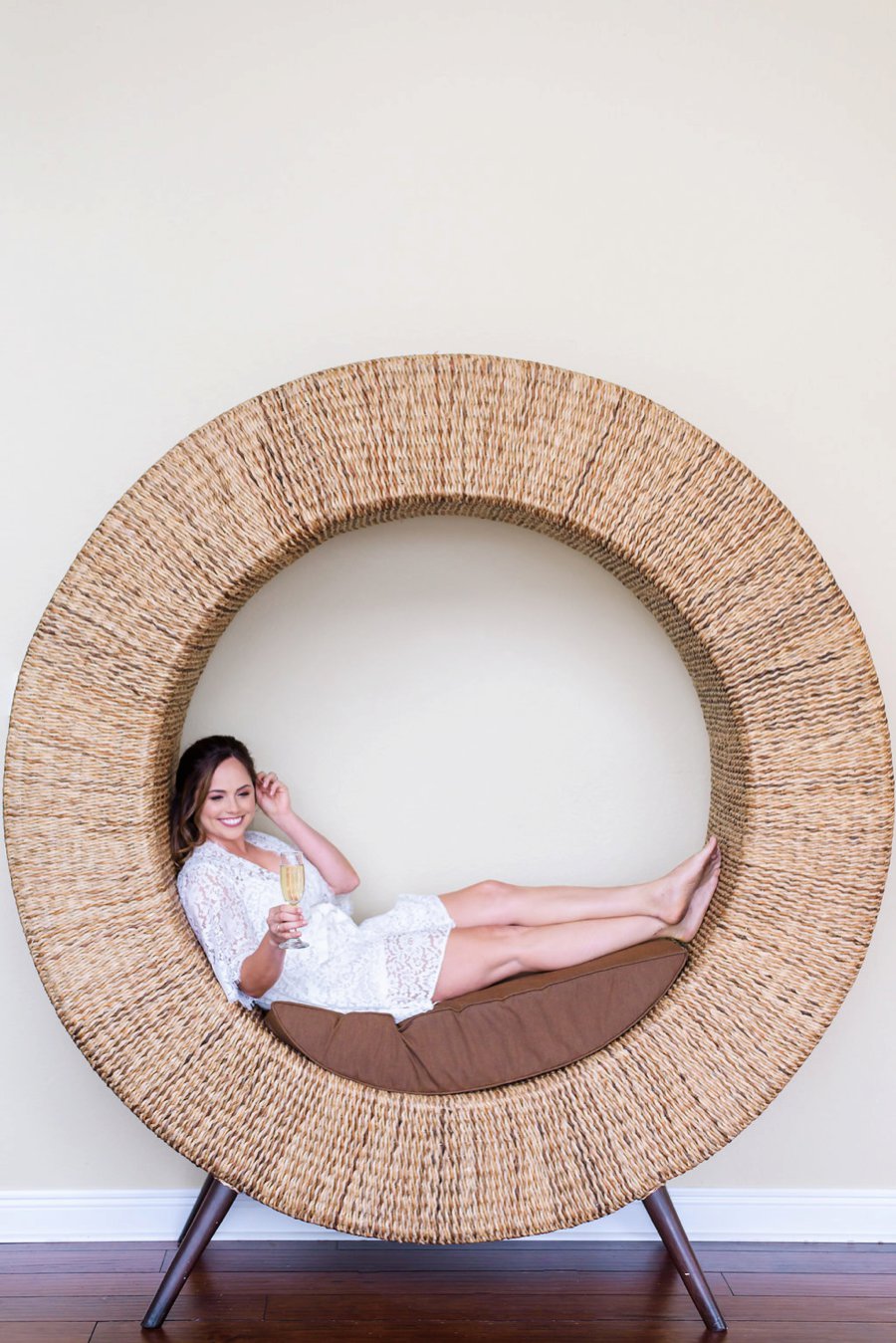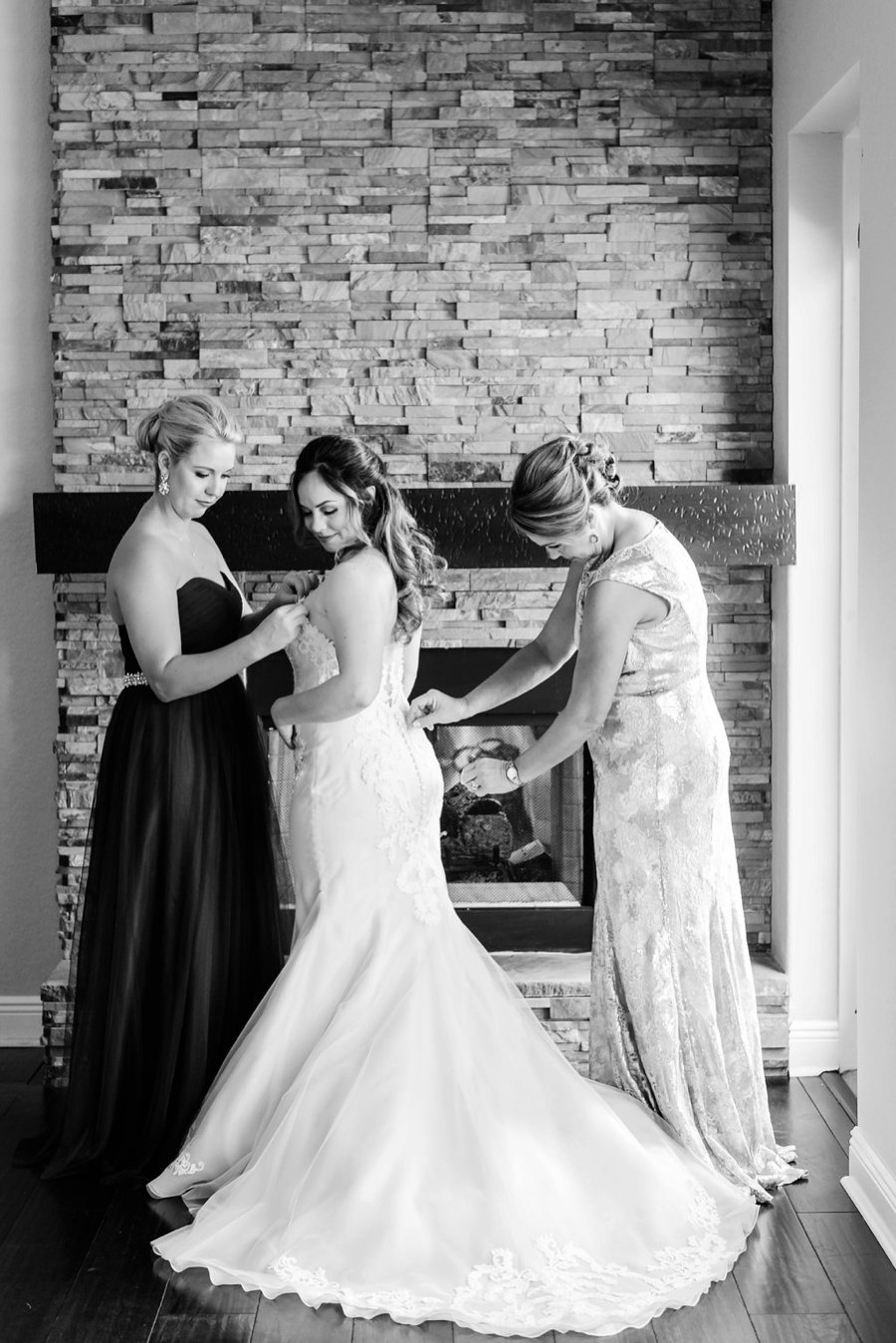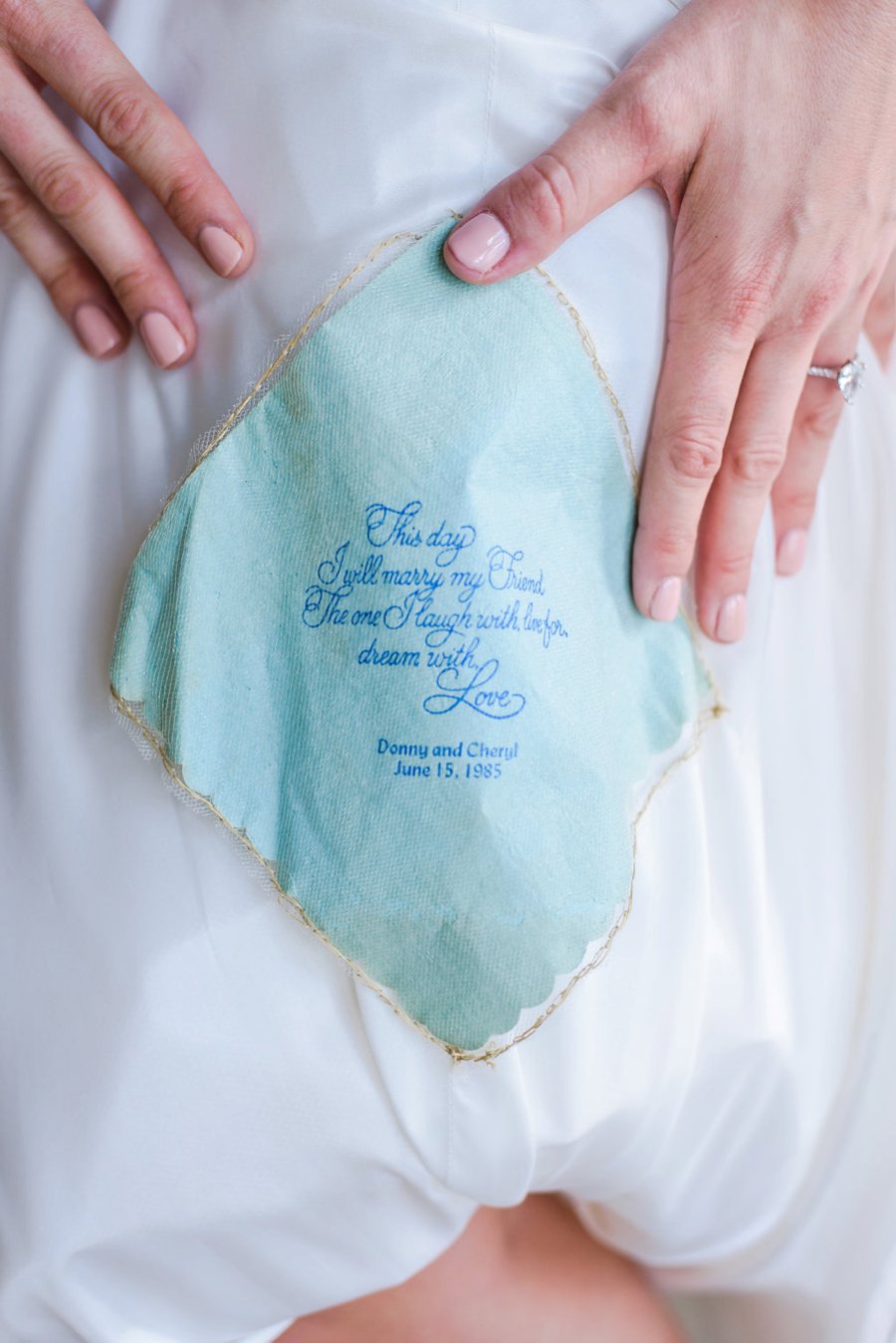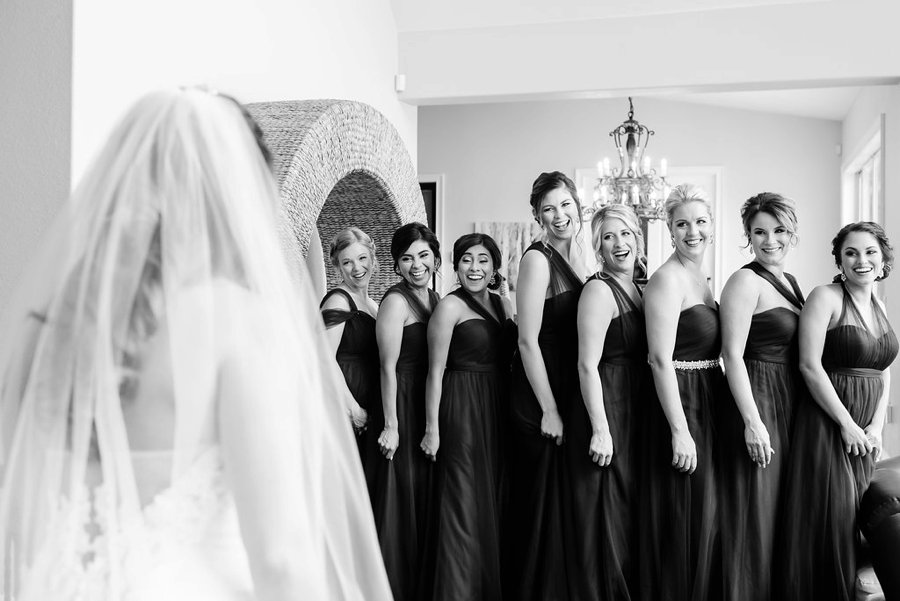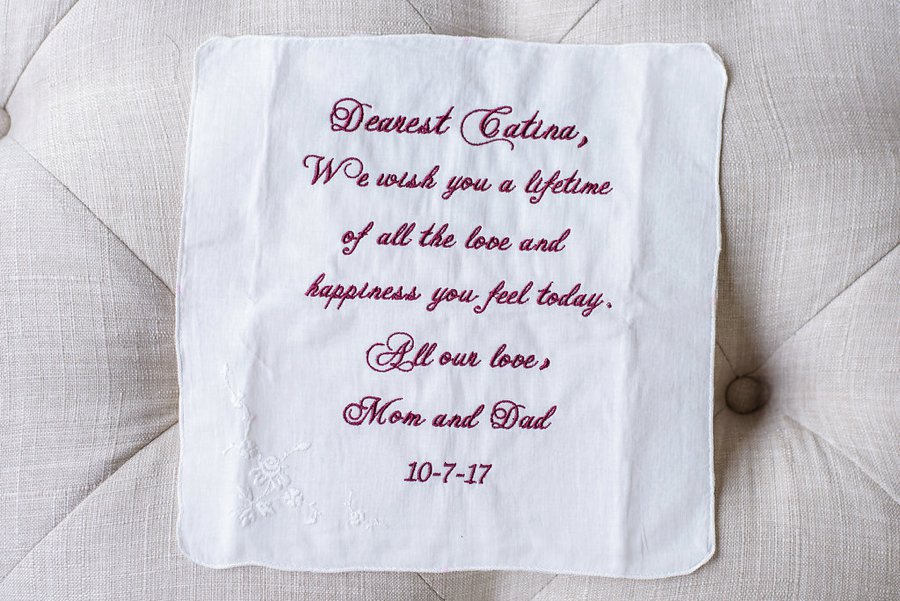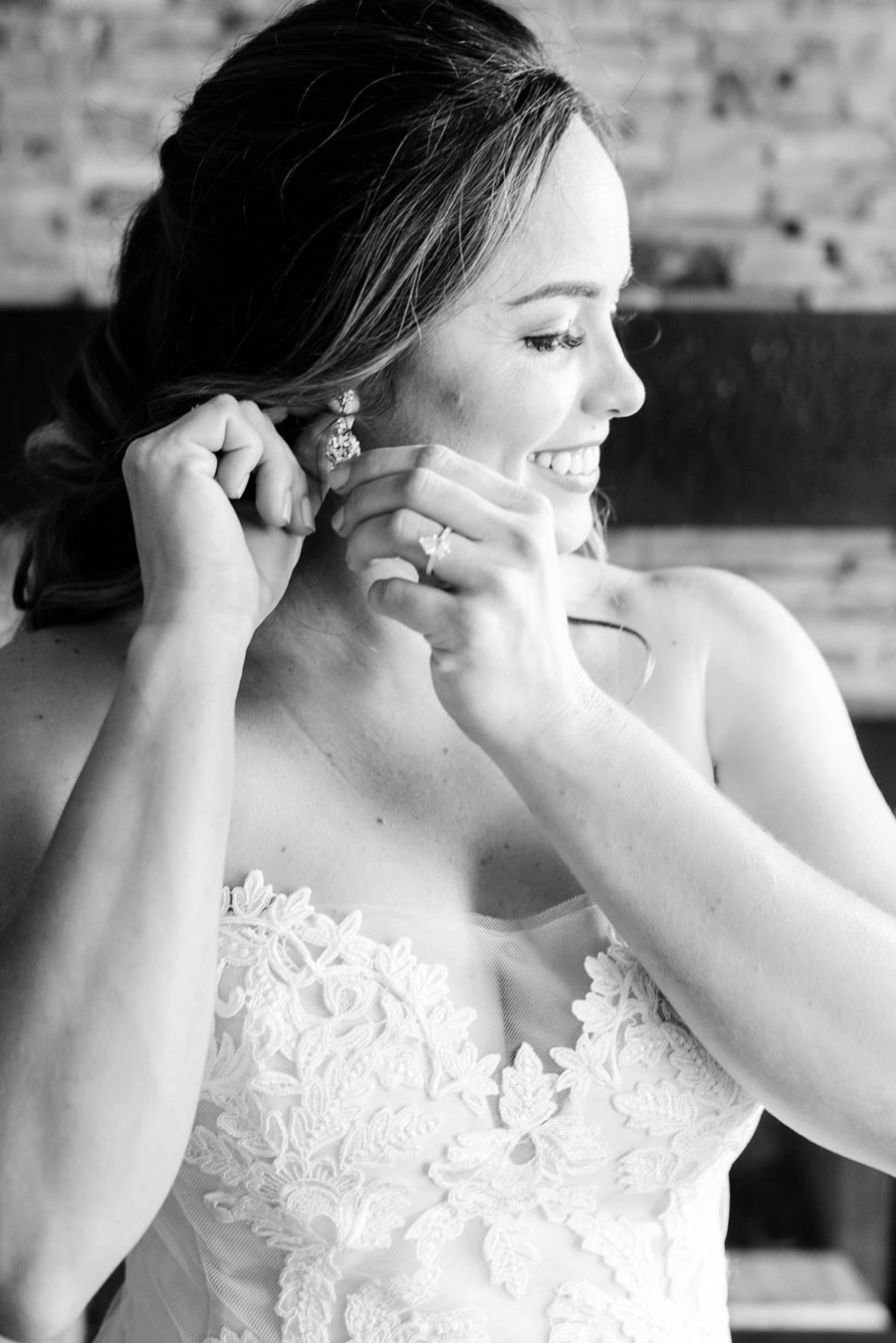 Tell us a little a bit about your wedding.
The vision I had for the wedding was elegant rustic with a romantic feel. I could picture a lot of flowers and candles. We wanted to make sure we stayed as real as we could to our everyday lives. I wanted my family and his involved as much as possible to invoke the sentimental elements. The colors I chose: navy, marsala, blush and gold were what came to mind when I envisioned an intimate, romantic evening. We wanted the night to be as intimate as possible even with 200 guests. The location choice was the easiest part. It was planned to be on the same soil where we met. The land is owned by Hays' family which makes it even more meaningful. We had a backup plan in case it rained, as there are no structures on the property. However, a month before our wedding Hurricane Irma came through and saturated the land with water as well as snapped a lot of limbs that were under the oak hammock where we planned to hold the reception. My parents, Hays and I along with friends cleaned the property from dawn until dusk for two weekends straight. The week of the wedding we knew if we had any rain the already saturated land would flood. Unfortunately, that week we had rain nearly everyday. On Thursday we made the call to move the ceremony (and thanks to our wonderful planner and event production company, the move was a breeze). We moved the wedding to the private property of some family friends who we are forever grateful for their willingness to let us come in and transform their place with no restrictions.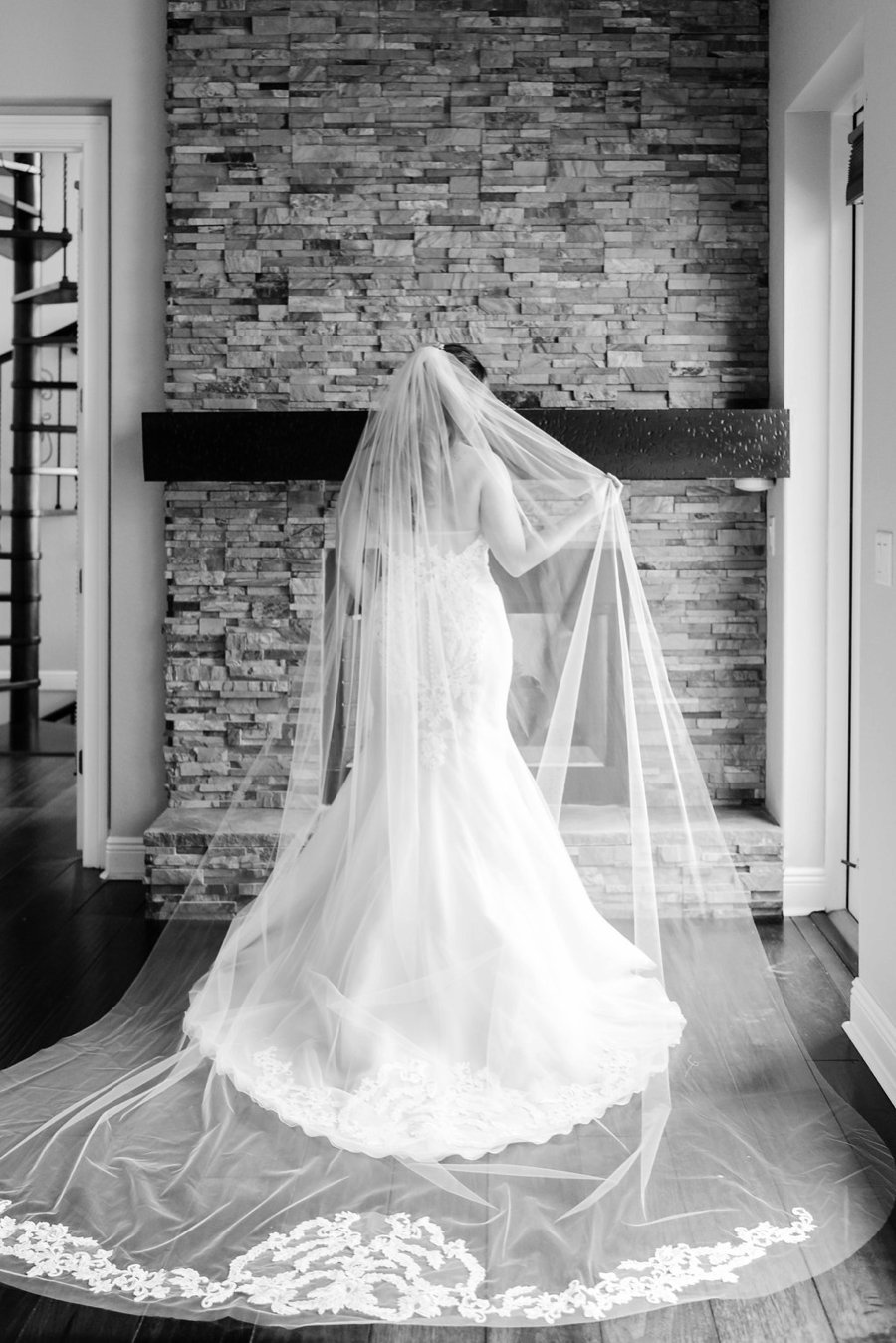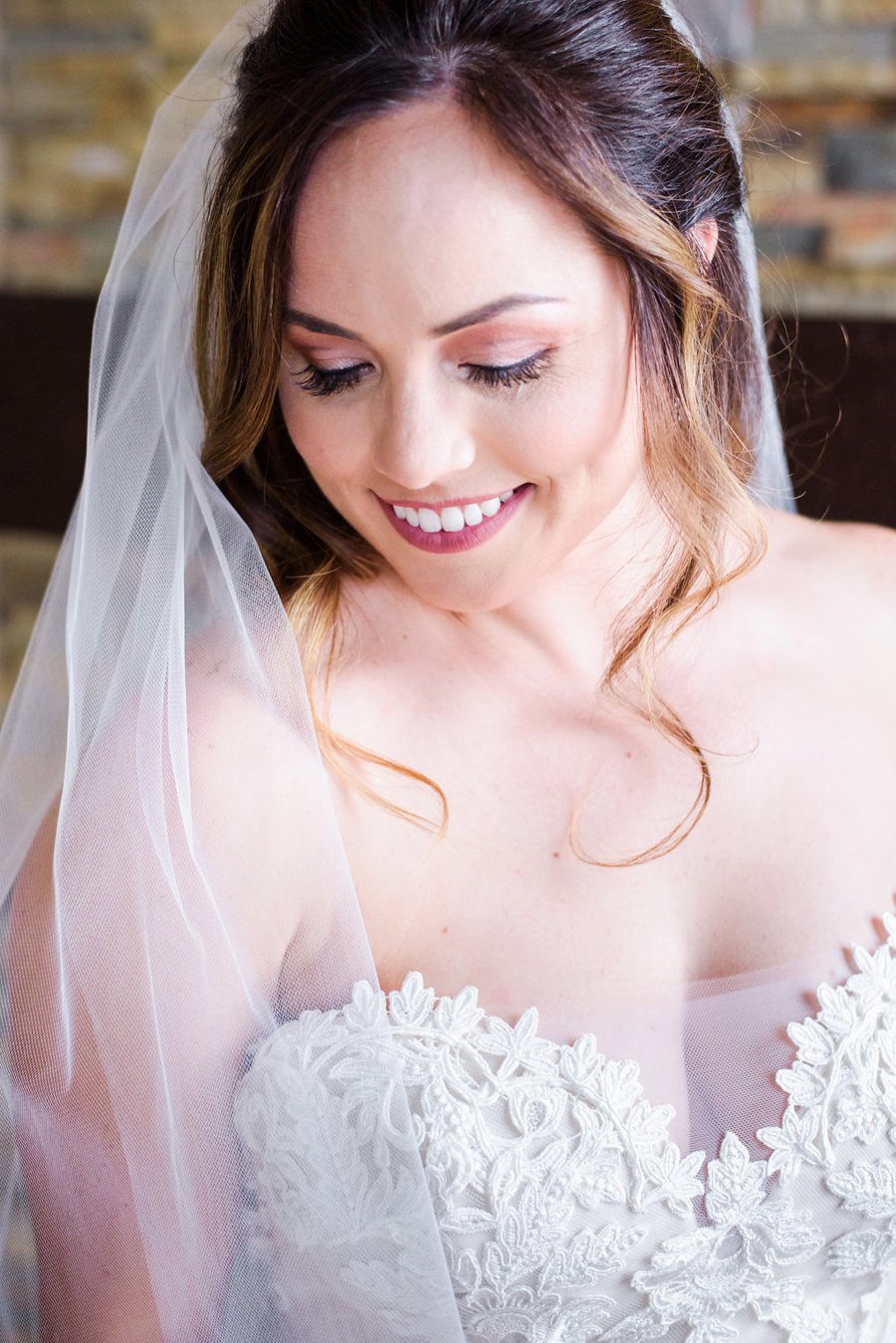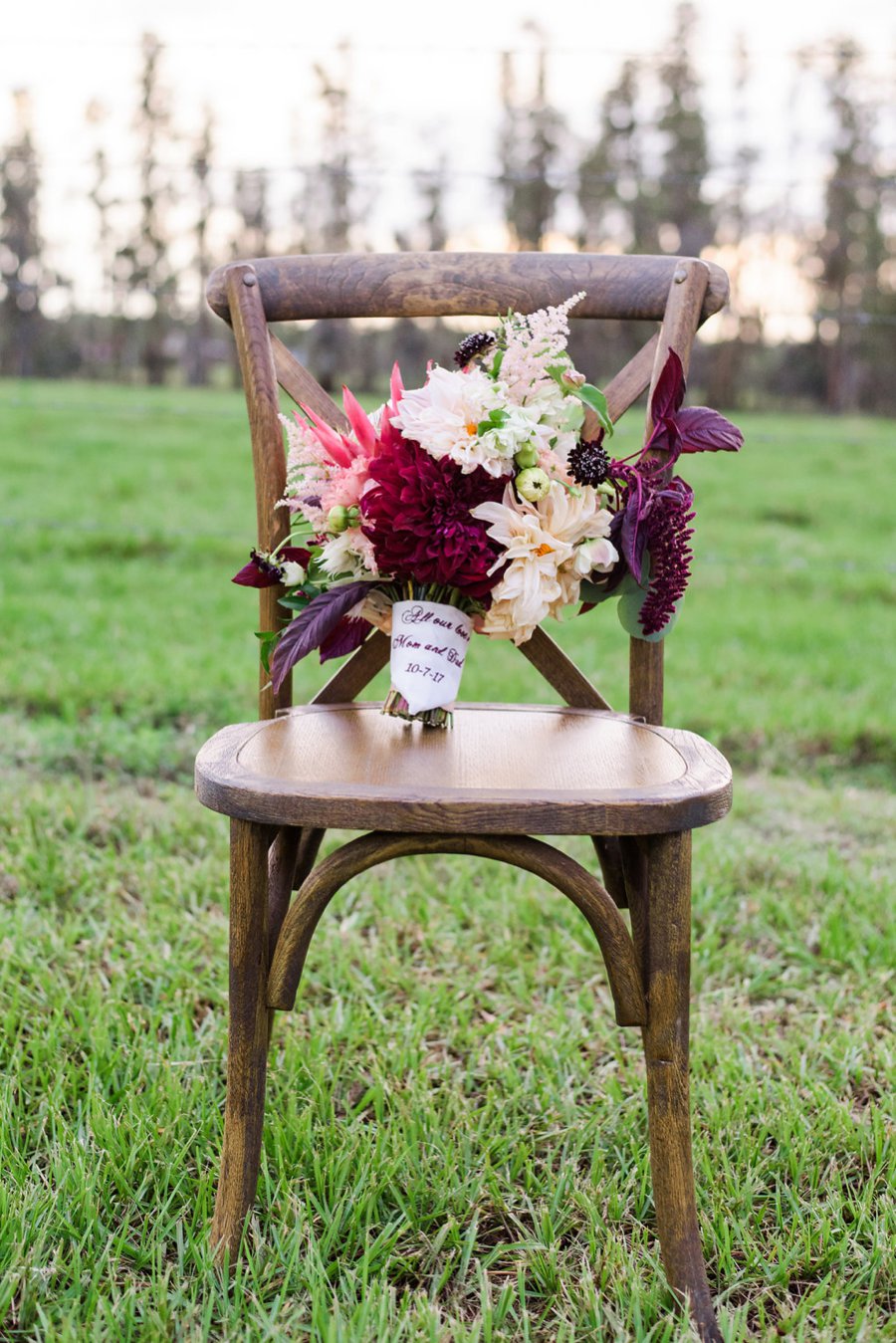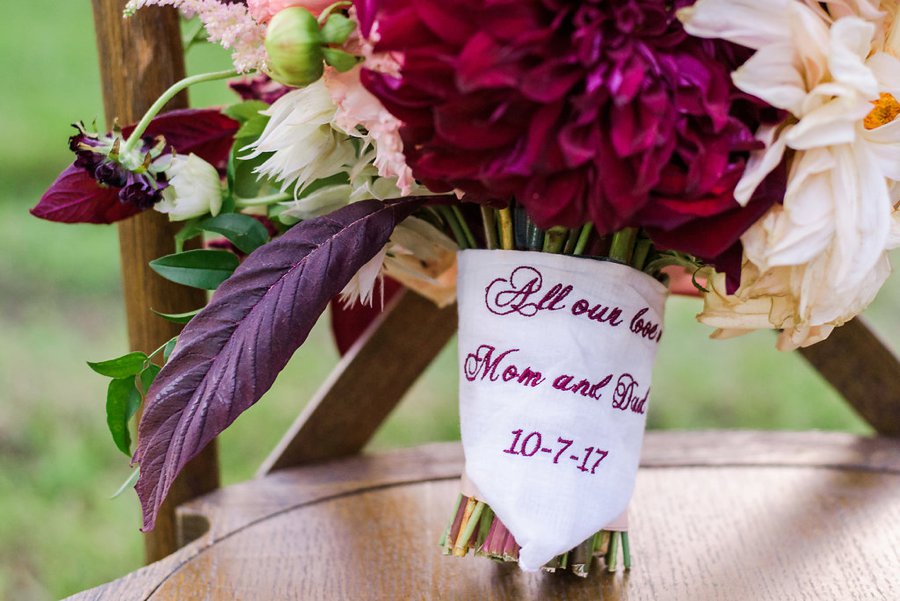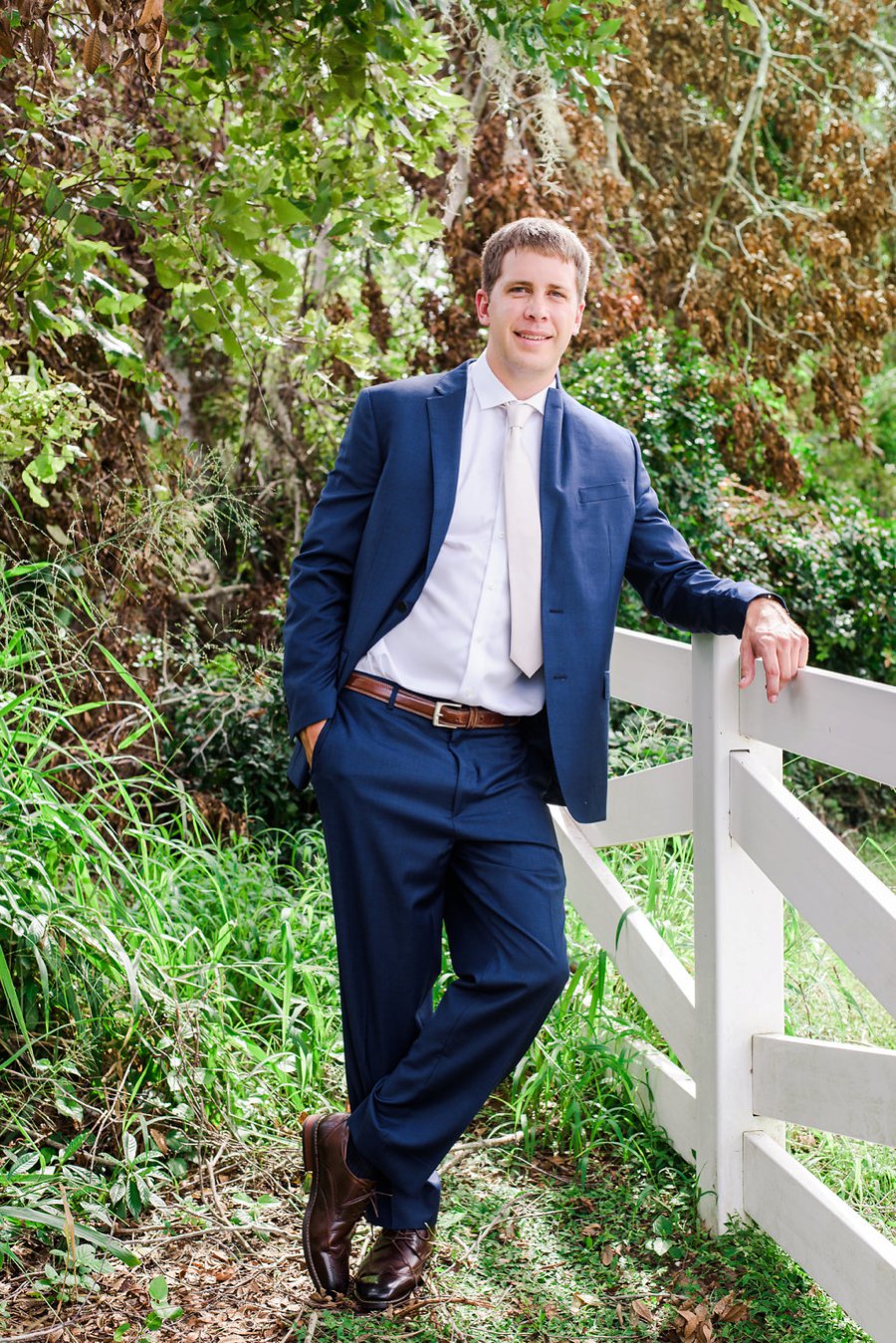 What was the most important to the two of you while planning? Was there anything that you chose to splurge on or skip?
The most important thing that we kept in mind during planning was that we wanted everyone involved in the wedding, from our parents and bridal party to each and every guest, to have as much fun as we would throughout the journey. We thought of each person as every decision was made. We chose to splurge on catering/bar and entertainment. We also splurged on the event production company and they were worth every single penny. They would ask me for pictures and I could never find quite what I was looking for, yet, they were always able to bring my vision to life with a few simple descriptions of what I was picturing. We chose to skip a tent over the ceremony (a decision that was made as i was having my first look with my family two hours before the wedding). Even though it rained, i'd make the same decision again. The planner called and said we had a 50/50 chance for rain during the time of the ceremony. We made sure there was a tent at cocktail hour for people to get under, but i really wanted the ceremony open and airy (my husband nearly passed out at his brothers wedding so I needed him to get as much air as possible :). While his sister was reciting a reading for us, we could hear the rain coming. Our officiant asked us if we wanted to take cover. Can you believe that nearly every guest remained seated throughout the rain to share our moment with us?? It was incredible. Of course, we all darted for cover as it came and then five minutes later we all took our places and resumed the ceremony. We also skipped the grooms cake.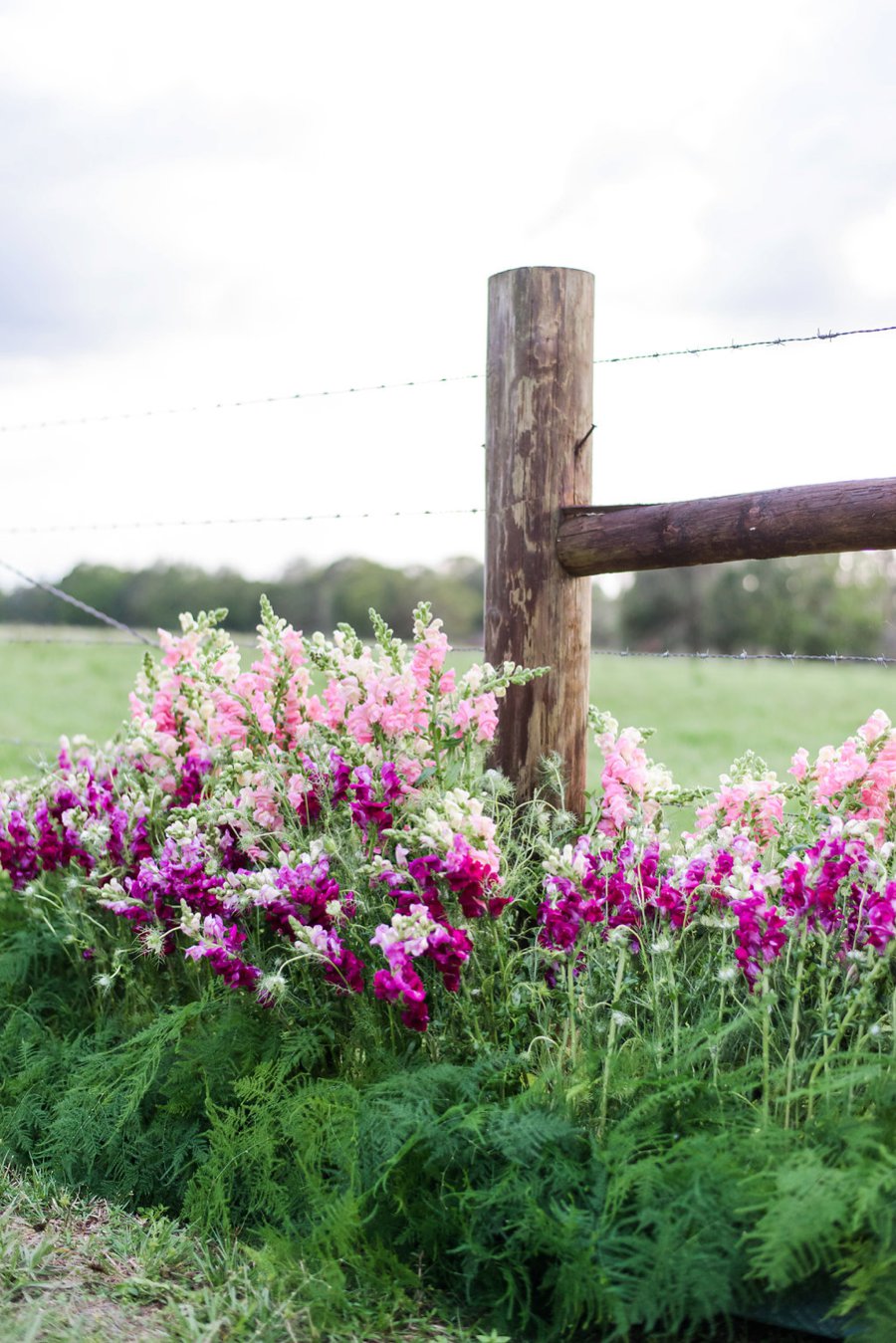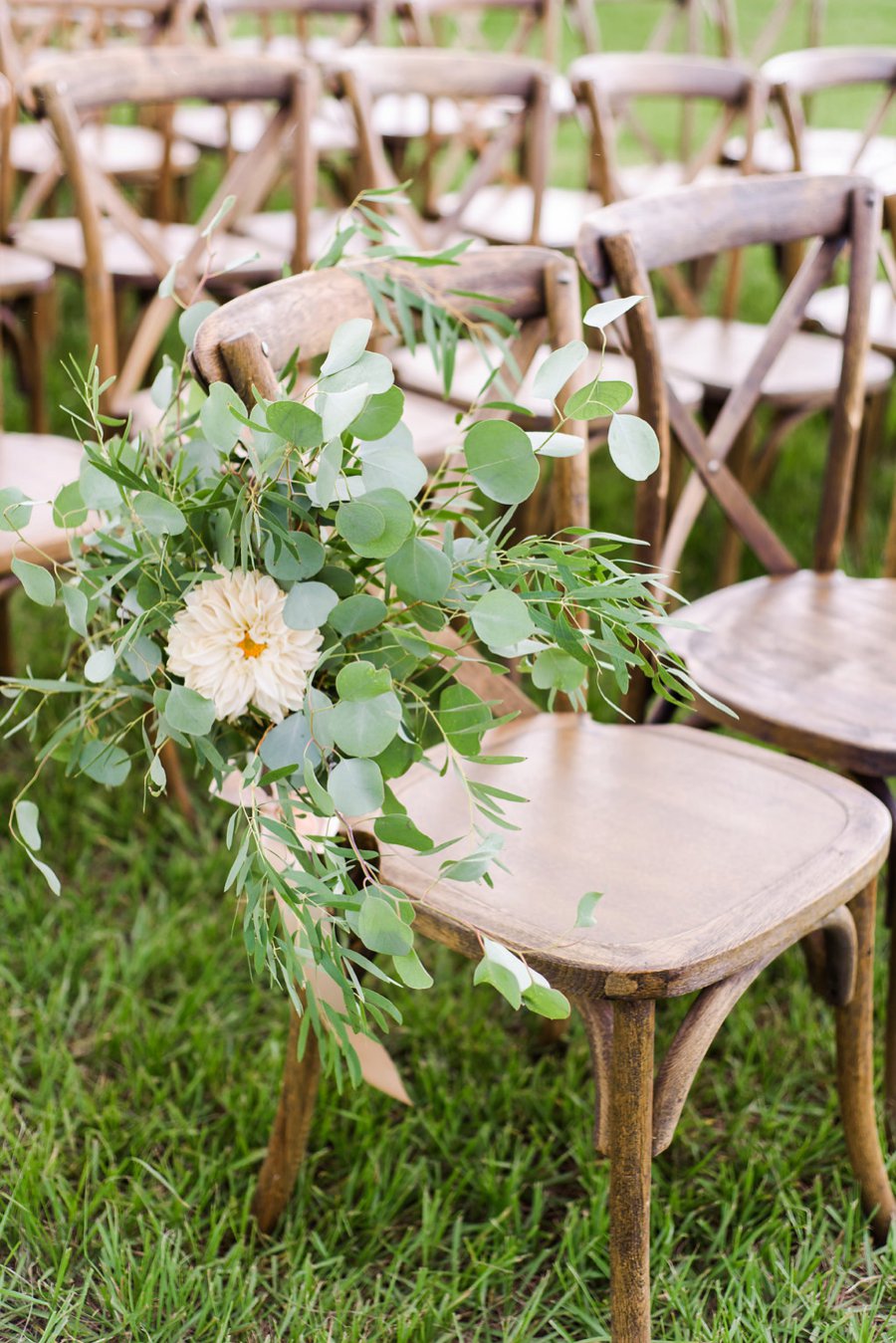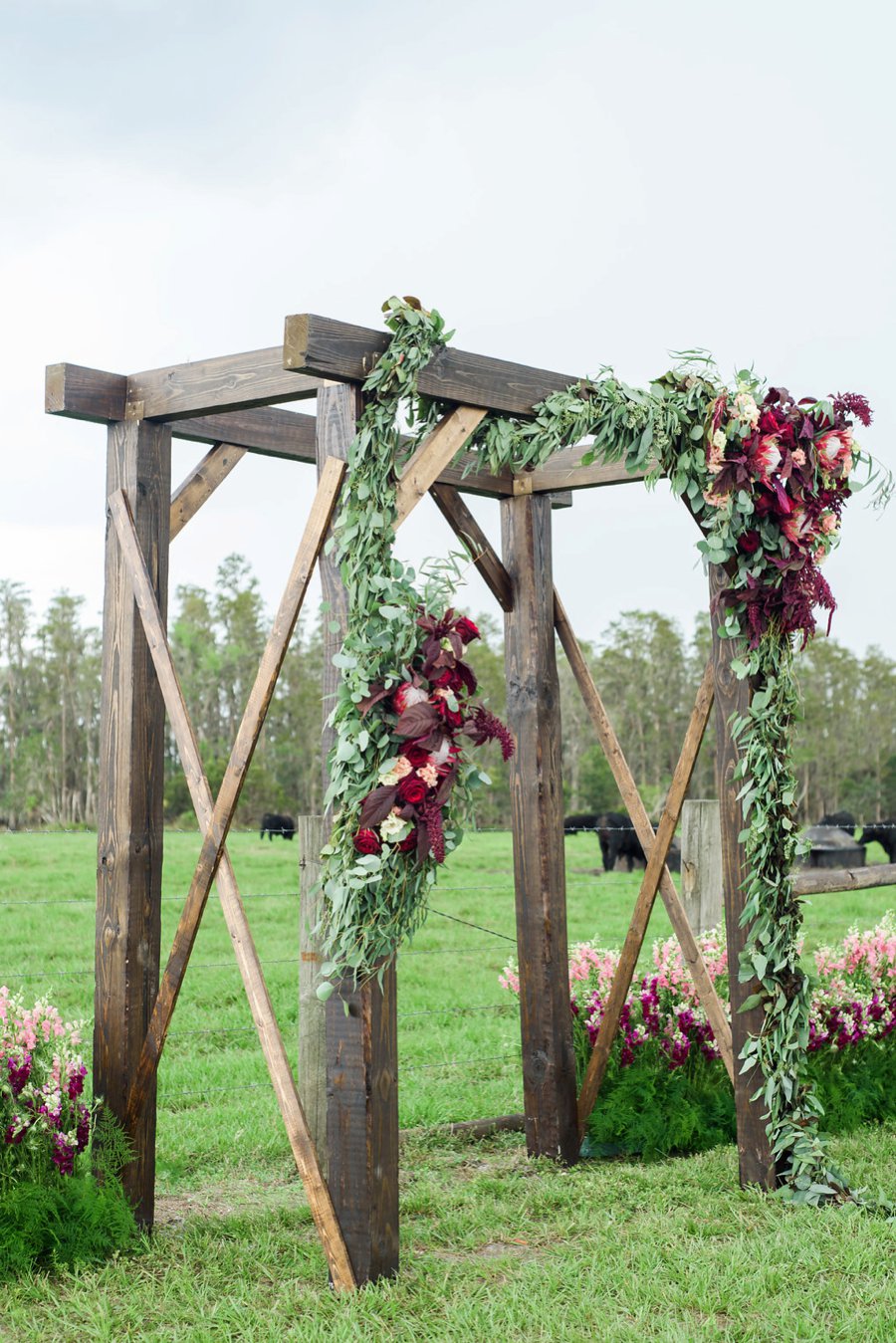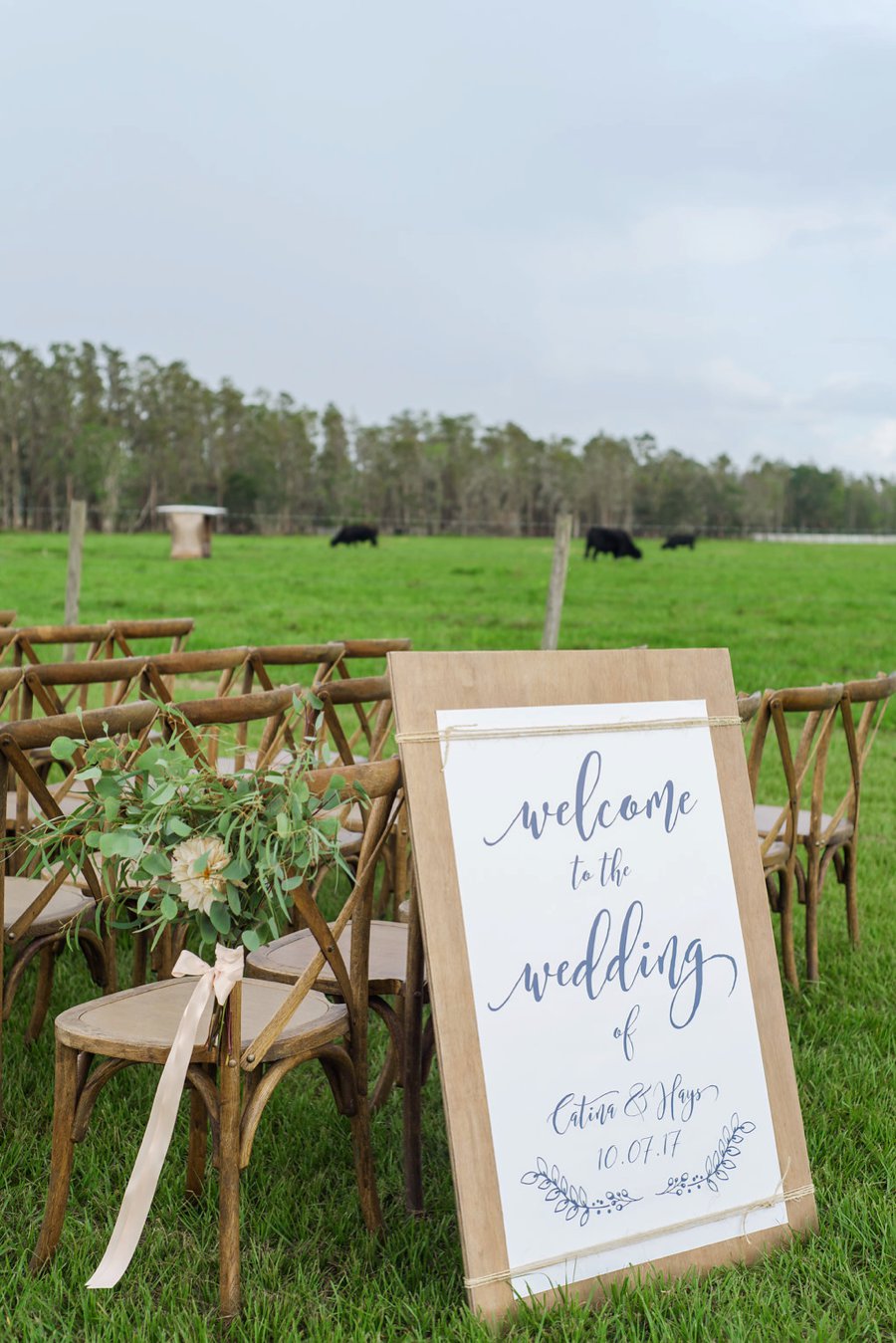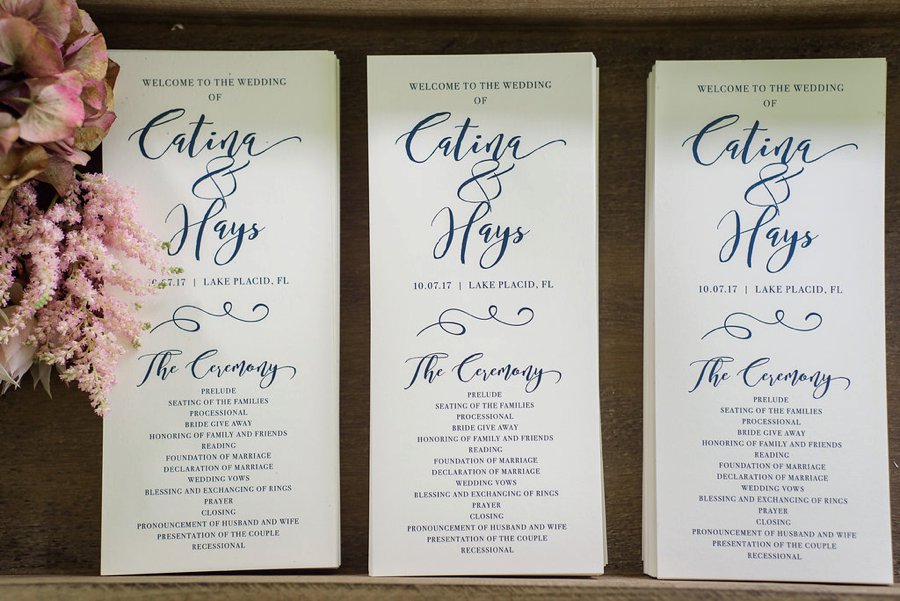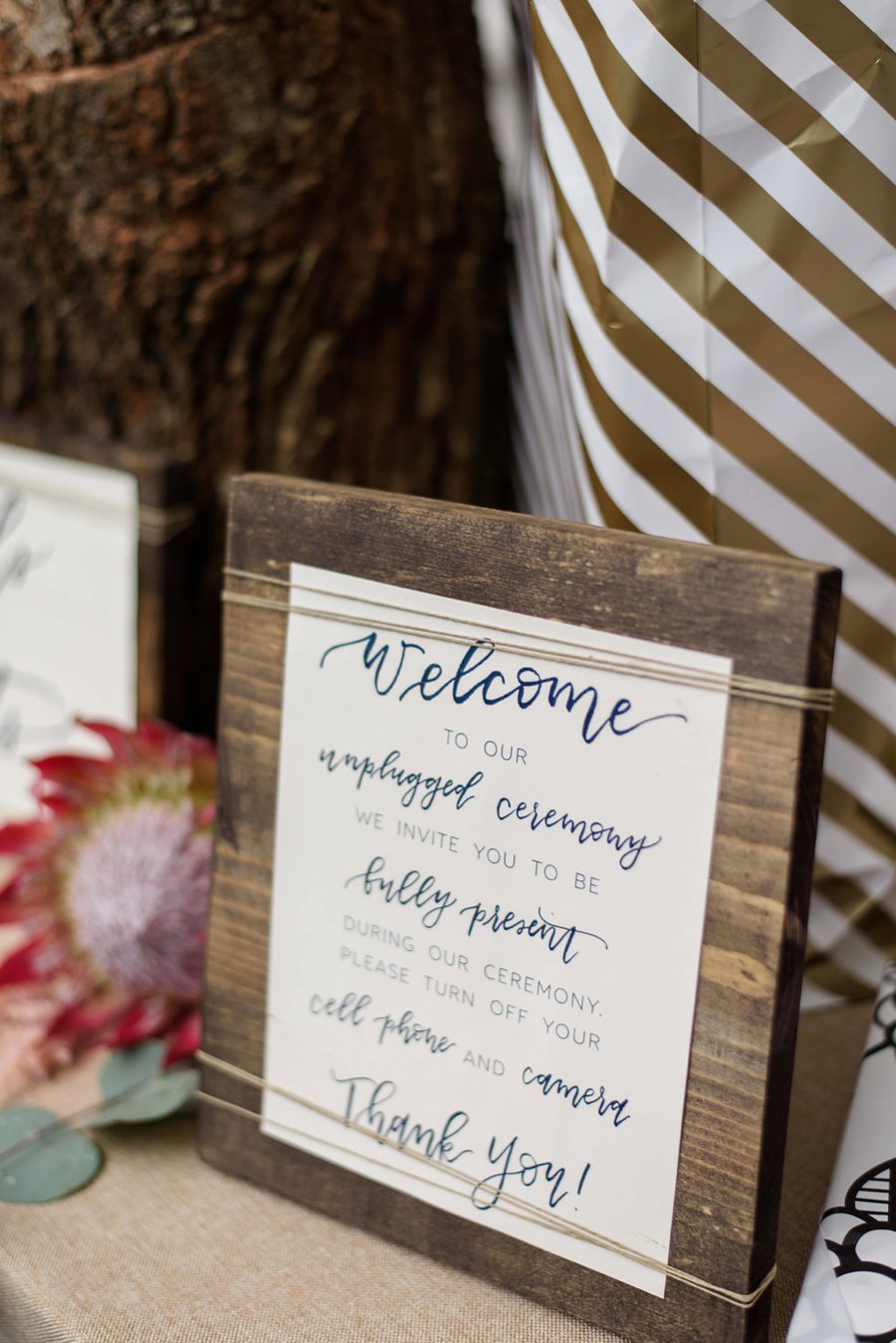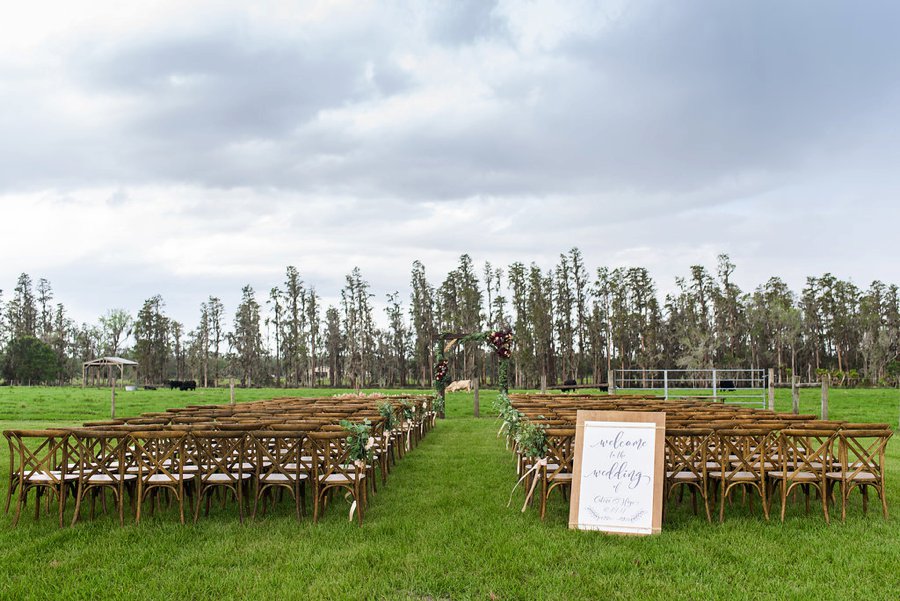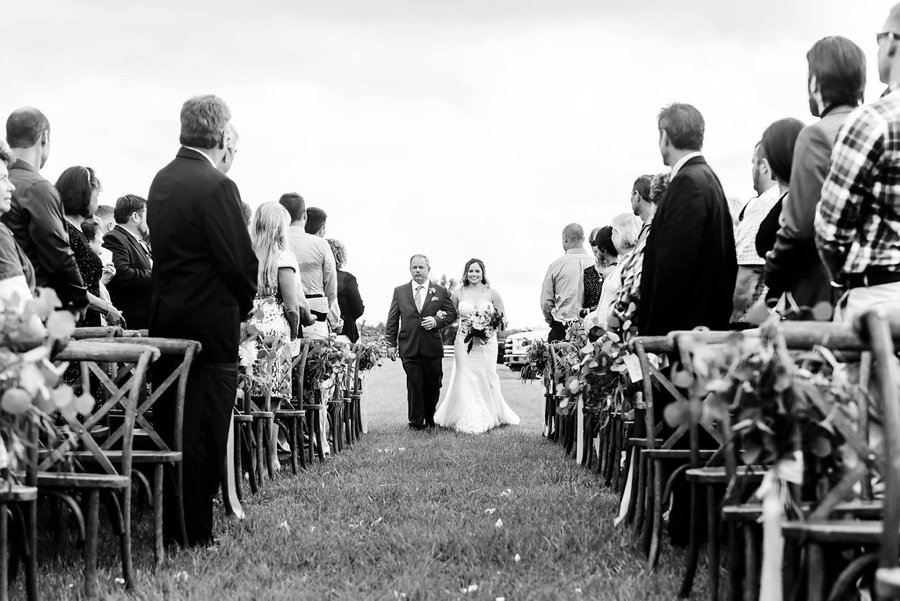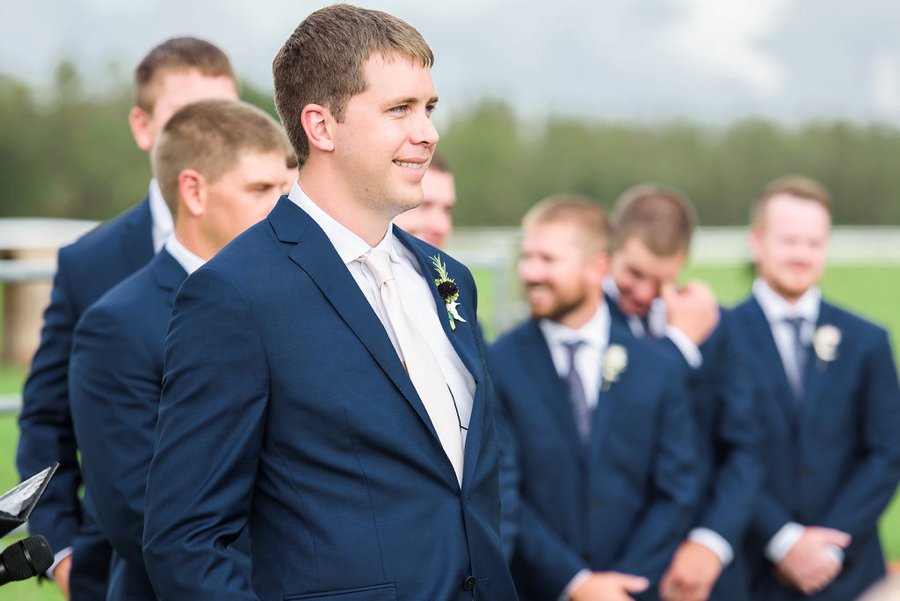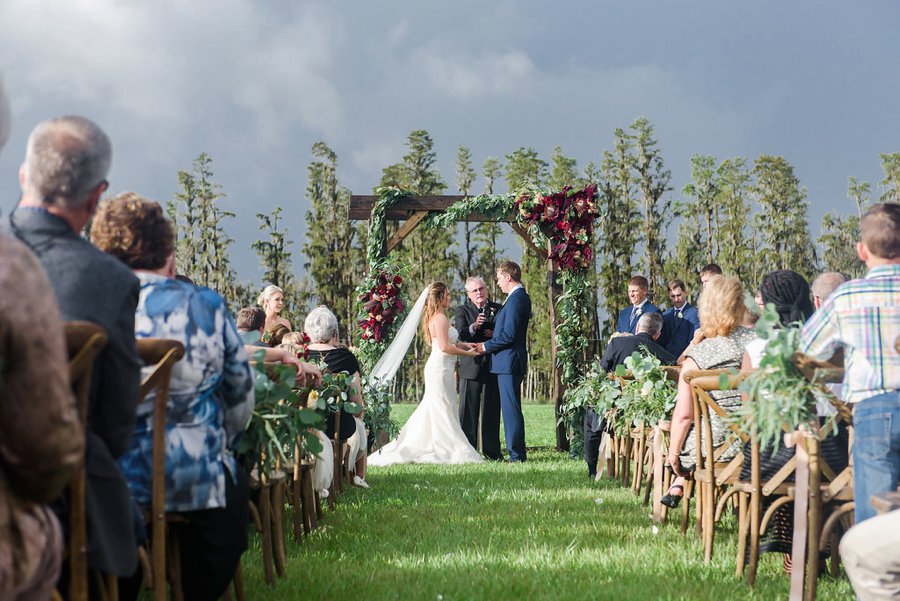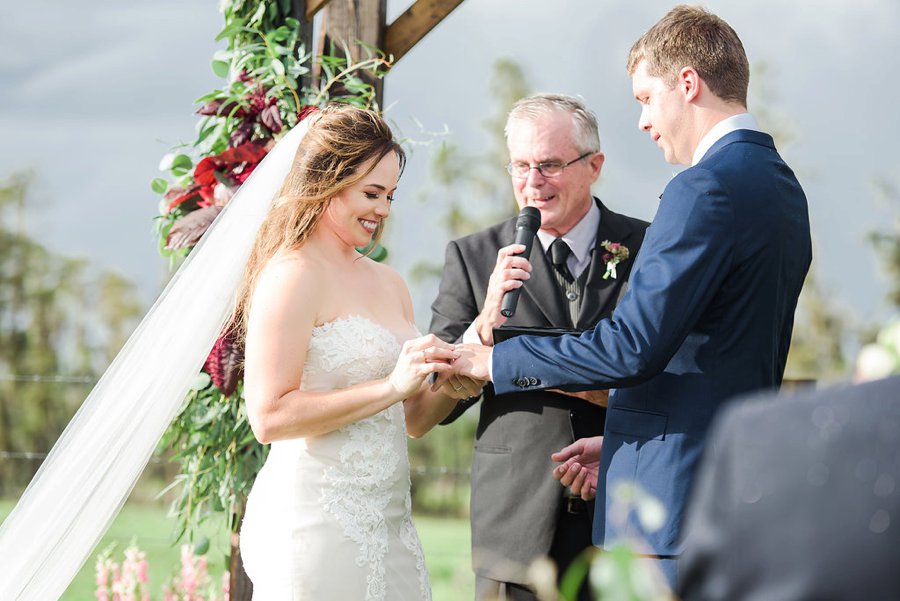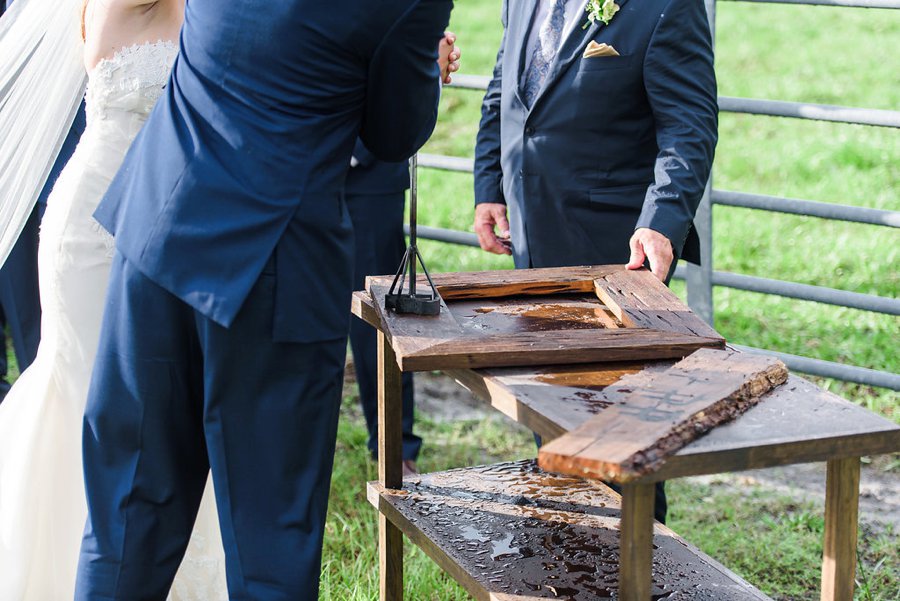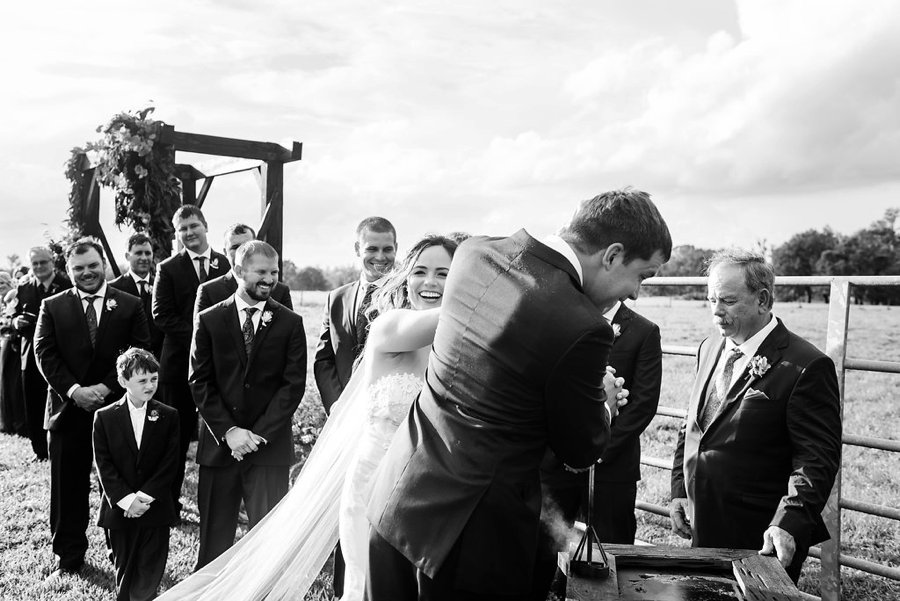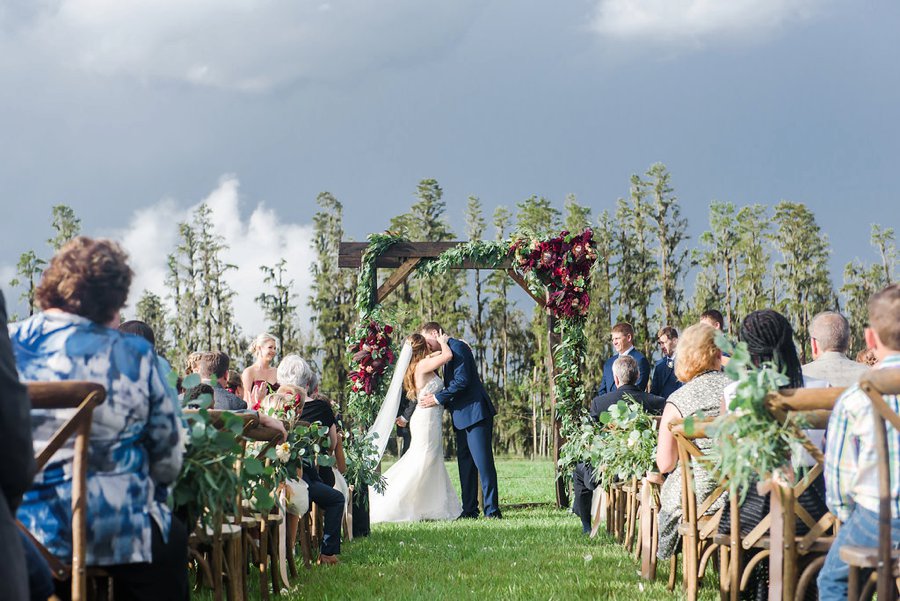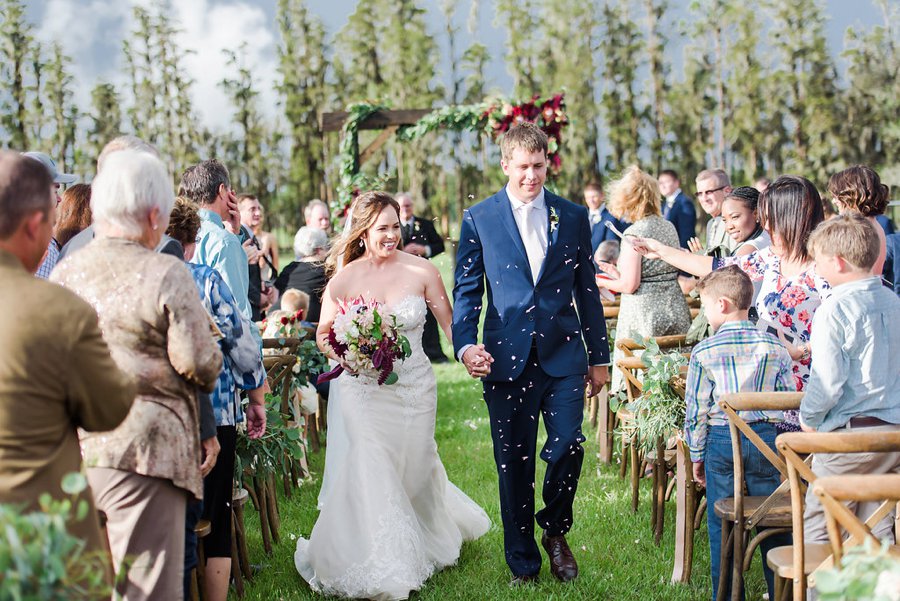 What were your favorite parts of the day?
One of my favorite parts of the day is the rain story. It allowed us to shake off the nerves and see how much love was surrounding us that day that all of our guests were willing to endure the weather to celebrate with us. Another favorite part of the day was the letter my husband wrote to me and had delivered the morning of. We did not have a first look, so for me, finally getting to my man at the alter felt like the best moment. Walking down the aisle with my father was equally as awesome…he was saying little things under his breath to me because he was so nervous! It kept my nerves from getting the best of me. For my husband, he says his favorite memory of the day is spending time with his friends and family. Most importantly the time he got to spend with one of his groomsmen who sadly passed away three weeks after our wedding.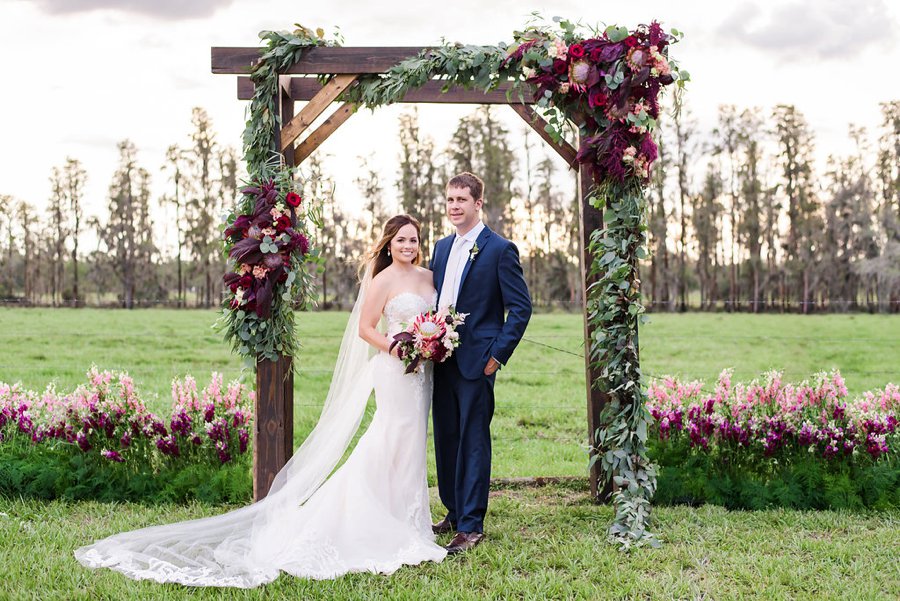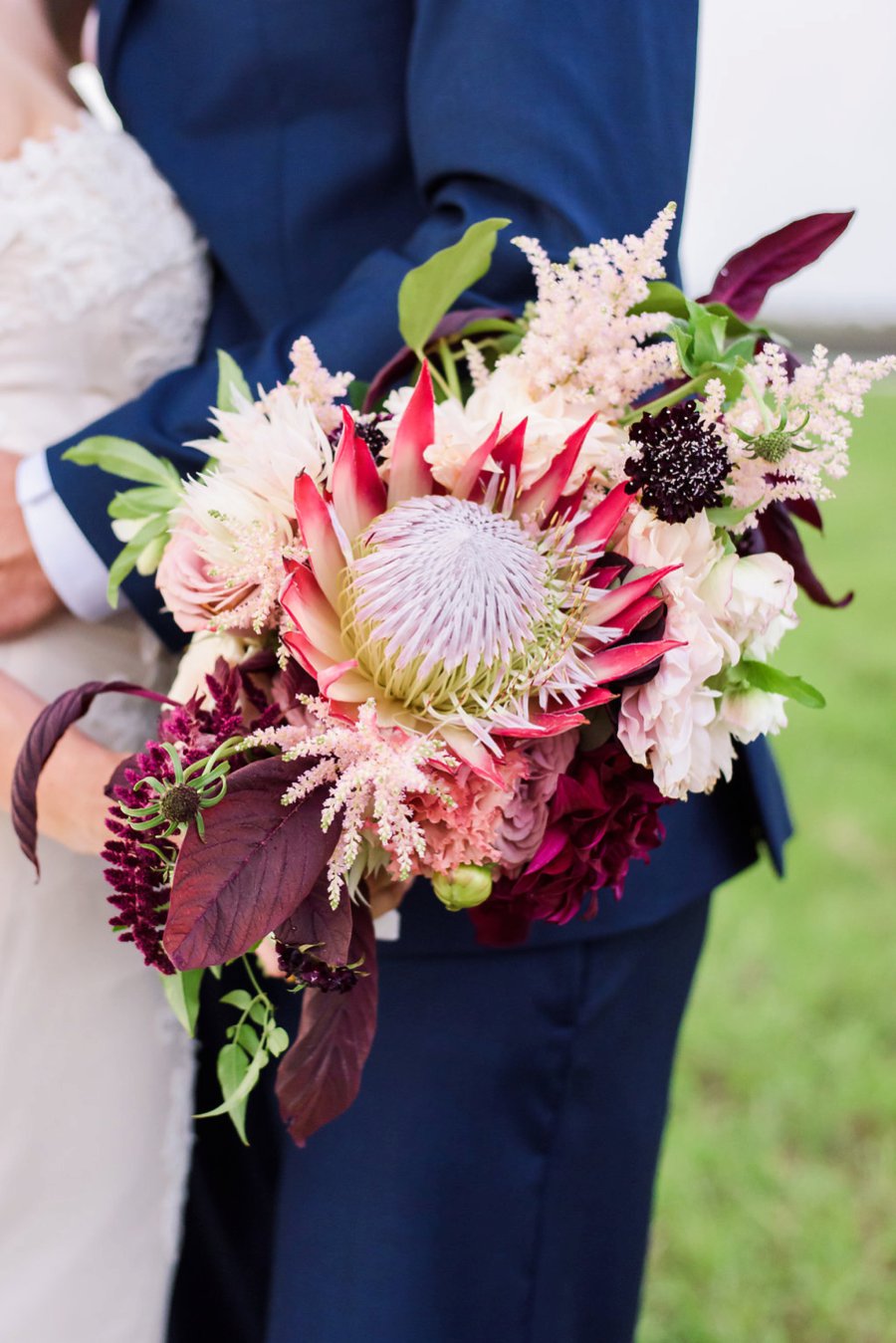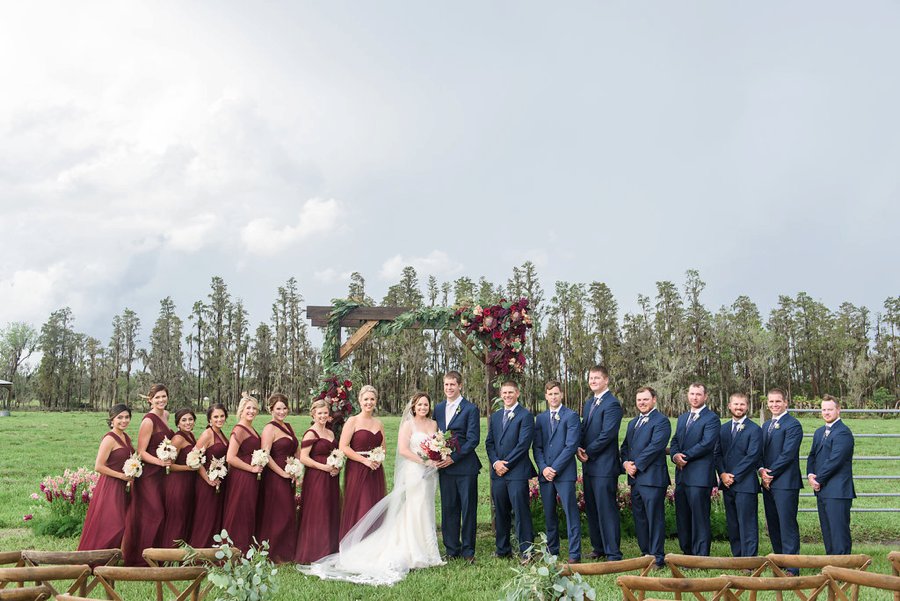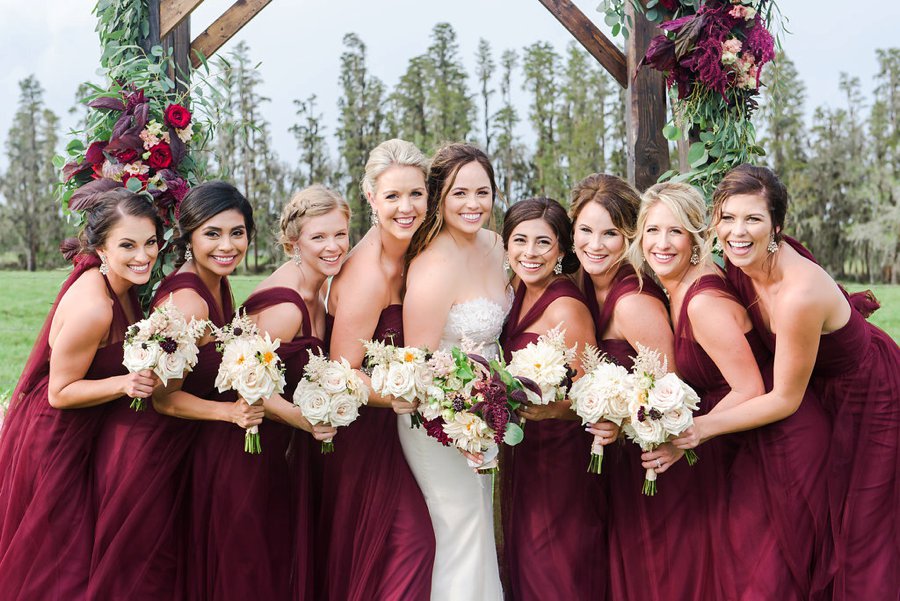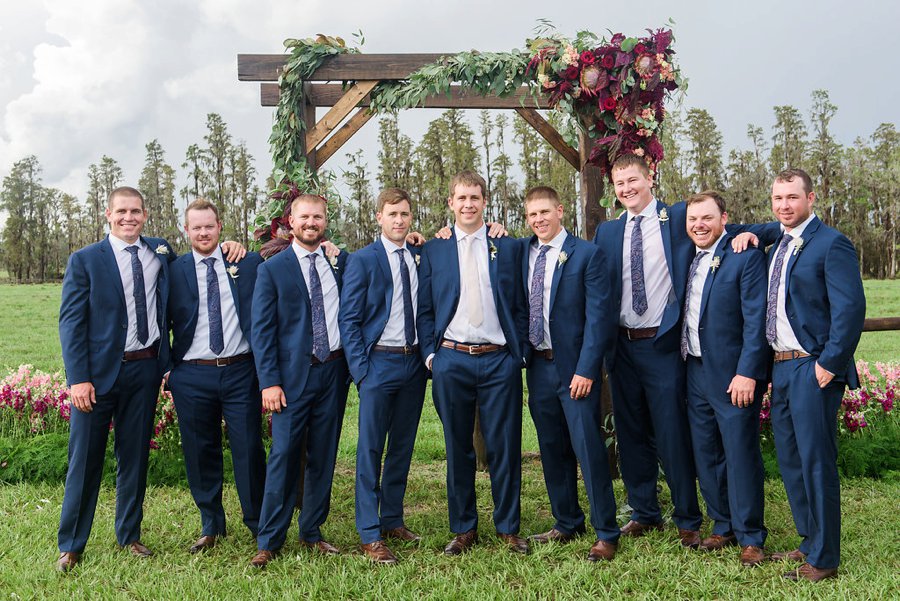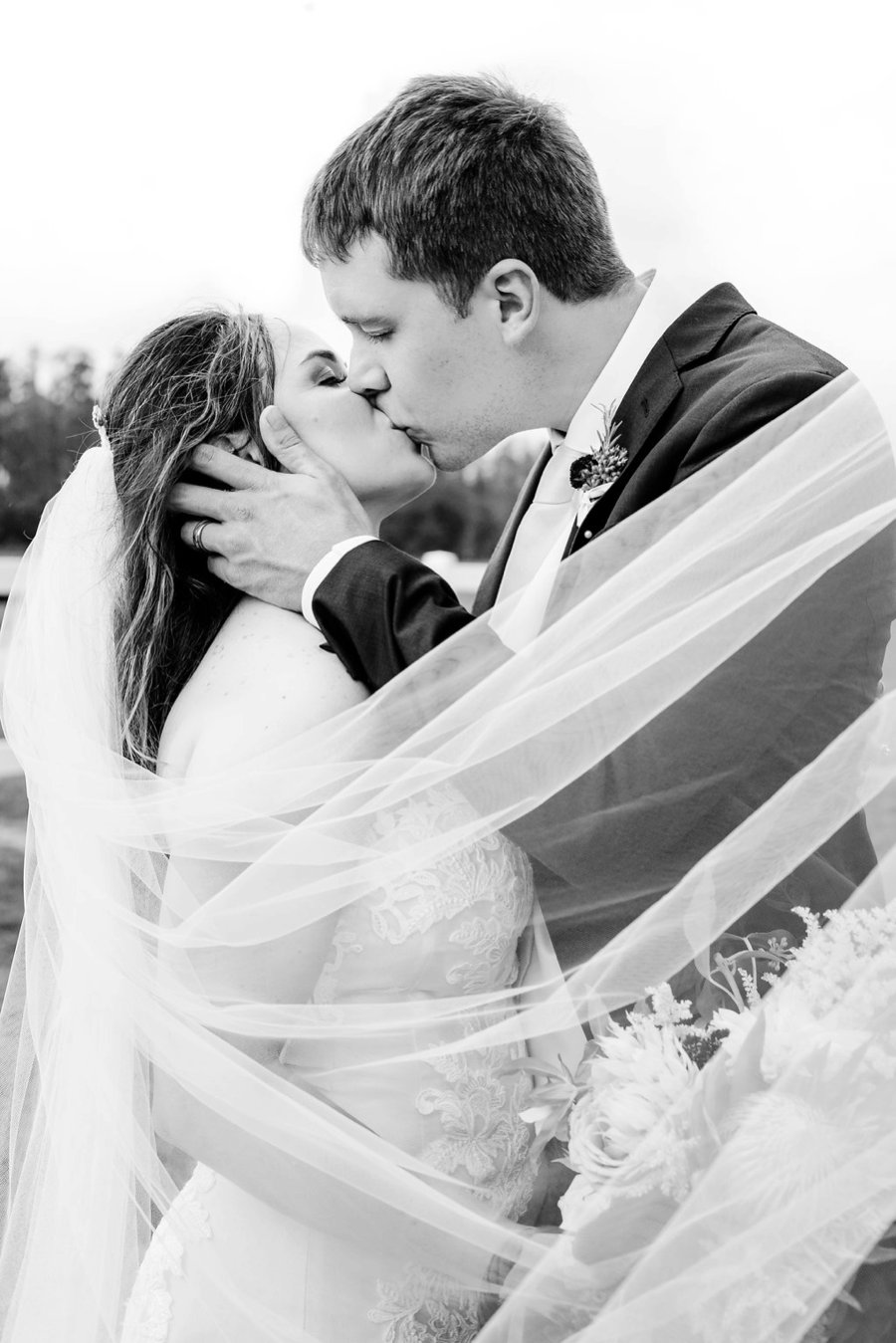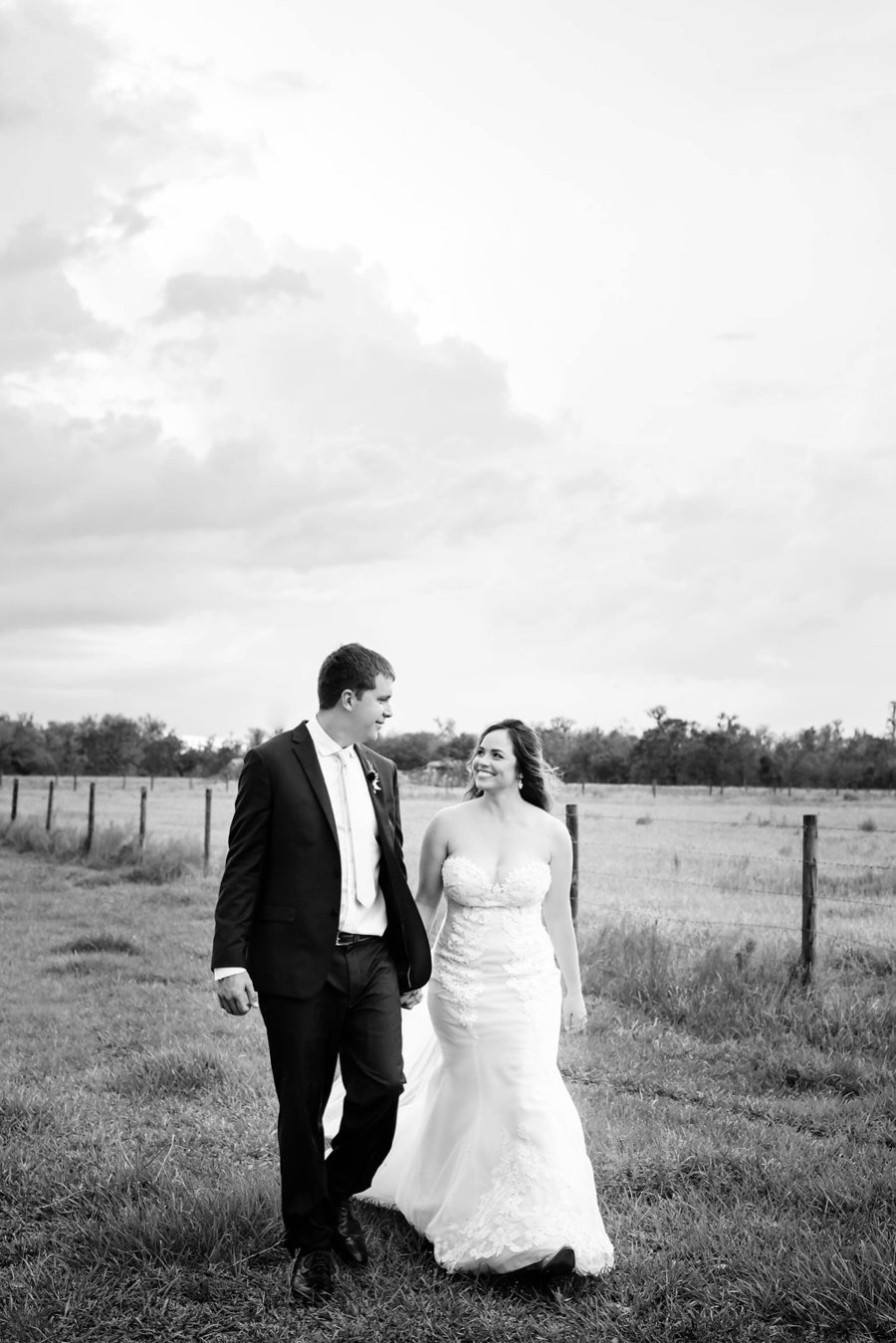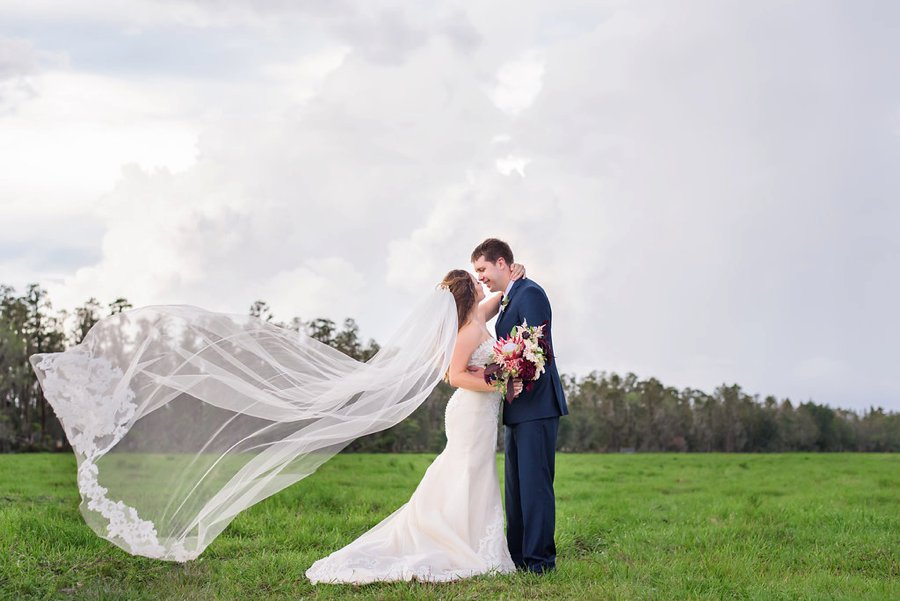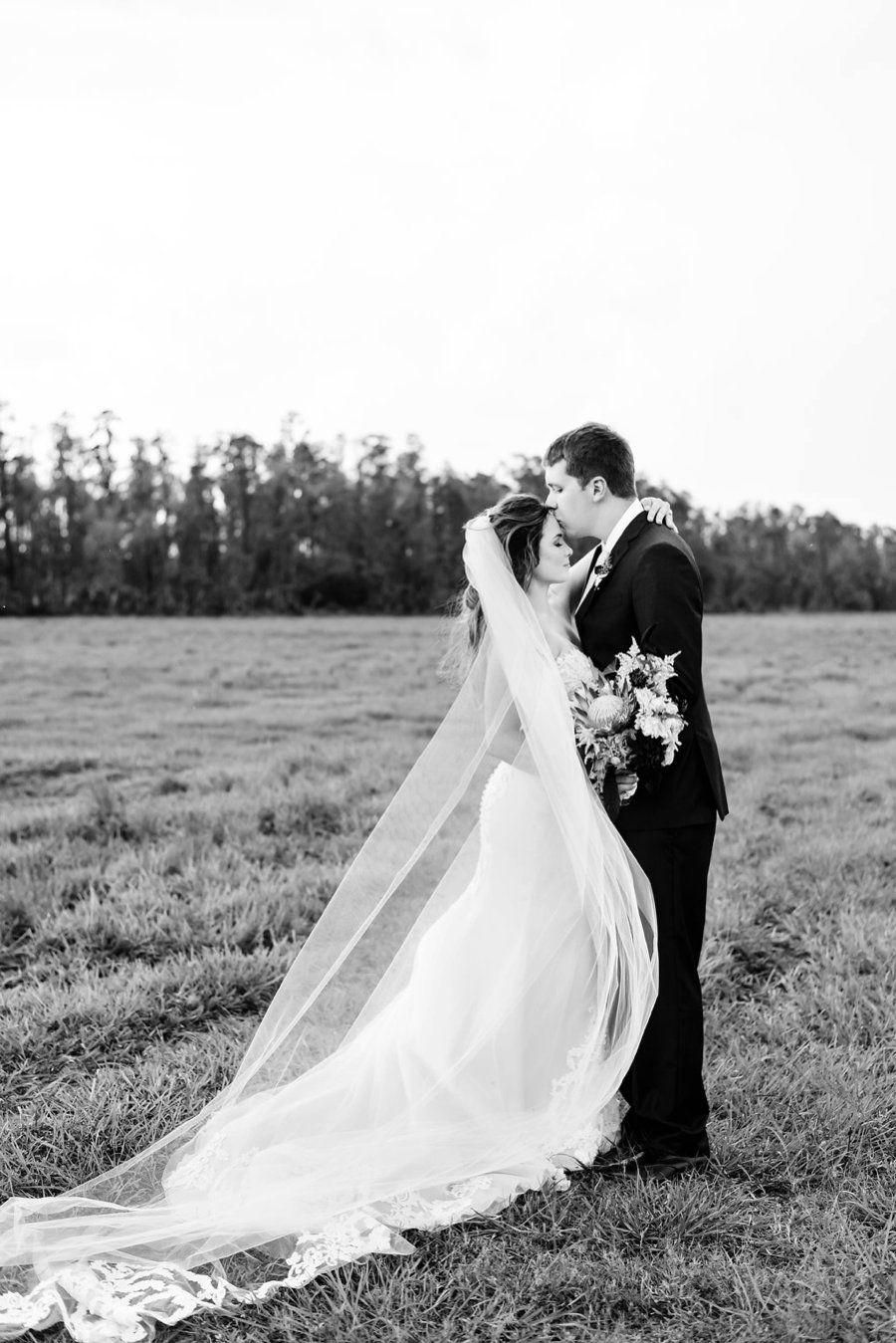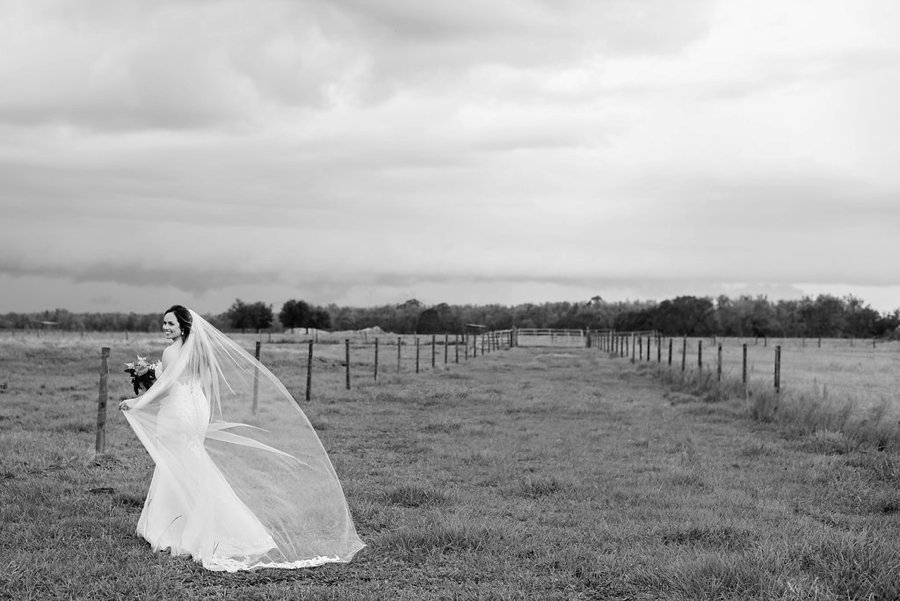 Please describe any DIY, handmade, or personal details.
The brand we used on our cocktail napkins and coozies was designed by my aunt Donna Sue Williams. My father had the brand made and we used it during our unity ceremony to brand a frame. The frame was built by my father from wood that my grandfather harvested for me from my great-great-great grandmothers house. Every table number was held by a holder that my husband and father cut from limbs fallen on the original wedding venue site from Hurricane Irma. The cardholder was also made by my father from a large tree that fell during the Hurricane.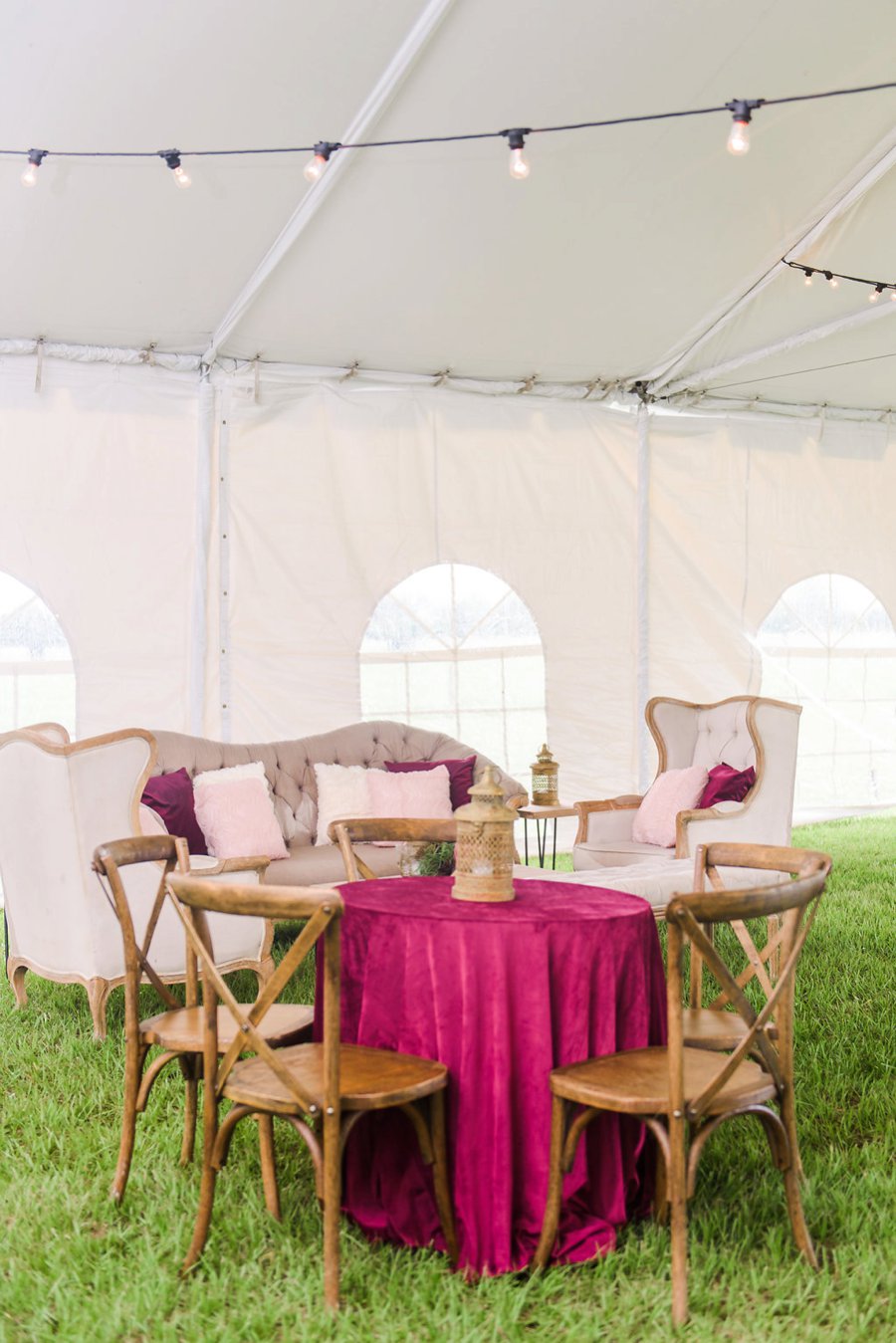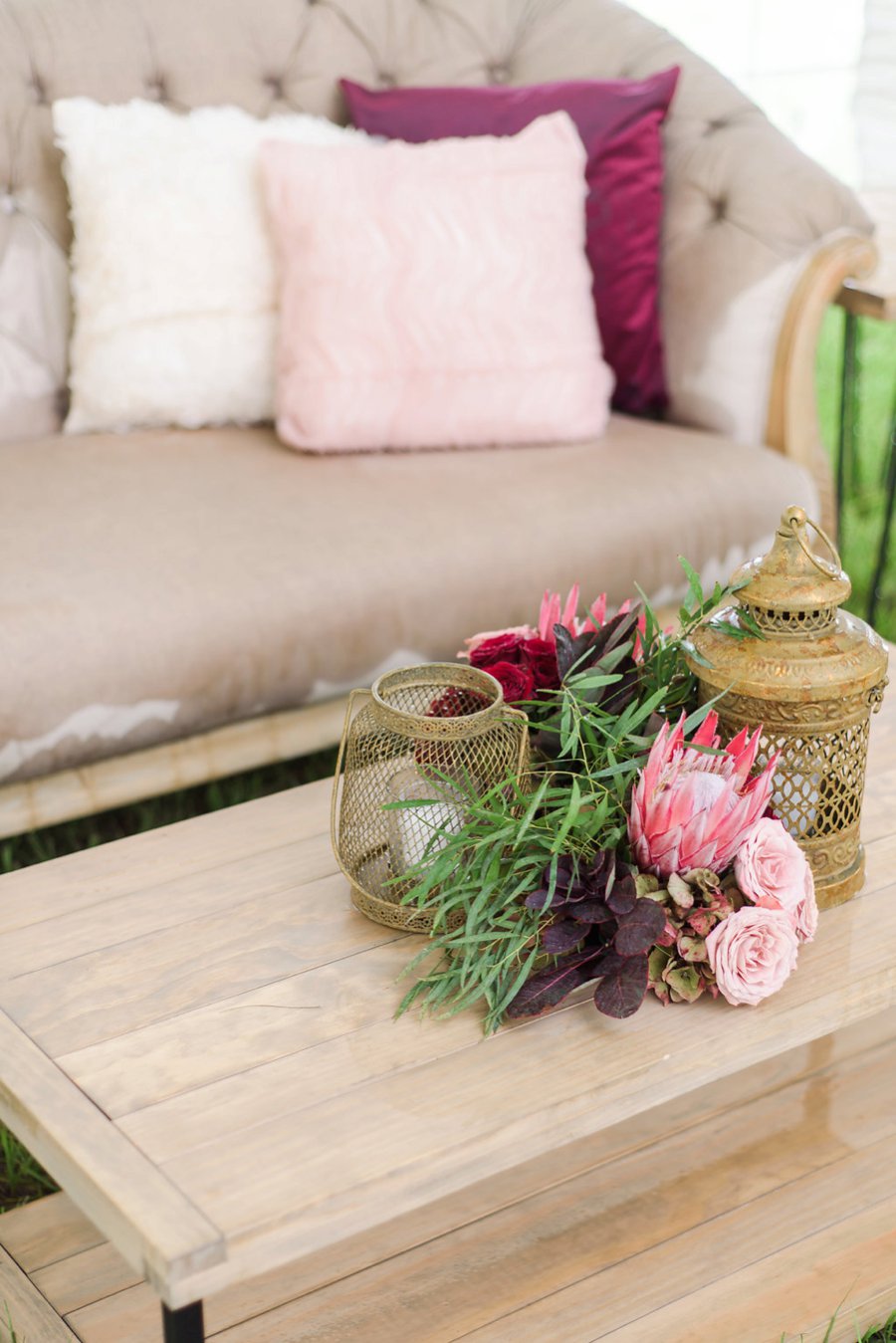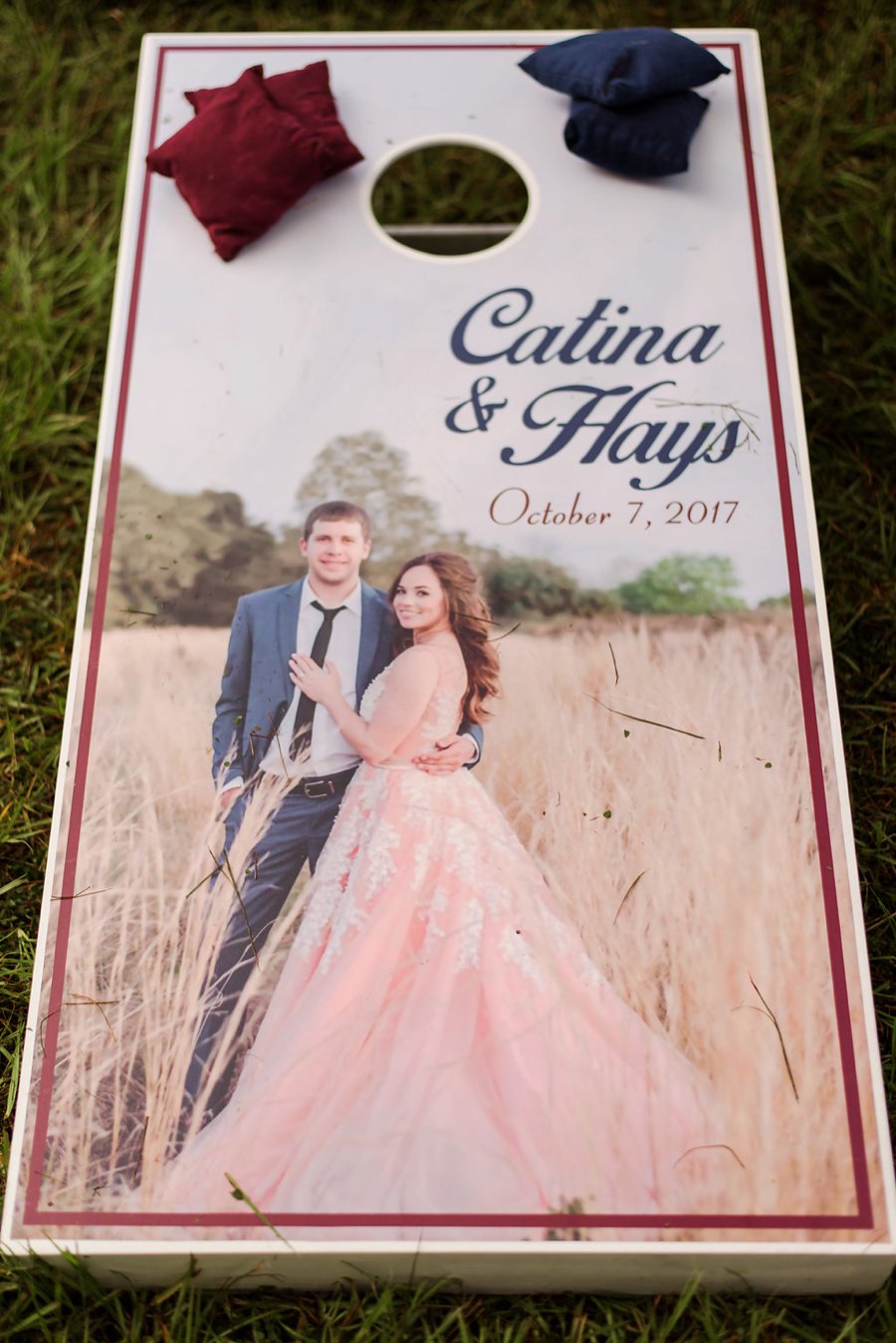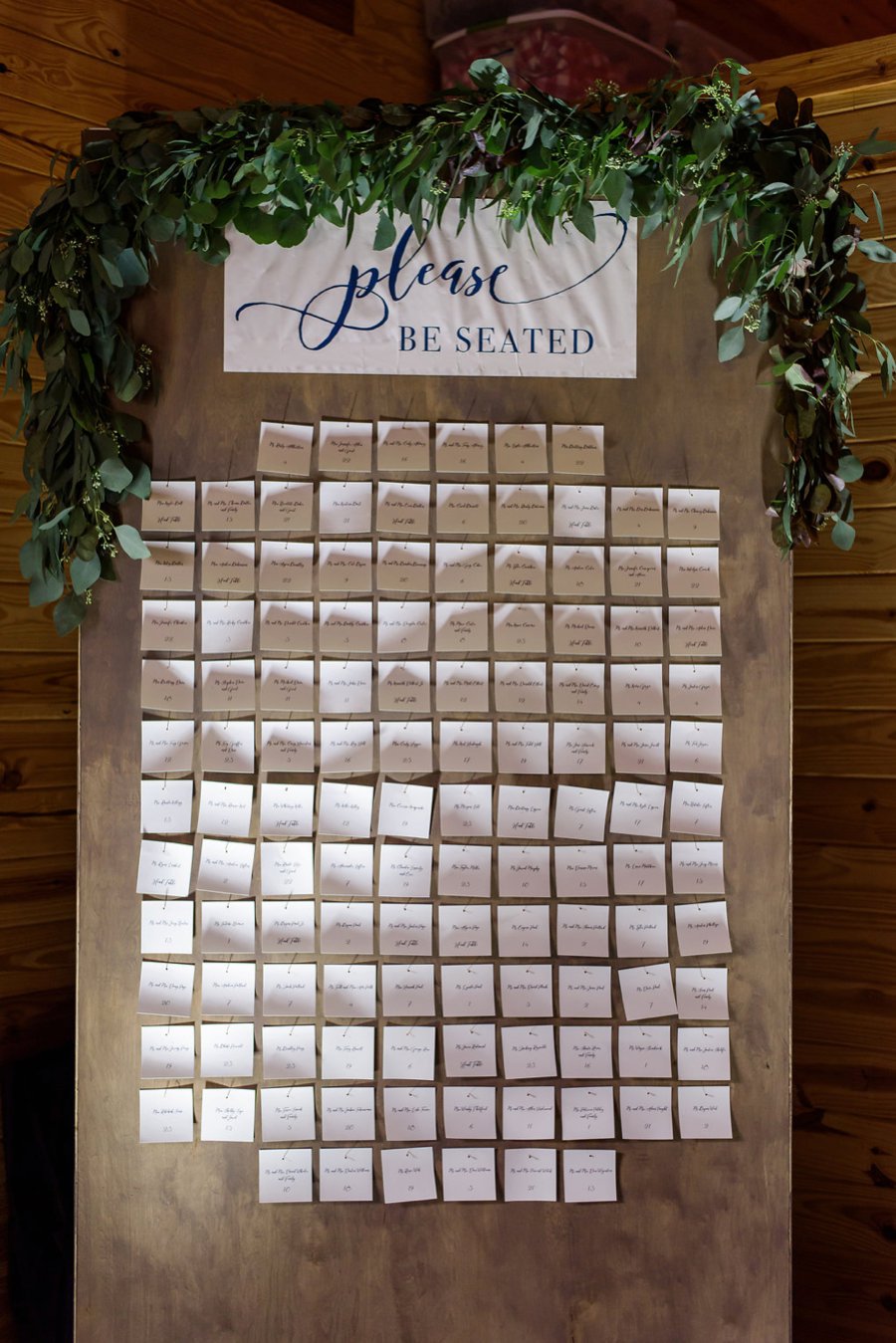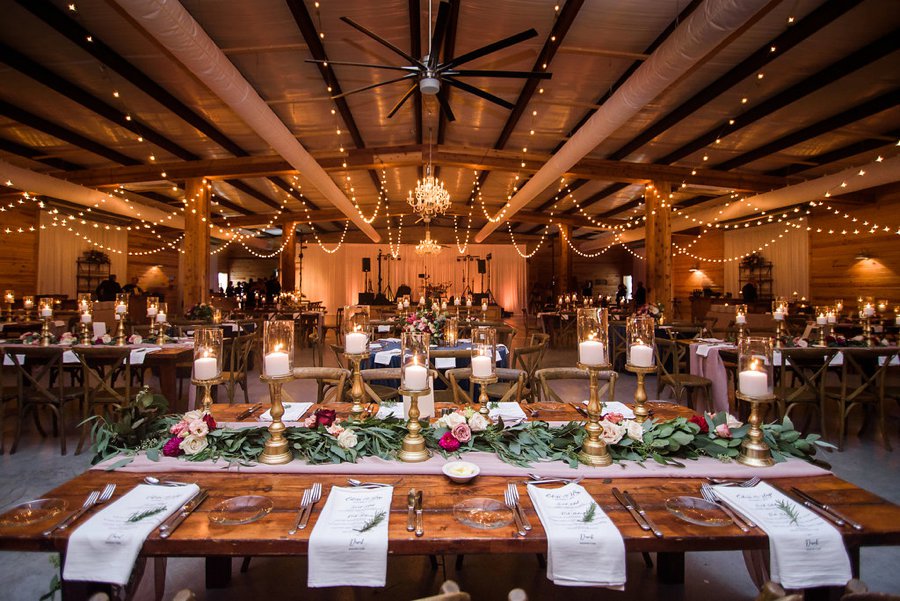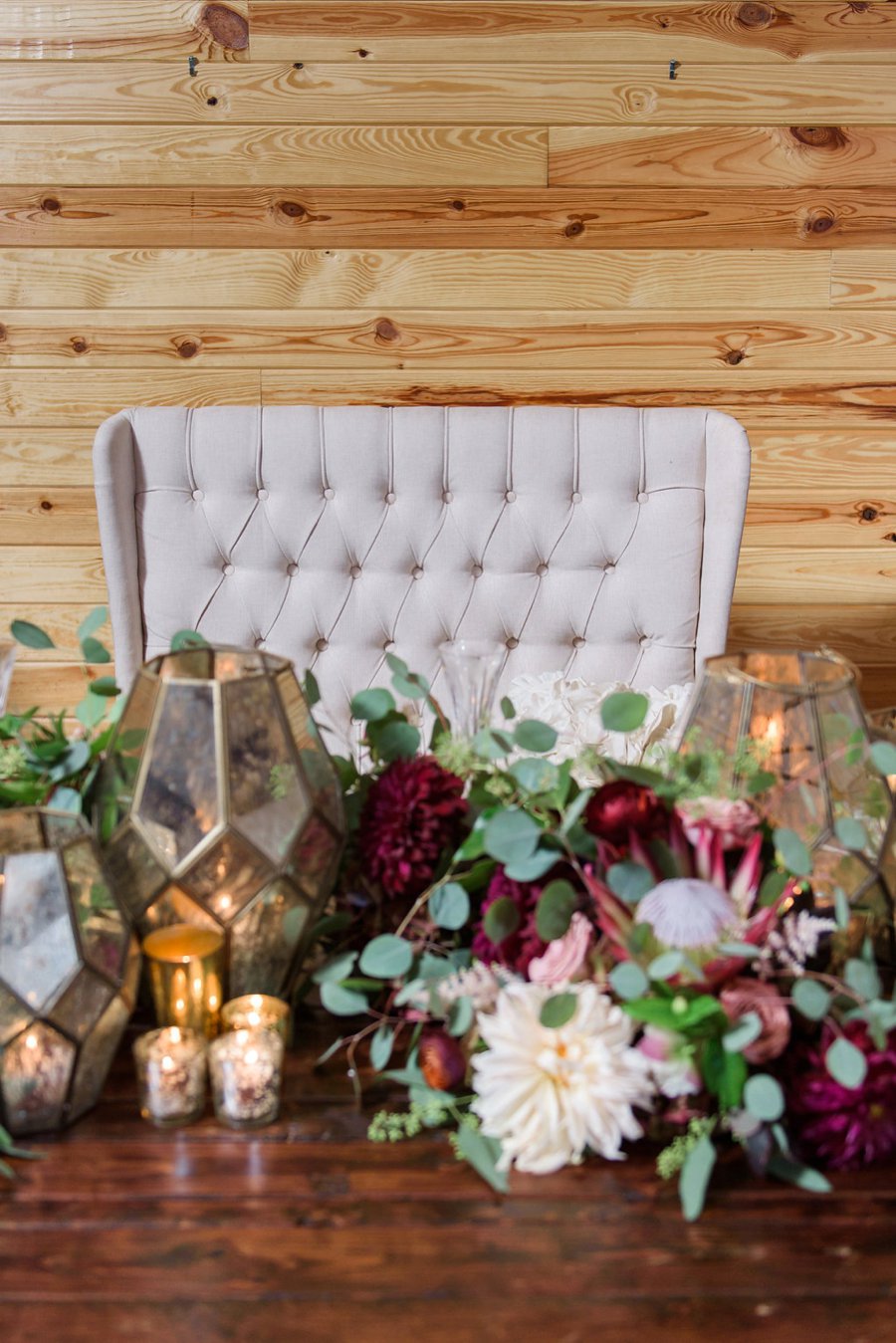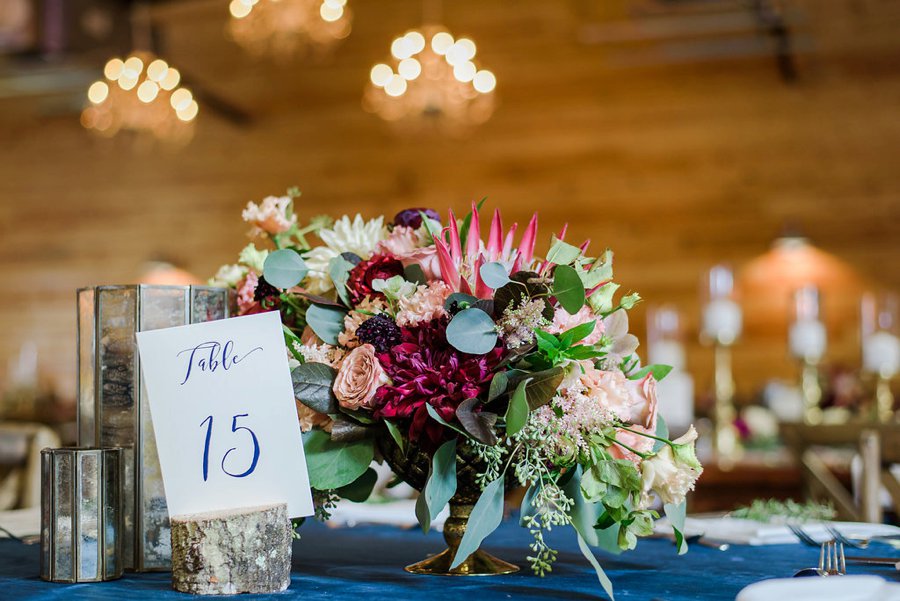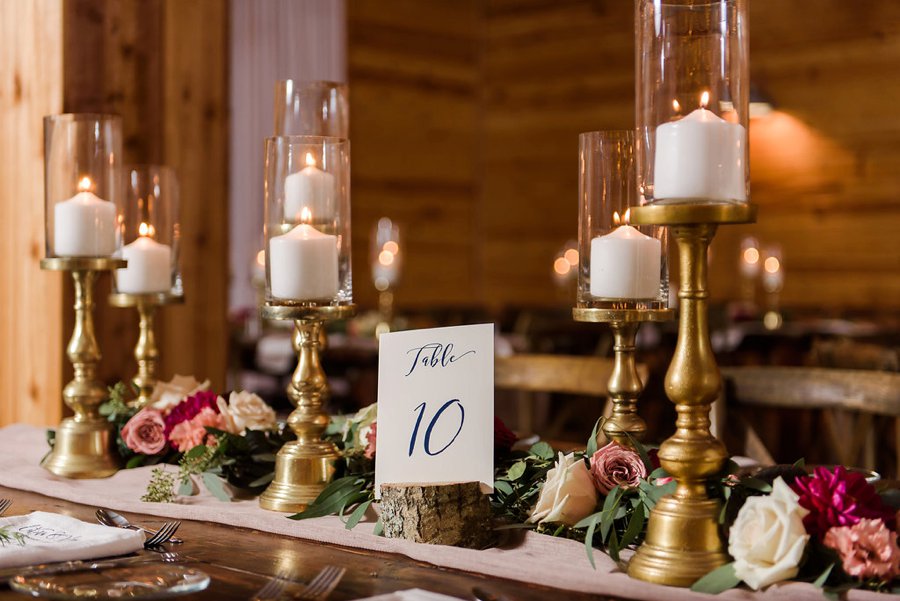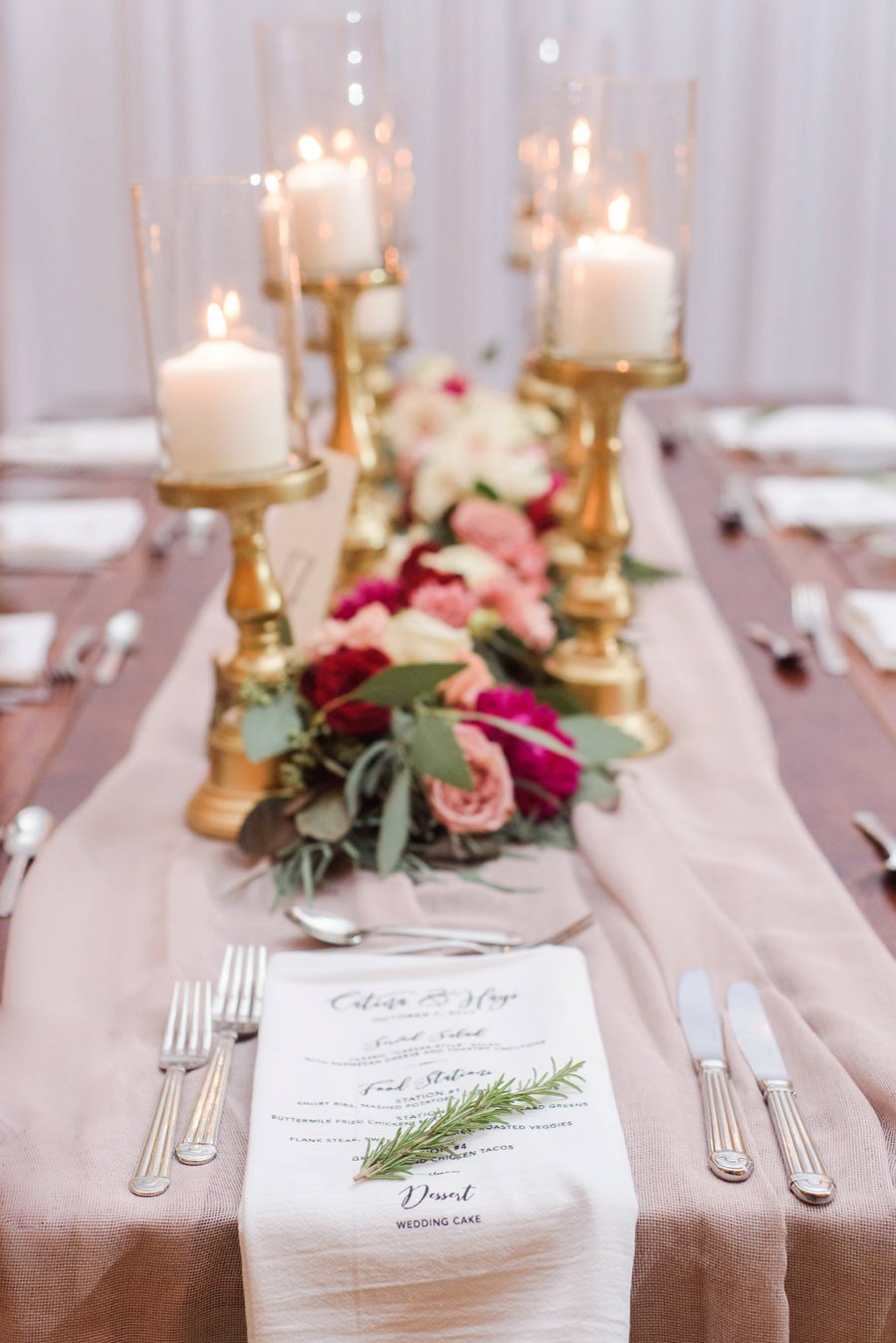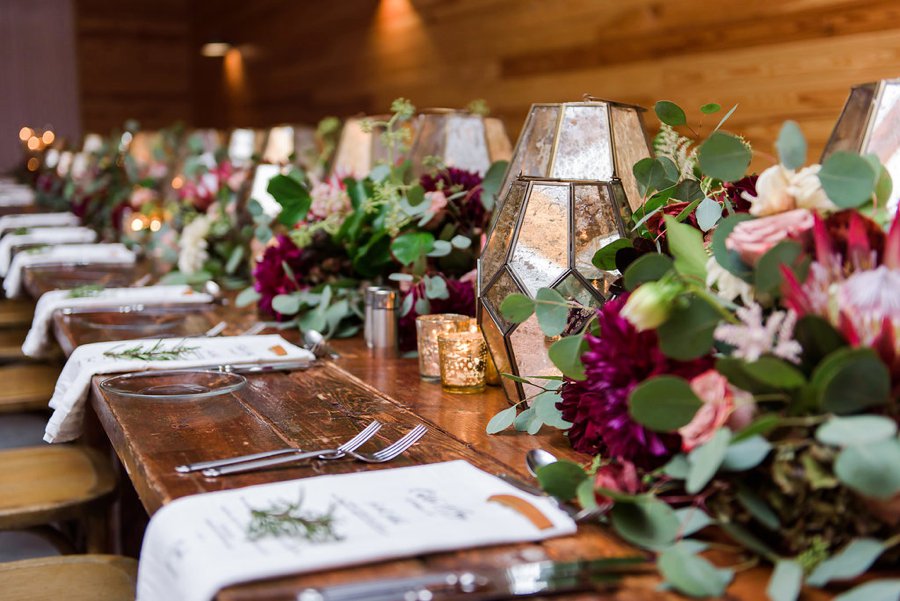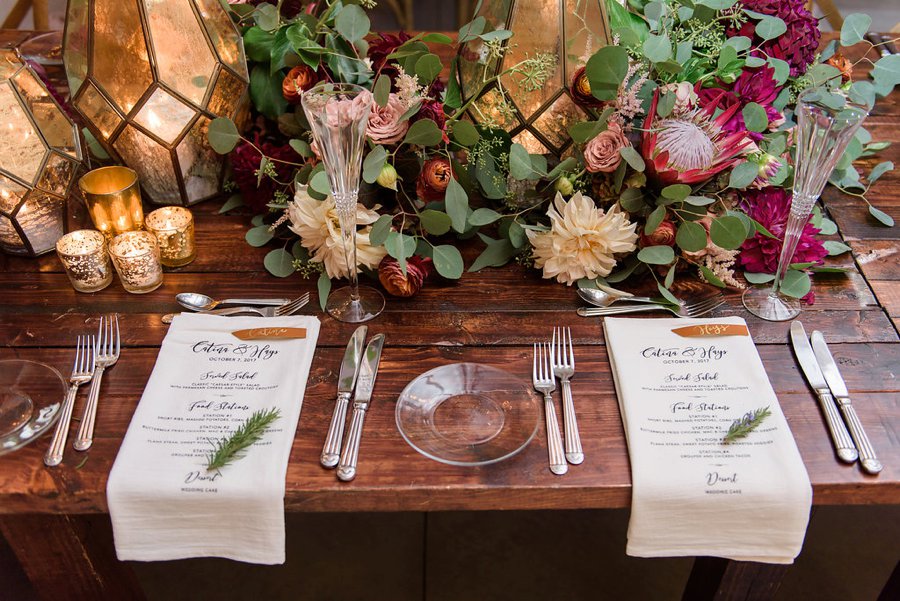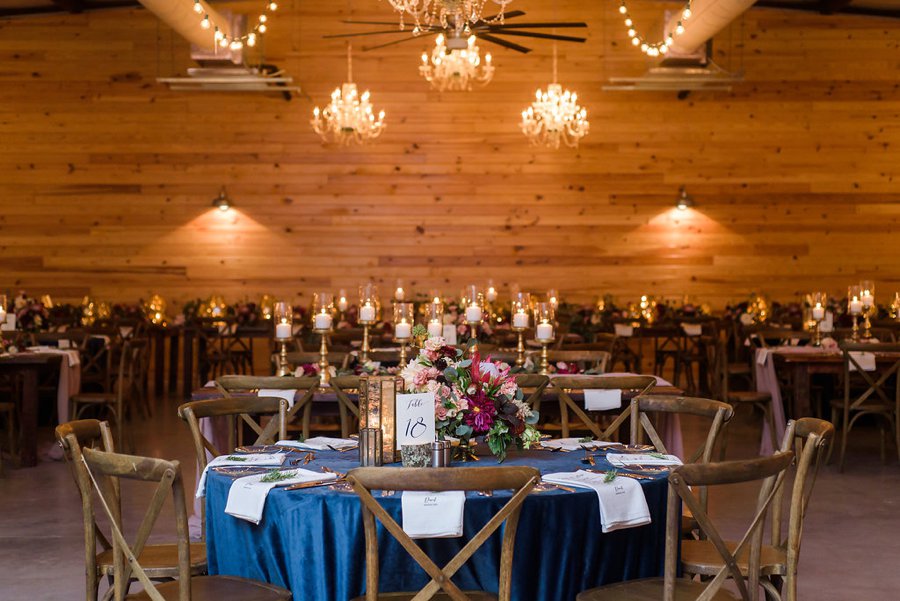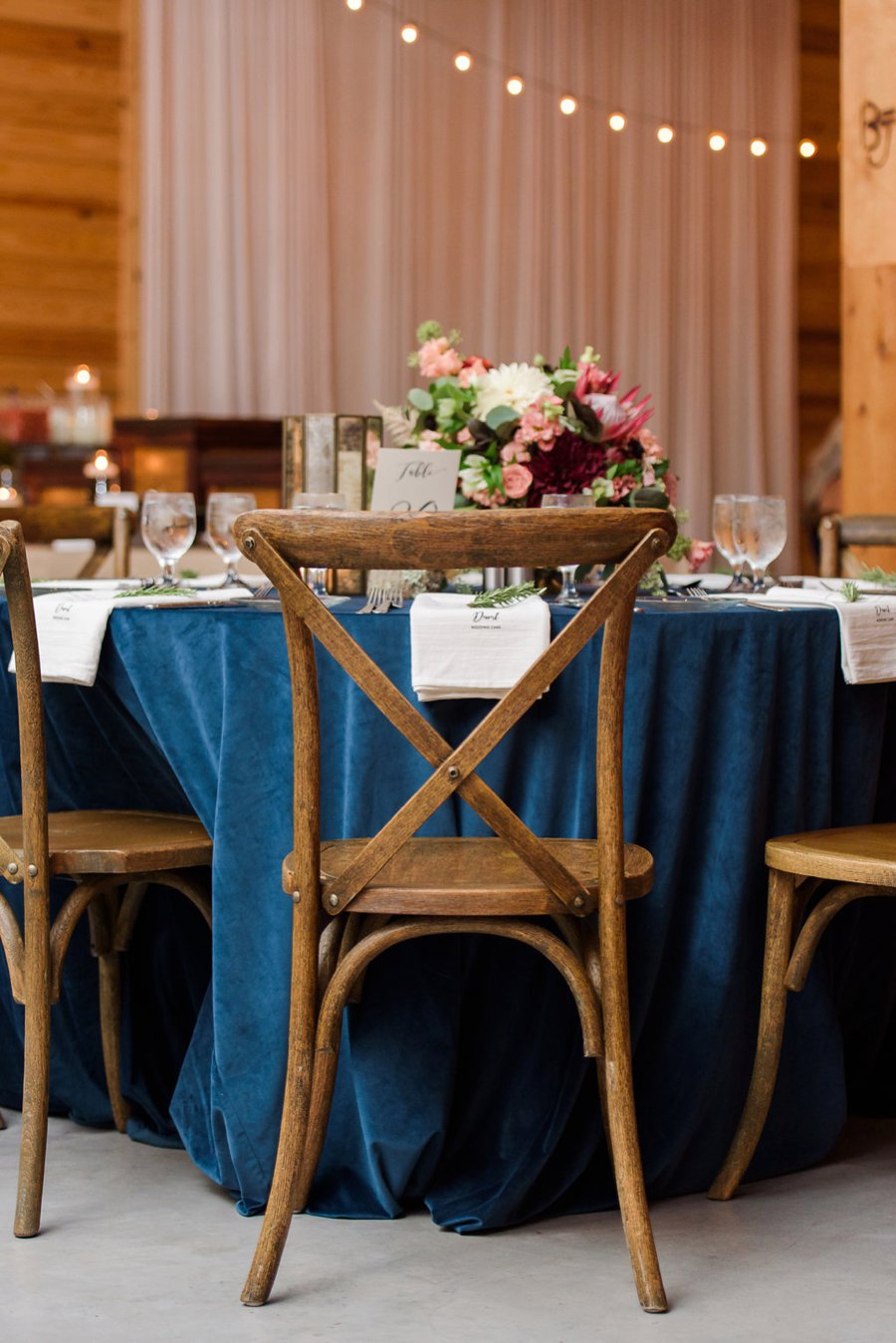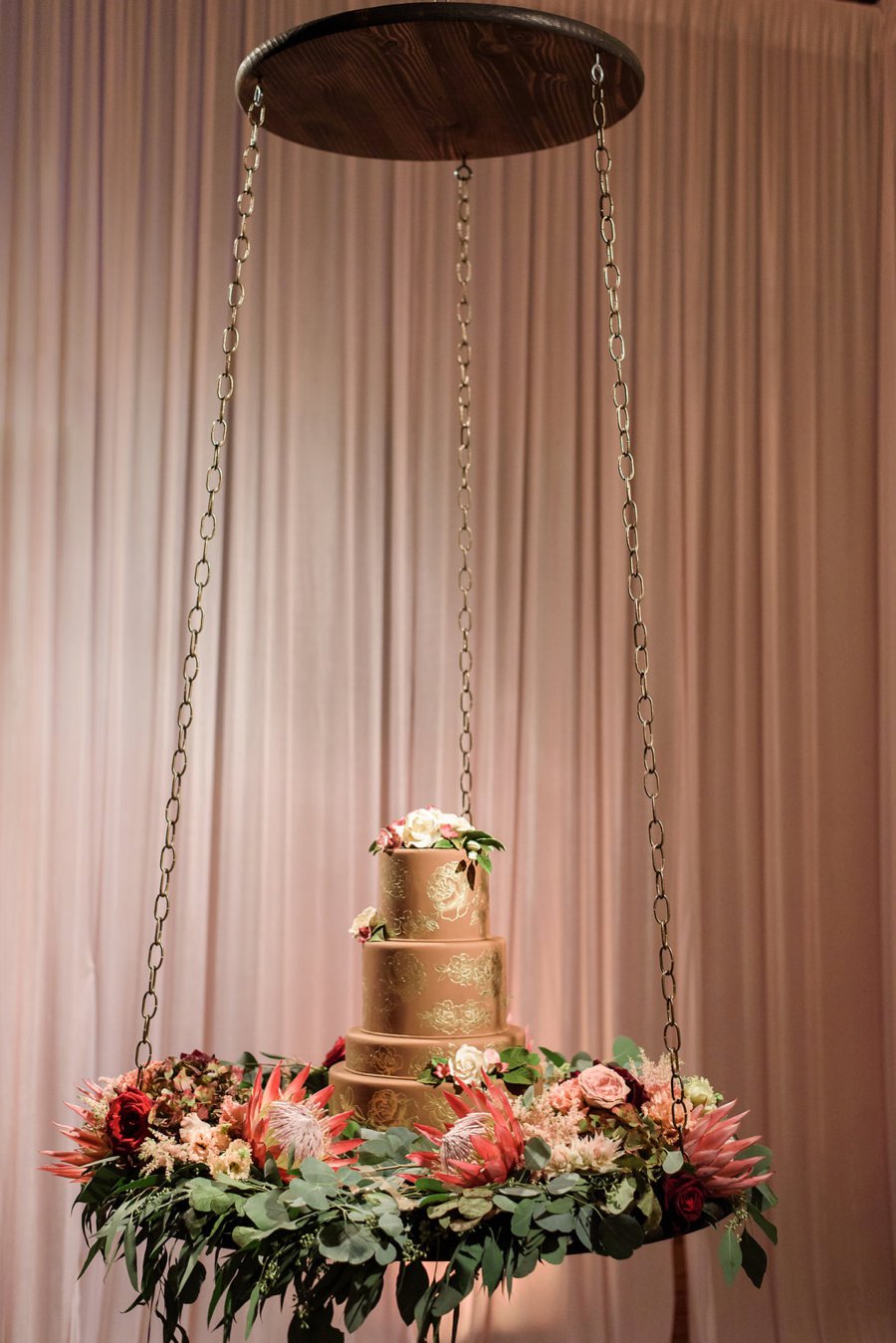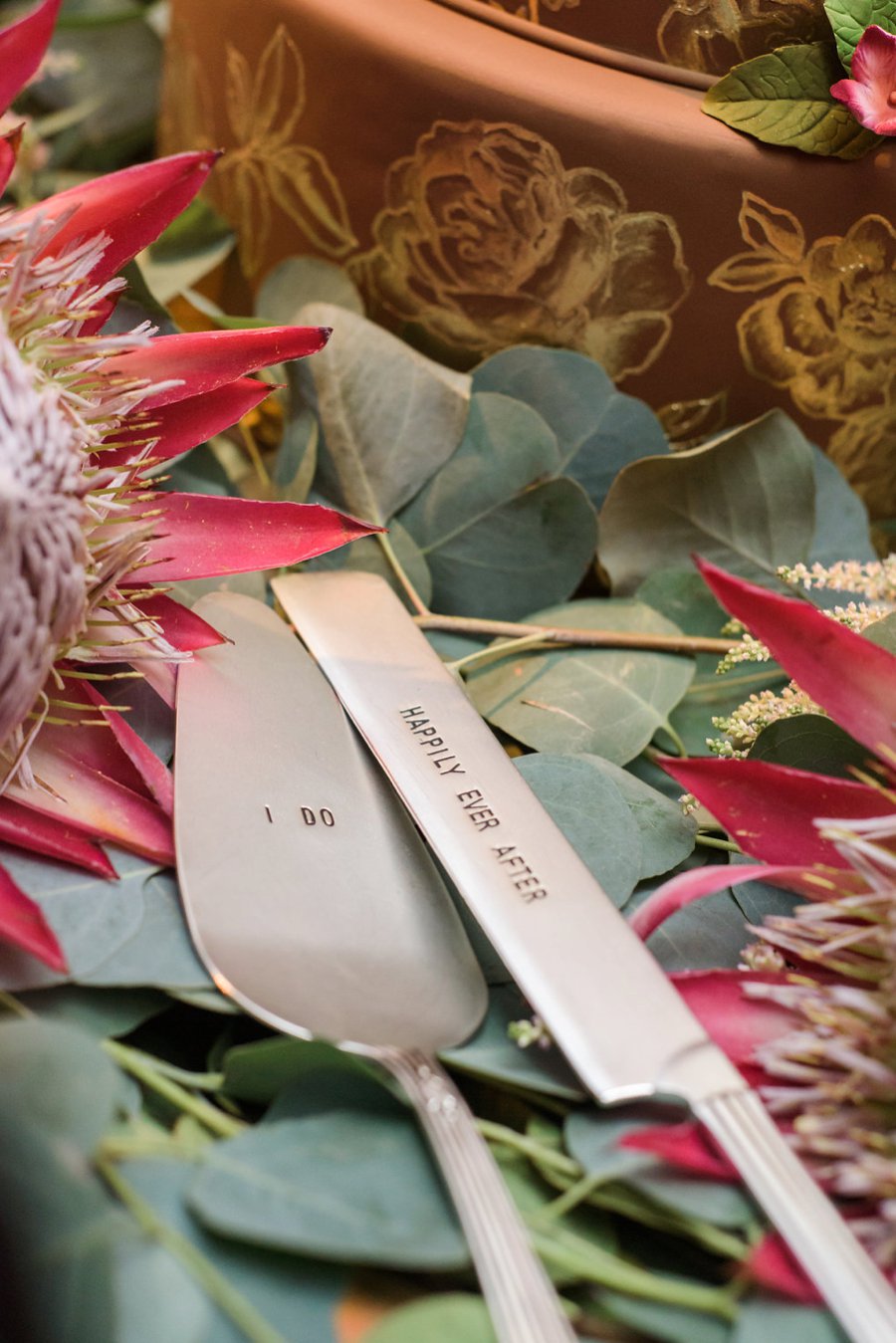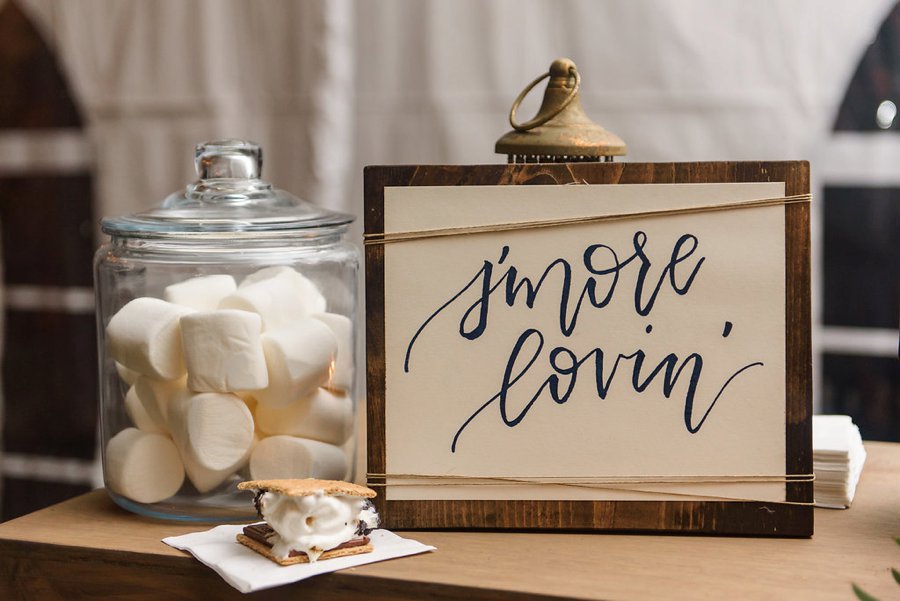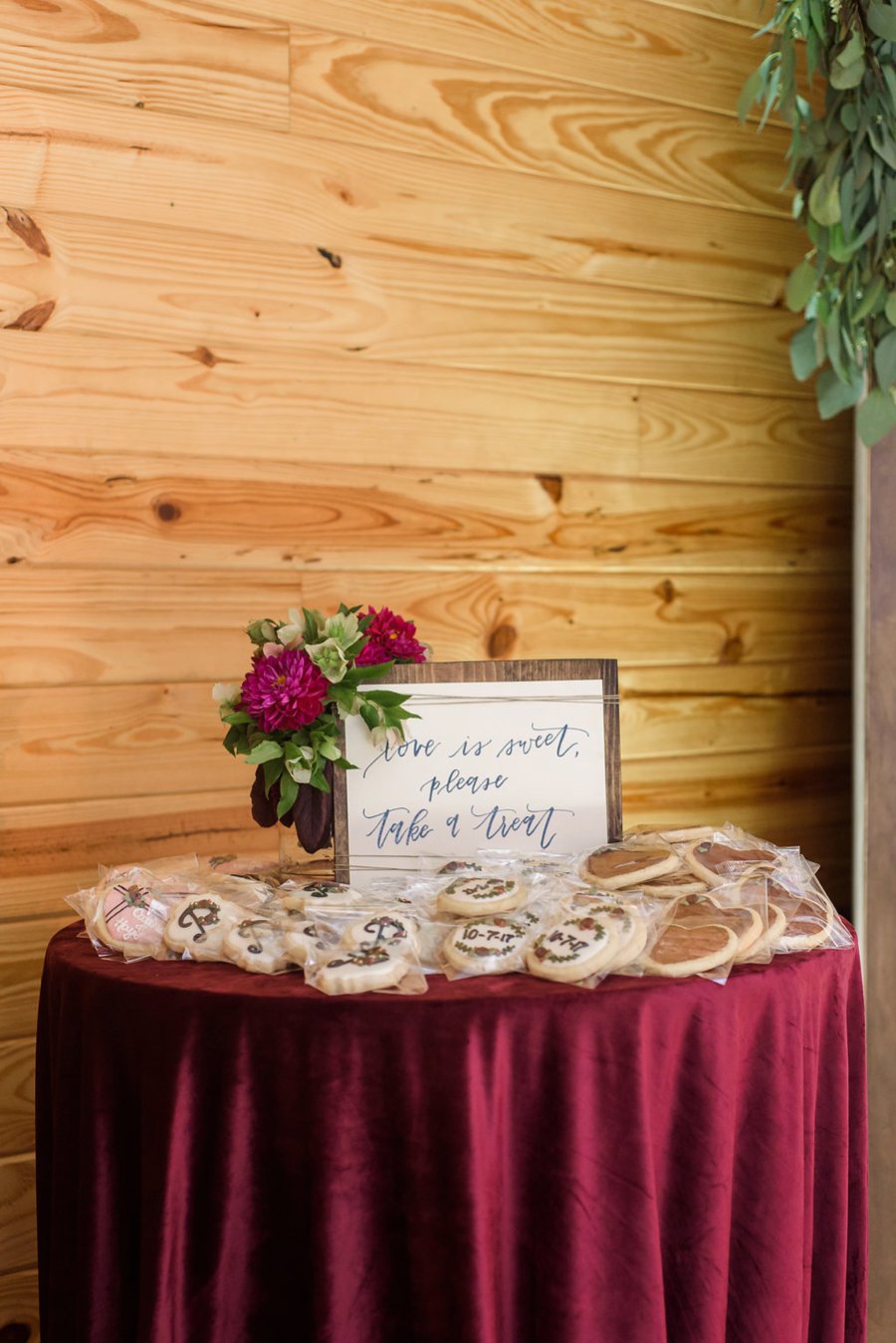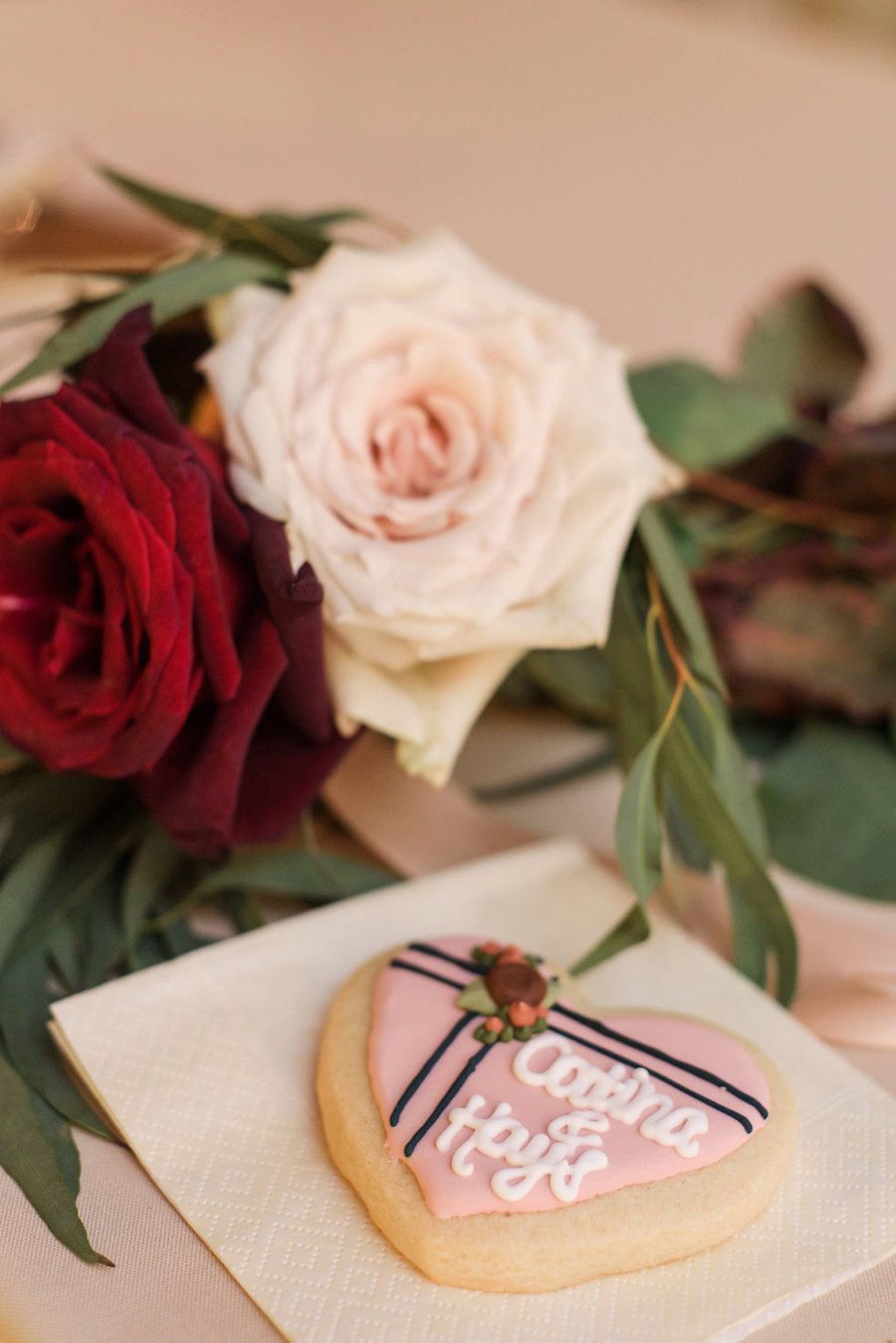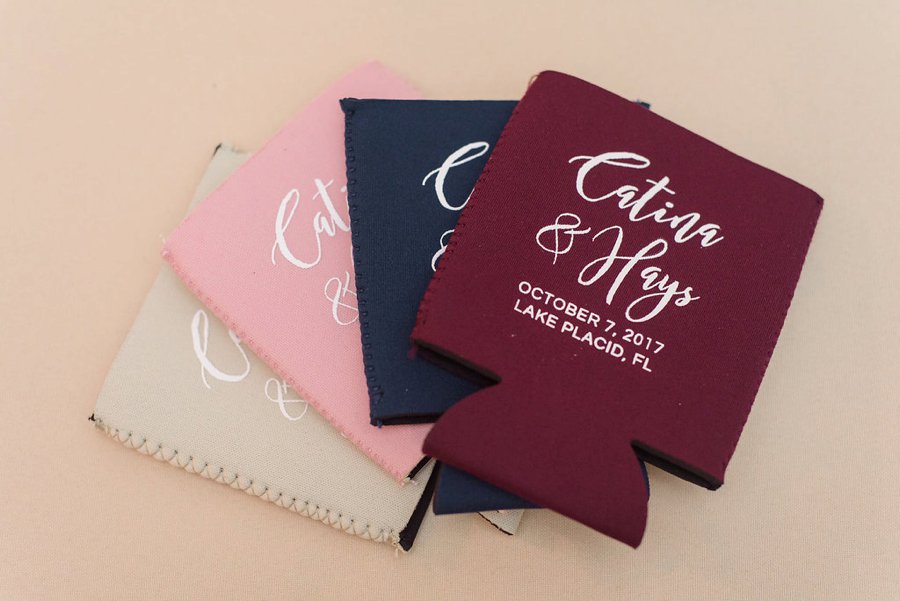 Did you include any family heirlooms or special traditions?
The handkerchief that was around my bouquet was my great grandmothers and was embroidered with a message by my parents. I wore my mother's engagement ring, given to her by my father at 17 years old for my something borrowed. I also had a cocktail napkin from their wedding sewn into my dress by my mother for my something blue.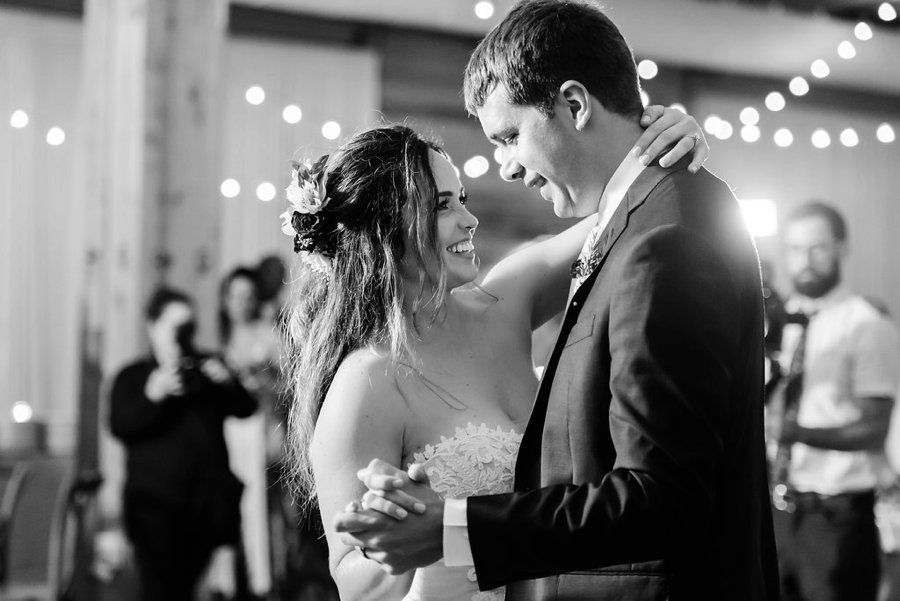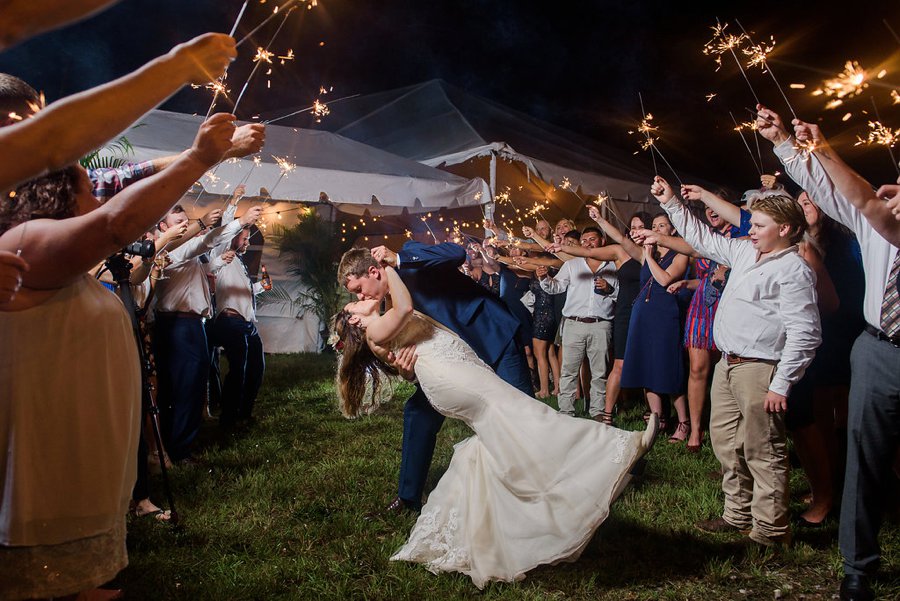 Do you have any advice for couples planning their weddings now?
Stick to what feels most comfortable. If you normally like chicken tenders and french fries, don't try to cater shrimp and crab. Seriously! If you set up your day with the things you are most comfortable with it will be such a blast! Most people commented to us that they had so much fun because they could tell we were having so much fun. And we had such a blast because we kept everything that made us feel completely comfortable. My husband says his advice would be to pick a venue fast!
I don't know about you, but we feel so incredibly inspired by the design of this couple's wedding day. So many unique elements and exceptional details made their day not only incredibly personal, but unlike anything we've seen. When you have a stellar team of vendors at the helm, no matter what is thrown at your wedding day, it can still be pure magic!
VENDORS WHO MADE IT ALL HAPPEN…
Photography: Sarah and Ben Photography // Venue: Private Property // Event Planning: NK Productions Wedding Planning // Floral, Rentals, Event Design, Lighting, Flooring : MMD Events // Stationery + Napkins: Write On Sarasota // Videography: Lucky Lemon Films // Wedding Cake: The Cake Zone // Hair: Cutting Loose // Makeup: Bloom Salon | Catering: Michael's on East // Band: Total Entertainment by Matt Winter // Wedding Dress + Accessories: Solutions Bridal Designer House // Engagement Ring: Spath Jewelers // Officiant: Danny Bilyeu // Favors: Southern Meets Mennonite // Ring Bearer Outfit: Men's Wearhouse | Flower Girl Dress: JJ'S House // Card Box: Handmade by Father of Bride // Restrooms: Midflorida Portable // Signage: Emily Grace Design // Groom's Attire: Joseph Abboud // Bride's Shoes: Lane Boots // Bridesmaid Dresses: Bella Bridesmaids Orlando // Wedding Dress Designer: Ines Di Santo // Bridesmaid Robes: Posy Robes // Bridesmaid Dress Designer: Jenny Yoo // Bridesmaid Shoes: Elis Western Wear Arcadia
The following two tabs change content below.
Lauren Grove is the editor and owner of Every Last Detail. A clueless bride-turned-wedding planner, Lauren uses her experiences and knowledge to educate and inspire brides all over the world.