It's Bridal Show season y'all! I've been on both sides of a bridal show before, and I'll be the first to admit that it's kind of overwhelming- but exciting too! I of course have more experience being on the vendor side of bridal shows, and so I thought I'd share some of my insight about what you should know and/or do before attending bridal shows.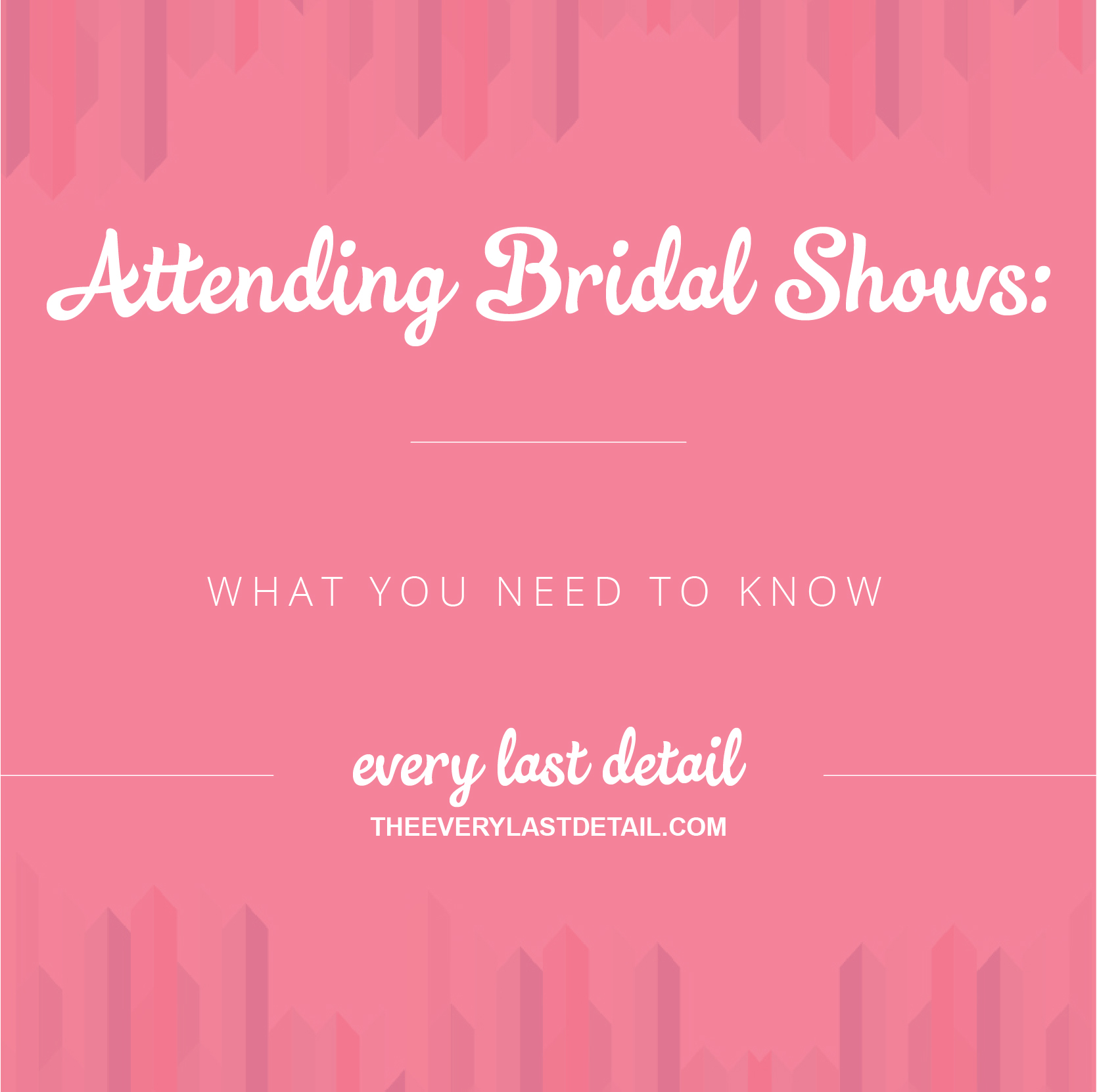 I've noticed that there are a few different types of brides at bridal shows. There is the bride who is in shock, overwhelmed, and doesn't know where to start- likely because she's very newly engaged. And then there is the bride who is ultra prepared, with huge binders full of ideas, magazine clippings, and pictures. And then the most common bride, who is in the middle of the extremes, calm, enjoying herself, and there to find ideas and possible vendors for their wedding.
In making these observations about the different types of brides at bridal show, I also realized that there are many things brides should consider before attending a bridal show to make their time worth while. Because no one wants to waste a precious day out of your already short weekend, right?!
Have an idea of what you NEED.
Do you need all your vendors, from a venue to a cake baker? Have at it and peruse the show to your liking. But if you only need just one or two vendors, focus on those types of vendors and get the most information you can. Feel free to of course go to other vendors as well, because you never know what you'll find!
Have an idea of what you WANT.
If you've been toying with the idea of a planner, it doesn't hurt to talk to one at a bridal show. Talking to planner could make you aware of all of the things that you haven't yet thought of, including things that you would have to worry about on the day of your wedding. Use the bridal show as the chance to do that! Or perhaps you really like ceiling draping, but you're not sure what it would cost. Talk to an event decor company… because you never know, you might just get a complimentary consultation out of it! It never hurts to ask- especially at a bridal show, where professionals are there to answer your questions. It's your wedding, and you want it to be the best it can be- get all of the information that you need to make decisions wisely.
Have an idea of your VISION.
Almost every bride has some sort of vision of what she wants her wedding to be like. It could be the colors, the time of year, the venue, or a specific theme. If you don't think you have a vision of what you want, just think hard about the previously mentioned things (colors, time of year, venue, specific theme), and it will come to you. Sometimes just the colors or time of year will end up being a "theme", such as Rustic Autumn or Romantic Garden. You can even mention some of those things to different vendors and I'm sure they will have ideas to provide you with.
It's quite alright if you've just recently gotten engaged and go to your first bridal show with no ideas or plans whatsoever. It could be helpful to you and give you a plethora of ideas. However, be aware that it may be overwhelming. Wedding talk (venues, dates, dresses….the list goes on and on) can certainly be intimidating- especially if you don't have anything decided yet.
Nonetheless, I highly recommend going to bridal shows. Try to go to more than one, since different vendors attend different shows. Definitely do your research, collect business cards, meet the vendors, and get a feel for the vendors' personalities too. Also, don't forget that there are usually GIVEAWAYS of all sorts at bridal shows! And the most important thing is to have fun!
So tell me- are any of you planning on attending a bridal show anytime soon? Do you have any specific needs or goals, or are you just going for the experience?
The following two tabs change content below.
Lauren Grove is the editor and owner of Every Last Detail. A clueless bride-turned-wedding planner, Lauren uses her experiences and knowledge to educate and inspire brides all over the world.