Hi friends! I have an absolutely amazing inspiration shoot for you all later today, but right now I want to start off with some insight about bridal sessions from the wonderful Archetype Studio Inc! I've been seing some absolutely amazing bridal sessions from Archetype lately, and so I thought I would ask Koby and Terilyn a few questions so we could learn more about these popular photo ops for brides! Oh, and of course the addition of a few gorgeous images are a nice treat too. :)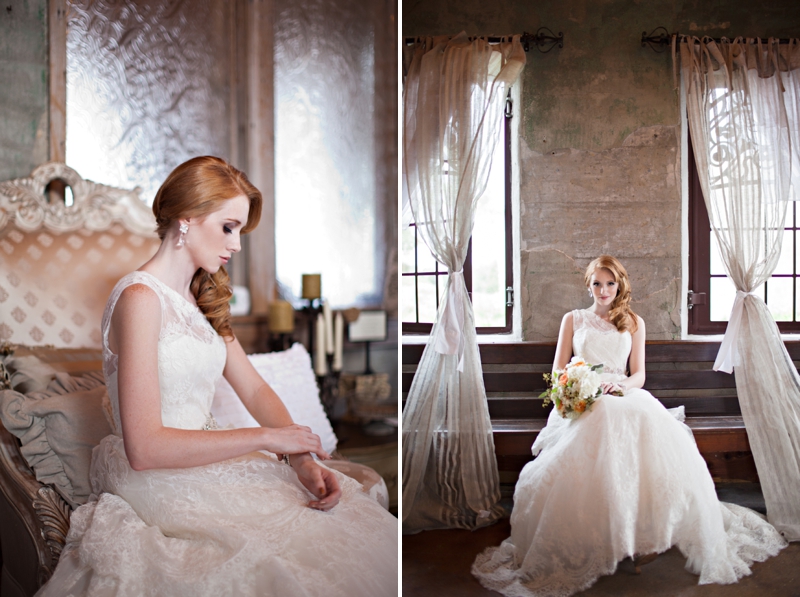 Why is a bridal portrait session important?
We absolutely LOVE bridal portrait sessions!  From a photographer's perspective, it's such a wonderful chance to take our time and really capture the bride and all of her details without the time pressure of the wedding day.  But there are so many other practical reasons why brides shouldn't skip this opportunity… for example, it's a trial run for your makeup and hair. Quite a few brides will change something about their wedding day hairstyle after a bridal session. Moving through the posing and walking from one setting to another is also a chance to get a feel for how your gown will wear and feel.  Almost all of the brides we have worked with will take note of an additional alteration that needs to be done on their gown before the wedding day.  As your body heats the fabric of the gown – things will shift and you may discover that you need another inch taken in here or there, or your gown is very heavy and the weight pulls it down a bit more than you expected, meaning you need to either by a pair of shoes with higher heels, or have your dress hemmed a bit.   Speaking of shoes, wearing them for a couple of hours will give you a great sense of whether you need to add cushions or bring an alternate pair for dancing.  Jewelry check – does that stunning bracelet snag your skirt material constantly, is your necklace the right length for the gown's bust line, etc?  These are all things we can adjust and work with during a bridal session. 
What does every bride need to remember for her session?
* Bouquet
* Jewelry – many brides bring several options with them to try different looks
* Wedding Shoes
* Veil (if desired)
* Undergarments – the same ones you intend to wear on the wedding day – it's a great test run for those too
* Hair accessories
* Pictures of how you want your makeup and hair to look – very important!  Trying to describe the intricate braided up-do you have in mind can be confusing, and can result in a frustrating experience for both you and your hairstylist.
* Drink lots of water leading up to your session – it makes your skin look fresh and hydrated
* Don't get a facial within 3 days of your session date – red, blotchy, or healing skin is not a great foundation for your makeup
* DO NOT TAN!!! This means: NO Spray Tans, NO Tanning Beds, NO Laying Out in the Sun, NO Self-Tanning Lotions, NO Airbrush Tans… did I miss anything?  Just don't do it.  Period.  Your natural skin color is the best.  And I don't care how advanced sunless tanning is these days – they are still chemically altering the pigment of your skin in a way that is not natural. It may look fine to you in the mirror – but the camera will pick up the specular highlights in your skin – most sunless tanners have an orange/brown/yellow dye base to them – do you really want your skin to have an orangey undertone in your photos? And real tanning, it's not good for you or your skin.  Stay healthy, stay natural.  (Sorry for the tanning rampage – we obviously feel pretty strongly about it.)
Any tips for a bride on posing and how to look natural in her bridal portraits?
 Yes – choose a photographer with experience in this particular area.  Look at their portfolio.  If you want your images to have an editorial, less "posed" feel – don't choose a photographer who only have traditional images of brides smiling straight into the camera, standing with their bouquets and their train perfectly displayed.  
Once you have chosen someone whose work represents how you want your images to feel, here are a few tips to keep in mind that will help you relax and look great for your session:
1.    Take a deep breath.  Feel your chest lift and your abdomen tighten – now hold that position even after you exhale. A tall spine and good posture make a huge difference in how your dress looks on you – both standing and sitting. Continue to breath using your chest instead of your stomach to inhale and exhale – it will keep your posture tall and strong.
2.    Roll your shoulders back and down.  This elongates your neck and thins your upper chest and shoulders.  It also gives the appearance of being more relaxed.
3.    Drop your chin (out and down – don't pull back).  Just slightly.  Again, thins your jaw line and neck.  Makes your eyes appear more open to the camera.
4.    Try the first three things while looking squarely in the mirror.  You are likely to see a noticeable difference in the way your clothes fit – regardless of what you happen to be wearing at the moment.
5.    Relax your hands.  At all times. Tension shows in the hands. Shake them out every now and then and pay attention to how tightly you are grasping the arm of the chair, the bouquet, etc.
6.    Just say, "Yes."  Literally.  Do it while looking in the mirror – you should see your eyes light up and a natural smile spread across your face. This is a much better way to 'smile' at the camera than trying to make a forced smile look natural.  It also forces you to part your lips and teeth just a bit – this is also a good thing.
7.    Happy thoughts!  Even for those serious looks, be thinking about happy things – you always want your eyes to have a sparkle and it will help keep those serious looks from coming across as too serious or even sad.
One last thought!! Enjoy every minute!  Even if things go wrong or your day isn't going smoothly… remember the bigger picture:  YOU'RE GETTING MARRIED TO THE LOVE OF YOUR LIFE!!  Every moment leading up to that celebration is part of the experience – choose to enjoy it, and laugh as best you can at the 'hiccups and drama' along the way!
I'll be honest… I myself didn't have a bridal session. I kind of wish I had though, just so I could have been a little more comfortable in front of the camera while being all dolled up! I have to give Archetype Studio Inc. a big thank you for sharing this great advice!
Brides, are you planning on doing a bridal session? Or are you perhaps thinking about doing one now that you know all about them? I would love to hear your plans! :)
The following two tabs change content below.
Lauren Grove is the editor and owner of Every Last Detail. A clueless bride-turned-wedding planner, Lauren uses her experiences and knowledge to educate and inspire brides all over the world.