As we all know, your wedding dress will be one of the first wedding decisions you make, and my goodness it is fun- but it's also overwhelming. Chances are, your first inclination is to scour the world-wide-wedding-web to see what's out there. You'll learn what makes you swoon and what you detest fashion-wise, and then you start pinning away!
Along the way, you may even find some websites that allow you to buy a wedding dress online. But the thing is, it's kind of scary to buy a wedding dress online, right? Well friends, I'm excited to let you all know about an amazing website that provides you with the BEST way to buy a wedding dress online- LUXEredux Bridal!
LUXEredux Bridal has HUNDREDS of designer gowns (SO convenient for your inspirational search)- like Vera Wang, Monique Lhuillier and Lazaro- all at prices that you can actually afford! And no, it's not too good to be true, because these wedding gowns are for real! You see, LUXEredux Bridal's dresses are hand-selected to join their shop and include Sample Gowns, Once Loved Gowns, and Once Worn gowns. A little more insight into these terms…
Sample Gowns
Sample gowns are from other great bridal boutiques around the country and are 90% of LUXEredux's stock. These are unaltered dresses, and all the samples are listed right in the LUXEredux online shop. Designer stores send their designer samples after they discontinue or the store needs to make room for new merchandise.
Once Loved
Once Loved dresses are those that were previously owned, but not worn. Because it's the truth that sometimes the wedding doesn't go off without a hitch… or, if you're like me, you end up buying your dress too fast and end up hating it! 
Once Worn
These gowns are in wonderful condition and have been cleaned or preserved properly. Often times you can't even tell that they were worn- once!
LUXEredux Bridal is based in Ohio, but the beauty of this bridal shop is that they have an amazing service that ANYONE can use called LUXE In A Box!
LUXE in a Box offers brides the opportunity to "shop" online for a wedding gown! You just browse the LUXEredux Bridal website, choose 3 of your favorite gowns, and then you can try them on in the privacy of your own home! Here's the quick, step by step process…..
 The best way to buy a wedding dress online
---
1) You browse the LUXEredux Bridal website and find a few dresses that catch your eye.
2) Call the store and speak to Ashley, the LUXEredux guru (with a penchant for a deal)! She will help with any questions you have regarding the condition or sizing of the gowns you're looking at.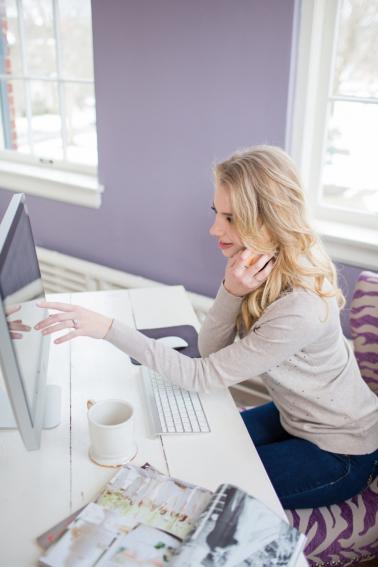 3) Ashley pulls the 3 dresses you want to try, carefully packs them in their garment bags, and lovingly sees them off on the delivery truck.
4) Just a couple of days later, the dresses will arrive at your doorstep!
5) You tear open the box right away or set it aside until the moment is right. You gather your friends and family, or just pop open that bottle of bubbly and set off on your own version of wedding dress shopping- from home!
6) Try the dresses on- in the comfort of your own home, in your own way. Maybe you know within seconds, or maybe you let your sister be the bridal consultant (that you avoided in the traditional store experience). She asks you way more pointedly….."Is this YOUR dress?"
7) And if it is "The Dress", then CONGRATULATIONS! Give Ashley a call to tell her your decision, and you can just pay for the dress over the phone!
8) Finally, you console the 2 other gowns, wishing them luck and reminding them that there are other brides out there. Just carefully return them to their garment bags and box, apply the return postage that is included in your package, and drop off the package (or schedule for it to be picked up).
And you're done! How fun and easy was that! No sales person hovering as you make this BIG decision, no pressure, no dressing-room time limit. Absolutely PERFECT.
The beauty of this is that your LUXE-in-a-Box experience is YOUR experience. You can do whatever feels right for YOU, and you don't have to feel like you have to do (or not do) anything special!
So how do you know if LUXE In A Box might be right for you?
You've stepped foot in a traditional boutique or big box bridal store and were overwhelmed with the whole process.
You have certain loved ones you want with you that are unable to make the trip out.
You want to take photos but many stores won't allow that.
What entourage? Maybe you want to shop solo, in bare feet and comfort of your cozy living room.
You're just BUSY. Who has the time to wedding dress shop in the middle of the afternoon on a Wednesday? And you cannot stomach the craziness of a boutique on a Saturday.
You fell in love with a dress that discontinued and we just so happen to have the sample!
You're a fashionista at heart. You want gorgeous material, hand made quality, and if you're going to spend THIS MUCH, you want to feel good about what you're buying, but a new designer dress isn't in the budget.
And of course I just HAD to share a few of the GORGEOUS dresses that you can find over on the LUXEredux shop right now…
See more stunning designer wedding gowns over on LUXEredux Bridal!
---
About LUXEredux Bridal…
Sure, there are other "consignment" wedding boutiques and websites out there. With the economy and the surge of online retail sales in general, it's no surprise that it's an option. What makes LUXEredux unique, is the new feature of LUXE in a box. This provide the opportunity to still shop online for something as important as a wedding gown, but also allows a bride to try the dress on before making a decision.
Owner Lindsay Fork added this feature to her business because she realized the importance of the emotional aspect of wedding gown purchases. "After owning LUXEredux and a traditional special order store for so many years, I realized the inherent difference between the two. LUXEredux is special because the gowns have a background, a story, just like each bride. However, it doesn't make the experience from an emotional standpoint different. Every bride wants to feel special, but that can be different for different personalities. The bottom line is that with your BRIDAL GOWN, it is hard to make a decision without trying it on. If it's easier for a bride to make a decision, and we feel the gowns are being protected, why NOT do LUXE in a box?"
---
So tell me- are any of you looking at designer wedding dresses online? How great would the option be to get a dress at a discounted rate AND try them on at home?! 
Images by Two Maries Photography
The following two tabs change content below.
Lauren Grove is the editor and owner of Every Last Detail. A clueless bride-turned-wedding planner, Lauren uses her experiences and knowledge to educate and inspire brides all over the world.