Engagement season is almost upon us. If you've landed here because you're starting your wedding planning, let us be among the first to say CONGRATULATIONS!
At Every Last Detail, our hearts are for providing couples with education and insight. We love pulling you behind the proverbial curtain to reveal all of the details that help explain the process of planning your wedding. From things you should know and things you should avoid, to clarification on ideas you already want to put into motion, our mission is to HELP you plan your wedding with knowledge!
COVID is still a very really issue in the wedding and event industry and we know you might be upset about not being able to have all 200 hundred people you initially invited at your reception. But, we have news for you, a lower guest count can actually have a lot of benefits!
Below, you will find 6 of the country's top wedding professionals not holding back one bit as they share pieces of advice that many vendors tend not to share. Get ready, because our V List members are spilling all of the secrets- for your benefit of course!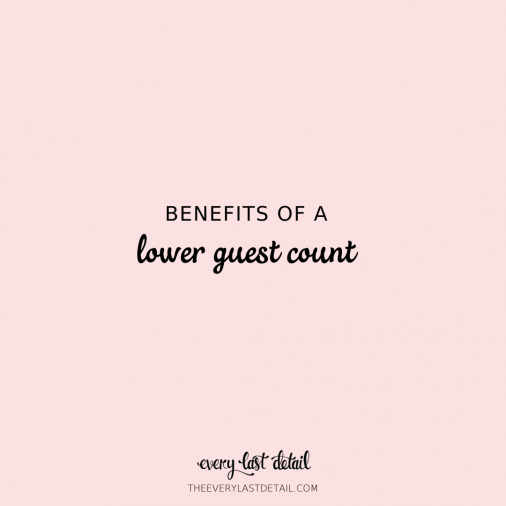 Focus on the Personal Touches:
"One of our favorite benefits of a lower guest count is how much you can focus on decor and personal touches. You can really blow out how gorgeous your design is when you're setting tables for around 50 vs 200. Attention to detail isn't as expensive if you're not having to multiple each item by a large number of guests." – Karen Collins, KMC Weddings

"Smaller guests counts allow you to not just focus more on the details, but focus more on spending quality time with your guests!" – Claudia De Velasco, A Day to Remember

"One of the most wonderful things about having a smaller guest count is being able to include your guests in unique and personal ways on your wedding day! Since you know these guests so well, you can cater to your shared likes and memories. Maybe you invite them to share something special during your ceremony in song, prose, or group meditation. Or instead, do activities with your friends and family that include them in your special occasion. You could host a cocktail hour with a mixologist that teaches you and your guests all about the drinks. Or learn line dancing from a talented bridesmaid. Getting rid of the traditional wedding activities leaves extra room in your budget and in your timeline for what really matters most – the people!. Finding ways to get your guests involved, shows them how important their guidance and support has been for your relationship." – Sarah Blessinger, Kindred Weddings and Events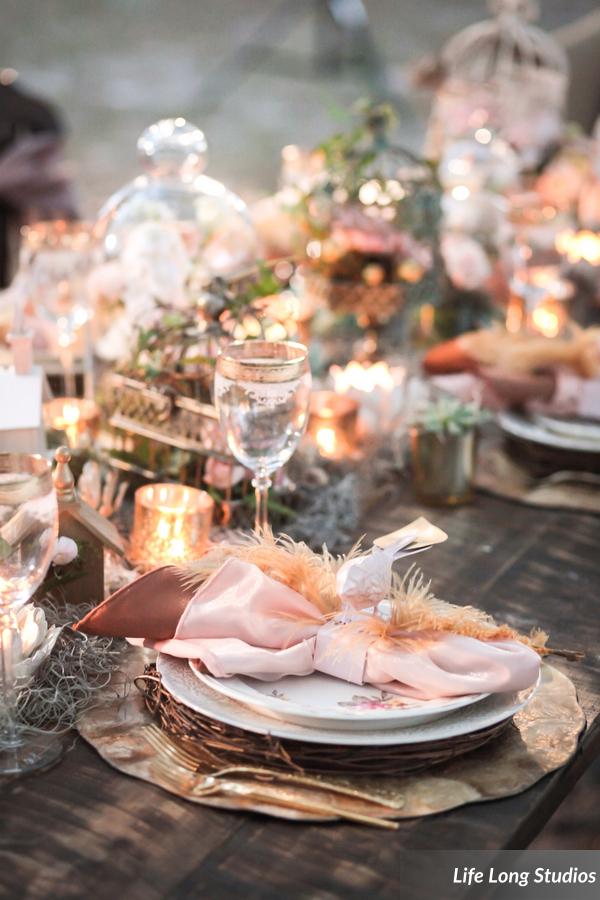 Photo: Life Long Studios Via Christi Winsor, Winsor Event Studio
You Can Splurge:
"A lower headcount means fewer rental items needed so you can splurge on higher quality and style that might have been out of budget otherwise, plus couples get to spend more quality time with each of their guests. It's a win-win!" – Christi Winsor, Winsor Event Studio
It's COVID-Friendly:
"In regards to the COVID era, smaller guest counts can potentially allow for better social distancing if you wish to go mask-less and provide a more comfortable environment for all guests (depending on venue and municipal regulations of course!). In a regular sense, weddings were already starting to trend toward smaller but more elaborate, whether that be better take-away items for your guests, extra outings or family events for the wedding weekend, or just more luxurious touches for the day of, so this is very on-trend anyway!" – Bonny Bailey-Finck, P.S. I Love You Productions
Quality Over Quantity:
"Quality over quantity! With a lower quantity you can be really intentional with the quality of your day and make it truly special and memorable and unique to you. You'll also get more meaningful, quality time with your guests instead of rushing around trying to say a quick hello to several hundred people." – Nicole Jansma, Nicole Jansma Photography
---
What other secrets would you like us to get the answers to?
Let us know in the comments!
The following two tabs change content below.
Lauren Grove is the editor and owner of Every Last Detail. A clueless bride-turned-wedding planner, Lauren uses her experiences and knowledge to educate and inspire brides all over the world.