One of the things that I was super excited about when it came to wedding planning was taking engagement photos. But it was also completely unknown territory to me. We had never had professional photos taken before, and so many questions came up as we were preparing for the session. What should we wear? Should we match or not? Where should we go? What should we do? I had so many questions, but alas, never got answers.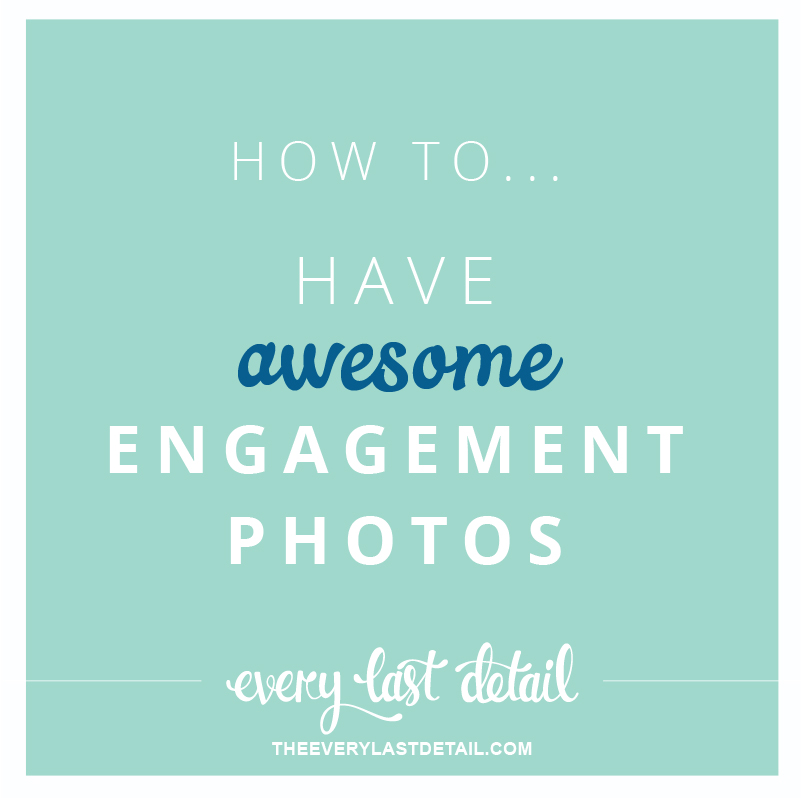 Since engagement photos are one of the first "events" of wedding planning, I thought it would be helpful to have some information to help you all out! Of course the best advice always comes from the pros, so I asked V List photographers for their best tips and suggestions when it comes to engagement photos:
"DO an engagement session, even if you think you don't need one. It gives you a chance to get to know your photographer and vice-versa. I always give my couples little posing tips during their session and I also chat with them about their relationship, what they're most looking forward to on their wedding day, etc. It helps them relax in front of my big, obnoxious camera so that on their wedding day they will hardly even notice me!" – Holly Gardner Photography
"What you wear is just as distinctive as your props and location. I don't want to say that you have to fit some cookie cutter mold and tell you what you can and can't wear. I want the clothing to be at least somewhat comfortable so you can move in it. As far as shoes go, pick fantastic ones that you think will stand out in the photos. If they are not so comfortable, just remember to bring along some flats to walk around in because we will be doing some walking. Logos on clothing is not recommended, unless it has to do specifically with the location or is a prop you are including. You should definitely have at least two outfits picked out. Try to coordinate with each other, but don't get too matchy. Pinterest has lots of great ideas for engagement session wardrobes. Also, please consider the location of the session and the time of year (temperature) when deciding your wardrobe, though I don't want this to fully control your ideas. Just because we will be outdoors does not mean you cannot wear a dress and heels!  Flattering accessories are great as well for men and women!" – Regina Rached Photography [Read more tips from Regina here!]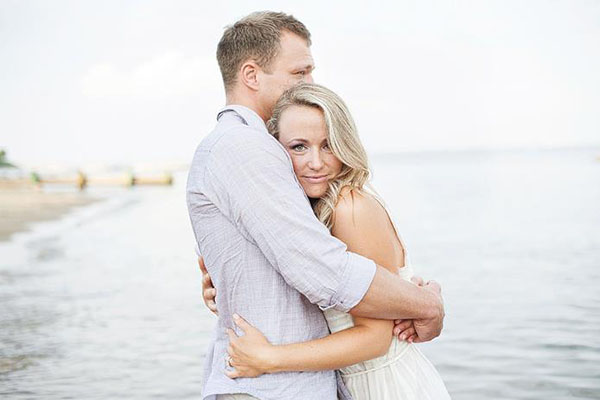 Image by Amanda McMahon Photography
"Brides, treat yourself to a manicure for the shoot, because I WILL photograph your hands! I learned this early on in my career when a couple of my brides showed up with chipped polish I had to fix in Photoshop. Now I know better and they do too!" – Mikkel Paige Photography
"I recommend getting really personal when you make your location choice. If you love to cook together, invite your photographer over to capture the two of you in the kitchen. If you have a favorite little cafe in town, head there to start your session. If you enjoy going camping, take your photographer into the woods and get busy building a campfire to roast marshmallows and get cozy. I've seen adorable engagement sessions taken inside the Home Depot… it's ok to be different, and to be silly. Just be yourself!" – Jessica Haley Photography [Read more tips from Jessica here!]
"Don't come into the session with expectations… don't try to duplicate something you saw on Pinterest or a blog. Your engagement session should be about the two of you and your personalities. Also, don't bring a 3rd wheel, especially mom or dad. It makes things uncomfortable for you and us when parents are watching (it happens more than you think)." – Wesley of Rae Leytham Photography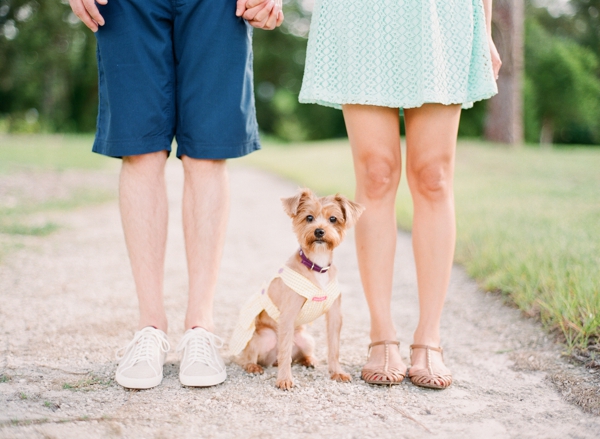 Image by Best Photography
"Practice posing in front of a mirror and figuring out which angle is most flattering for you. If you can get your partner to pose with you, even better!  Use magazine pictures or images on the internet as a guide and source of inspiration." – Sophan Theam Photography [Read more tips from Sophan here!]
"Take the time to do your hair and makeup. If you're so inclined, have it done professionally. This is a day where you should really feel confident + beautiful, so why not treat yourself to a little pampering beforehand. You'll show up to your session feeling like a million bucks, which will translate into amazing photos! Plus, it will make it even easier for your future hubby to stay connected to you if you're looking super cute for your session." – Dana Cubbage Weddings [Read more tips from Dana here!]
I also have some other blogger friends who have done posts featuring engagement photo tips and outfit ideas, so check these out too:
"Engagement Session Tips: Styling & Themes" on Floridian Weddings | "What To Wear" on Kiss My Tulle
 "What To Wear For Engagement Photos" on On The Go Bride | "Advice For Your Engagement Session" on Belle & Chic
 ———————————————
I know I wish I had known all of this when it came to my engagement photos! If I had, I would have had part of our sessions in our kitchen, because we love to cook!
So what are your plans for your engagement photos? Are you doing anything special, or just keeping things casual? I'd love to hear all about it!
The following two tabs change content below.
Lauren Grove is the editor and owner of Every Last Detail. A clueless bride-turned-wedding planner, Lauren uses her experiences and knowledge to educate and inspire brides all over the world.