Hi friends! I've seen quite a few fun ways to ask your bridesmaids that question of "Will you be my bridesmaid" lately, and I've been loving them! So when Every Last Vendor photographer Kristi of Markit Photography mentioned she was making some of her own "Will you be my bridesmaid?" boxes, I absolutely knew I had to share it with you all!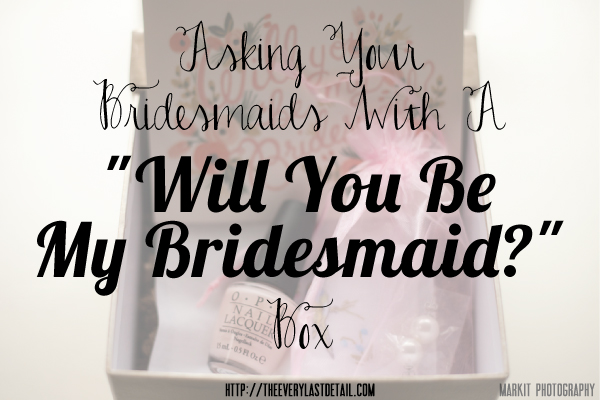 Kristi describes how she created her boxes, as well as some of the meaningful reasons for why she included what she did:
More than just dresses and flowers, I see a bridesmaid as your confidant and support throughout your dating relationship with your new fiance, leading up to the wedding, day of, and most importantly, keeping you accountable and supported in your vows to each other during your marriage. When it came time to ask my friends, I knew I wanted to send them something to formally ask them to be my bridesmaids. I have received cards, and other things, and I loved knowing how much my friends valued me standing and supporting them as a bridesmaid. I feel the same way about mine- it's a big task! 
I thought about the items I wanted to include and how to package and send them. Being in the industry, I see all of the cute ideas and bridesmaids cards/gifts out there, but I wanted to be sure it spoke to our wedding, and also included things my bridesmaids could use the day of the wedding.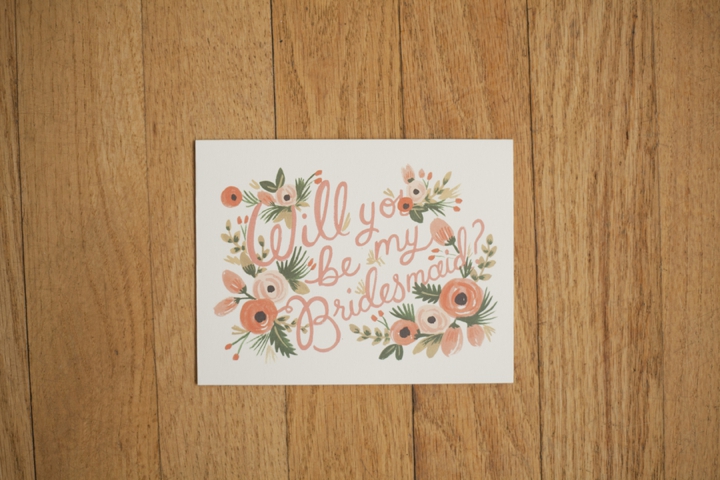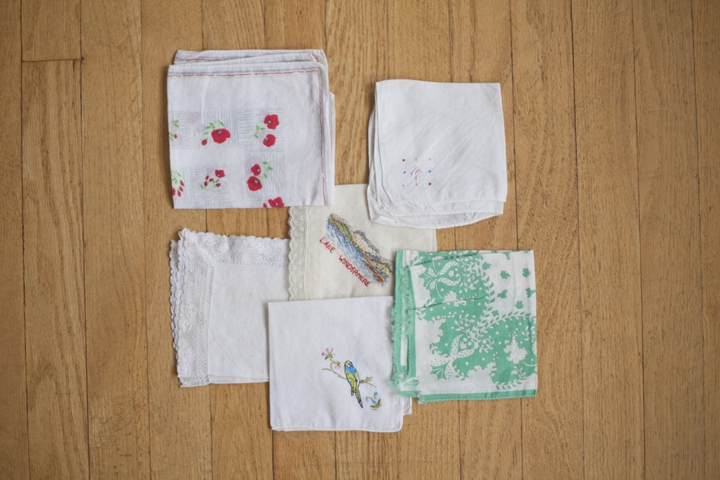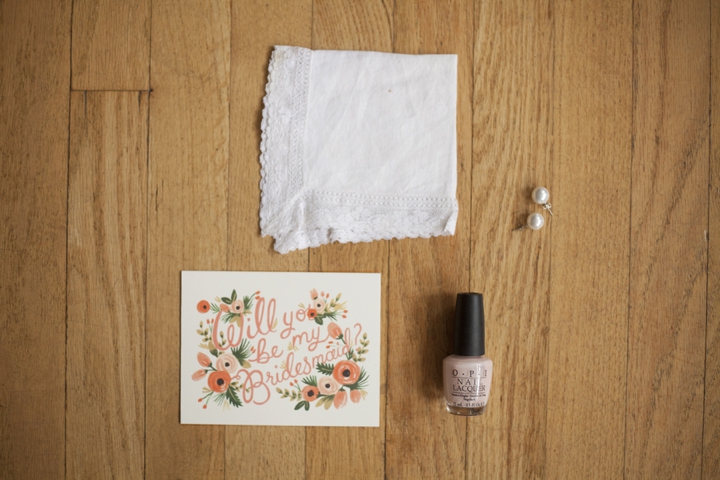 I loved the idea of Rifle Paper Co.'s "Will you be my bridesmaid?" cards because of the softness and color usage- (I also bought a "will you be my flower girl" card, they're just too dang cute!). The pearl studs are from Amazon and will be what the girls wear on the wedding day. The OPI nail color is called "Mimosas for the Mr. and Mrs." which is adorable, and a nice nude color for us to use the day before during our mani/pedis. For the final piece, I ordered a pack of 6 unique vintage handkerchiefs from Etsy, which traveled all the way from London (where I lived for a year after college). This was my favorite piece. Each of the handkerchiefs spoke to each girl's style and taste- one even had an "M" stitched on it, and I have  Melissa in the party! They brought everything together perfectly.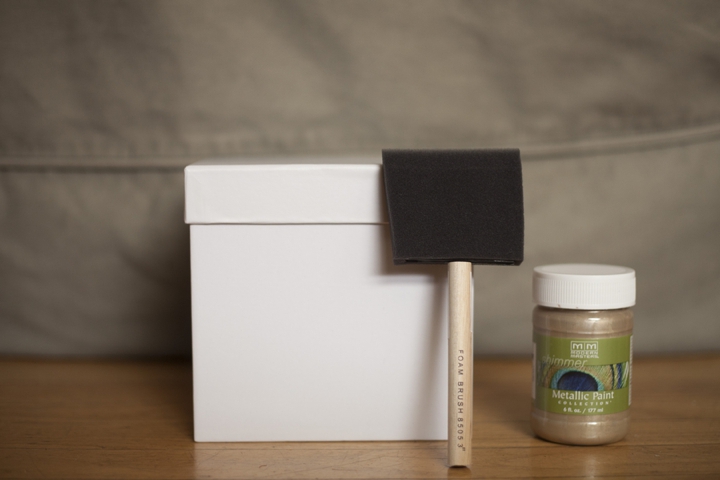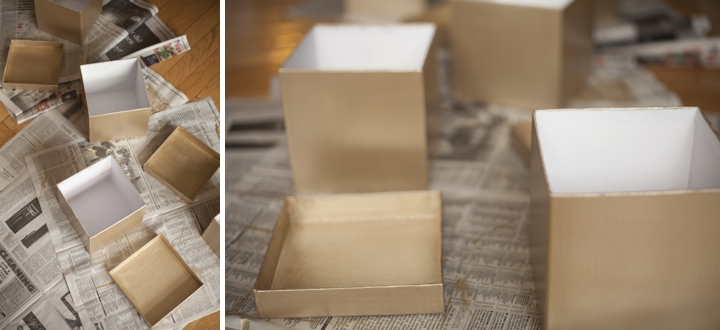 I purchased the boxes from Michaels, as well as the brushes and shredded stuffing. The paint was purchased at a local paint store here in Chicago and is the exact brushed gold tone we'll be using at our wedding. The paint took at least two coats- I recommend three. I laid all of the boxes out and began painting. While one coat was drying, I wrote personal messages in the cards. Once it was time to stuff the boxes, I placed the shredded stuffing in the box to reduce the visual depth of the items when the box was opened, and made sure the card was the first thing seen when they opened the box.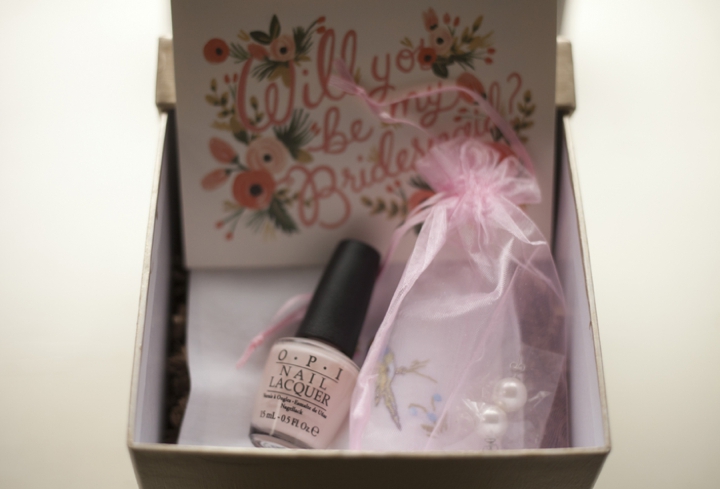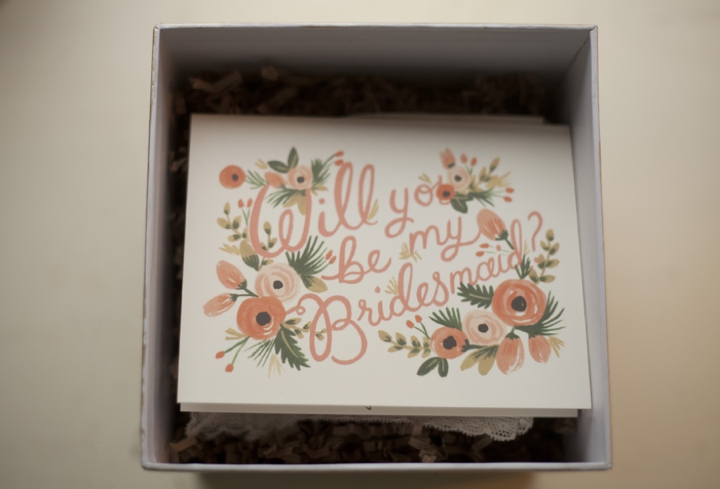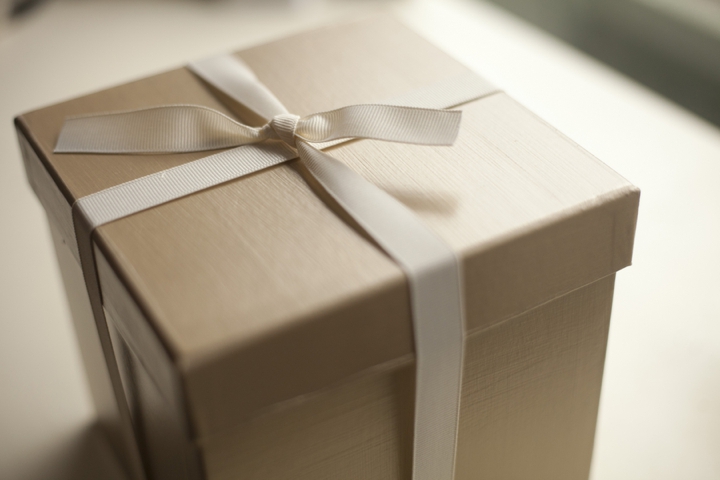 I tied the gold box with a cream ribbon to keep everything locked in, and wrapped it in brown paper before addressing, taping and shipping. (I tried to use a cute washi tape to seal the brown paper but it was too weak to hold- so the shipping tape came out!)
All of the "Will you be my bridesmaid" boxes were received within a few days and were loved by all! Each girl called accepting and was so excited to receive the gift- some even began wearing the pearls early! All in all, I'm so blessed and thankful for these women and the way they've walked beside me before and during our relationship. These boxes were my way to show this, and I can't wait for them to stand by me on my wedding day! 

—————————————————-
Kristi is getting married in a few weeks, and just from the love she put into these boxes, I'm pretty excited to see the rest of the wedding too! :)
Have you asked your bridesmaids yet? Did you do anything special, or are you planning on doing something special like this?
The following two tabs change content below.
Lauren Grove is the editor and owner of Every Last Detail. A clueless bride-turned-wedding planner, Lauren uses her experiences and knowledge to educate and inspire brides all over the world.