Happy Thursday everyone! It's about time for another "Ask Lauren" post, and today I'm talking all about infusing your personalities and relationship into your wedding decor and details. This is something that just about everyone knows they *want* to do, but sometimes you don't always feel like you're cut out for it! Well let's chat about that…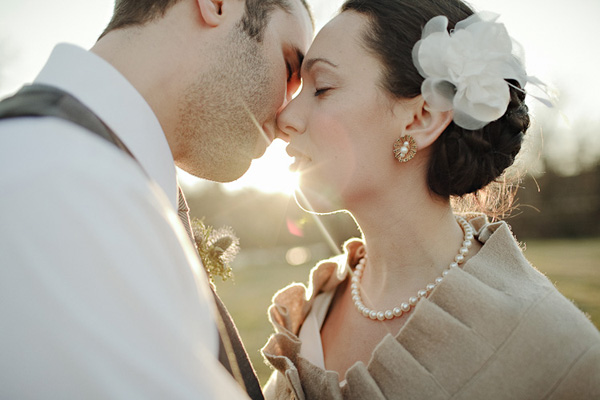 Photo by Kat Braman Photography 
From Jessica:
I think my fiance and I are the perfect match however we do not really have any hobbies or interests in common that could be incorporated into our wedding decor; at least, none that I can think of that would easily be reflected in decor and details. Do you have any suggestions, as we want our wedding to look very personal? Thank you!
———————————————————————————————————
Hi Jessica! Girl, I know exactly what you mean! I myself had the very same dilemma in trying to come up with a way to incorporate my husband and myself into our wedding decor and details. Given, I had no clue what I was doing back then, but knowing what I know now, I would have definitely done things a little differently.
Even though you think that there isn't anything in particular that the two of you share that you could use- I promise you there is. It doesn't have to be something like a favorite hobby or type of music- you can draw inspiration just from your relationship. How did you meet? Is there somewhere that the two of you love to go together- maybe a place that you vacation every year or a favorite restaurant? A favorite type of food, or maybe you love cooking together or share a passion for great wine.
Think about how you would tell the story of your relationship and your life together. THAT is what you want to achieve with your details and decor- you want people to walk in and know that it's a reflection of the two of you. Heck, you can even combine two separate things about the two of you- it doesn't have to be any one single thing. Does he LOVE cheeseburgers? Have a "late night snack" of mini cheeseburgers come out later in your reception. Or maybe you love sewing… have needlepoint table numbers or make table runners. Those are totally random examples, but there is always a way to infuse the two of you into your wedding.
Photo by K&K Photography, Featured on Glamour & Grace
(From my wedding planning past: The couple of the wedding pictured above was in this same position- they said that they were "boring" and didn't have anything to theme or style their wedding around. Well, I did a little digging and discovered that they both loved sports and actually met playing flag football. BAM- we had our theme. Coupling vintage sports elements with their elegant style was perfect, and everyone LOVED that they immediately knew the story behind the sports theme. You can see the whole wedding here!)
I hope this helps a bit! Now it's time to get to telling the story of your relationship!! And once you do that, if you need any additional help, you know where to find me! :)
———————————————————————————————————
Now it's your turn to chime in! Have any of you decided on anything in particular about you and your fiance that you will be incorporating into your decor, theme or details?? Share with us what you're planning on doing!
The following two tabs change content below.
Lauren Grove is the editor and owner of Every Last Detail. A clueless bride-turned-wedding planner, Lauren uses her experiences and knowledge to educate and inspire brides all over the world.