I am so very excited to introduce you to an all new way to find wedding inspiration- with the recently launched Aisle Society! I and 30+ other wedding bloggers have been hard at work for the past 9 months to create this all new wedding inspiration website for brides, grooms, and wedding pros. This week we finally lifted the veil, and the website is now open to the public! I definitely want you to go check it out, but first, I want to share a few tidbits about Aisle Society, and how it can be an integral tool in planning and designing your wedding.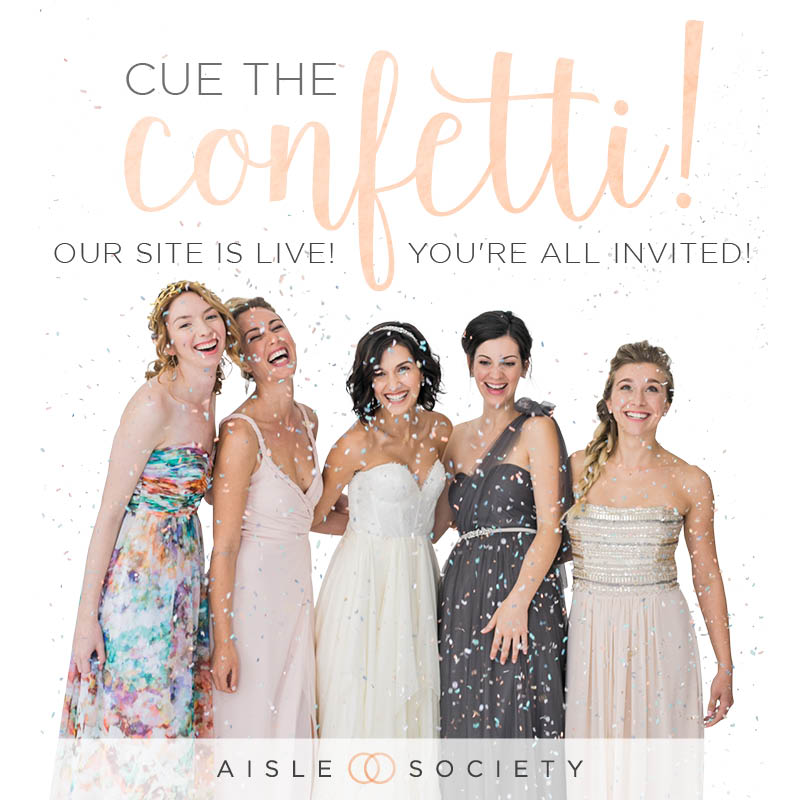 Find Inspiration… 
The whole reason that wedding blogs exist is to provide inspiration. Some (like us at ELD) may also provide some tips and advice, but above all else, the purpose of wedding blogs is to provide couples inspiration for their wedding. Inspiration can come in many different forms- flowers, wedding details, traditions, fashion- the list could go on and on.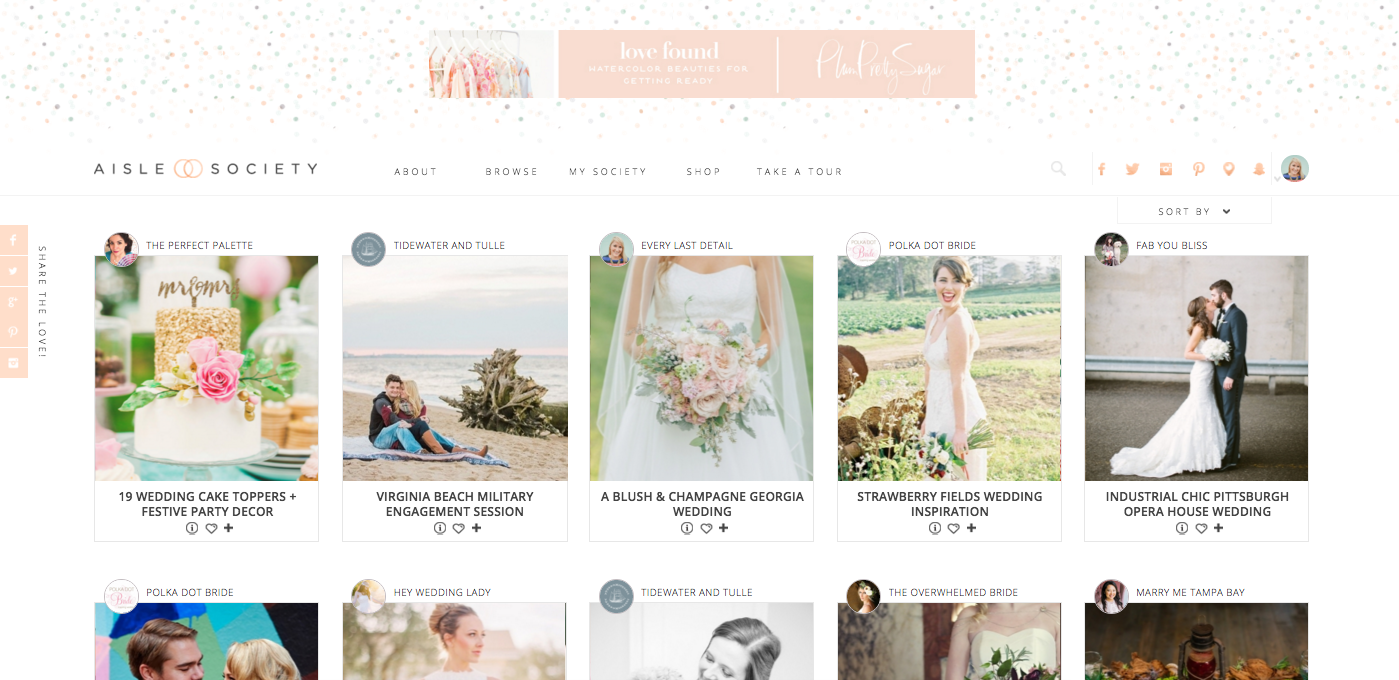 No more scrolling through images you've already seen a thousand times on Pinterest, hoping you'll find something new. No more clicking through to see more from something you love, only to hit a dead end. And no more old, repetitive inspiration that you already saw at your cousin's wedding 2 years ago.
With Aisle Society, you have the content of 30+ wedding blogs at your finger tips. Everything on Aisle Society is fresh and new, updated daily- sometimes even by the minute! You can scroll through a few images to get a feel for the post, and then you can click through to the blog to see the full post! Rest assured that the inspiration you find on Aisle Society is going to be the latest and greatest of what is hitting the web.
[Tweet "See the latest wedding inspiration from wedding blogs around the world on Aisle Society!"]
True Sources…
All too often, we hear from couples about how they can't find the true source of something they saw online. Whether it's a pair of shoes or a wedding invitation, or maybe even a photographer or wedding planner. As wedding bloggers, we get emails and comments all the time asking those questions. Sometimes we have the information, and sometimes we don't- and when we don't it's absolutely heartbreaking. However, now with Aisle Society that problem will be eliminated, because everything that you find on the website will be connected to the correct, accurate providers, designers, and wedding vendors- because the images are coming directly from the source… wedding blogs!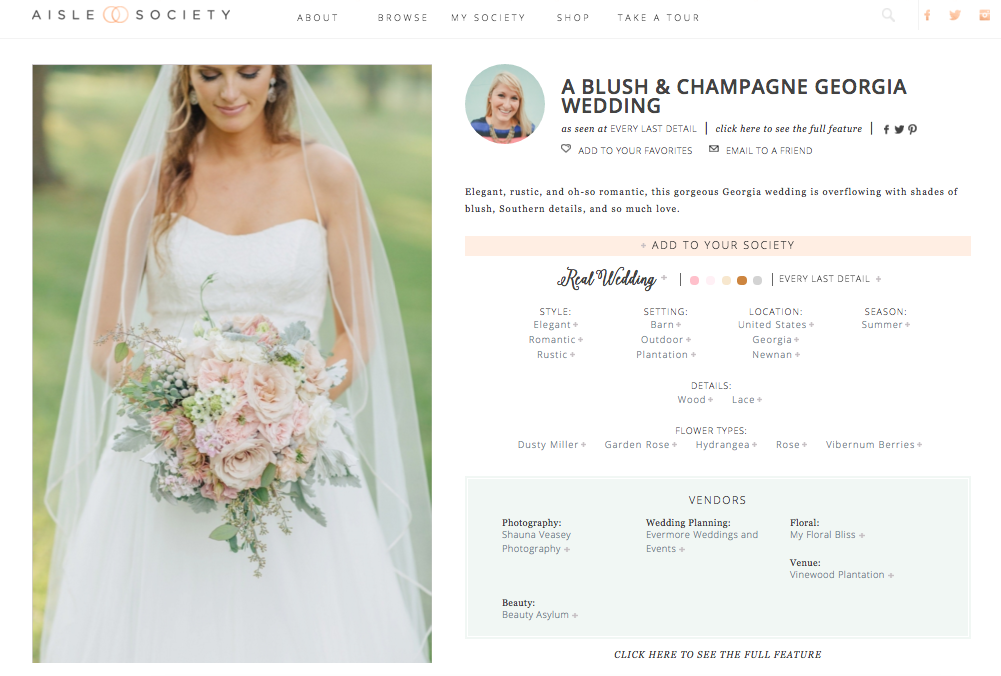 Vendor Portfolios… 
Vendors are one of the most important parts of planning your wedding. And in that same breath, knowing that your vendors are experienced at what they do is also incredibly important. Vendors on Aisle Society will have their features showcased on their profile for you to see. Any time a vendor is featured with an Aisle Society blog, their feature will be added to their profile, creating a portfolio of the weddings that they've been a part of. So if you see a wedding on Aisle Society that took place at your venue, and you want to know who planned it, all you have to do is click on the vendor list, and find the planner! Clicking on their name will take you to their profile, and you'll be able to see all of the other weddings that they've planned. And then, once you fall in love with them, you can inquire with them right from Aisle Society! It's super simple!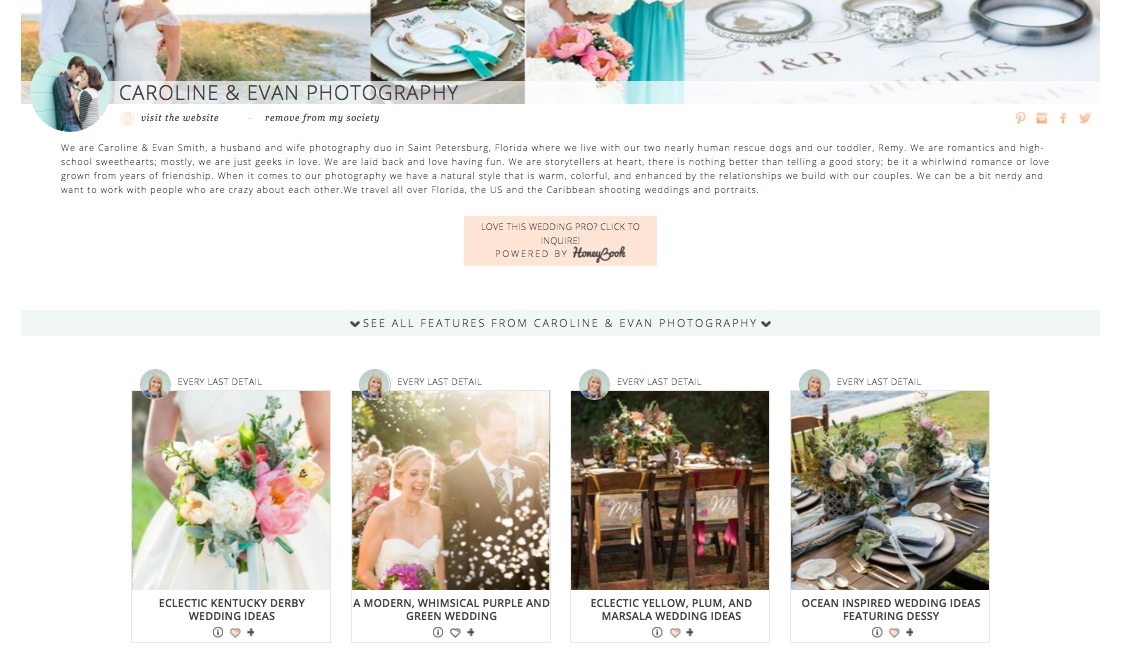 Choose what you follow and see! 
The big thing that makes Aisle Society different is that you can choose specific elements to follow and see in your feed. This is called your "Society", and it's a great way to curate wedding inspiration specific to your style, color palette, and so much more.
Are you planning a classic blush garden wedding? Following (clicking on the plus sign next to a word) the styles "classic" and "garden" and the color blush will result in posts with those three elements showing up in your Society feed. This is a great way to keep up with your favorite wedding vendors (whether you've booked them already or are still checking them out), and of course you can also follow your favorite wedding blogs (ahem, like Every Last Detail) to see their latest posts. And you can even make your Society public to share it with your vendors, family, and friends! (You can see my Society here– it features V List Members, and my favorite wedding design element, glitter!)
There are of course a few other things about Aisle Society that I'm sure I'm forgetting, but I'm just so darn excited for you to get on the website and start following your favorite things, so I'll save all of that for another day! Head over to www.aislesociety.com to sign up, and don't forget to follow ELD! I'll meet you at the aisle!
The following two tabs change content below.
Lauren Grove is the editor and owner of Every Last Detail. A clueless bride-turned-wedding planner, Lauren uses her experiences and knowledge to educate and inspire brides all over the world.