With classic elegance, and touches of homemade details created by the bride and her mother, Hannah and Patrick's Chicago wedding offered vibrant pops of color, and a beautiful timeless style that provided the perfect setting for their heartfelt celebration.
Despite battling a heavy downpour, Nicole Jansma Photography captured this sweet couple at Wilder Park Conservatory for beautiful portraits after their ceremony. Patrick and Hannah put great thought into the details that made their day so special, and we love that both of them shared memorable moments and their favorite highlights from the day with us.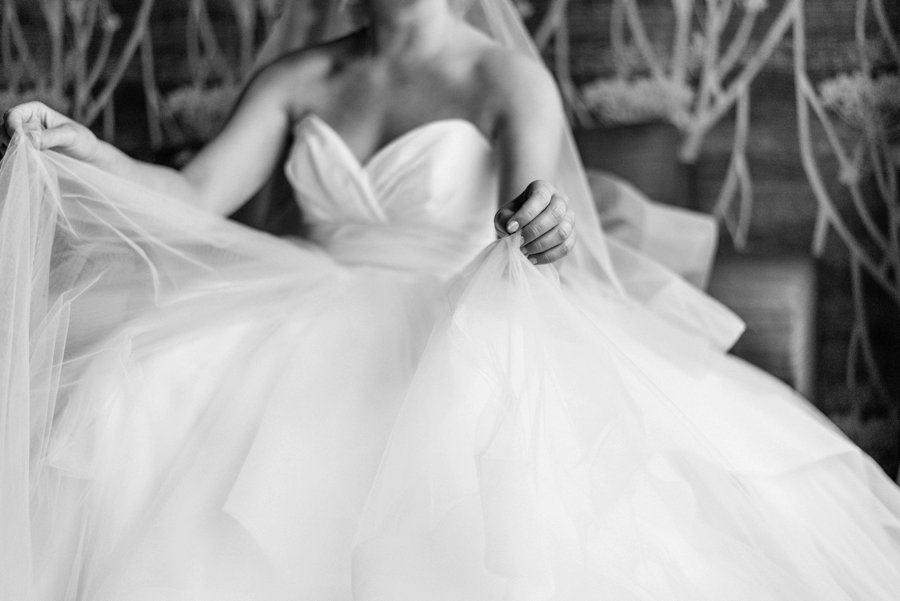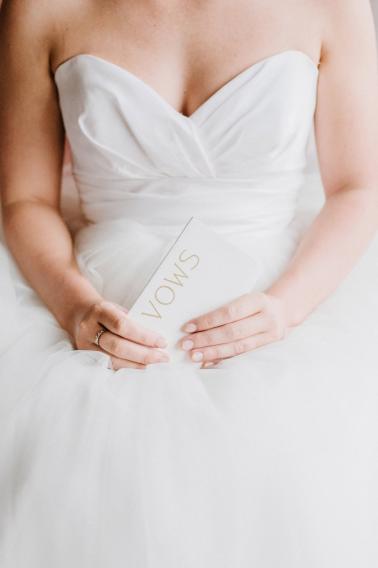 Tell us a little a bit about your wedding.
From Patrick: Our wedding was the beautiful, elegant, gold, and burgundy vision of my amazing wife, Hannah. She had a classic, gorgeous wedding dress while I was in a jet black tuxedo. To compliment these, we were able to find the perfect church and reception venue. Because my family is from the southern suburbs of Chicago and hers is from the northern suburbs, we tried to find venues somewhere in the middle. After tirelessly searching all of Chicagoland, we found River Forest Country Club in Elmhurst, IL; this venue was the perfect combination of size, price, location, and luxurious setting we were looking for. Coincidentally enough, a few minutes down the road was the church Hannah attended as a child, St. Alexander's Catholic Church in Villa Park, IL. This church was beautiful and held meaning to our family – what more could we ask for?
What was the most important to the two of you while planning? Was there anything that you chose to splurge on or skip?
From Hannah: I would say that the most important thing to the two of us was that we were able to include as many important people in our day as possible. We had our godparents, aunts, and uncles as readers during the ceremony, our cousins were ring bearers and the flower girl, and my grandma handed out Communion and said prayer before dinner. It made our day all the more special because we were able to have such significant people play a part in our wedding.
What were your favorite parts of the day?
From Patrick: I have three favorite memories from our wedding day: one from before the wedding, one from the ceremony, and one from the reception. My first memory took place in my groomsman's hotel room while all of the girls were getting their hair and makeup done. My groomsman, our two ring bearers, and I were jumping on his bed and having a pillow fight. We then barricaded the room with the mattress and attacked our other groomsmen with pillows as they entered the room one by one. Needless to say we all had an absolute blast that morning. My next favorite memory was when I saw Hannah walking down the aisle towards me. She looked even more beautiful than I could even imagine as she walked towards me with our eyes locked the entire time. I was completely overwhelmed with happiness to know my best friend was coming to officially be my wife. My last favorite memory was our first dance together. That felt like the culmination of the reception with just us two, and nobody else mattered, but we still had our family and friends around us sharing in this intimate moment.
From Hannah: My most favorite memory of the day was our first dance. By that time, we had gone through the entire ceremony, cocktail hour, cake cutting, and dinner, so that was when we finally had a moment to just ourselves without any pressure or stress of what was coming up next. The song we had picked matched us and our day so perfectly and I could not even begin to describe the amount of love I felt all in one place as our family and friends looked on.
Please describe any DIY, handmade, or personal details.
From Hannah: Pretty much everything! My mom designed and hand-assembled all of the stationery (save the dates, invitations, response cards, directions, etc.) for the wedding, which was so special since Pat and I could really have a say in how we wanted our suite to look. We put together flip-flop baskets for guests that wanted to kick off their heels before heading out to the dance floor, made gold glitter hangers for all the bridesmaids' dresses and getting-ready robes, and created amazing custom wine bottle labels with our engagement photos printed on them. My mom also helped my Grannie sew an 80 ft aisle runner for the Church and even embroidered on one of our ceremony readings to the end. All of the decorations in the reception hall were hung and set up the day before. Biggest and best of all, my mom and I made hundreds of paper flowers and created a huge 8x8ft rose wall for the backdrop of our photo booth. It was one of the absolute greatest ideas that we had come up with and our guests had so much fun standing in front of the wall and snapping pictures.
Did you include any family heirlooms or special traditions?
From Hannah: I wanted to make sure that I included as many family members and traditions in my wedding as possible. Pat and I went to have our rings blessed a few weeks before the wedding by the priest that married my parents. I wore my Grannie's wedding band on my right hand as my "something old" and my "something borrowed" was an embroidered handkerchief – the same "something borrowed" that my mom had used at her own wedding. My "something blue" was a fabric heart that had been sewn inside my dress over my own heart. The heart came from a t-shirt from a cousin that had passed away and had been something my mom was saving for my wedding.
Do you have any advice for couples planning their weddings now?
From Hannah: A few things: 1). People aren't joking when they tell you that your engagement and wedding go by in the blink of an eye. Take a minute as often as you can to slow down and enjoy everything that is going on because before you know it, it will be 1am and everyone is catching the last shuttle back to the hotel and your DJ is announcing it is the last song. 2). Listen to other's opinions but remember at the end of the day it is your wedding and you only get married once. If you want a giant flower wall or to do your first dances out of order, do it! You get one day so you had best make it exactly how you want it. 3). Don't let the stress of the wedding planning or the checklist of things to do get in between you and your fiancé. The entire reason you are getting married is because of one another so make sure you still take time to enjoy each other's company, go on a date once in a while, and enjoy the planning together!
So many sweet moments and special details, but that gorgeous paper floral wall was a favorite for us. We are so impressed by this bride and her mother, and their incredible talent with some of these projects. This installation was a show stopper, and we love that it was a project that was pulled off with great heart and sentiment.
VENDORS WHO MADE IT ALL HAPPEN…
Photography: Nicole Jansma Photography // Ceremony Venue: St. Alexander's Catholic Church // Reception Venue: River Forest Country Club // Floral: Shamrock Garden Florists // Wedding Cake: Delish Cakes // Hair + Makeup: Judith B Salon // Shoes: Badgley Mischka // Veil: Angellure Bridal // Wedding Dress: Hayley Paige // Garter: Brilliant Bride // Groom's + Groomsmen Attire: Vera Wang + Men's Wearhouse // Bridesmaid Dresses: Sorella Vita // Photography Venue: Wilder Park Conservatory // Bridesmaid Robes: Sandy Waters Store // Bridesmaid Dresses: Bella Bianca // Wedding Dress: Marie Gabriel Couture Bridal // Handmade Items: Invitations, Paper Flower Photo Wall // Flower Girl Dress: Bride's First Communion Dress
The following two tabs change content below.
Lauren Grove is the editor and owner of Every Last Detail. A clueless bride-turned-wedding planner, Lauren uses her experiences and knowledge to educate and inspire brides all over the world.