Randi and RJ had a vision of a beautiful backyard ceremony under a huge oak tree, and they got just that. With the help of Randi's mother, maid of honor, and her MOH's mother, their vision for their California wedding became a reality in the most beautiful (and personal) location in Valley Center, California.
Their wedding day style was a simple and relaxed vibe with rustic and boho elements. With a mixture of cacti, farm tables, and flower crowns their wedding was casual, fun, and dreamy all at the same time. We love that they incorporated personalized details along with natural elements found on the property. They embraced every element that their environment threw their way, and they created utter beauty for this celebration.
With the warm glow of the sun over the entire day, Marie Longhi Photography captured so much fun, joy, and beauty, and Michelle Garibay Events did a perfect job pulling together the details of Randi and RJ's wedding day.
Make sure you check out the insight and advice that this couple shared with us as you scroll through the details and moments that made their day so special.
Tell us a little a bit about your wedding (your vision, color, style, and location choices).
I knew that I wanted something non-traditional. I didn't want to do a cake cutting or bouquet toss. I wanted something super laid back and most importantly for everyone just to have a good time. I wanted everyone to be comfortable to be themselves and so did I. I didn't want anyone to feel like they couldn't let loose. We even had some family and friends bring their RV's. Our ceremony was very quick with a good sense of humor. I had always loved the house that my maid of honor grew up in, her parents are like second parents to me. I especially have always loved the oak tree in their backyard, when Denise (homeowner) offered to have my wedding there, I knew it was perfect. I guess that you could say my wedding was rustic boho which is definitely my personal style that reflected into my wedding style. I LOVE greenery & succulents so I definitely wanted to incorporate as much of that as I possibly could.

I chose neutral colors for my bridesmaids because I wanted something timeless, I wanted to be able to look back at my wedding pictures 20 years from now and not regret my colors! I told my bridesmaids not to worry about matching so I showed them the color palette and they picked out their own dresses.
What was the most important to the two of you while planning? Was there anything that you chose to splurge on or skip?
We chose to skip a lot the the traditional wedding things, such as cake cutting, flower and garter toss, wedding party introductions, and we just introduced the bride and groom. The most important thing was to keep our vision alive. A lot of people kept telling us what we "should" be doing, and it was important for us to keep our vision alive, whether its what people liked or not. We honestly didn't really splurge on much for the actual wedding, we more so splurged on the honeymoon since thats what we really cared about, since our honeymoon was truly all about us.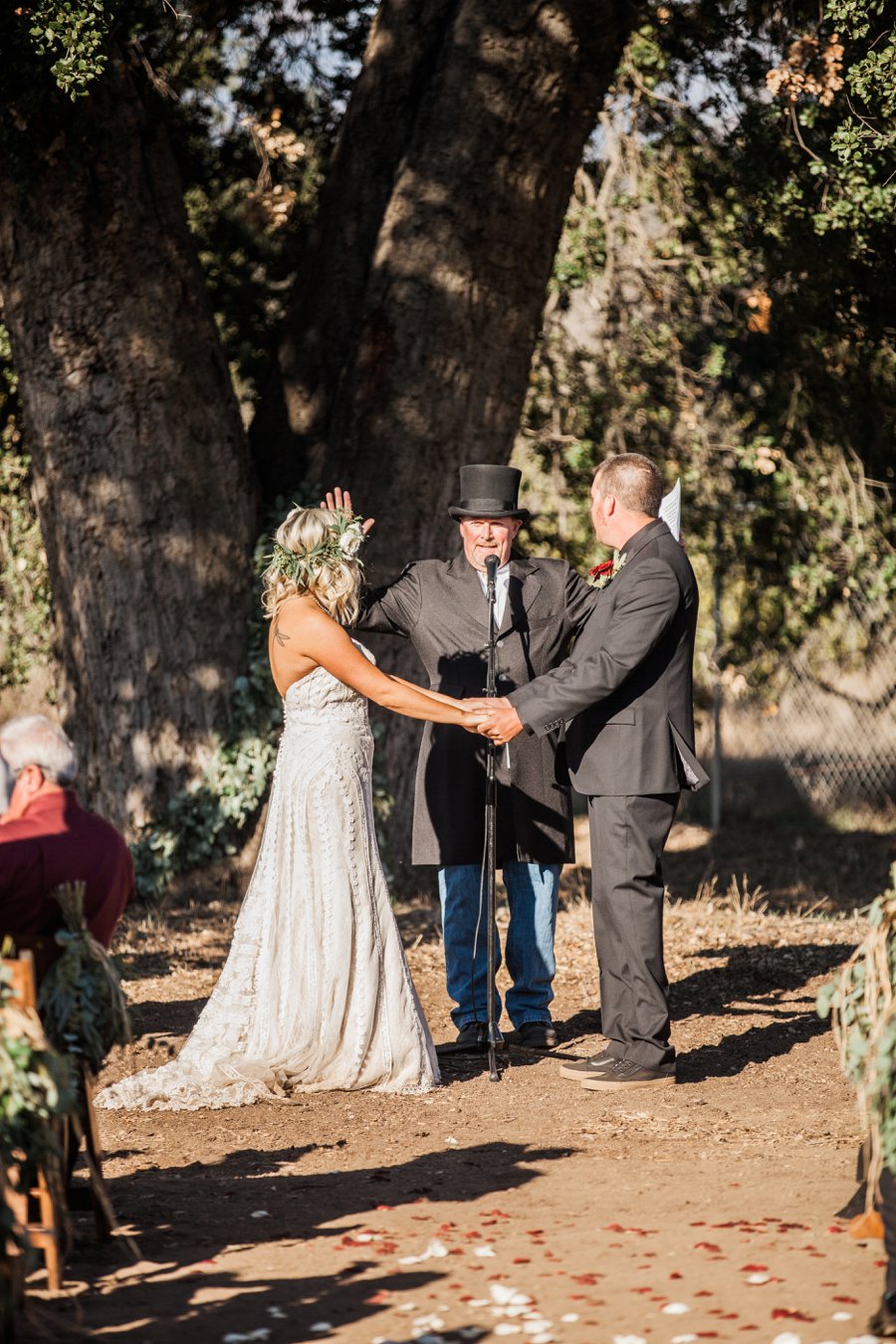 What (or who) helped you most in your planning process and/or on your wedding day?
The three people that helped me the most were: my mom, my maid of honor and my maid of honor's mom (my second mom, Denise). I truly could not have done it without them. We had many meetings where we planned until I felt like I was loosing my mind. But they not only helped along the way, but up until the last minutes of setting everything out and making my vision happen. I think it was good to not have a ton of people helping plan, and these three people sometimes know me better than I know myself, so I could truly just them with every tiny detail!

Also – MOST importantly, my Uncle Tom, along with the help of others made the property dialed in for the wedding. They set the giant light pole and hung all the string lights, graded the property to make it smooth and made sure we had more than enough electrical for the day of. When I decided to have my wedding at an estate, these were things I didn't even think about, these guys made everything happen! I give a HUGE thank you to all of them!

We had a huge team around me to help make this day happen, from the guys who made the actual property perfect for an event, and the girls who helped with the decor and my vision, we truly feel so lucky and blessed. It is a lot of work to have your wedding at a home estate and they made it all happen, it was a team effort!
What were your favorite parts of the day? (memories and stories)
Randi – my favorite part of the day was dancing! I spent soooo much time on the dance floor and it was so nice to finally let loose after all of the planning! I also really liked the moment right after our ceremony. Our wedding coordinator closed us in the bridal suite and gave us champagne and we just had a moment to ourselves to just soak everything in.

RJ – My favorite part was taking pictures with just me and Randi. It was nice to have time for just us. Mainly I just really liked that everyone had such a good time. The whole entire wedding was just a rad time, there were no bad parts.
Do you have any advice for couples planning their weddings now?
It sounds so cliche, but do you! Not what everyone else wants. So many people thought I was crazy for getting married at an estate that had never had a wedding and for eliminating some normal wedding traditions, but I didn't care. It was what I wanted, and I am so happy I stuck true to that.
We always love hearing these words of wisdom from couples. Creating a stress-free day that completely embodies you as a couple, well, that sounds like a perfect day to us!
VENDORS WHO MADE IT ALL HAPPEN…
Photography: Marie Longhi Photography // Ceremony Venue: Private Estate // Reception Venue: Private Estate // Event Planning: Michelle Garibay Events – Cara Goset // Floral: RD Floral // Stationery: Madeline Designs // Handmade Items: Ring Boxes – Chalk Concrete // Rentals: Rustic Events (Farm Tables) // Rentals: Cruise Party Rentals // Catering: Del Mar Taco Co. // Makeup: Chelsea English // Bridal Salon: The Bustle // Groom's Attire: Men's Wearhouse // Bride's Shoes: ALDO // Bridesmaid Dresses: Show Me Your Mumu // Headpiece: RD Floral
The following two tabs change content below.
Lauren Grove is the editor and owner of Every Last Detail. A clueless bride-turned-wedding planner, Lauren uses her experiences and knowledge to educate and inspire brides all over the world.