Some of you may know that one of the big reasons I started blogging back in 2009 was to help other brides- because I myself as a bride felt like there was so much about weddings that I wish I had known. I remember being on my honeymoon, and realizing things that went wrong- things that could have easily been avoided, if I had only known! It was then that I started entertaining the idea of starting a blog to help brides… little did I know that it would become my full time job!
But the thing about me is I'm not just a former bride sitting behind a computer telling you how to do things. I went and got experience working in weddings. I took a wedding planning class, planned, designed, and coordinated weddings, and immersed myself in the wedding industry so I could learn all that I could about weddings. I did this all with the end goal of wanting to be able to share the TRUTH about weddings with brides.
So with my background-in-a-nutshell story established, that brings me to today's post. In my years in the wedding industry – as a bride and a professional- I've seen the same wedding myths perpetuated over and over for years. Online, in magazines, on Facebook- everywhere! Honestly, it drives me absolutely nuts, because not only are they wrong, but it's those same wedding myths that had me jaded when I was planning my own wedding.
So today, we're going to talk about some of the common "wedding myths" that are out there floating around, and I'm going to provide you with as much information as I can about each. (I've actually covered most of these topics already, so I'm including links to the full posts for each- so be sure to click through to complete the "DEBUNKING" of these myths!)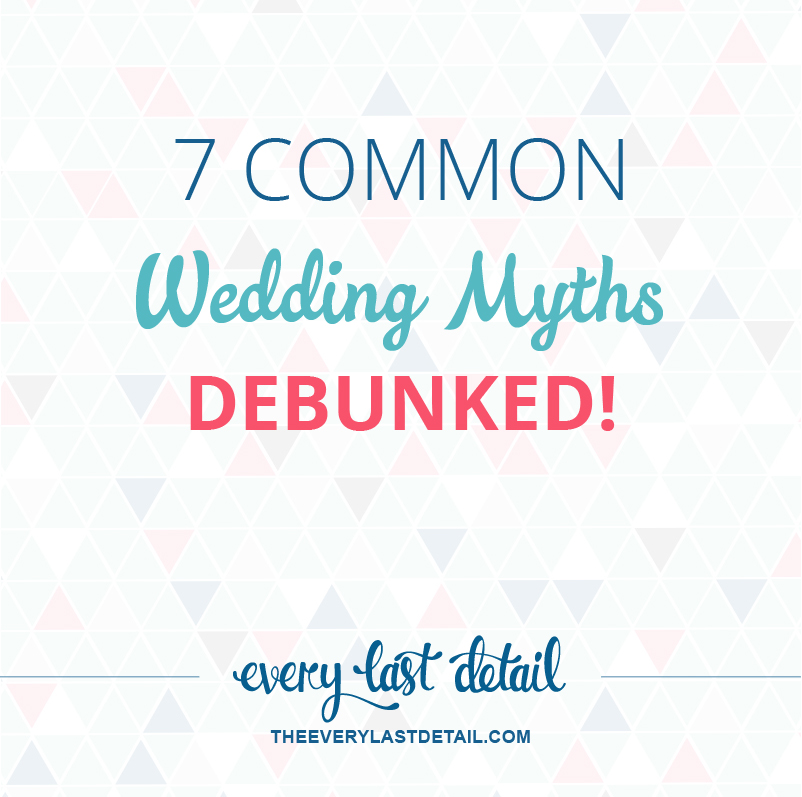 Wedding Myth
---
"Things will cost more if you tell vendors it's a wedding."
This is something that is absolutely WRONG. Sure, weddings cost a pretty penny. But it's because they involved tons of products and services, and quite frankly, people can't work for free. Beyond that though, a wedding is a special day- it's not just any other party that you would throw on a weekend. And you treat it with a higher regard than you would a birthday party- so of course you want the vendors involved to treat it better than that too!
*To finish the DEBUNKING of this myth, go here: Is The Wedding Industry Scamming You?
Wedding Myth
---
"I can't afford a wedding planner or coordinator- they cost too much."
I felt this same way. But then I actually inquired with a planner, and I realized that planners weren't as expensive as I thought they were! Don't let the stereotype of the planners that you see in movies and on TV cloud your judgement about hiring a planner. Sure, there are some expensive, amazing planners, but there are lots of planners out there- someone is bound to have a service option that is perfect for you! Plus, just think about the stress and time that a planner will save you- not to mention potentially the money they will save you too! Friends, it's totally worth it, and they really don't cost too much!
*To finish the DEBUNKING of this myth, go here: Can't Afford A Wedding Planner? and here: Everyone Can Have A Wedding Planner!
Wedding Myth
---
"I don't need a wedding coordinator, my venue said they will handle everything."
Plain and simple, the "coordinator" at your venue is there for your VENUE. They may say they are, but when it comes down to it, they aren't there for YOU. If something with the venue goes wrong, you better bet they're going to be dealing with that instead of being by your side- and rightfully so! A wedding coordinator is there for YOU. They are hired by you, and they have your best intentions in mind. They will know what you want, how you want your day to go, and will be there for you on your wedding day. A coordinator is WAY different than a venue coordinator- hire your OWN!
*To finish the DEBUNKING of this myth, go here: Wedding Coordinator VS Venue Coordinator
Wedding Myth
---
"My friend can do ________. I don't need to hire someone." (Anything could go in the blank.)
Here's the thing- if it was the normal and a successful thing to have your friend do XYZ, there wouldn't be professionals doing it! And there most likely wouldn't be amazing weddings likes the ones you see here on ELD and everywhere else. In my experience having a friend do a professional's job almost never works out- unless they ARE a professional who truly is your friend. So save your friendship, and hire the professional who knows what they're doing.
*To finish the DEBUNKING of this myth, go here: 5 Reasons To Hire A Professional For Your Wedding, Not A Friend!
Wedding Myth
---
"It's not going to rain on my wedding day… I have a good feeling about it."
This is weather we're talking about – sometimes meteorologists can't even predict weather! And as much as having a "good feeling" about the weather for your wedding helps, you absolutely have to have a rain plan! I myself had that "good feeling"- and it ended up raining the whole afternoon of my wedding day. Because I never discussed a rain plan with my photographer (which was a BIG no-no on her part), this resulted in getting almost NO photos of my husband and I. So learn from my own experience, and have a rain plan in place no matter what!
Wedding Myth
---
"I'm going to DIY everything because it's cheaper that way." 
I think people are finally starting to realize that DIY doesn't always turn out to be the cheaper option, but regardless, I do still hear this "myth" quite often. Not to say that DIY is awful, but there are certainly things that are easier (and smarter) to DIY. Often times though, DIYing things ends up costing just as much as purchasing something or hiring someone- not to mention the amount of time that it takes! If anything, DIY should be a carefully calculated and planned decision, and really shouldn't be done purely because it's the cheaper option.
*To finish the DEBUNKING of this myth, go here: To DIY Or Not To DIY? and here: What To DIY For Your Wedding 
Wedding Myth
---
"We don't have a budget; we just want to spend as little money as possible."
Budget is a HUGE part of every wedding, but not having a budget altogether is a recipe for disaster. Even if you just want to spend as "little" as possible, you still need to know what your maximum amount is. Having a budget also helps you create expectations for your wedding and vendors. (PS- I'll be the first to tell you that if you only have $5,000 to spend on your wedding, then you should just go to the courthouse and have an awesome party in your backyard with your family and close friends.) And besides- what is "as little as possible" to you, might be different to someone else.
*To finish the DEBUNKING of this myth, go here: Define "On A Budget"
————————————————————
There are of course several other "myths" that I could discuss, but I felt like this was plenty for today! And of course if you want more info, go check out the ELD Wedding Planning page!
I'd love to hear from you all- do you have anything to add? What have you discovered to be true- or not true- when it comes to weddings? 
Editor's note: A version of this post was published in September 2013. It has since been revamped and updated for accuracy. 
The following two tabs change content below.
Lauren Grove is the editor and owner of Every Last Detail. A clueless bride-turned-wedding planner, Lauren uses her experiences and knowledge to educate and inspire brides all over the world.