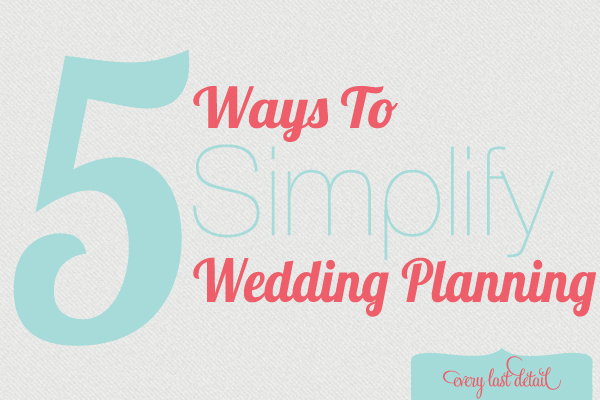 In the 3 years I've been in the wedding industry, I've heard countless different opinions about planning a wedding. It's stressful, it's fun, it's easy, it's hard. The list could go on and on. But the thing is, it's really not the easiest thing in the world. In fact, it can be equivalent to a full time job at times. Now, you all know that I will always tell you to hire a wedding planner to help you with planning your wedding- even if it's just for the month before your wedding! 
Well, whether you have a wedding planner or not, there are a few things that you can do (or just know about) to simplify the whole wedding planning process for yourself, those you're working with, and everyone around you.
1. Less is MORE! I know it's pretty common sense, but lets just think about this for a second… the less guests you have, the less food you have to get, the less things to rent, the less favors to make, the less space needed, the less drinks consumed, the less money you spend. So if you know you're a) on a budget, b) already a stressed person or c) prefer a more intimate gathering… the answer is LESS! This doesn't have to just pertain to guests though. You don't necessarily NEED everything that you think you need for a wedding. In fact, sometimes things can be kind of repetitive. So before you jump into having 2 different kinds of guest books, just think about whether or not they can do double duty. Kill 2 birds with 1 stone- that's what I always say! And this kind of leads me to the next thing…
2. Stop buying things. You don't need those napkins, a zillion vases, or candles even. If you're working with professionals, they will have most everything available for you. If you're DIYing, look into renting as much as you can- because honestly, what the heck are you going to do with 150 mason jars?! If you can't rent and must buy, make your calculations and plans and THEN do your purchasing. You should NOT be able to start a store from what you have purchased for your wedding. ;)
3. Want great details? Just pull from your personal life! I know I say it ALL the time, but the best details are always ones that reflect the couple the most. If you love great food, then by all means, have great food at your wedding! Did you meet at a sports game? Have a nod to your sports background by naming tables after your favorite sports teams. There's really no right way or wrong way to do your details… just as long as they are reflective of YOU!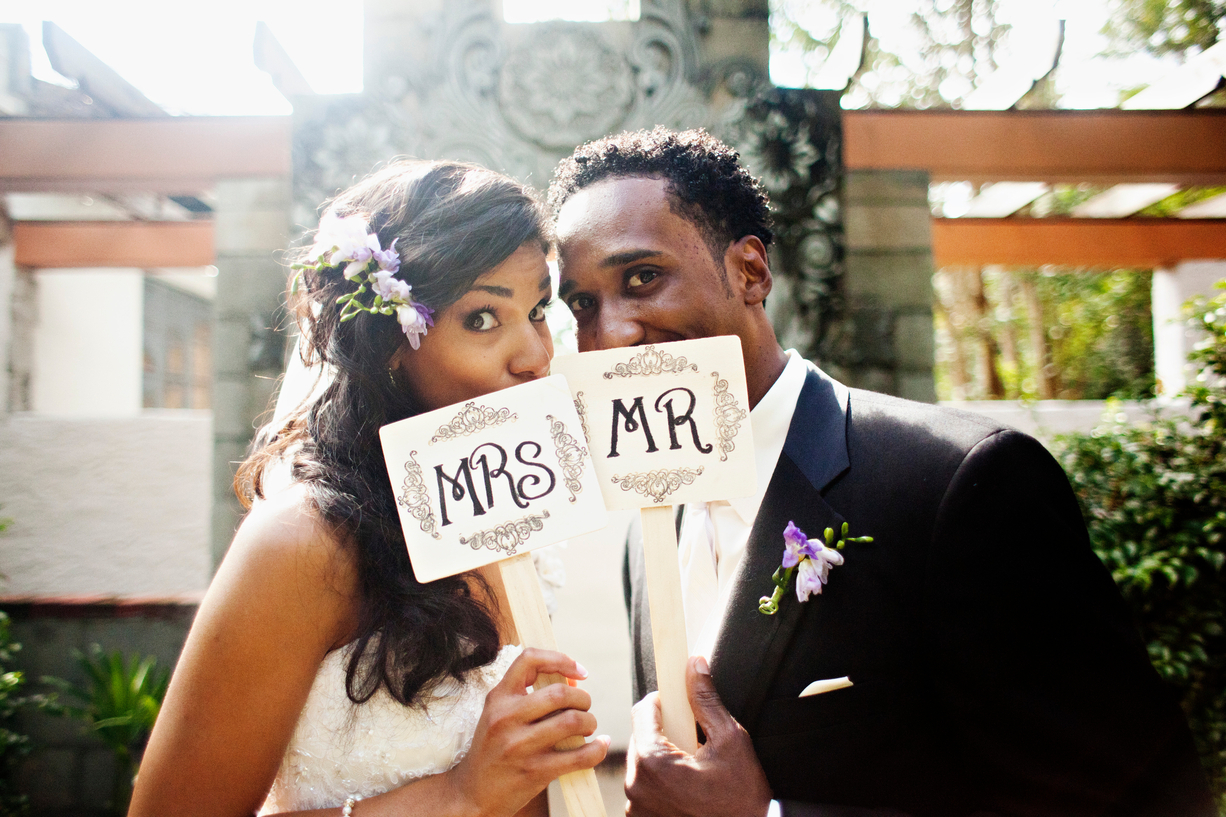 Photo via At Last Wedding + Event Design
4. Don't worry about a shot list. Just hire a photographer who has experience and knows what they're doing. They will most likely ask you what family members you want photos of, so you really don't need to tell them that you want a shot of you and your parents. Sure, if you have something specific- like a handkerchief wrapped around your bouquet- that they might not know about just by looking at it, then tell them beforehand. (I've been known to explain all of the details for a wedding day to the photographer beforehand, so they can get a kind of visual of what to expect.) But if you're hiring a professional, you shouldn't have to worry about whether or not they'll get everything.
5. Keep people informed. This goes for vendors, bridal party, parents, etc. People asking you questions will definitely be a source of stress. What kind of shoes do you want the bridesmaids to wear (my opinion- whatever they want)? What time is the rehearsal? When are payments due? If you're working with a planner, and one of your vendors doesn't include her on their email to you, CC them in your reply email. If one of your vendors has a question that can be better answered by another vendor, provide them with their contact info so they can directly ask. As far as bridal party and parents, use the internet! You can create a Facebook group for all your bridesmaids (or the whole bridal party even) to keep them informed and up-to-date. Often times, it's the better option for making decisions and keeping everyone in-the-know. Use Google Docs to upload invoices, your timeline, etc and share with parents, other vendors, and your bridal party. Use what you have available to you- the options are there! :)
There are tons of great things out there that can help you simplify your wedding planning- there even a few apps too! It's kind of ironic to me though, because often times I would share some of the above insights with brides, and it was like they were awakened. Awakened to the fact that sometimes they're just creating the stress themselves, and sometimes you really DON'T have to have that guestbook/candle/mason jar! More than anything, making less work for yourself will result in less stress. And when you're faced with something that's questionable, just ask yourself this: Is it really necessary for the wedding day? You'll be surprised at how many things you can nix with that thought process. :)
Brides or wedding pros… do you have any tips to add? Anything you've found that works great for you when it comes to simplifying? 
———————————————————————————————–
NEW SERIES COMING!
I'm hoping to start a new series soon, based totally on what YOU want to know about. Because when it comes to your wedding, it's hard to know everything! But the thing is, sometimes it's hard to find the answers! Well I want to help you all and give you the information that you want, so I would love for you to submit your questions! You can either submit your question here, email me, or enter it into the form below! I can't wait to get started! :)
The following two tabs change content below.
Lauren Grove is the editor and owner of Every Last Detail. A clueless bride-turned-wedding planner, Lauren uses her experiences and knowledge to educate and inspire brides all over the world.