Recently, I was traveling and was with people who weren't quite as entrenched in the world of weddings as I am. They were asking me questions about weddings in general, and I quickly realized that what is common knowledge to me isn't quite as common to others. One of the common items I found myself explaining was wedding budgets and what weddings cost, and after going over the the ins and outs of weddings a few times, I realized that there is one single thing that has a huge impact on a wedding budget- guests.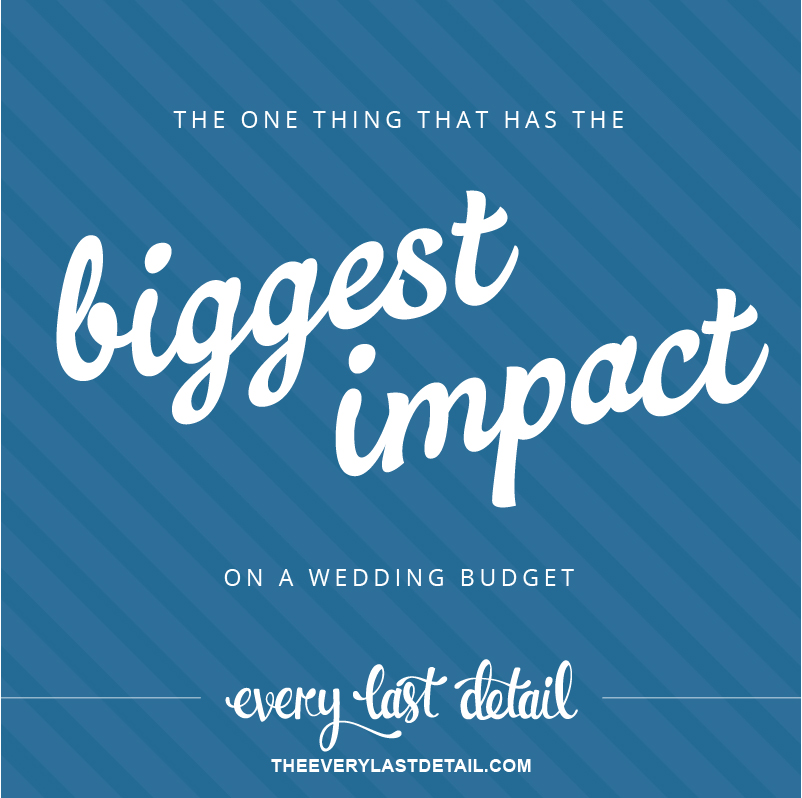 Sure, there are various elements of a wedding that contribute to a wedding budget. You have your venue, food, decor, rentals- and let's not forget services provided by vendors! But did you notice that out of those five things, four are entirely contingent on the guests? That's 80% of wedding costs being determined and impacted by the number of guests!

It kills me when I hear about someone wanting to have, say, 300 guests with a budget of $20,000. Doing some simple division, that comes out to $66 per person. You can hardly even get food for $66 per person- what about everything else that you need for a wedding to happen?
Knowing the things that are possible for that same budget on a smaller scale, my heart breaks. What if you only had 50 guests with a $20,000 budget? That changes to $400 per guest, and yes, that number can certainly cover all of the other elements besides food.
The number of guests that you have at your wedding will dictate everything else, and therefore, have the biggest impact on your wedding budget! Not whether or not you DIY, what you serve for dinner, or what style of wedding you have- the guest count is HANDS DOWN what matters most when it comes to what you spend for your wedding. (Note: The previous situations are purely meant for examples. I do not recommend looking at your wedding budget as "per person". Also, I'm sure a 300 guest wedding with $20,000 can be done, but I myself have not done it. Again, purely for the sake of examples.)

So with that said, let's break down the guest-impacted elements a little more:
Venue
You really should not be choosing your venue without knowing how many guests you will be having. Some venues can only fit 100 people, and some can fit 300. I bet you there's a big difference between those two venues too, so it's important to have an idea of your guest count ahead of time. On the other hand, if you find a venue with a lower capacity and fall in love with it, then this could certainly further influence your total guest count.
Food and Beverage
Simply put, food and beverages are consumed by your guests. The more guests you have, the more money you're going to spend because that's more food and drinks that you will need. There's really no way around it- unless you choose to not serve food and/or drinks!
Decor
The more guests you have, the more tables you have. And the more tables you have, the more centerpieces you will need. It's a pretty simple formula, right?
Rentals
Again, just as with the decor, the more guests you have, the more tables you need, which leads to more linens and more chair rentals. And let's not forget about china, glassware, and flatware to go along with your food and drinks too.
As many of you know, I'm all about telling you the truth about weddings- and pure and simple, this is the truth. Weddings cost a pretty penny, but it's not because weddings are pretty, overpriced, or you're being "scammed" by the wedding industry- it's because they involve usage and consumption of materials. In the end, you can have a *much* better (and on-budget) wedding if you just have less guests!
If you want to stick to a lower budget (or just want to get the most bang for your buck) then I encourage you to keep in mind the one thing that has a huge impact on your budget…
the guest count!
---
I'd love to hear from you- in what ways have you noticed your guest count having an impact on your wedding budget? 

A version of this post was originally published in October 2013. It has since been revamped and updated for accuracy and content. 
The following two tabs change content below.
Lauren Grove is the editor and owner of Every Last Detail. A clueless bride-turned-wedding planner, Lauren uses her experiences and knowledge to educate and inspire brides all over the world.