[Editor's note: Hi friends! This post from Debbie is a little different from the usual "Tips" posts here on ELD, but it's SO needed. Over the years, I've received countless emails from brides who are interested in working in the wedding industry. It's not uncommon to plan your wedding and fall in love with the wedding industry- in fact, I wouldn't be here today if it wasn't for getting into the industry after my own wedding planning experience! So if you're considering working in the wedding industry, read on for some excellent tips!]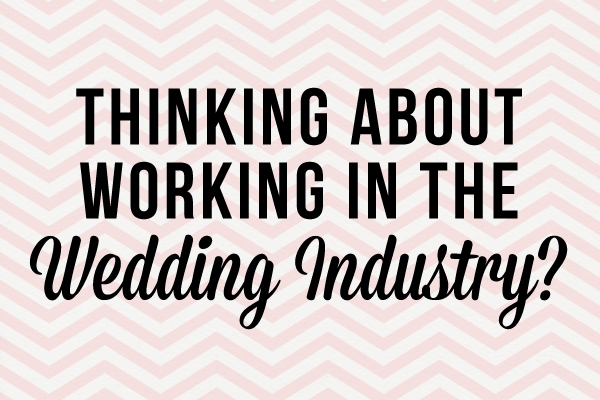 After you get engaged and start the process of wedding planning, it's like exploring a whole new world of beautiful things that you've never experienced before. Suddenly there are yummy cake tastings, delectable catering menus to sample, pretty linens to look at, gorgeous flowers to choose from, and so much more. Planning a wedding quickly seems like much more fun than working in a cubicle, right? It's no wonder so many brides consider making a career change during the planning process!
It's not uncommon to love planning your wedding so much that you think about making a career change to become a wedding planner (or a photographer or florist or stationery designer). The truth is, many people get started in the wedding industry following their own wedding (Including Lauren, the editor of ELD), and there's nothing wrong with that. So if you are seriously considering making a career switch to work in the wedding industry, here are a few tried and true tips to help you decide if you should make the switch…
Breathe and give yourself some time.
Do not make any changes while you are planning your own wedding. Enjoy the planning process and have a lovely wedding day without the added stress of a possible career change. Relax on your honeymoon, put those wedding gifts away, write your thank-you cards and enjoy a few months of wedded bliss without the chaos and all-consuming wedding planning stress. Then revisit the idea of working in the wedding industry to see if you are still interested.
Get over the post-wedding blues.
There really is such thing as post-wedding blues and it happens to a surprising number of newly married couples. During the planning process, there are decisions to make, consultations to attend, wedding budgets to balance and so much more. It consumes a lot of free time for a year (or more) of your life! After the wedding, take up a new hobby, plan your next vacation together, and realize that it may take a few months to get over the post-wedding blues. Then, once the post-wedding blues have passed, spend some time thinking of whether you truly want to start a new career in the wedding industry.
Are you looking for a career change?
Do you like your current career?  Maybe you are looking for a creative outlet instead of a whole new career? Or maybe you really dislike your current job and wedding planning seems right up your alley. Ask your husband, friends and family if they think a career in wedding and event planning would be a good fit for you. They may not give you the answer you want to hear but it is always helpful to hear what they have to say even if you don't take their advice.
Decide what you loved most about planning your wedding.
What was your favorite part of planning? Maybe you discovered a love of photography or a hidden DIY gene. Or maybe you loved pulling all the vendors together and creating your wedding day timeline. Or perhaps you loved the design aspect of using flowers, linens and lighting to create the perfect atmosphere. Maybe you just loved reading wedding blogs every day. Knowing what you loved most will help you hone in on what would be the best career move for you. A new career as a wedding planner or photographer may be perfect for you or you may decide that opening your own Etsy store or starting a personal blog would be more fitting.
Do some research on your potential new career.
Ask your wedding vendors what they really like and dislike about their career. Read about a day in the life of wedding planners to see what it is really like to work in the wedding industry.  Search online to see if there is a local introductory class in your town for the career change you are interested in.
There are many successful wedding professionals who realized their dream job after planning their own wedding. But there are others who changed careers, only later to realize that they didn't spend enough time researching and had made a mistake. Give yourself time after the wedding to read, research and do some major thinking before making a decision about a career change into the wedding industry. It may be the perfect fit or it could just be a false start. Either way, think it through- and good luck!
——————————————–
So are any of you considering working in the wedding industry? Those of you who DID enter the wedding industry after your own wedding (I know you're out there!), do you have any tips to add? 
The following two tabs change content below.
Debbie Orwat is the Founder and Editor of Planner's Lounge. Planner's Lounge is a resource site and community for wedding and event planners to relax, talk, learn and inspire. Debbie is also the Owner and Creative Director of Save the Date Events, a multi-award winning event planning and design company based in Denver, Colorado. Debbie is also the Owner of StudioWed, a boutique showroom, design studio and concierge planning service.