Hey friends! Goodness… each and every week, it's SO hard for me to decide on what to write for Thursday Tips! I have tons of topics on my list, but sometimes I just can't actually *decide* on what to post. So before I get into today's post, I want to let you all know that I want to hear from YOU about what YOU want to know more about! If you have something in particular that you want to hear about, please head over to the Q&A page and submit a question/topic/statement/comment- whatever! I want to make sure I cover all of the bases for you and help all of you, so please feel free to let me know what YOU want! :)
Alrighty, so now on to today's topic, ALPHABETICAL ORDER! Yes, I know I mentioned it in last week's Tips post, but it's something that I'm SO incredibly passionate about, and so I felt like it deserved it's very own post highlighting it's importance. Because honestly, whenever I see escort cards or seating charts that aren't in alphabetical order, my heart breaks a little. For this very reason: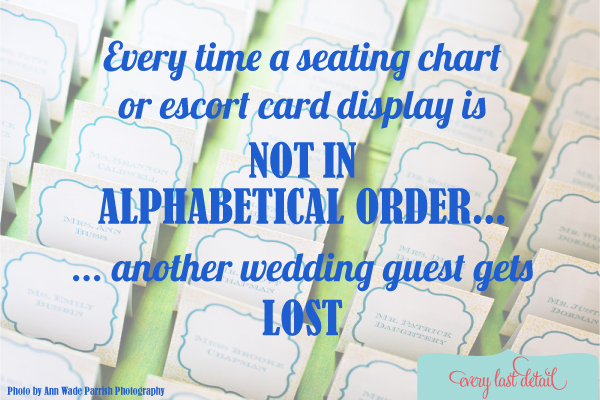 With anything in life, having things in some kind of "order" is always the most efficient way to achieve a result, right? Usually that "order" is alphabetical order, sometimes it's numerical or by date. In life, order is essential. So why wouldn't you keep things in order for your wedding? Your wedding is a day that is already busy in and of itself. And it's a day in which the people in attendance most likely have no clue what is going on and what your plan for the whole day is. The answer is that you DO want your wedding to run smoothly, right?
Well one of the best ways to make sure your wedding will run smoothly is to ensure that your guests know where to go. How will your guests know this? You assign them to a table and tell them where to go! You can do this with a seating chart or escort cards, but they will need to be able to figure it out quickly and efficiently, since your guests being seated is essentially the start of your reception. Which is precisely why alphabetical order is the BEST- and only– way to go for your seating chart or escort cards!
I'm ranting writing about this today because I keep seeing seating charts and escort cards arranged by table number (or name). And it's killing me. Sure, YOU view your seating by table number, because you have to spend a lot of time deciding on who is sitting at what table. But the thing is, your guests don't *already* know what table they are sitting at. If you're seating Aunt Susie at Table 7, how could she possibly already know to look for her name under Table 7? Have you ever had to find your name in a sea of names that aren't in any particular order? It's chaos, confusing, and craziness. Think of all of the guests that would be gathering around your chart or escort cards searching for their names! And think of how long it would take them to find their names and how much confusion there would be. Half the time, they would probably just give up and find a server or someone working at your wedding to ask them if they have a list and can tell them where they're sitting. Utter chaos I tell you! :)
So with all of that said, please please PLEASE do your guests, your wedding reception, and your vendors a favor and stick to ALPHABETICAL ORDER!!
Have any questions? Please feel free to comment with a question, or send it in to the ELD Q&A! And be sure to check out ELD Wedding 101 for more tips and advice posts!
xoxo,
L [Yes, this is new… I've decided to start signing my posts, since all of my wonderful contributors do too :)]

The following two tabs change content below.
Lauren Grove is the editor and owner of Every Last Detail. A clueless bride-turned-wedding planner, Lauren uses her experiences and knowledge to educate and inspire brides all over the world.