Hi friends! So today I'm going to take a little bit of a detour from the usual Thursday post. As I near the 3 year "anniversary/birthday" for ELD (which is in November), I've been doing a lot of thinking about things including new features and series being added to ELD 2.0 (yes, an updated site is in the works!), how far I've come in the past 3 years, and even how I got started. I'm also gearing up to start a series that could potentially "stir the pot" as they say, and that kind of scares me- a lot. And so today, this is my reminder- and your explanation- for why ELD exists… essentially a little story of the past 3.5 years of my life.

The other day, a new reader of Every Last Detail said something to me that reflected exactly what my intentions are- and always have been- for ELD. She said, "Your blog is different than all the others that are out there. You seem passionate and… like you know what you're talking about!" I wanted to jump up and down, clap my hands, and kiss her. Because yes- THAT is precisely why I started ELD, and why I have been continuing it for nearly 3 years!
The truth is, I kind of just fell into blogging and the wedding industry. I started because I wanted to HELP others. I wanted to share my experiences, and share accurate and correct information with brides. As I was explaining this to the aforementioned reader, I mentioned that it was because of my own wedding planning experience that I started blogging in the first place. And then she said something else that served as a reminder to me- I hadn't really shared my whole wedding planning experience here on ELD. Yes, I've shared tidbits here and there, and to be honest, I have started writing something a few different times, but it always ended up being ridiculously long and I would end up setting it aside to come back to. But now, I think it's finally time to share my story with you all.
You see, I wasn't one of those wedding bloggers who had an absolutely fabulous wedding full of details that was featured on a big blog or in a magazine. In fact, my wedding wasn't featured anywhere (except for in the first pages of ELD, which back then wasn't even ELD). I was just a bride. A bride who thought I was doing everything the way that you were "supposed" to. I bought the magazines, followed the timeline and the recommended budget percentages, hired all the vendors that I was supposed to hire. Blogs were hardly in existence yet, I cut photos of things I loved (but would later find out couldn't afford) out of magazines, and I had no clue what an "inspiration board" was. I was absolutely clueless when it came to weddings. I had hardly even been in a wedding, and was the first of my friends to get married. My wedding planner was more my mom's style than mine, and I hardly chose any of my vendors to fit my personality. The detail from my wedding that I was most proud of were my favors- because they were just about the only thing that truly reflected my husband and I. Everything that you see me talk about here on ELD- personal details, relationships with your vendors, etc- was just a distant dream when I was planning my own wedding.
But the other funny thing is that I didn't even plan my own wedding. I know what you're thinking- the wedding planner-turned-blogger didn't plan her own wedding? The thing is, I wasn't a wedding planner then. Remember- I was totally and completely clueless about weddings. The truth is, I was working full time and finishing school, so naturally, most of the duties fell to my wonderful mother. Sure, I gave my input and attended some meetings, but my mom and my planner worked together on most everything for my wedding. Don't get me wrong- my wedding was still beautiful and fabulous, but if I could have known what I know now, it would have been completely different.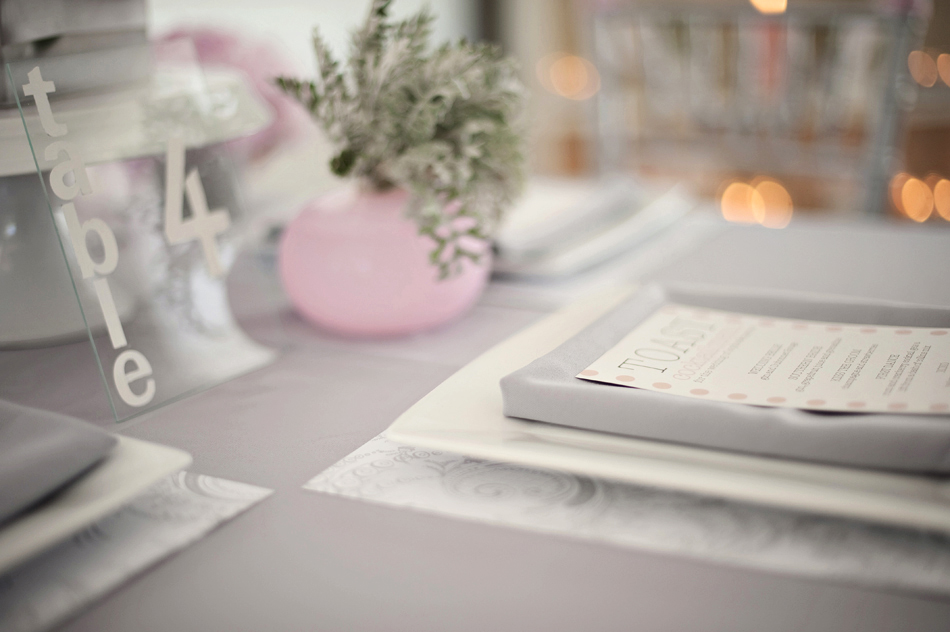 (Not my wedding… but one of the first inspiration shoots I did with the wonderful Kristin Weaver!)
I'll get into the nitty gritty details of my whole entire wedding planning experience another day, but today I want to share my "story" and let you all know how ELD came to be…
A few months before my wedding, I discovered wedding blogs. Of course I thought it was too late to make any changes to my wedding (it really wasn't), so I just held my tongue on all of the amazing things that I was seeing and loving. We got married, had an awesome wedding, and then while on my honeymoon, I started thinking of things that went wrong on the wedding day- things that shouldn't have gone wrong. I started to realize that even though I did everything "by the book", the things that had gone wrong could have been easily avoided if I had just known. If someone had told me about these common mishaps that can occur at a wedding or during your wedding planning, everything would have been so much better. But the thing is, I was the first of my friends to get married, so I didn't really have anyone to give me tips or show me the ropes. And so, after realizing all of this, I set out on a mission to help other brides. I didn't know how I was going to do it, or if I would even be able to, but I knew that I wanted to be there for other brides so that they could have a better wedding experience than what I had.
I started a random blog with absolutely no idea what I was doing, and I joined Twitter. On Twitter, I "met" a planner close to my hometown who was hosting a wedding planner certification course (love you M!). I talked my parents into paying for the registration as my birthday present (and so began the all-I-want-for-gifts-is-business-stuff-I-can't-afford), and attended the course. I wanted to know how to plan a wedding, and how a wedding day should run. I wanted to actually know what I was talking about so I could achieve my goal of helping brides. I learned the ins and outs, the right and the wrong. And yes, I definitely confirmed that my wedding could have been SO much better. But the most beneficial part of that course was what happened afterwards. Part of the requirement for certification was to "apprentice" for a wedding-related company (aka work for free). I emailed a bunch of planners, and finally got a response from an event design company. I worked for free for a month or two, and soon after started working for them part-time, which quickly became full-time. I was planning and designing weddings, busting my butt working AT weddings, networking, gaining experience, and all the while, building Every Last Detail- which at the time, I thought would be my eventual planning business. I had no idea that ELD would develop into an actual professional wedding blog, and I would find my passion in being able to reach- and help- thousands of brides. Now that I think about it though, it makes total sense though, right? I mean, I wanted to help other brides, so what better way than with a national blog?! :)
After a little over a year and half of wedding industry experience AND blogging under my belt, I took the leap to grow ELD and started blogging full time. The hardest thing was- and still is- that in going full time, I took on the responsibility of being the sole provider for my husband and I (and our pup Penney!), as he is in chiropractor school. We didn't have anything to fall back on "just in case"- everything was (and still is) riding on my shoulders… which let me tell you, at times can be SUPER stressful. But I'm also SO thankful that I took the leap, because if I hadn't, I wouldn't be here right now. :)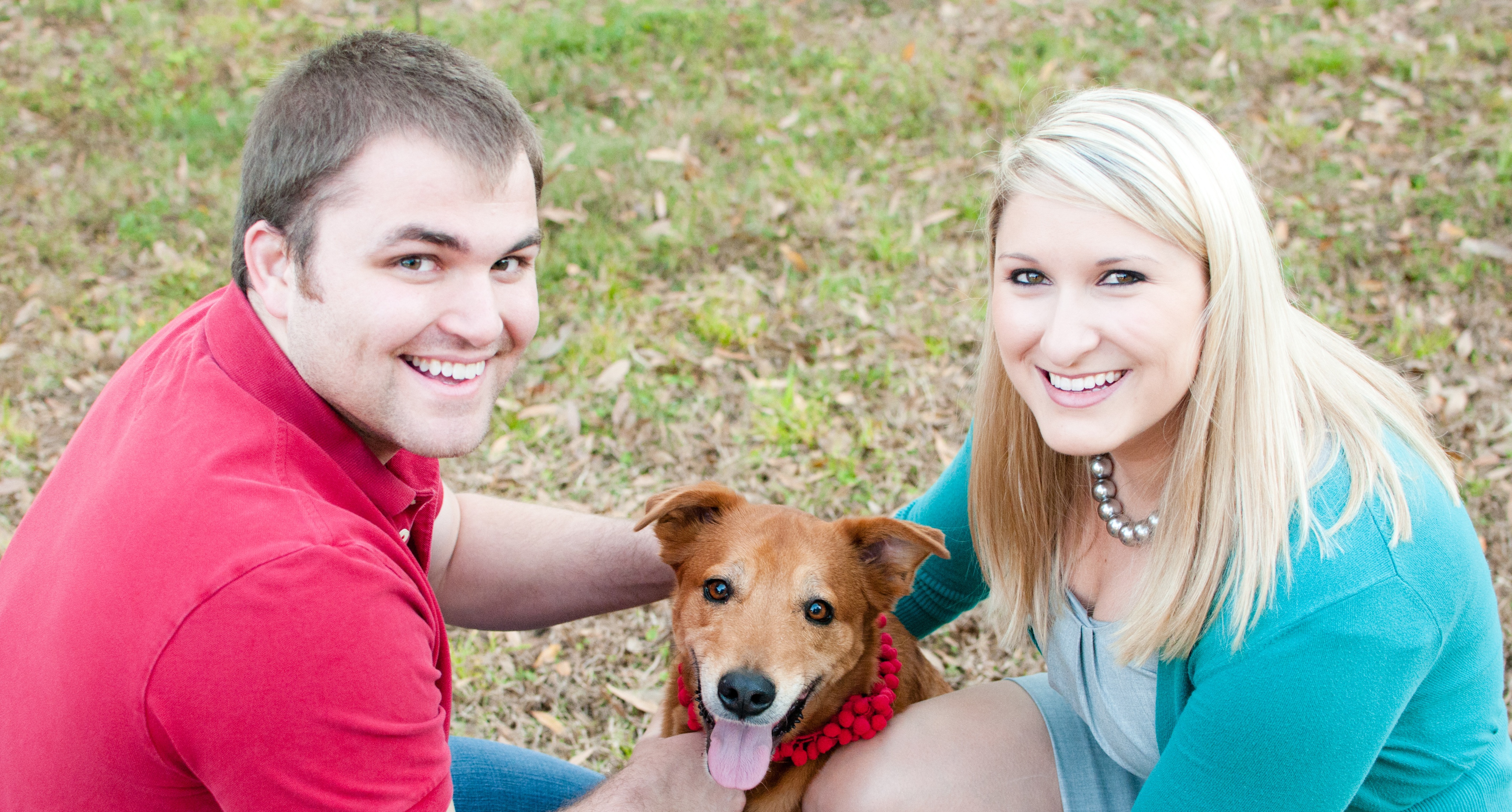 (My little family, taken in February by Caroline & Evan Photography)
I'm sharing this with all of you today because I want you to know that the posts I share are coming from a place of experience, truth, and passion. I'm not just pulling things out of thin air, or rehashing what is in magazines or on other sites (which in my opinion, is usually wrong). I've actually experienced planning a wedding from both sides- that of a (clueless) bride and a wedding planner. Some of the information that I share you may or may not agree with, and that is totally fine. Everyone has their own unique situation- everything would be so much easier if there weren't family dynamics and limited budgets, right?!  I believe that great weddings happen when great wedding professionals are hired, great family and friends help out, and the love to two wonderful people is celebrated. I want each and every couple out there to have a great wedding by being educated about weddings and wedding professionals, and that is what I have set out to achieve.
So wow, I just summed up the last 3 years of my (business) life there. If you had told me 3.5 years ago that I would be a full time wedding blogger, I would have told you you were crazy. Seriously. [I still have trouble explaining that to people- I don't even think my family or friends really even know what I do. ;)] But here I am today, owning my own business. Sure I'm working 16 hour days to support myself and my husband (counting down the days until he graduates!), all from my little corner of a teeny tiny room in our 700 square foot house. But you know what? I'm so very thankful that I have "fallen" into this career- and I'm thankful for all of you too! Thanks for coming along for the ride thus far, and I hope you'll stick around for all that I have planned for the future! :)
Speaking of the future, I have this little survey that I would be so very grateful for you to respond to! As I mentioned at the beginning of this post, I'm in the midst of planning lots of things for ELD and will soon be rolling out Version 2.0 of ELD, and I want to make sure you all are getting what you want! I would greatly appreciate your input! :)
THANK YOU THANK YOU for contributing your thoughts and opinions!!! :)
PS: I no longer plan weddings, and haven't for almost a year. Honestly, planning weddings takes A LOT of time and patience, and I don't know how on earth I would be able to blog and plan weddings! ;)
PPS: This whole post is perfect timing because this morning I got an email telling me that Every Last Detail is finally a REGISTERED TRADEMARK!! It's been a little over a year, but it's finally all mine! :) YAY!
The following two tabs change content below.
Lauren Grove is the editor and owner of Every Last Detail. A clueless bride-turned-wedding planner, Lauren uses her experiences and knowledge to educate and inspire brides all over the world.