Have you ever thought about having a wedding that truly reflects you and your fiance? We all know that's what details are all about, and when I was talking to Staci of Unique Weddings & Events about personalized wedding details one day, we started talking about how cool a wedding between two people who met in science class would be! So we decided to create some science themed wedding inspiration to reflect just that! We teamed up with some fabulous Tampa Bay wedding vendors (including Kismis Ink Photography, A&P Designs, and Michele Renee Hair & Makeup) and the local science museum, MOSI, and the result was this amazing "Science of Love" wedding inspiration shoot!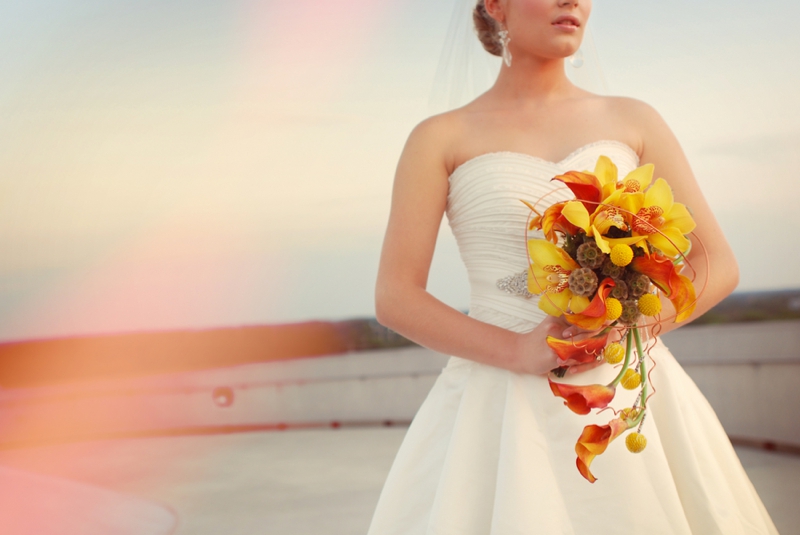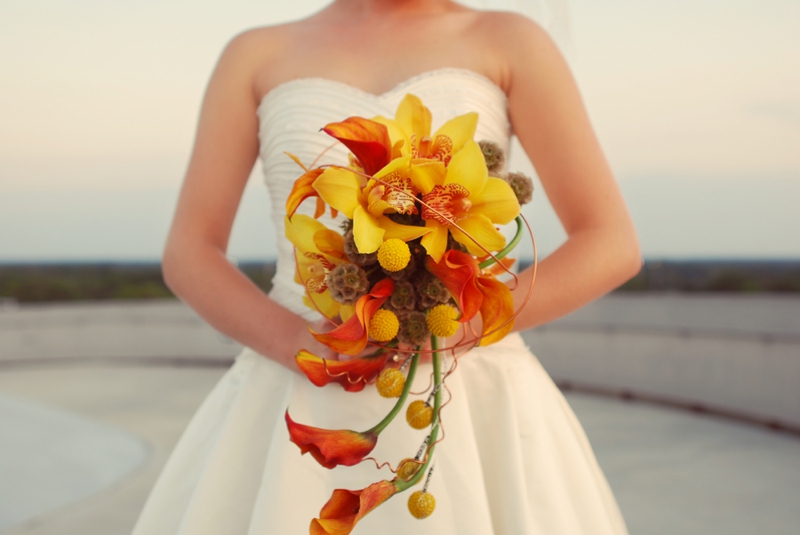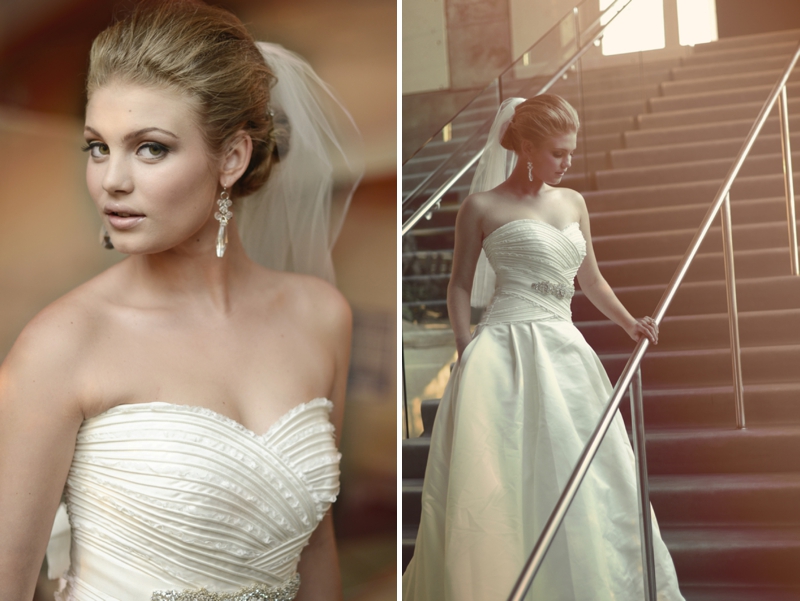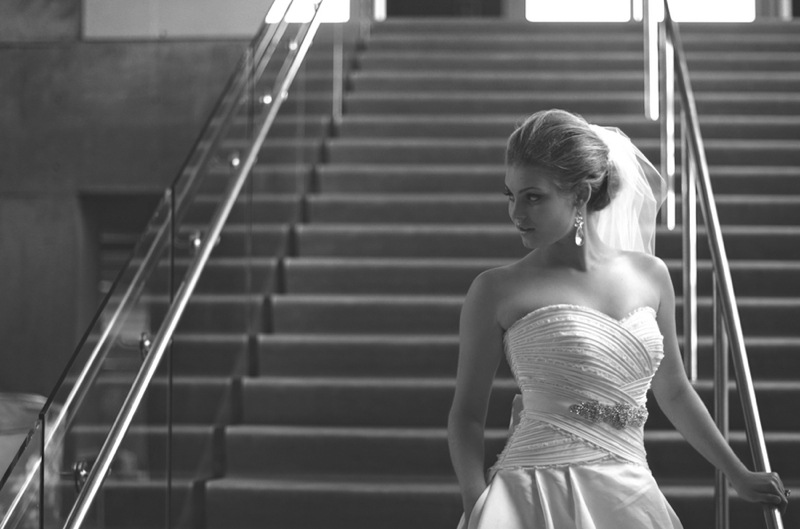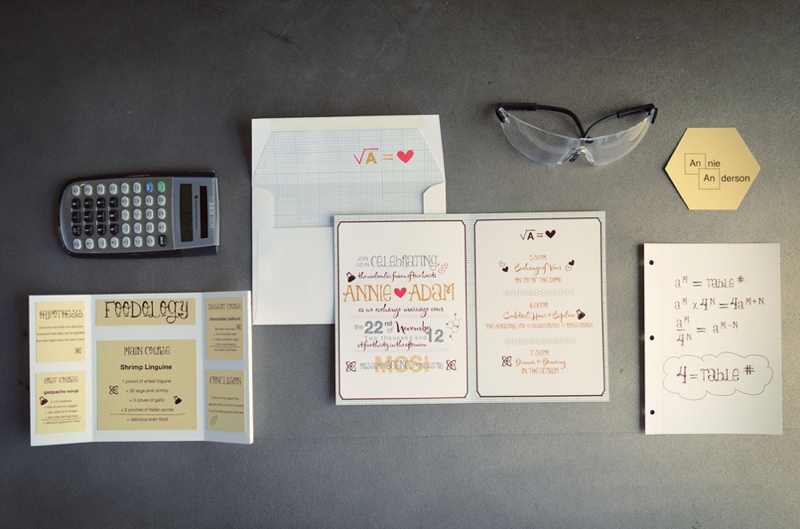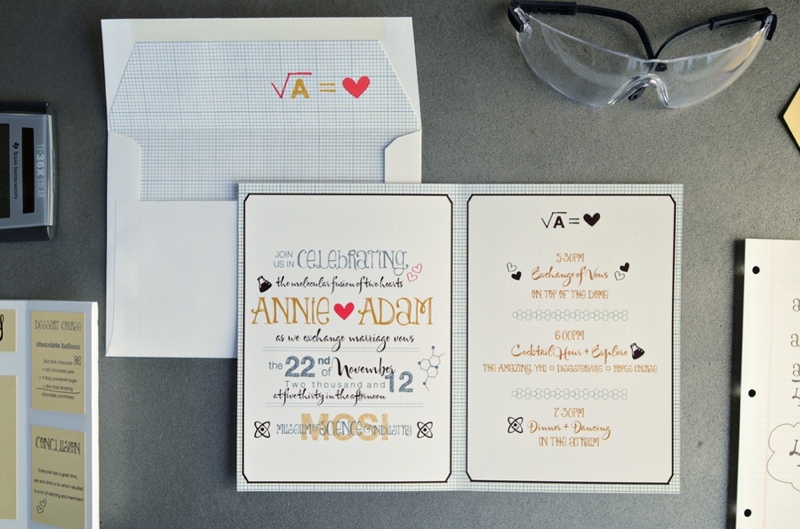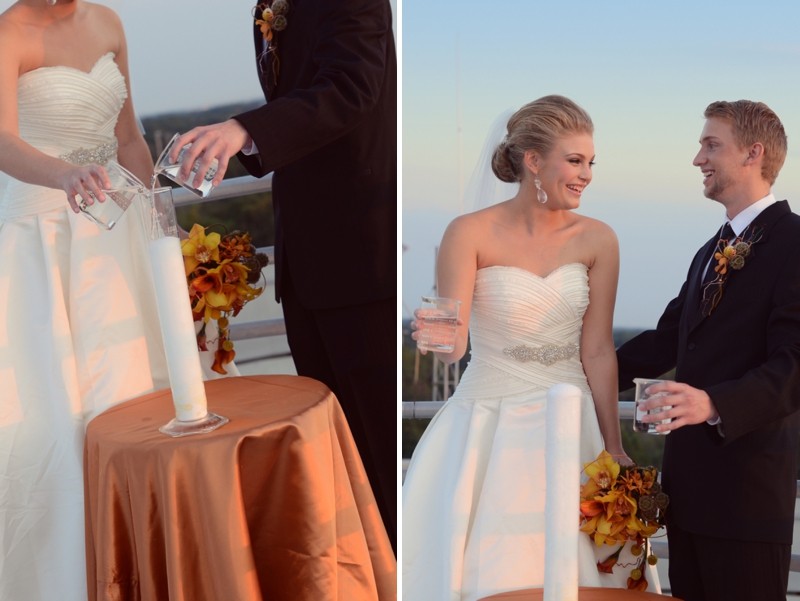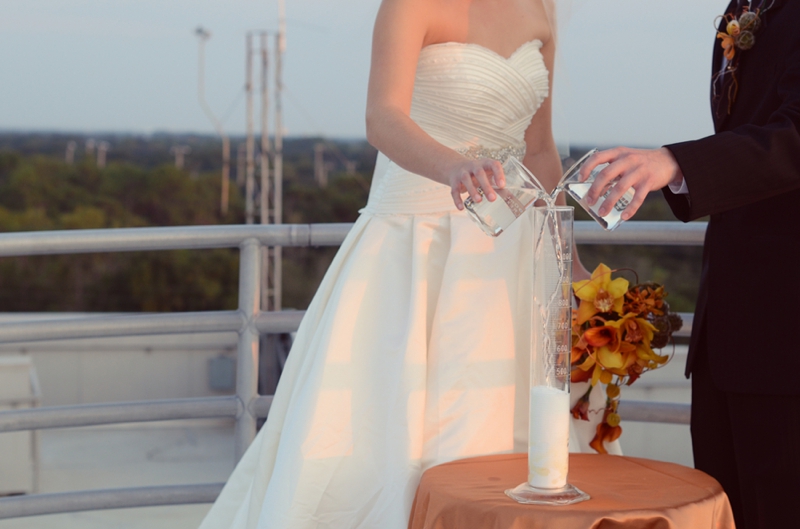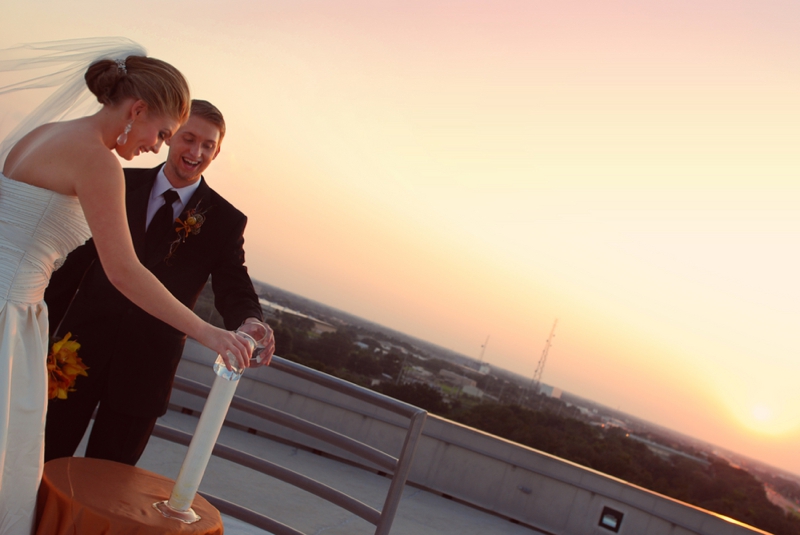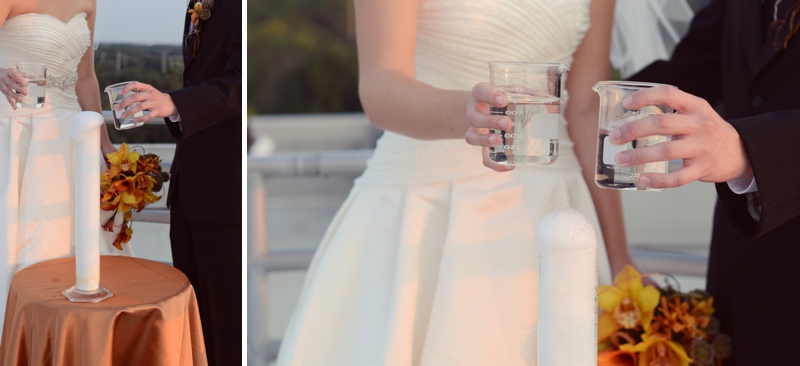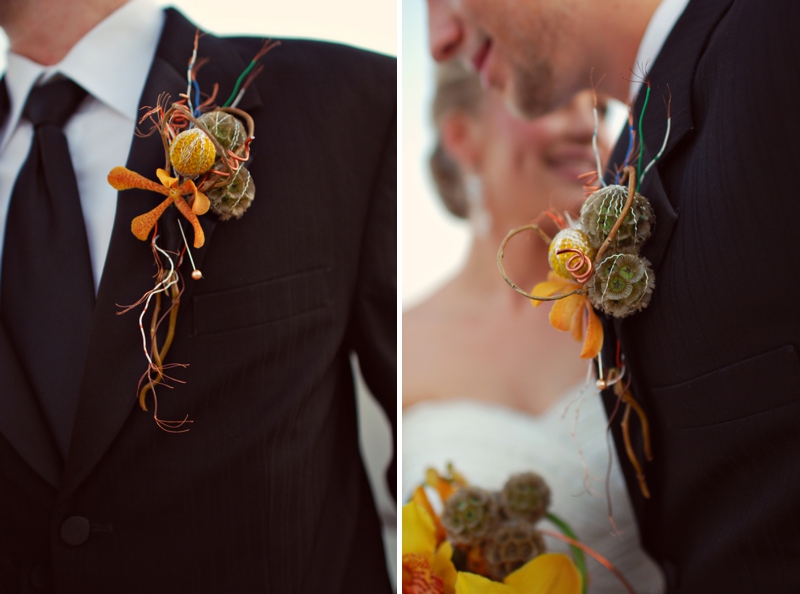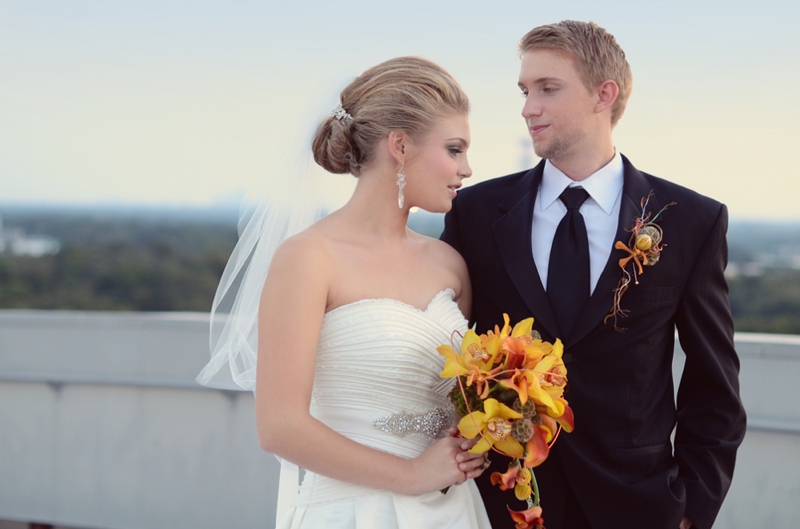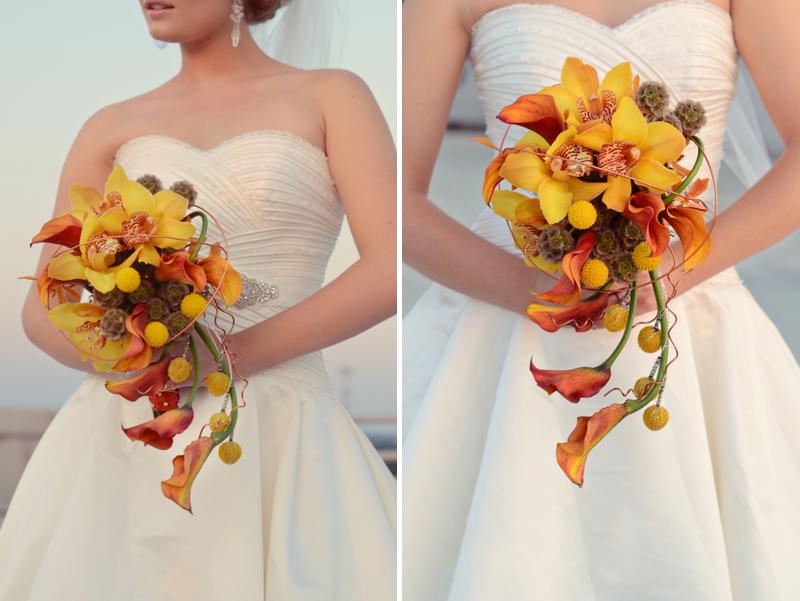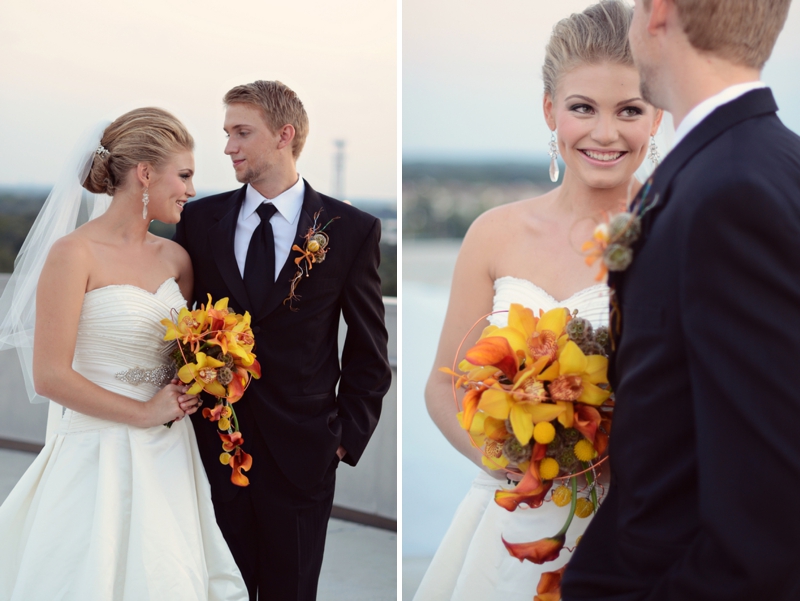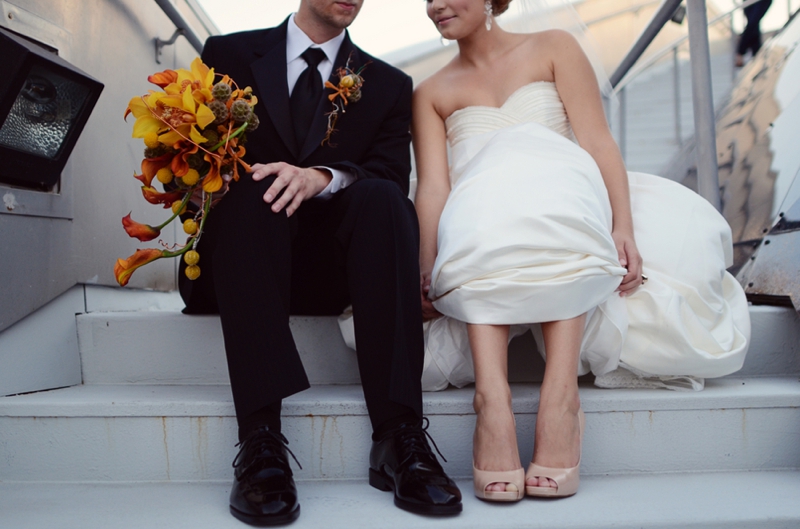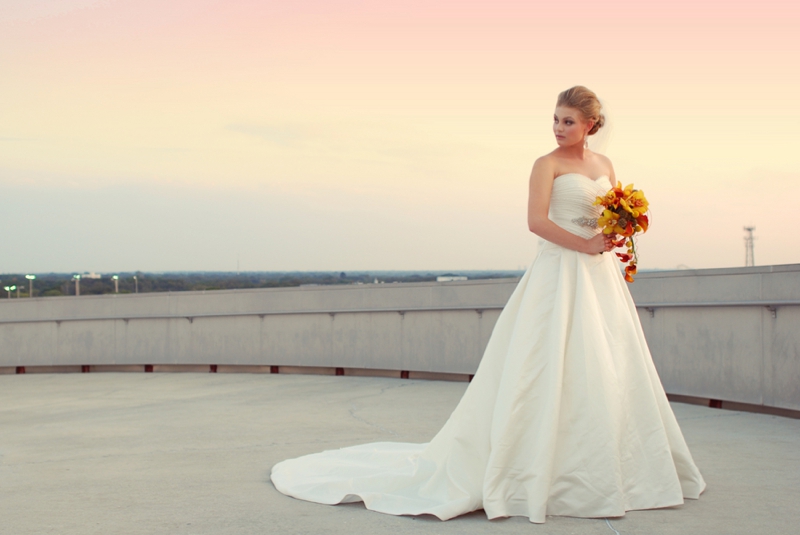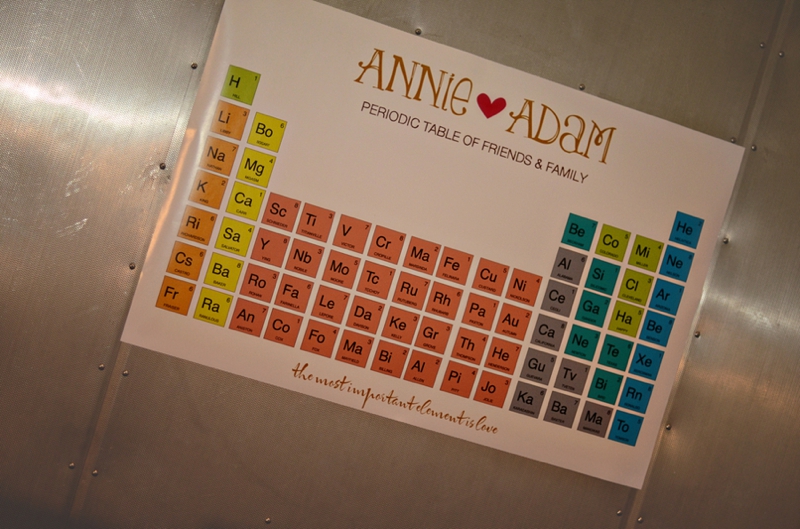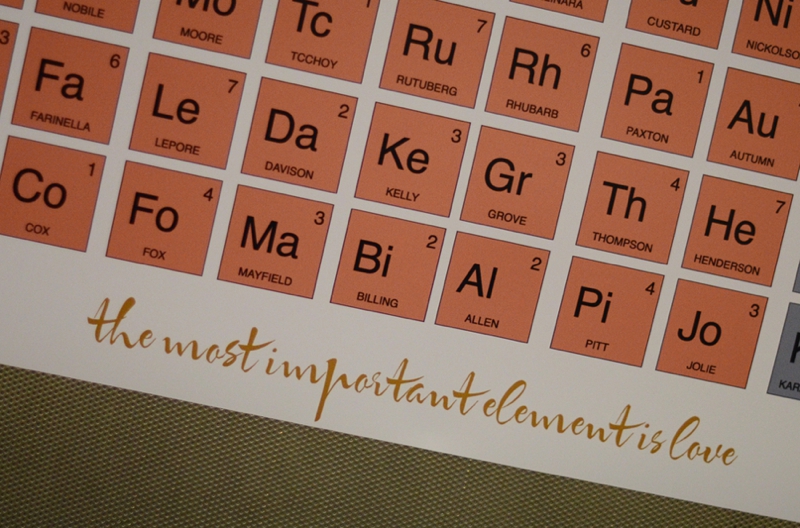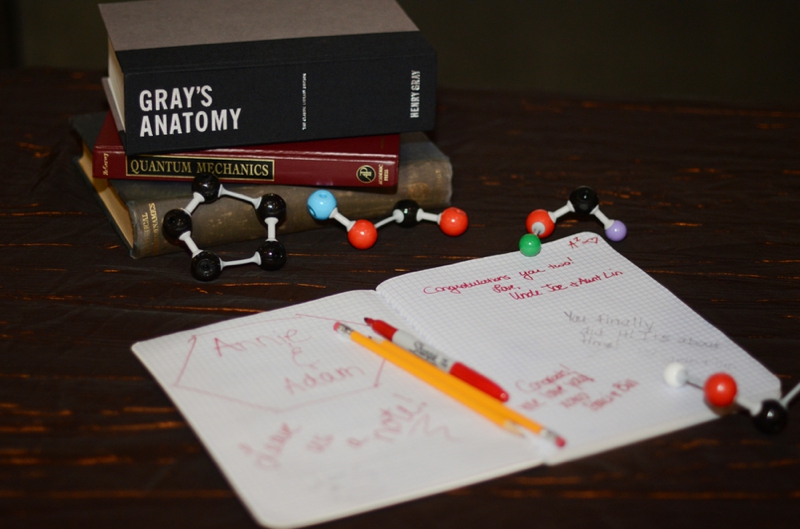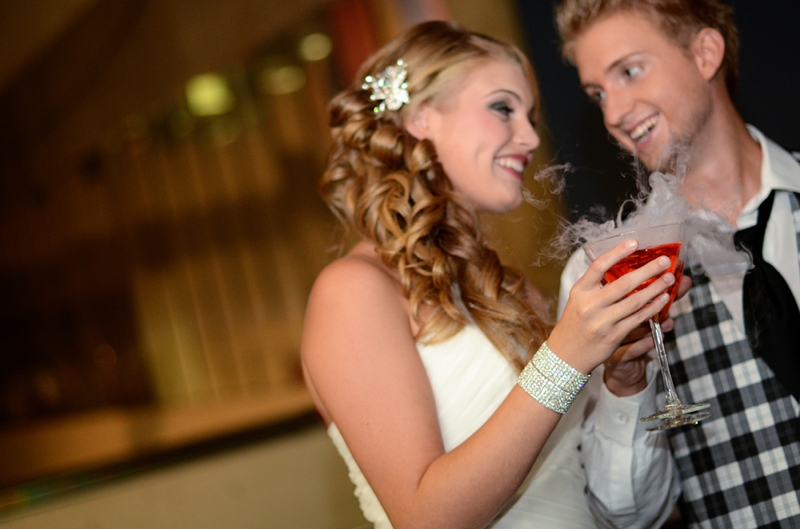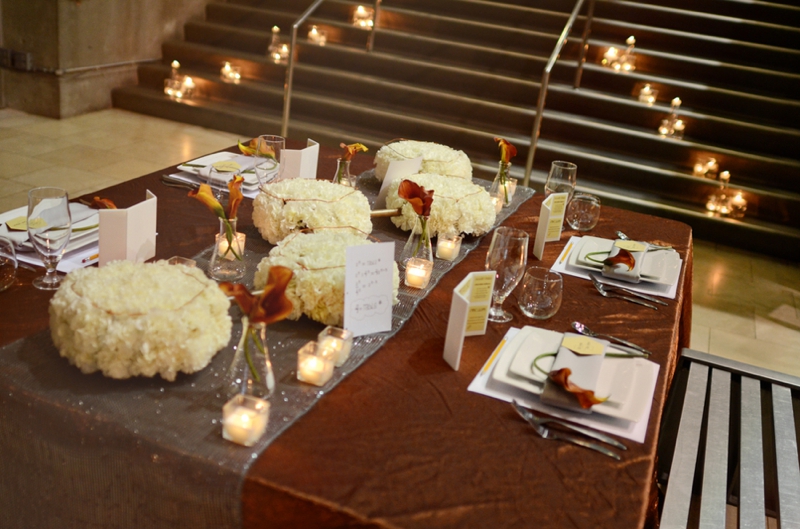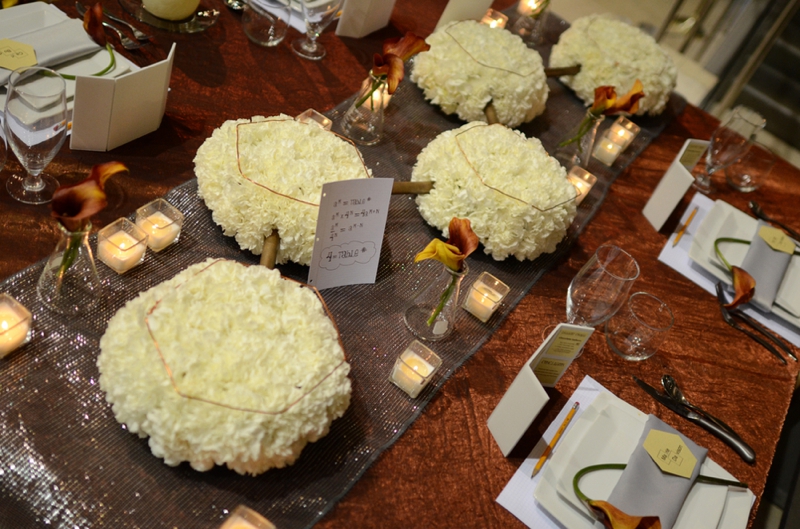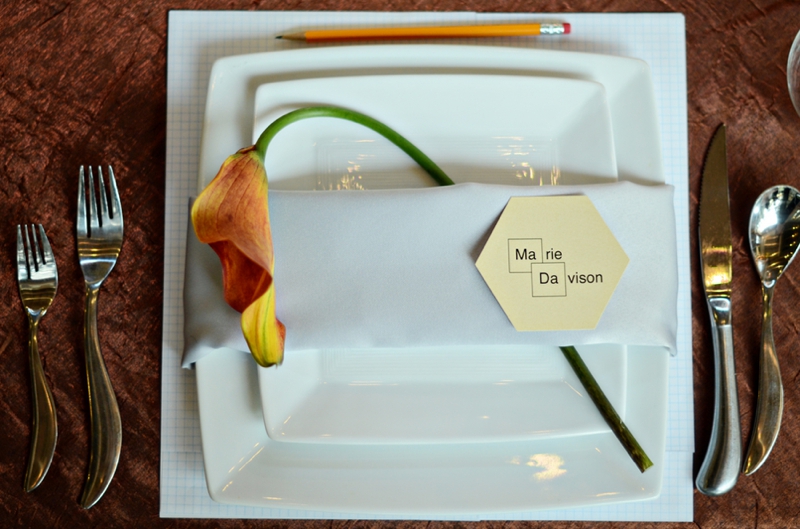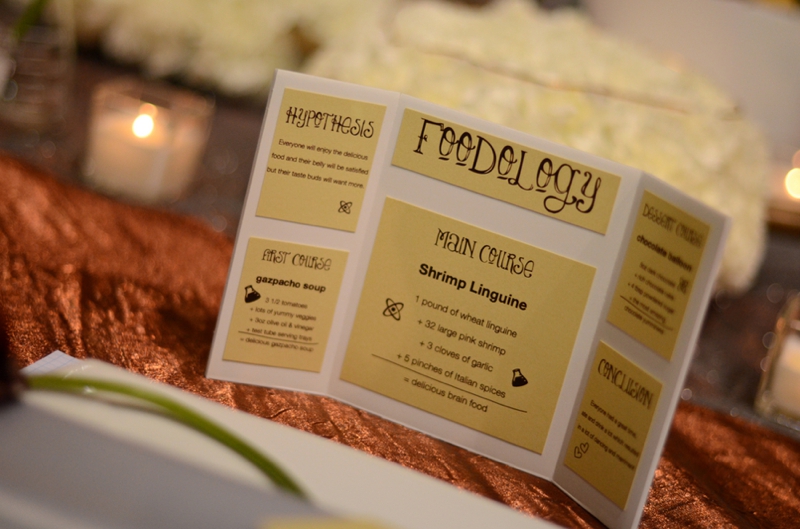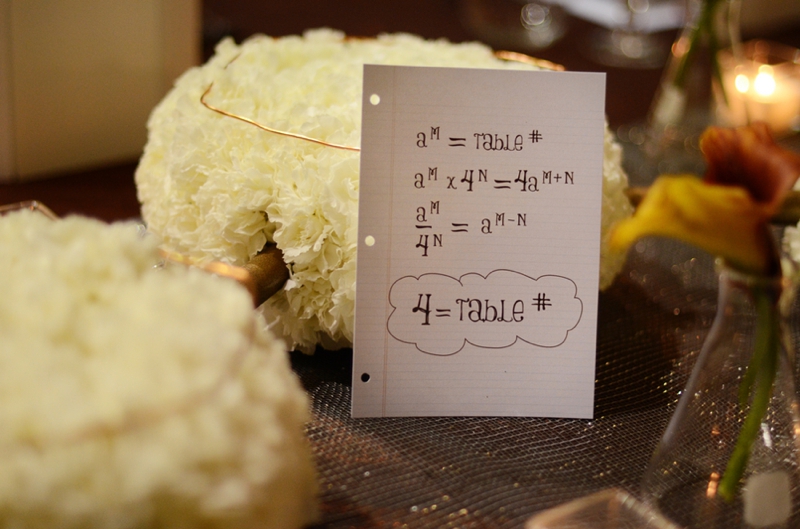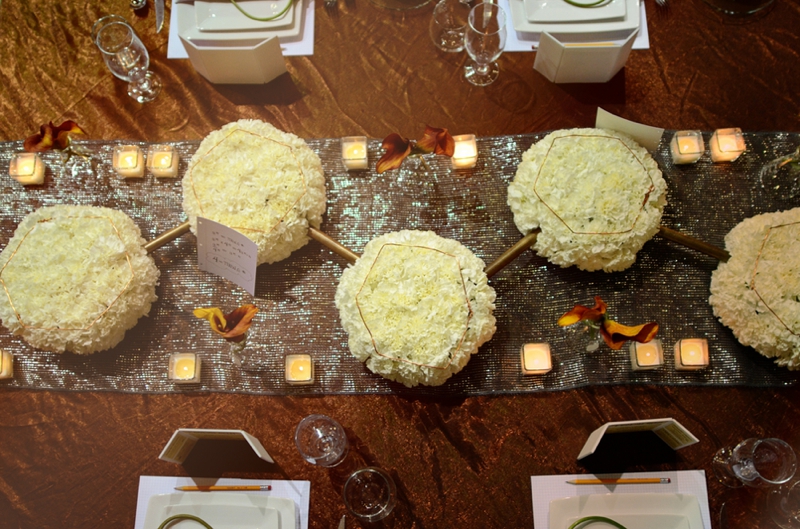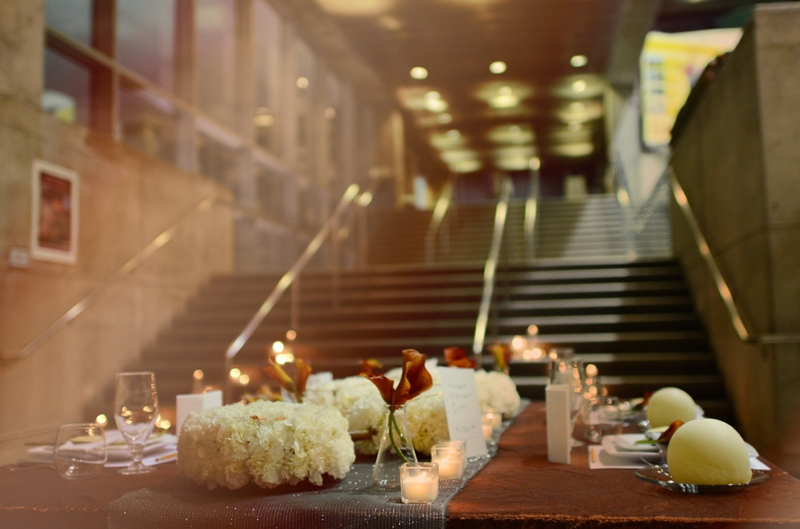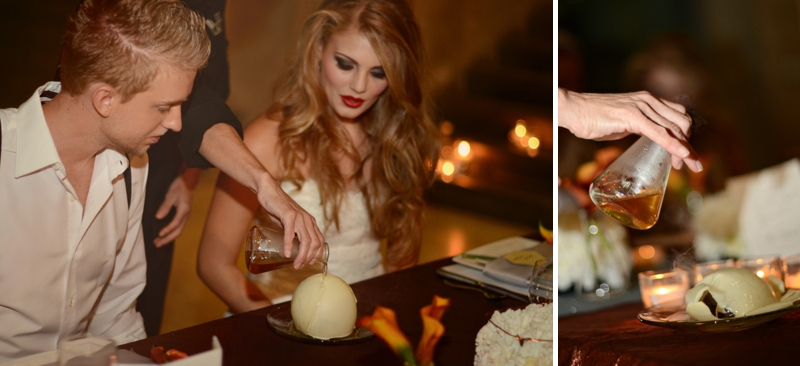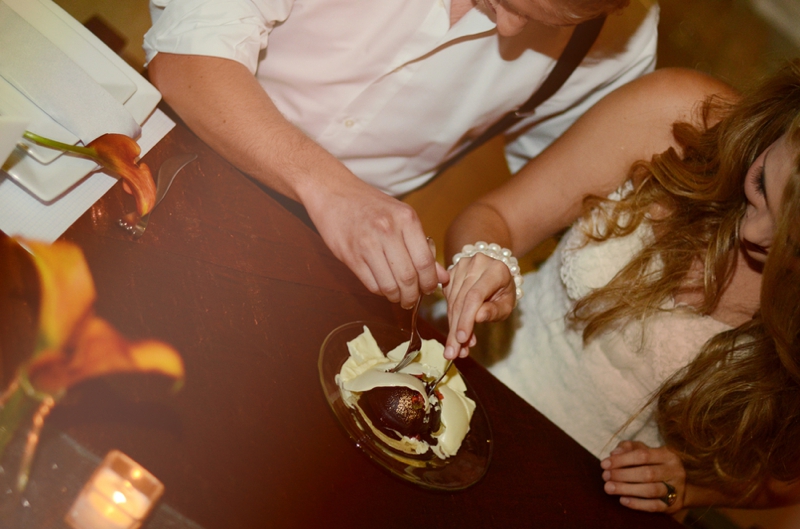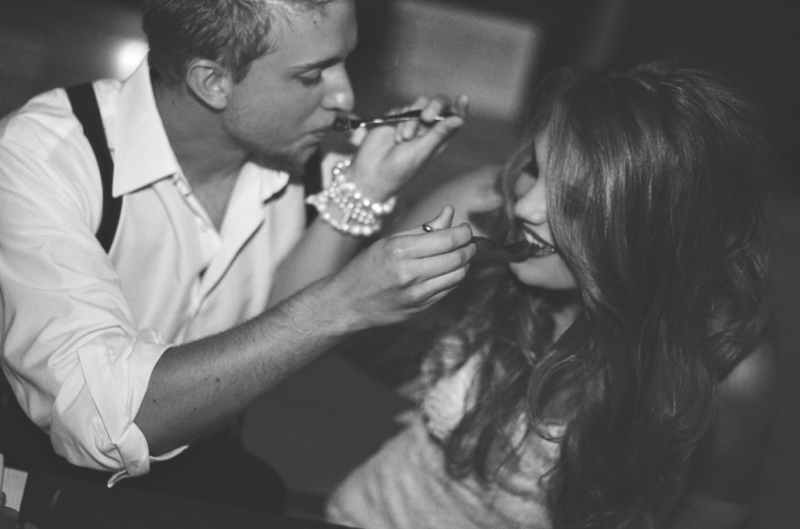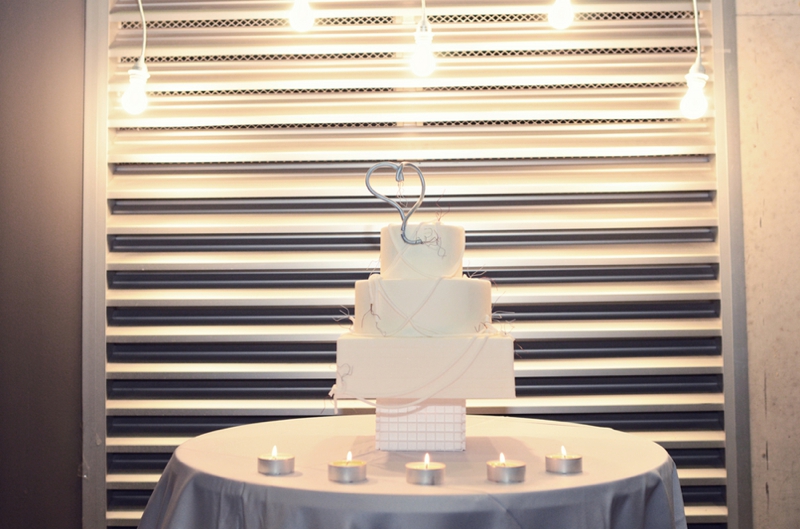 From Staci of Unique Event Design,
"Annie & Adam" met in college. As scientists, they wanted their wedding to represent the story of their relationship, hence "Science of Love" was created. A metallic color scheme combining copper, gold, and silver was set.The venue's metal, glass, and concrete interior created an amazing contrast against the elegant bride. The bride carried an avant garde bouquet, combining orchids, lilies, and scabiosa pods. The exotic florals and frayed wire accents created an asymmetrical shape and loads of dimension. The groom's boutonniere kept a masculine edge by combining the flowers with wires. For a unique take on a unity ceremony, the bride & groom poured vinegar over baking soda creating an overflowing, scientific reaction. A periodic table seating chart was used to guide the guests to their seat. Cocktail hour centerpieces incorporated dry ice and fire, and hors d'oeuvres included tomato soup served in test tubes and shrimp with sauce eyedroppers. Beakers and glass containers of floating candles led the way to the table setup on the first floor of the museum. A linen, replicating liquid copper, framed the tablescape beautifully. The table centerpiece was reminiscent of the design of DNA, with hexagon shapes and connecting tubes, atop a metal mesh runner. The table number looked like a typical piece of notebook paper and broke down multiple math problems with x = the table number. The stand alone menus were the major highlight of the tabescape resembling miniature 3-sided science project boards. A copper colored calla lily graced each napkin and hexagon placecards had the guests' names noted like periodic table elements. For dessert, the mysterious chocolate balloon was featured. Warm liquid is poured over an edible sphere and as it melts, a chocolate dessert is revealed inside. The wedding cake was kept all white with metallic frayed wire accents and a wire heart topper. It had a backdrop of metal slats and was highlighted with exposed light bulbs above.
Little-known fact: I actually used to be a bit of a science nerd! So of course all of this science stuff kind of excites me. Plus, as someone who took classes and labs with her significant other, I definitely understand the meaning behind having a theme like science- it can end up being your life, and the thing that you share with each other too!
So brides, would you consider a specific theme for your own wedding? Do you share anything with your fiance that you would be able to theme your wedding around? The sky is the limit, because no matter what, it's about what is defining YOU!
Vendors who made it all happen…
The following two tabs change content below.
Lauren Grove is the editor and owner of Every Last Detail. A clueless bride-turned-wedding planner, Lauren uses her experiences and knowledge to educate and inspire brides all over the world.