This romantic Florida wedding is filled with classic style and beautiful pink and ivory accents. Leah Langley Photography did a fabulous job capturing the details and moments of Nano and Justin's wedding day!
What (or who) helped you most in your planning process and/or on your wedding day?
My husband and I planned the whole wedding on our own, and reading wedding blogs like ELD and following wedding forums like weddingbee.com was a tremendous help in terms of figuring out what are the latest trends, choosing wedding theme, getting decoration inspirations, etc. I am also extremely thankful to my photographer who guided me through the whole process of wedding planning, offered advice and even helped me find our priest. Last and but not least, no matter how cliche it may sound, I truly have been one of the luckiest brides on earth, because on the wedding day my husband personally set up all wedding decorations and made sure everything was perfect, while we girls were relaxing and getting ready.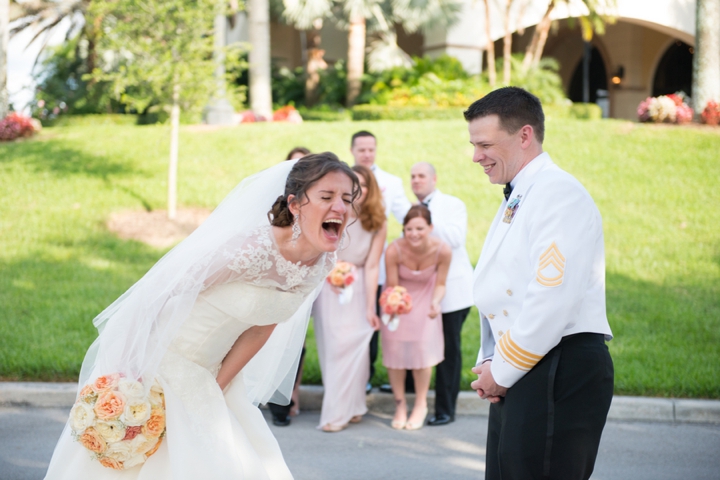 What was the most important thing to you when deciding who to work with for your wedding?
I was looking for a good price/quality ratio. We were trying to find the best quality vendors that fit into our budget. Again, blogs and forums were helpful as I paid a lot of attention to recommendations and customer reviews.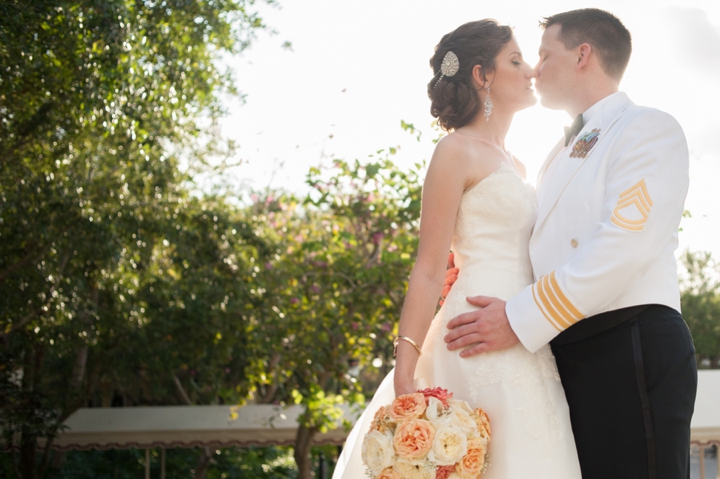 What was your inspiration for your wedding details and/or design?
Relaxing on the beach with an interesting book – that's where all the details of our theme stemmed from. Among many other details we incorporated books and used ostrich feather centerpieces to give a feel of palm trees. Every table was named after our favorite books. We also had floating candles in the water and candles in sand on every table to further that theme. I have a degree in literature and the wedding was in Florida so all the symbols fit in. In addition, we included some elements from my culture (traditional Georgian drinking vessels which came with specific toasting rules) and military details to highlight my husband's military background.
What was your favorite thing about your wedding?
One: the  moment when my husband and I first saw each other as I was walking down the isle. We didn't do The First Look, so seeing his look full of admiration and love meant a world to me.  Two: the reception! We had 80 guests. Only the closest friends and family and it felt so homey, so friendly. We had time to spend a little time with each and every guest yet had enough time left to enjoy the party. I can honestly tell you that I had the time of my life at my own wedding party and danced the night away.
What is your best piece of advice for other brides?
I cannot stress it enough how important it is to relax on your wedding day. Brides, please, stress out as much as you want to before the wedding BUT on the day of forget about everything and concentrate on enjoying this wonderful day. No matter what goes wrong, it will be too late to improve anything by that time anyway, so why stress yourself? Plus, whatever might seem terrible today, will seem hilarious in years to follow. I planned my wedding for one year and then it ended so soon! Not everything went as I planned, but then, so what? It was my wedding day and that's what made it ideal and special. I am glad I filled myself with positive attitude and thus had a chance to savor every single second of this beautiful day in my life.
I love how they pulled their theme from the things they love- like sitting on the beach and reading a good book! That's such a great idea!
Will you be drawing your own wedding inspiration from something you love doing?
Vendors who made it all happen…
The following two tabs change content below.
Lauren Grove is the editor and owner of Every Last Detail. A clueless bride-turned-wedding planner, Lauren uses her experiences and knowledge to educate and inspire brides all over the world.