This colorful wedding I have for you all today is one of my favorites ever! David and Alina wanted to make sure that their friends and family had fun at their wedding, and my goodness, they most certainly did! Ashton Events worked alongside David and Alina to design a wedding filled with personal, Cuban-inspired details, handmade paper flowers (created by the bride!), and colorful florals (by FH Weddings & Events)… all playing a beautiful part in creating the fun event they dreamed of. Lucky for us, the fabulous ladies of Papered Heart Photography were there to capture the day- pretty amazingly I might add! In fact, they captured everything SO perfectly that you will feel like you're there… so sit back and experience this fun, colorful wedding with me while Alina and her planner Laura describe the details for us!
From the bride, Alina:
What (or who) helped you most in your planning process and/or on your wedding day?
Laura Helm of Ashton Events. If it hadn't been for Laura I would have been a ball of stress come the day of the wedding and my vision would not have been executed so precisely.
From Laura of Ashton Events: Alina and David did their first look on the Ybor trolley. Liz of Papered Heart Photography took the time to go out and time the trolley stops so they could execute it perfectly. Those pictures of some of my personal favorites, and I know Alina is so grateful for them! They even brought over Tobias, their dog, for some of the family portraits. How fitting!
What was the most important thing to you when deciding who to work with for your wedding?
Working with individuals that really care and have a passion for what they do was integral. I feel that that transfers over to the customization of the event.
From Laura of Ashton Events: We used chalkboards cohesively throughout the day to guide guests. I loved incorporating some of the elements of the invitations into the chalkboards, to keep everything consistent! I loved the mix of cigar boxes, some older and some more contemporary. Alina & I treasure hunted for so many items throughout the planning process, and it was so much fun to watch it all come together!
What was your inspiration for your wedding details and/or design?
My theme was cheerful and colorful. The wedding was in Ybor City, Tampa and Laura had the brilliant idea to use old cigar boxes as part of the centerpieces. I also liked that it was an homage to my Cuban heritage. I'd had this thing with Mexico for years and had dreamt of marring there one day but alas it wasn't in the cards. What I was able to do was integrate many of the handmade details I'd wanted such as crepe paper flowers. We wanted a rad party for our family, friends, and us.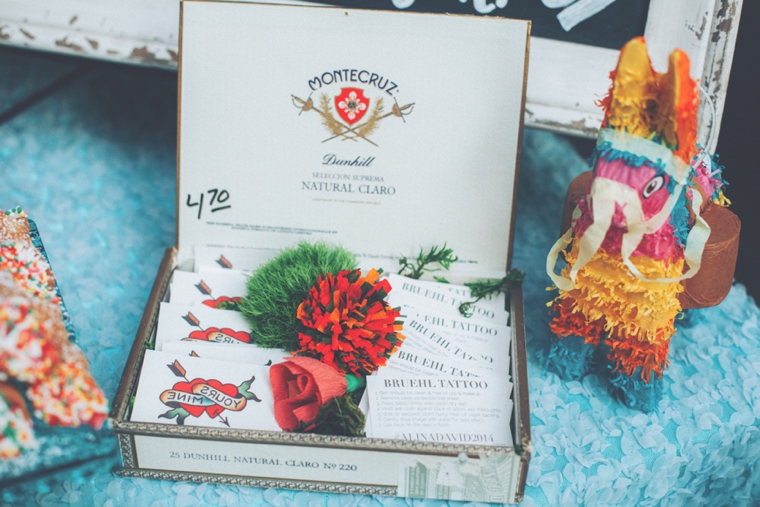 What was your favorite thing about your wedding?
How happy and relaxed we were. We truly were able to enjoy ourselves.
From Laura of Ashton Events: Did you see those two balls sitting in front of the cake table? They were actually fringed pinatas! Abe & Zeke (David's sons) each got to break into them just after Alina & David cut into the cake. It was a fun way to get them involved in the day- and they loved it! David was so kind to send over artwork for custom tattoos. Customizing the back was a fun surprise for me to be able add for them! Who can resist a #hashtag opportunity. :) 
One of my favorite little details was the herringbone garland we strung across the reception area. It added another fun pop of color & personality, without detracting from the space. 
From Laura of Ashton Events: The family dance! What a sweet moment. Alina & David wanted the boys to join them for their own family dance following the couple's first dance. Everyone beamed around the group of four, as they laughed and twirled around the floor. 
What is your best piece of advice for other brides?
Hire a wedding planner! No joke! Not only for your sanity but for an objective opinion. Sometimes you just need someone to tell you what is best.
Best advice ever Alina!! :) Oh, and I didn't mention the parade exit? Yep- quite possibly the coolest reception exit I've ever seen! Everything about this wedding is loads of fun… and it helps that the couple just overflowing with love! I love the way they incorporated their personalities and backgrounds into their details- especially with the Cuban cigar boxes as a nod to Alina's family's culture, and custom temporary tattoos to celebrate David's tattoo artist profession!
Alina and David's wedding shows that you really can infuse your personalities and lives into your wedding however your heart desires. Tell me- how are you going to be making your wedding unique to YOU?
Vendors who made it all happen…
The following two tabs change content below.
Lauren Grove is the editor and owner of Every Last Detail. A clueless bride-turned-wedding planner, Lauren uses her experiences and knowledge to educate and inspire brides all over the world.