When a wedding planner becomes the bride, you know you're in for a treat! Drawing inspiration from her favorite childhood book, Shayne's gorgeous "Secret Garden" inspired wedding was overflowing with meaningful details, stunning florals, and unique design. I could go on and on about all of the beauty, but I'll leave that to Shayne and the images captured by Ryan Zarichnak…
What (or who) helped you most in your wedding planning process and/or on your wedding day?
As a wedding planner, it was important to me to plan wedding but I knew that I wanted to be able to enjoy the actual wedding day. The wedding planner in me came through several times throughout the morning but when I finally decided to let my fabulous team of vendors and four assistants take the reigns, I was able to truly soak everything in and have a blast.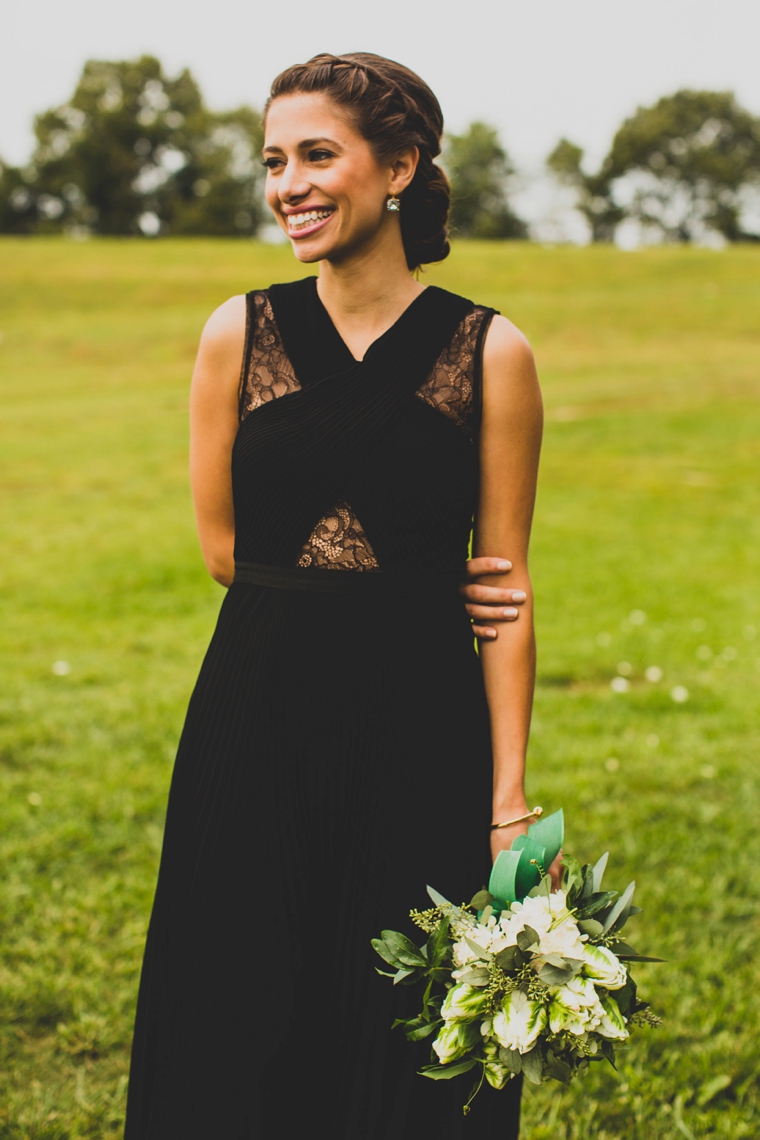 What was the most important thing to you when deciding who to work with for your wedding?
Working in the industry, I knew exactly which vendors I wanted to hire. Trust and attention to detail were the two most important qualities we looked for when selecting our vendors. Photographer and friend Ryan Zarichnak was my first call. Everyone else was booked just two weeks after getting engaged.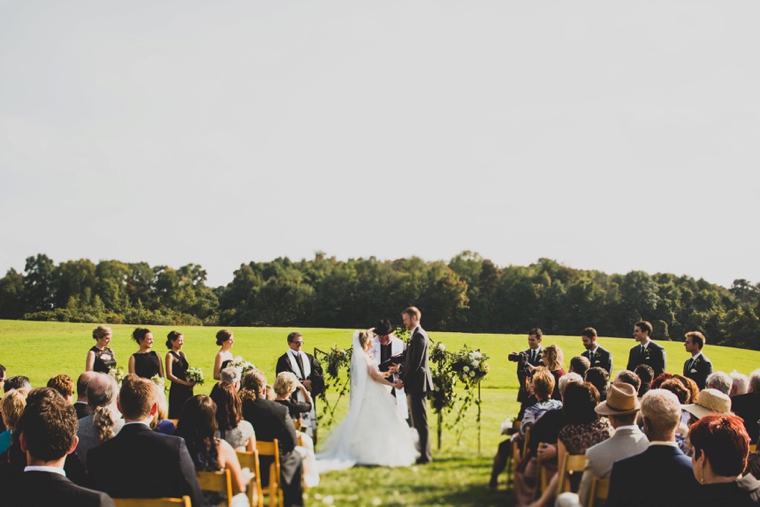 What was your inspiration for your wedding details and/or design?
Two factors influenced my wedding design choices- my favorite childhood book "The Secret Garden" and my collection of antique limoges plates. I began collecting the plates at sixteen for the dream of one day dining in style at my wedding. More than 150 pieces were collected in total, each with an intricate floral design. Etched glass and gold flatware rentals accompanied each setting. Flowers spilled onto the tables from brass candlesticks and candelabras, and grew effortlessly on a vintage gate for the ceremony. To remember loved ones, Hens and Chicks Design included favorite flowers of grandparents and my best friend into personal arrangements. LUXE Lighting + Atmospheres highlighted each beam in the barn and accented empty walls with an abstract tree pattern.
To bring in family traditions, we had "kissing menus" made. Friends and family either choose to clink glasses or continue the groom's family tradition of singing a song in order for the bride and groom to kiss. It made for such fun dinner entertainmen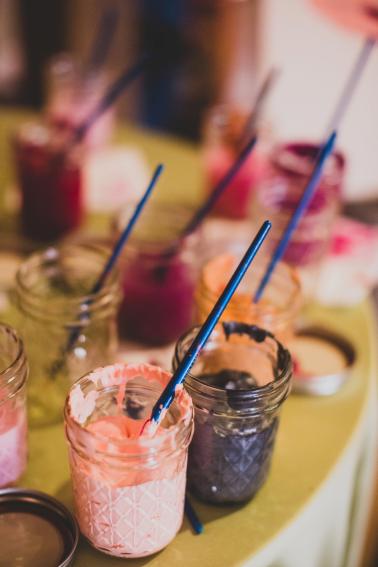 As a former art student, it was also important for me to include special artistic touches. We hired a local artist to paint us during the ceremony. My sister sketched a flower for our guests to paint in as a guest book.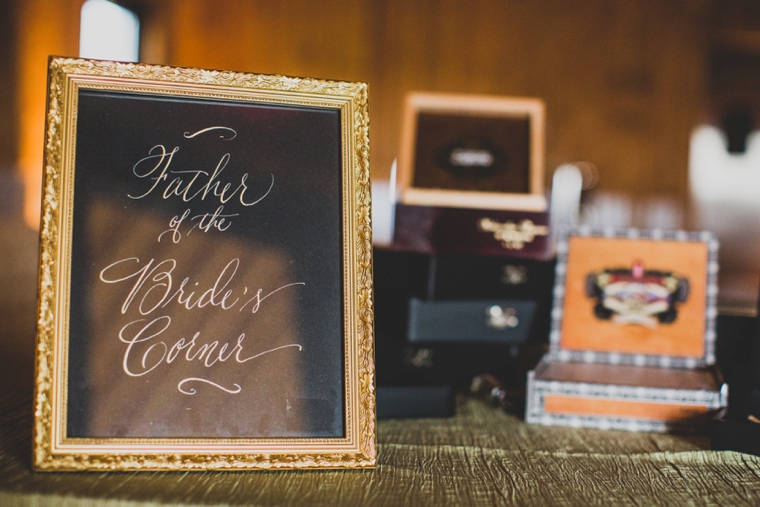 What was your favorite thing about your wedding?
My favorite moment of the day was a nod to the night we met. Guests were handed noisemakers and lined the ramp in front of the barn. Brad and I walked through to our 1947 vintage getaway car. It was incredible to see all of our friends and family cheering and waving as our driver made one last loop before heading to the hotel.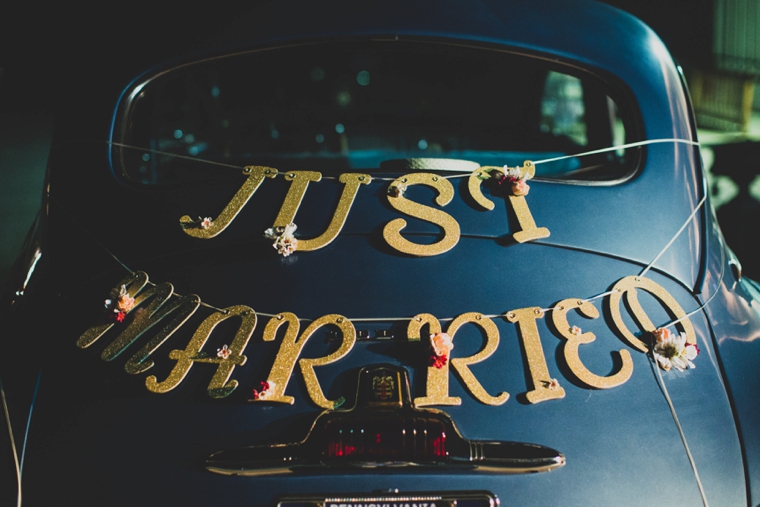 And in my mind, no wedding feature is complete without a video of the day, and thankfully, we have a peek from ShoFilms!
Shayne and Brad – Teaser – 9/20/2014 from ShoFilms
What is the best piece of advice for other brides?
Don't be afraid to delegate! I thought that I wanted to do everything myself but small tasks started to pile up. I invited friends over to stuff invitations and to tie menus and programs. I asked my sister to sketch a flower for our guests to paint in as a guest book. It's a beautiful piece that now sits on our mantle.
Such amazing insight -and ideas too- from Shayne! Even though she knew exactly what she was doing as a professional, she still needed help… and everything turned out perfect! I myself LOVE the way she and her husband incorporated family traditions into their wedding. Oh, and the design of everything is absolute perfection too!
So are you wanting to incorporate any of your family's traditions into your own wedding? What will you be doing?
Vendors who made it all happen…
The following two tabs change content below.
Lauren Grove is the editor and owner of Every Last Detail. A clueless bride-turned-wedding planner, Lauren uses her experiences and knowledge to educate and inspire brides all over the world.