Hi everyone! So today, let's talk about something that will make up a large portion of your wedding- wedding guests! Ultimately, yes, the day is about you and your honey getting married. But if you're including guests in your celebration, you will also want to consider things that will make their experience memorable. So if you want to be gracious hosts for your wedding guests, you may want to steer clear of the following faux pas, in no particular order…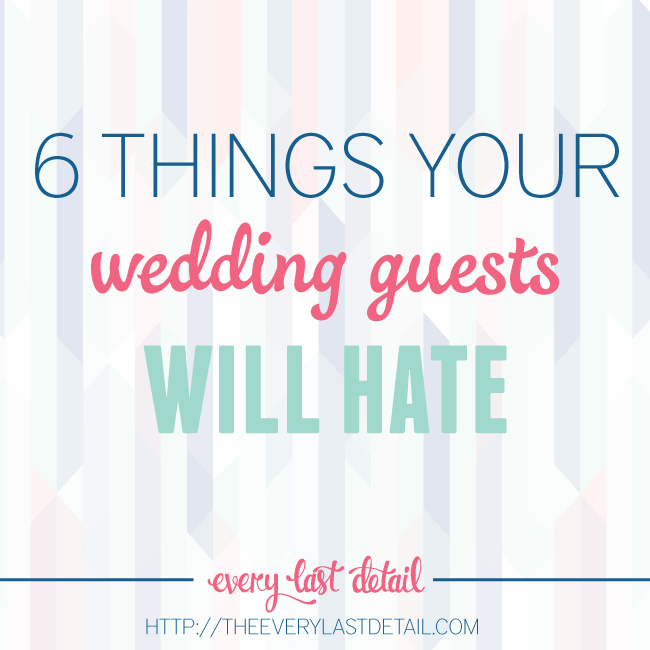 1. An inconvenient date.
Before you choose a holiday weekend or a day in the middle of the week, double check with those that are most definitely mandatory to attend. Nothing is worse for a guest than having to take extra days off work, or having to miss their favorite holiday traditions to make your wedding. Also keep in mind local area event calendars, you wouldn't want it to be impossible for your guests to get a hotel room or complicate your wedding by adding extra local event hustle and bustle to everyone's schedules.
2. No Seating Assignments.
Groups are like sheep. They need direction. Your planner will definitely help provide day-of herding, but it will make everyone's experience more enjoyable if you direct them where to go. Nothing is worse than all your guests standing at your reception entrance with a blank stares and nowhere to go. By creating the (sometime dreaded, and yes, semi-complicated) seating chart, you'll 1) save on the number of tables you'll need to have (If you are having unassigned seats, you should increase your number of seats by 15%, as people will inherently sit with the people they know and will not fill up some of the tables)  and 2) give your guests some direction and provide them with a little fun while seeking out their designated seat. Remember to make sure there aren't too many people per table… you want to prevent elbow knocking and uncomfortable closeness between you guests.
3. Bad food and/or not enough food.
The thing that most guests remember from a wedding- the food. And remember that one bad food experience you had that just made the evening awful? We've all had one. Make sure you taste the food you are planning on serving- simple enough. And when you're working with your caterer, please, oh please trust them when developing your menu by considering options that hold up well in chaffing dishes, or need to be served on time if you chose a plated option. Caterers know what they're talking about based on experience and it's a simple fact that some foods just don't hold up well in banquet situations. The second part of this equation, is to make sure that there will be enough food to sufficiently feed your guests. No one wants waste, and that includes your caterer, so listening to their suggestion on the quantity to order would probably be a safe bet.
4. Cash Bars.
Yes, open bars are expensive. So if you're working with a limited budget, it's completely ok to sponsor just beer and wine, or a specialty drink and offer the rest of the bar on a cash basis. This is what my husband and I personally did to manage our costs, and it still gave our guests a way to enjoy a beverage without exponentially increasing our budget. You could also set a dollar amount on an open bar and switch to cash after reaching that limit if you don't want to limit your guests choices. But requiring your guests to have to pull out their wallet is just a hosting party foul. Especially if it wasn't communicated before hand that they'd be required to pay for their libations.
5. Never-ending toasts and/or photo montages.
Avoid them. I have worked a more weddings than I can count that have had the most long winded- and if I'm being frank- boring toasts… which ends up being pretty annoying for your guests. Prevent this from happening to you by telling your toast-makers they'll have 3 minutes (or however long) to give their toast or have your DJ cue the music when their time is up. I would also strongly caution you from allowing an open mic – you never know what people will say, and how long they'll take to deliver the message. If there are other important people that would like to offer you a toast, invite them to do so during rehearsal dinner or at your engagement party. And don't get me wrong here, photo montages are great. Just not when your guests are required to sit through 20 minutes of you and your sweetie. If your Aunt Mary and future Mother in Law spent time creating one, offer to show it during cocktail hour on loop so your guests can watch it at their leisure and depart when they've had enough.
6. Disorganization and Lulls.
Some of the biggest complaints I have heard from guests come when there are extended lulls in between events and your guests have to wait for time to pass. We all know you'll be busy with pictures and other bride and groom duties, but your guests will get incredibly bored, tired, and cranky with nothing to do while they're waiting for you. This rings true if you have also selected ceremony and reception locations located far distances apart, or if you have an elongated break of multiple hours between the two. Disorganization equals confusion and disjointed events. Hire a planner. We are specifically experienced with organizing (and managing) big events, it's our professional career. And chances are that you have not planned a wedding before, so quite simply, you couldn't possibly know all that is encompassed in executing a wedding.
Just keeping these few things in mind will exponentially increase your guests' enjoyment and make it not only a perfect celebration of your love, but a slamming party too!
Happy Planning!
Erica
—————————————
How are you planning on ensuring that your guests have a great time? Or have you ever been to a wedding where there was something that you absolutely didn't like? I'd love to hear!
The following two tabs change content below.
A serial party planner for family and friends, Erica turned her passion for parties into a professional career. When she's not busy planning weddings, Erica spends her time outdoors enjoying the beautiful landscape of Colorado with her new husband Craig, and playing with her two dogs, Sadie and Murphy.