Being that my wedding anniversary is tomorrow, I can't help but think of the days leading up to my wedding day. With that, I also can't help but think of the things that I should have known and been prepared for on my wedding day. And so, I thought I would share a few things that you need to know for your wedding day- both things to do beforehand, as well as things for the day-of! So no matter where you are in your planning, save this, and don't forget to come back to it so you can make sure you've done everything you possibly can to ensure you have a great wedding day!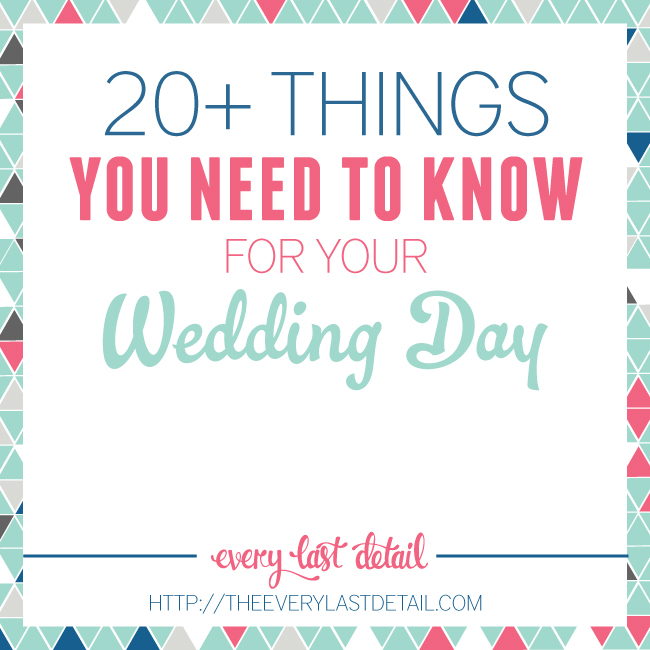 1. You are marrying your best friend…
and the best part of a wedding is what comes in the days, months, and years after! :)
2. Everything will not go completely according to plan- it never does.
However, chances are good that you won't even know about it (unless you don't have a wedding planner), and it's going to be amazing no matter what. :)
3. Create a timeline for the whole day.
Your wedding day timeline is going to be one of the most important things needed for your wedding day to run smoothly. [Read more here: Creating A Wedding Day Timeline]
4. Keep your bridal party and family members in the loop.
I recommend sending out an "itinerary" the week of the wedding containing important times and places for them to know about. Your wedding planner should do this if you have one!
5. Assigned seating is a good thing.
An easy way to make sure your wedding will run smoothly is to ensure that your guests know where to sit. How will your guests know this? You assign them to a table and tell them where to go! [Read more here: Why Alphabetical Order Is So Important!]
6. If DIYing, have everything finished before your wedding week!
Have all of your projects "just about" done 2 weeks before your wedding, and absolutely completed 1 week before. You definitely don't want to be working on things the night before your wedding (like I was, making menus until 2am with my best friend)!
7. Know what the transportation situation will be for your guests and your bridal party.
Difficult parking, traveling together in a limo, leaving the wedding… all things that you need to think about and take care of beforehand! [Read more here: Wedding Guest Transportation]
8. Don't forget about transportation for yourself!
Know the transportation situation for your guests and bridal party, but also know how you are getting home (or to your hotel) after the reception!
9. No one wants to bug you for money on your wedding day!
Try to make all of your payments before the wedding day. One less thing on your mind just means more enjoyment for you!
10. Tipping vendors- it's nice, but not expected.
The question of whether or not to tip your vendors is probably going to come up. There's really no right or wrong answer to whether or not you tip your vendors- it's just based on the quality of your experience with them! It helps to be prepared to tip them on your wedding day, and then you can base your final decision on your experience with them on the day. Or, you can always send a tip after the wedding!  [Read more here: Tipping Vendors]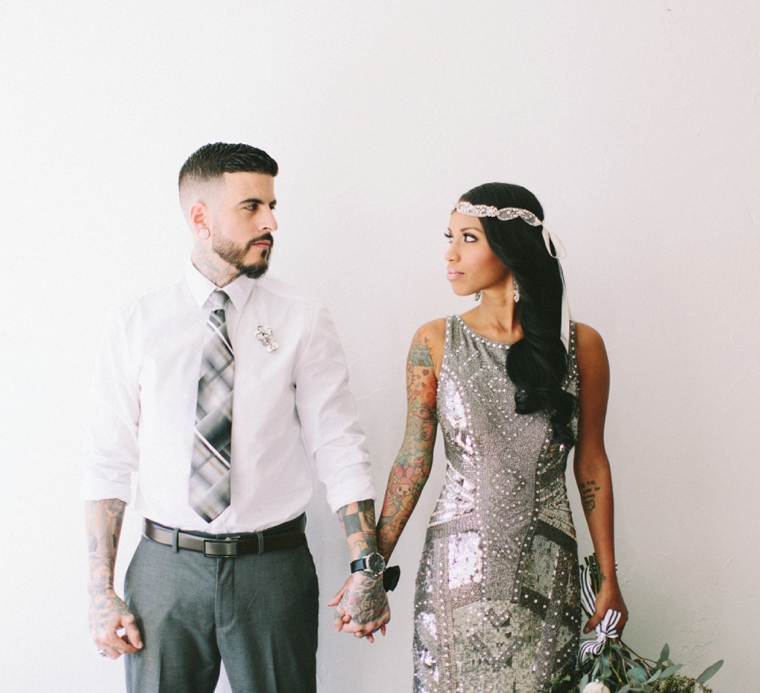 Image by The Hons, via CHIC MODERN & INDUSTRIAL WEDDING INSPIRATION
11. Don't forget to pack a bag for your wedding night!
You'll probably be getting ready somewhere other than where you're spending your wedding night, so make sure to either have someone drop your bag off there, or ask someone to remember to send you away with it.
12. The Marriage License… Who's responsible for it?
Once married, your officiant will pull you aside so you can sign your marriage license. Know beforehand whether or not the officiant will turn it in, if you'll have to, or if your planner will. [Read more here.]
13. Weather cannot be controlled- know your backup plan!
Even if you hope and pray and just try not to think about it, there is always a chance that it might rain (or snow or hail or whatever). Have a backup plan in place!
14. Vendor Meals… Do you need them?
It's nice to feed your vendors a meal if they'll be working longer than 4 hours at your wedding and are present during meal time. [Read more here.]
15. Do some prep for your family photo time
Enlisting the help of trusted family members can be a huge help in moving the pictures along. You can create a photo list complete with who's needed for what picture, and leave it to your "wrangler" to get everyone ready.
16. Know where your presents and cards will be going.
Have a person designated to take your presents and/or cards for you if you're not going right home. I always prefer to send the cards with the couple, since they're easy to carry- plus you get to open them that night or the morning after!
17. Take a breather and just get away from all the people for a few minutes.
A wedding reception is overwhelming. There are lots of people, and lots of things to do, and it's totally okay if you take a breather and just hang out with your new spouse for a few minutes.
18. Have an extra pair of *comfortable* shoes.
Flip flops, flats, sneakers- I don't care what they are, but have a pair of comfortable shoes so you don't have to sit out on dancing just because your feet are killing you! Take it from the girl who bought shoes that were half a size too small just because they were the right color and on sale -also don't do that either!
19. Stick to your normal drink.
This might be the age-old wedding day recommendation, but it really is true. I don't care if it's Bud Light, wine, gin, whatever- oh but not red wine! Sure, try the signature drink, but if you're not used to it, don't drink it all night.
20. Bring some snacks!
It never fails- you or your fiance are too nervous to eat before the ceremony, and then afterwards, during photos, you're starving! If you have a bag with you, pack some snacks, or give them to a bridesmaids or your wedding planner.
+ More things will be added!
---
Because I know that there are SO many other things, I want to hear from YOU! If you have already been married or if you're a wedding pro, what things do you think brides and grooms need to know to prep for their wedding?
Comment below to share your recommendations and they might be added to the post!
The following two tabs change content below.
Lauren Grove is the editor and owner of Every Last Detail. A clueless bride-turned-wedding planner, Lauren uses her experiences and knowledge to educate and inspire brides all over the world.