Happy Thursday lovelies! As some of you may know, I've just returned from Bridal Fashion Week, where I was surrounded by the most beautiful wedding dresses and accessories. Let's just say I've been dreaming of sparkly things for the past few nights! Next week I'll be sharing all about the bridal fashions I saw- once I get all of the photos in!
Now that Fall is finally here, I can't help but think of all the amazing Fall weddings that are going to be taking place soon! And with that, I've realized that SO many of these weddings will be happening in just a few weeks! So I wanted to make sure that those of you getting married soon are as prepared for your wedding as you can possibly be, so I've put together 10 things that you need to know before your wedding day!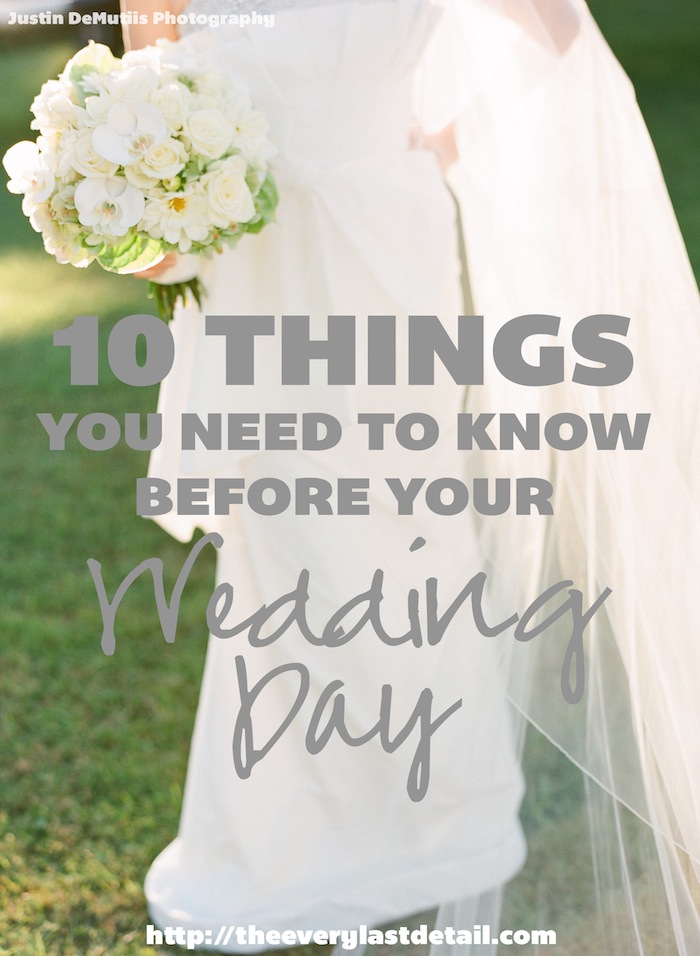 1. Your wedding day timeline is one of the most important things needed for your wedding day to run smoothly.
[Read more on timelines: Creating A Wedding Day Timeline]
2. Everything will not go completely according to plan- it never does. However, chances are good that you won't even know about it (unless you don't have a wedding planner), and it's going to be amazing no matter what. :)
3. Keep your bridal party and family members in the loop. I recommend sending out an "itinerary" the week of the wedding containing important times and places for them to know about.
4. An easy way to make sure your wedding will run smoothly is to ensure that your guests know where to sit. How will your guests know this? You assign them to a table and tell them where to go!
[Read more here: Why Alphabetical Order Is So Important!]
5. Have all of your projects "just about" done 2 weeks before your wedding, and absolutely completed 1 week before. You definitely don't want to be working on things the night before your wedding!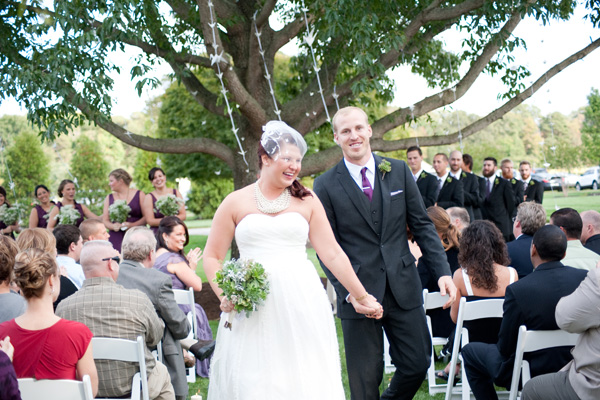 Image by Brit Croft Photography
6. Consider what the transportation situation will be for your guests and your bridal party.
[Read more here: Wedding Guest Transportation]
7. Try to make all of your payments before the wedding day. One less thing on your mind just means more enjoyment for you! 
8. The question of whether or not to tip your vendors is probably going to come up. There's really no right or wrong answer to whether or not you tip your vendors- it's just based on the quality of your experience with them!
[Read more here: Tipping Vendors]
9. Don't forget to pack a bag for your wedding night! You'll probably be getting ready somewhere other than where you're spending your wedding night, so make sure to either have someone drop your bag off there, or ask someone to remember to send you away with it.
10. You are marrying your best friend, and the best part of a wedding is what comes in the days, months, and years after! :) 
In addition to just *knowing* about things, there are also things you have to DO before your wedding day. And since I don't want you to miss anything important, I have a little checklist of what to do before your wedding day! Click here to download the checklist!
—————————————
Do any of you have anything else to add of what someone should know before their wedding day? I know there are WAY more than just 10 things… feel free to share your own insight!
The following two tabs change content below.
Lauren Grove is the editor and owner of Every Last Detail. A clueless bride-turned-wedding planner, Lauren uses her experiences and knowledge to educate and inspire brides all over the world.