My 11 year wedding anniversary was this weekend, and while looking back on my wedding day, I of course also started reminiscing about planning my wedding. Now, if you don't already know, here's my story in a nutshell:
I was absolutely clueless about all things weddings when I was planning my own. I wasn't in the wedding industry yet, and because my husband and I were married right out of college (high school sweethearts here!) I didn't have any friends to tell me what to do or what not to do. Oh, and did I mention that wedding blogs were brand new, and Pinterest neither Instagram existed?! Needless to say, I had a really hard time finding information about planning a wedding! And this was one of the main reasons that I started a blog and got into weddings. I wanted to help other couples and prevent them from making the same mistakes that I did… mistakes that could have been easily prevented if I had only been better educated about weddings and what to expect.
So in honor of my anniversary, I'm reviving this post about ten things that I wish someone had told me about planning a wedding. I hope that some of these tidbits might help some of you in your own wedding planning journey- because after all, here at ELD, we exist to HELP you! :)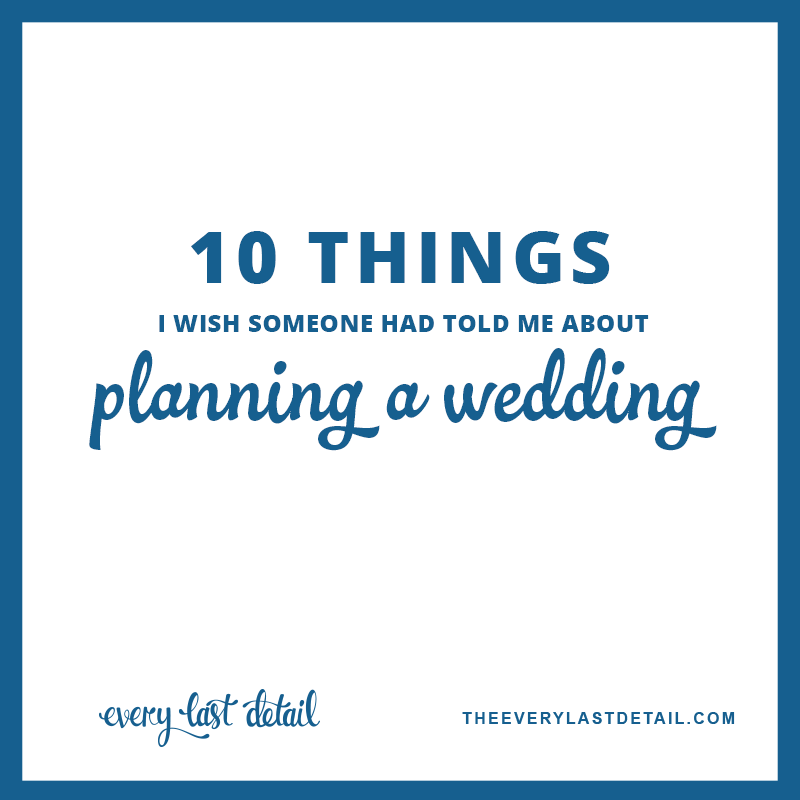 1. Your vendors don't all have to be based in the same location that your wedding takes place.
I got married in my small hometown, and for some strange reason, I thought that wedding professionals from the surrounding larger cities wouldn't travel an hour to an hour and half for my wedding. So I limited myself to searching for vendors that were based in my small town, and as a result, my options were few and far between. Most cities have other cities/towns that surround them, right? It didn't even occur to me that, since I actually *lived* in one of those larger cities, a lot of my meetings with vendors would have been a lot easier had I hired where I lived instead of where my wedding was occurring. Oh, and also… in most cities, it takes about an hour to get somewhere anyways right?! What was I thinking? DUH!
2. You want to hire vendors who feel like your friends.
You're going to be spending a lot of time with your wedding vendors- so of course you want to be comfortable and have fun with them! I myself didn't even consider this when hiring my vendors… BIG mistake. Now having been on the other side as a vendor, I totally understand this. You're emailing them, calling them, texting them, and then, spending time with them on your actual wedding day. Planning a wedding is so much better when you're having fun, and a big component of that is WHO you're with! 
3. When researching vendors, you can't compare "apples to oranges".
All wedding vendors are different. Everyone has different levels of experience, different services, different packages. Yes, it makes it tough to make a decision, but if you end up trying to compare exactly, you're doing yourself a disservice, because you're most likely going to end up with the short end of the stick. Like me. I hired a photographer because they were the cheaper option out of everyone I met with. And guess what? By the time everything was said and done, I ended up paying an amount that most definitely was not cheap! Knowing what I know now, it kills me to know the quality of photography that I would have been able to get for the amount I spent. But I was comparing "apples to oranges", and I didn't look a little deeper into what should have mattered- quality and personality.  
4. Know your options! 
It's totally fine to meet with a few different vendors- you need to know your options so you can make an informed decision! Don't feel bad about it. But at the same time, don't get too carried away with the options. A good rule of thumb: do your research first, and then schedule consultations with your top 3 options. (Oh, and then once you've made a decision, don't forget to let the others know that you won't be able to work with them!) 
5. Having a huge bridal party isn't all that it's cracked up to be. 
Oh yes, I'm going there. I had 9 bridesmaids… and I expected them all to help out with things. The more, the better, right? Well, needless to say, people have their own lives going on too, and sometimes they're really not all that interested in wedding events. Plus, having to organize and deal with several girls was kind of nuts and stressful. If I could do it again, I would definitely have a small bridal party. 
6. Read your contracts! 
Yeah, I know- it's kinda boring. But I didn't do it, and I ended up not having a photographer for the last 2 hours of my wedding. Make sure what you're expecting is what you're actually getting. Which leads me to…
7. Communicate with your vendors. 
I don't think this is as much of a problem today as it was when I was planning, but "back then", email still wasn't quite the norm that it is today. You still had to call vendors to get a hold of them. <<gasp, shocking, right?!.. Today, email is a beautiful thing. Utilize all the means of communication that we have today, and communicate with your vendors about everything. Share what your vision is for your wedding, what you are expecting out of them, and how you want your wedding day to be. There's nothing wrong with communicating these things- but for some reason, I was NOT good at doing this. And you know what? If anything, it helps everyone involved in your wedding so they are on the same page. Because after all… no one can read minds! 
And on this note… it's okay to ASK! Friends, you will never know anything if you don't ask. This pertains to everything- vendor pricing, help, etiquette, opinions… just ASK! Lucky for you, we are here to help… but if you don't want to ask us, definitely ask your vendors! They WANT to help you and educate you about weddings. You've never planned a wedding before, right?! No one expects you to know everything about planning a wedding.  

8. Don't be afraid to do things differently. 
Do what you want- what reflects YOU. I was afraid to go outside of the "norm" for some of my details- like menus and favors. Even though I was afraid of doing something different, I still did them- and they're still my favorite details from my wedding. They were my vision, and I knew that they were 100% reflective of ME. My only regret is that I didn't apply that same concept to the rest of my wedding! 
9. Custom wedding invitations are the way to go. 
I know it's an odd thing to bring up, but wedding invitations are a huge part of your wedding, and they don't always get the attention that they deserve. In my instance, I didn't even know that custom invitations were possible- nonetheless that they would be about the same cost as what "customizable" invitations were. The difference? Custom invitations are designed for your wedding and your wedding only- unique and one-of-a-kind. Unfortunately, by the time I found out about the amazingness of custom invitations, I didn't have enough time to get them designed and printed- but I don't want you to make the same mistake I did! 
10. First looks are GOOD things. 
Seriously. I know I say it all the time, but I SO wish I had done a first look! I can't tell you how badly I wanted to hug and kiss and talk to my husband when I saw him- but alas, I was walking down the aisle to him, and then we had 45 minutes of a full Catholic mass to sit through! Oh and let's not forget that I ugly cried allllllll the way down the aisle. And then, when it was time for our portraits, it rained- and as a result, we have about 3 decent photos of the two of us on our wedding day. I mean really- why didn't anyone tell me these things?!
---
I think we all know that I could probably write a book about everything I wish I had known about planning a wedding. And who knows- maybe I will one day! But for the time being, these Tips & Advice posts will have to suffice! And don't forget- if you have a question, please don't hesitate to ask! You are welcome to message me over on Instagram and I will get an answer to you!
So have any of you learned anything so far in your planning that you wish someone had told you? Or maybe you're already married and you have some of your own lessons to add about planning a wedding? Please share in the comments so you can help other couples!