[Editor's note: As you might know, at Every Last Detail we're all about informing couples about weddings and wedding planning! I myself am a planner by trade, and I could talk all day long about wedding planning. But when it comes to photography, I like to turn to the pros. Which is why I've asked The V List member Kate Breuer to fill us in on important things to know about something that just about every couple does- engagement photos! Take it away Kate!]
What you need to know about engagement photos
---
Engagement sessions are not only a really great tool to get to know your photographer before the actual wedding date, but they also will give you a set of beautiful photos with your future spouse! I love engagement sessions and advise all my couples to have one – it's actually included in all our collections. These days, having an engagement session is pretty common and most photographers offer them- many even include them in their packages.
Today I want to share some tips with you to make the most out of your engagement session. But let's start at the beginning: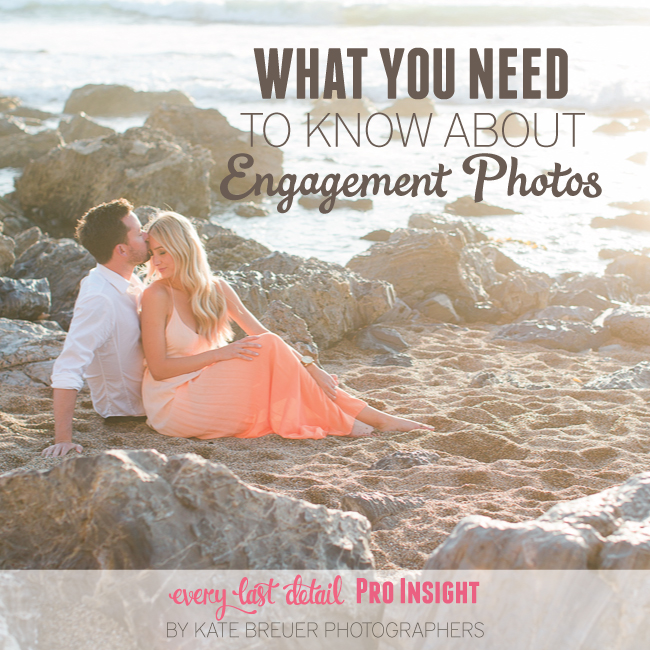 What is an Engagement Session?
Engagement photos are photos taken while you are engaged- after the proposal but before the wedding date. They are couple photos and may or may not have a connection to your wedding. You can use them for your Save The Dates, invitations, or just to enjoy having great photos together.
An engagement session is a nice opportunity to get to know your photographer and the way she or he works. Plus, it's a great opportunity to get away from your daily routine for a while and enjoy an hour or two full of moments and emotions with your future husband or wife!
What should you wear for your engagement photos?
Most of my couples ask me what they should wear before the engagement session. There are a few basic guidelines to follow when it comes to engagement session attire:
– Wear something you feel comfortable in. A little bit overdressed is usually a good option. Wear something nice that you feel beautiful in.
– Look at your outfits together: Do the colors match? Are you too similar? A pink dress and a red shirt might not be the best option but neither would be just black or just white. Try to choose outfits that work well together and complement each other.
– Make sure the prints and patterns work well together. If one of you wears something with huge patterns, the other one should choose a simple shirt or something with small patterns. Oh, and no visible logos please, no matter what label it is.
Another thing to keep in mind is, that you can change outfits, if you have more than one you like. Most of my couples choose one or two outfits, sometimes choosing two different locations to wear each outfit at. Definitely talk to your photographer if  you're unsure or need help deciding- they can help you choose the perfect outfit options.
Should you get professional hair and make-up?
It depends a bit on the style of engagement session you want to have and how well you can do your own make-up. If you choose a rooftop engagement session with a long dress and high heels, then yes, you might want to have your hair and makeup done. If you're having photos taken at the beach, a little more casual might be the way to go.
When it comes to photos, it's always a good idea to overdo your make up just a tiny little bit, as it will be less visible in photos.
Depending on how comfortable you feel doing your hair and makeup yourself, you might want to make an appointment for professional hair and make up, or even schedule a trial with your wedding day makeup artist. I've had brides who did their hair and makeup all themselves and looked gorgeous, and I've had brides get it done professionally. Above all else, just make sure you feel comfortable! [Editor's note: I wear makeup daily, and I chose to get my makeup done for my engagement photos! So happy I did!]
What about props?
When browsing Pinterest, you'll find endless inspiration for engagement sessions with props- everything from a guitar, to half a flea market!
For me, I recommend that props- if any- should be something that complement who you are as a couple. Remember- your engagement photos should be about you and who you are – not the latest Pinterest trend.
But with that being said, you might want to bring a little something to announce your wedding date- like a chalkboard or a sign. Other than that, you should only bring items that enhance your story. And that could really be anything – your dog, a crown of your favorite flowers, a baseball, your favorite wine, etc.
Something you should definitely be sure to bring for your engagement session: your engagement ring! Your photographer will want to take a picture of that pretty sparkler!
How do we choose a location for engagement photos?
Finding the right location might be a bit tricky, as you don't know how your favorite spot will work in photos. The important thing is to choose a place you feel comfortable at and love. The photographer will be able to help you decide if it works for photos. I think that you can take great photos everywhere if the location fits the couple's personality. I've taken pictures in front of construction fences, at tropical gardens, in forests, and at the beach. You might also consider indoor locations or even your own home. The options are endless!
Should you practice posing?
Well, yes and no. It really helps if you take a look at your photographer's work before the session to get an idea about what she is talking about when she tells you to "nose snuggle". It helps you feel a little more comfortable, as you know what to expect.
But please don't stand in front of a mirror, testing out different poses. It'll just make things more awkward. Trust the photographer to make you look good. Don't you worry- your photographer will give you instructions and correct you if something isn't perfect or if it looks awkward.
What about the weather?
While I'm in sunny California now, where the weather is rarely a problem, I used to live in Germany- where it rains a lot. I had to postpone quite a few engagement sessions over the past years due to weather.
Rain is a problem- well, at least it can be. It depends on how heavy the rain is and what kind of session you were planning. I'm still dreaming about a session where a couple dances in the rain for me. And let me tell you: While backlit images with a lot of sun are beautiful, a good photographer will also be able to take gorgeous images with an overcast sky or a bit of rain. If it doesn't rain buckets, you might not even see the rain.
Talk to your photographer ahead of time about your rescheduling options and a Plan B. Maybe you want to choose an indoor location as a plan B or as an additional location option. Or you might want to purchase a simple umbrella and rain boots and make the most of it!
(look closely at his shirt sleeve, it was raining during this session)
Any additional tips?
Yes, I have one tip that is more important than all of the above: Enjoy the session and have a great time! Don't worry too much and just have fun with each other and your photographer!
Do you have any other questions about engagement sessions? Ask away in the comments!
The following two tabs change content below.
Kate is an Every Last Detail Approved Photographer is based in Los Angeles, California, servicing Malibu, Santa Monica, Beverly Hills and all of the world. Kate is the creative head behind fine art wedding photographers Kate Breuer Photographers, whose images have been described as intimate, elegant and romantic. Kate is an international wedding photographer who has photographed couples and weddings in Europe and the US, and is known for infusing couples' personalities into her images.
Latest posts by Kate Breuer (see all)