The information below is part of the "What Weddings Really Cost" post and is meant to provide knowledge about wedding costs. Please read this post to understand the below information!
Below is an estimation for what a very basic, "simple and pretty" 100 guest wedding would cost in New York City.
Please note: This is JUST an estimation to show average price points for the various elements needed for a wedding, and does not include any "bells and whistles". This should not be considered an exact representation of all New York City weddings, as each wedding is unique to the couple and their preferences!
A note from NYC wedding planner, Tatiana of Whimsy Weddings:  "I find that many people get nervous about planning a beautiful event in the NYC/NJ area. The cost estimates on many websites can be extremely daunting. We do weddings of this size ALL of the time and I love the creativity and possibilities many of the spaces in the area allow."
VENUE: $3500- $12,500
Raw loft spaces range from $3500-$12500 and historical sites/gardens (in NJ and outside the boroughs) run $800+
FOOD AND BEVERAGE: $6500-9500
In NYC you can have amazing food catered by smaller companies from $95+ per person (Not including tax and gratuity) And outside the boroughs you can get food and service from $65+ per person.
FLORALS & DECOR: $1000 – $3000
Centerpieces and personal flowers will run you anywhere from $1000+ with the average being closer to $2500-3000 from a bigger florist. This would be for something like bud vases, which gives you a mix matched yet beautiful look! Throw some candles in and wowza!
LINENS/RENTALS: $3000+
Rentals are always a decent expense with 100 guests costing you $3000+ depending on how elaborate your dishes and linens are.
PHOTOGRAPHER: $3000-$10,000+
Photography is SO important so never skimp!
CINEMATOGRAPHER: $2500+
Video in my opinion is crucial and you will always be thankful for the audio! Video runs $2500+ depending on how long you want you video.
MONTH-OF PLANNER: $1800+
$1800+ for a professional, whom you should always choose. You don't want someone without experience!
PAPER GOODS: $700+
ENTERTAINMENT/MUSIC: $1500- $3500
$1500+ for a DJ and $3500+ for a band (smaller) with a larger more notable band running $10k+
HAIR & MAKEUP: $250+
$250+ for the bride. DON'T skimp on this!
TRANSPORTATION: $450+
CAKE: $250+
(You don't need a giant cake- most goes to waste!)
CEREMONY COSTS: $500- $1000+
If you get married onsite at your venue, no cost. If you have a friend marry you- no cost! (Just buy them a nice gift as a thank you.) If you hire an officiant, which I strongly suggest because they are experienced and can write you a beautiful ceremony- $1000+.  A church usually requires a donation and you have to pay for musicians: $500+
TOTAL: Starting at Approximately $30,000
Approximately $30k for 100 guests but without a planner to guide you and keep you on track, you will spend more. A planner has relationships and discounts to get you a better rate. Without a planner, many couples spending extra money they could have saved. They also have items that they can reuse or lend you! Double bonus!!
This estimation is courtesy of New York City & New Jersey wedding planner Tatiana of Whimsy Weddings, who is a member of The V List.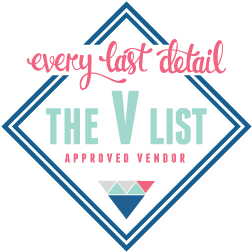 Getting married in New York City? Click above to find NYC V List Members!