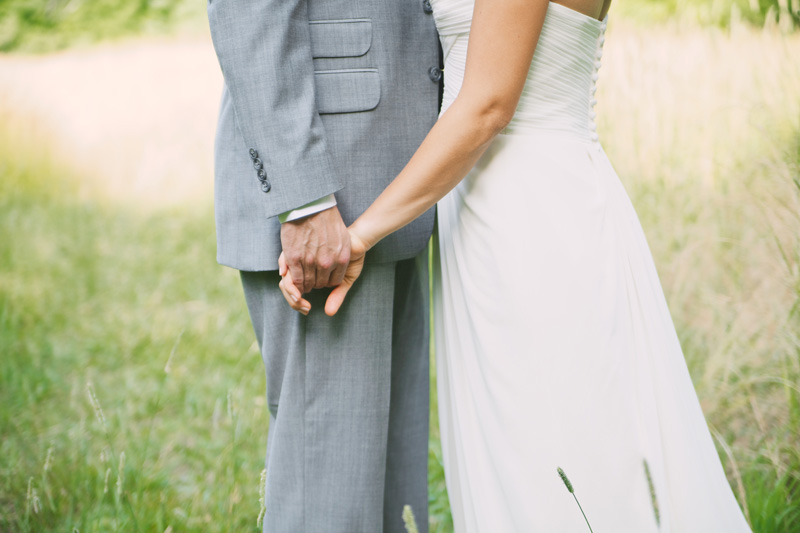 I have to admit it: I adore a backyard wedding.  One of my first weddings as a planner took place in the groom's parents' backyard; ever since then I've had a soft spot for such an intimate setting!  This one, photographed by Lane Baldwin Photography, is full of gorgeous handcrafted details! Technically, only the ceremony was actually in a backyard.  But even the reception setting, at a local arts center, carried through the intimate, personal, and handmade fabulousness!
From the bride:
I knew that I wanted a small/simple wedding in my mom's backyard with as many loved ones involved as possible…  What helped me the most in the planning process were wedding blogs like this one and Pinterest.  I did most of the planning on my own and didn't know anything about planning a wedding when I started.  I had a general idea, but I got some great ideas and inspiration from these websites.
My favorite thing about our wedding was having my family and friends there to be a part of our day. It felt so natural and calming saying our vows with my brother as the officiant and my husband standing next to me. I will never forget sitting back during the dinner listening to everyone laughing and enjoying their meals. It was such a blessing to know that they were all there to support and celebrate the beginning of our marriage.
On the day of the wedding having my best friends and family with me helped to keep me calm and they helped to make sure things stayed organized so that I didn't have to worry about any last minute details. They were so amazing!
For the dinner, I knew that I wanted it to feel like a big family dinner, which is why we did the "barnstyle" seating and family style passing of platters. My first inspiration for flowers and decorating was using wild flowers and herbs and keeping everything as simple and clean as possible. My florist did a great job of taking my ideas and bringing them to fruition.
The most important thing about working with someone initially was recognizing that they had a similar style to mine. There are so many vendors in the wedding industry, but not all of them are willing to work with your ideas. Having someone who has the same vision or willing to work with yours is really helpful. Also, feeling like you will get along well with someone helps so that when things get stressful they can help you and you can trust their opinion.
If you know what you have envisioned for your wedding day don't let anyone (vendors or family) try and assert their opinion over yours. In the end, you have the best feeling about what will make your husband and you most happy on that day. Let yourself have fun and don't stress over the small things. It can be such an amazing memory if you let yourself live in the moment!
I have to say that my favorite detail of this wedding was the table decor… Wildflowers, colored bottles, mismatched vases, lemons, limes, apples, radishes, asparagus, and brussels sprouts??? Who would have thought they could be so beautiful (in addition to being delicious)? Would you use fruits and vegetables in your wedding or even consider such eclectic table decor? xoxo, Elisa
Vendors who made it all happen…
The following two tabs change content below.