We're excited to be continuing our stationery series highlighting V List stationery designers and some of our favorite wedding invitations that they've created!
Today, we bring you this colorful modern suite created by Emily of Feathered Heart Prints. Based in North Carolina, Feathered Heart Prints offers stationery collections that satisfies a variety of styles, as well as custom design options. We love that she strives to highlight the personality of the couple she's designing for, whether that is fun and quirky, simple and modern, or traditional elegance, she's got you covered! The fun and playful feel of this suite is absolutely contagious, and Kimbrough Daniels did an awesome job capturing the fun details that Emily created.
From Emily:
The Amelia Suite was easily one of the most playful designs that I have done yet. I loved getting to combine geometric shapes with soft, pretty colors. I think the way that the calmness of the colors balances the modern geometric elements just make the suite so much fun, but still sophisticated. When I designed this suite I had a fun, playful couple in mind. When a guest receives this invitation, they know they can expect a true celebration!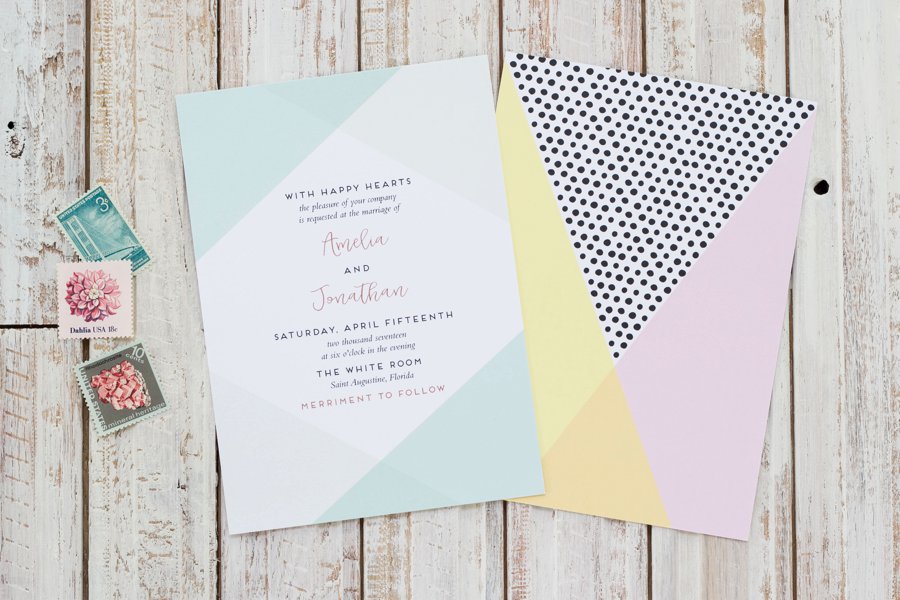 Whether you are looking for something a little more traditional or with a modern flair, Emily has pre-made styles that suit many tastes. Not finding the perfect pieces, no worries, she also creates custom designs that are sure to make a statement as your guests open them.

---
Stationery design: Feathered Heart Prints // Photography: Kimbrough Daniels
The following two tabs change content below.
Emily Waters is a wedding planner and designer based in Central Florida. Emily hopes to share both her personal and professional experiences with weddings to help Every Last Detail brides create their own magical day.