Blush and navy is a classic springtime color combination and it couldn't look sweeter than in this North Carolina wedding from Sunshower Photography. Filled to the brim with rustic details, Mary Cate and Sam's big day was a quintessential Southern celebration. The Historic Beaver Dam is perfectly Southern with it's beautiful rocking chair laden front porch, which Mary Cate took advantage of as a dream spot to put the final touches to her bridal look. Her bridal party looked so elegant in their Jenny Yoo dresses, which allowed them to each create their own neckline to be the most flattering for everyone. And of course, you don't need too much extra decoration when you have an 1800's barn for the ceremony backdrop! Complete with tasty s'mores favors and lots of love and laughter, we can't wait for you to see more of this blush and white plantation wedding!
What (or who) helped you most in your planning process and/or on your wedding day?
Although we had a day of coordinator for our wedding, we did not hire a wedding planner, therefore my sister,mom and mother in law were responsible for setting everything up the day of the wedding! Pretty great family to do that, huh? :) I am very lucky to say the least!  I come from a very large family and have been to and part of many weddings, so I had my sisters, mom, and mother in-law help me with the planning and the details. I basically just expressed to them everything that I was envisioning, which was a rustic, whimsical wedding and they helped me to find creative ways to make that happen within my budget!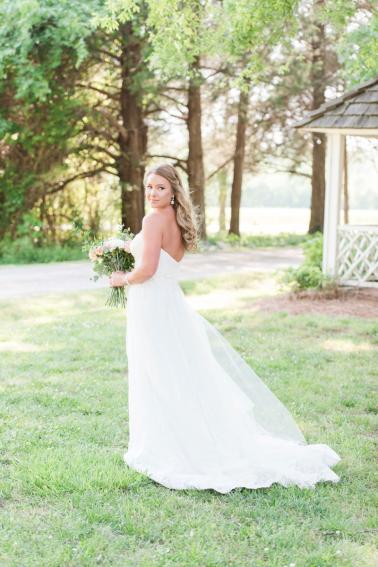 What was the most important thing to you when deciding who to work with for your wedding?
When deciding on vendors and who to work with for my wedding, I chose to work with people that I had a genuine connection with and that really seemed to understand my vision for the wedding. I am a bit of a control freak, so having a vendor that understood my concerns, listened to my wants/needs, and was able to use their experience to take control of situations to alleviate any stress I could possibly have on my wedding day was absolutely necessary. I also created a budget for myself in each category m of our wedding (flowers, DJ, photographer, etc). I used The Knot to help find people within those price ranges to call and arrange a meeting with, and just went with my gut after speaking to several vendors within each category.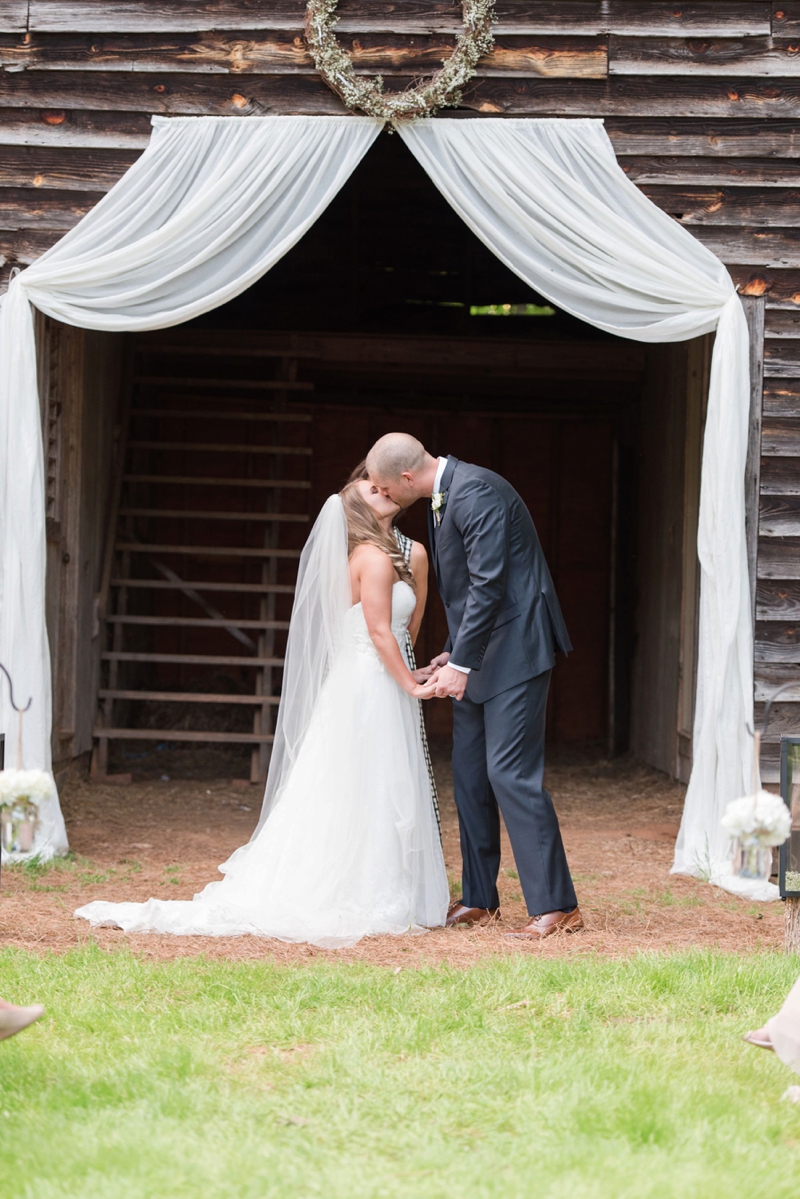 What was your inspiration for your wedding details and/or design?
I always knew I wanted a ton of candles and a romantic/whimsical feeling for my wedding, but needed help thinking of ways to get it that way. My inspiration for my wedding mostly just came from pictures of rustic weddings online and on Pinterest. However, in my opinion, Pinterest has a ton of unrealistic details for rustic weddings that were out of our price range, so we decided to recreate those details in a more affordable way. We made almost every single item at our wedding, besides the gold votives, cake and flowers! Not only did we save money on the various objects we created, but it was also a great opportunity to have fun and make memories with my mom, sisters and mother in law. I think working on these projects brought us all a lot closer together and made me appreciate the wedding that much more after seeing all of our hard work really paid off and came together the day of! 
What was your favorite thing about your wedding?
There were so many details about our wedding that were absolutely amazing to me, but my favorite details had to be the wine barrels with flowers on top, homemade wreath for the barn, the dessert table that we created and the photo-booth! 
What is your best piece of advice for other brides?
The best piece of advice I can give fellow brides, is that everything will work out and will be absolutely perfect the day of, so try not to stress too much! I would also tell them to take it all-really take the time to look around at all the little details, all the hard work you put into making day happen and at all of the people that are there because they love and support you because it all goes by in the blink of an eye!
Vendors who made it all happen…
Photographer:  Sunshower Photography // Caterer: Armin's Catering // DJ: Carolina DJ Professionals // Reception Venue: Historic Beaver Dam // Bridesmaid Dresses: Jenny Yoo // Tuxedo and Mens Attire: JoS. A Bank // Beauty: Kristie Lavae Beauty // Bakery: Maddys Fattys // Beauty: Makeup by Champa // Equipment Rentals: Party Reflections Rentals // Dress Store: The Lily Rose // Dress Store: Tre Bella Bridal// Dress Designer:  Watters Bridal//
The following two tabs change content below.
Megan is the editor of Glamour & Grace, a wedding inspiration site that has been inspiring lovers of vintage, heirlooms, and handmade treasures for over 6 years. She loves collaborating with other editors, with her heart in creating community, and is a founding member of The Love Collective and Aisle Society. Over the years Megan has become very passionate about helping vendors become successful submitters in the online wedding world. This passion has lead to various speaking engagements and the creation of her own submission handling and consulting services, The Tailored Submission.
Latest posts by Megan Acosta (see all)