Happy Friday everyone! I am so excited to share this gorgeous yacht club wedding from inContrast Images today! Seersucker suits, an elegant style paired with fun, quirky details, and a bride and groom that are SO in love- I myself have fallen head over heels with this wedding, and I know you will too! The bride, Briana, is here with us to share some of her wonderful planning insight, so keep an eye out for her tips!
What (or who) helped you most in your planning process and/or on your wedding day?
I'm a Marketing Manager at an Advertising firm so work on timelines, budgets, vendor communication and overall creative strategy.  I found this helped a lot since I do this type of stuff on a daily basis ;) I actually really enjoyed the process of planning my wedding so much – that I now also work as a day of coordinator with Kickstand Events!
 In terms of the people that helped me…my mother passed away about 7 years ago – so a lot of close family and friends pitched in, including my moms best friend and my now mother in law.   It was tough not having my mother with me through this process, but I was so blessed with all of the love and support around me.
What was the most important thing to you when deciding who to work with for your wedding?
I started to plan my wedding from New York, never having visited Wilmington, NC where I was about to move and get married.  It was important that I see my vendors work on blogs and read good reviews from them online.  All of my vendors I had selected had done a wedding at my venue, Figure Eight Island Yacht Club, and were featured on a blog for their work.  That way, I knew their style and was confident they were comfortable with my venue ;)
What was your inspiration for your wedding details and/or design?
Since our reception was at a private yacht club on the water – we went with the nautical theme – but made sure it wasn't too preppy but classy.  I kept the flowers and decorations soft and simple to make sure I didn't distract from the beautiful backdrop of the intercoastal waterway.  I also love the details, so I made sure to add subtle touches of B&B  initials throughout (on the cornhole boards, paper design, confetti cones etc.)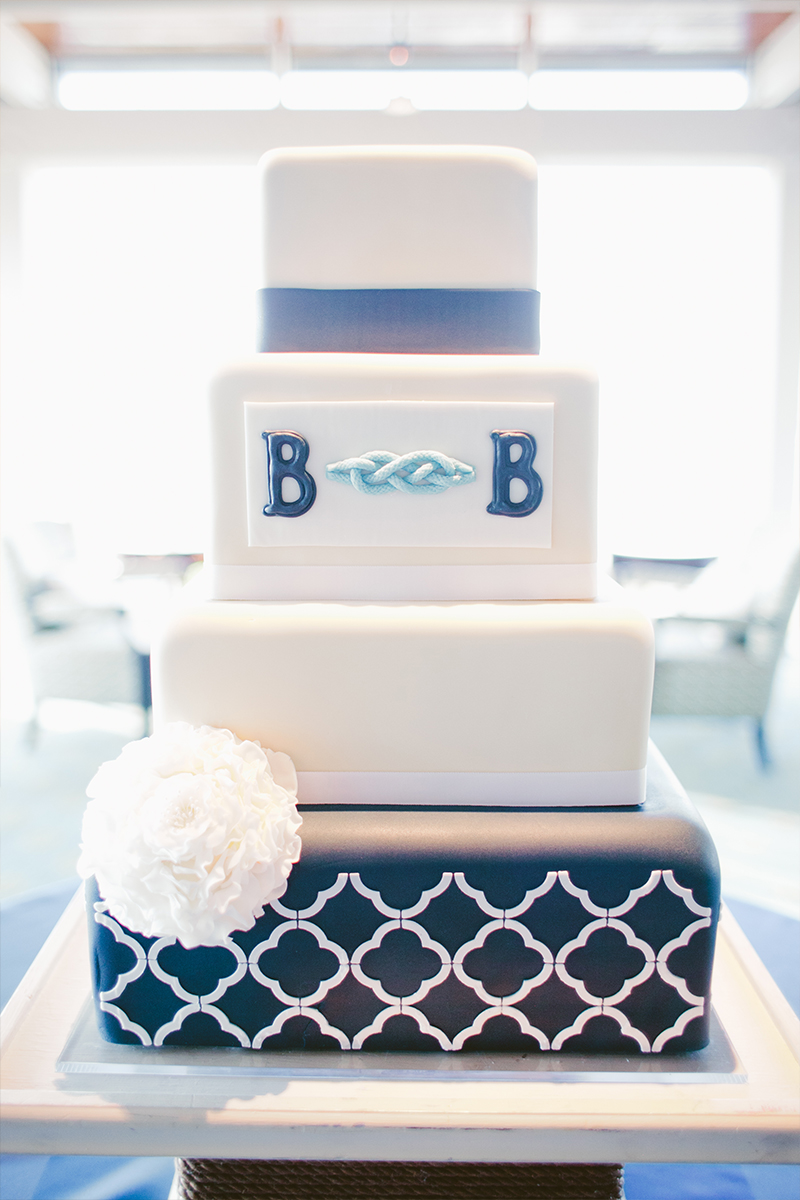 What was your favorite thing about your wedding?
I have moved a lot in my life, from Pennsylvania, Arizona, California, New Orleans, studied abroad in Beijing, China, worked in New York City and just moved to Wilmington, NC with my now husband who is a Jag Lawyer in the Marines — so I made a lot of friends from several places along the way.  It was so great bringing all my family and friends together to have them meet one another and just dance and share the immense love that I have of this new city that Brian & I moved to (Wilmington).
And now for a fun glimpse of Briana and Brian's wedding day via their film from Brick Street Cinema…
What is your best piece of advice for other brides?
Have fun in the planning process!  Don't be shy about asking for help and hire a videographer – they capture a different type of emotion than a photographer does!
I just love how these two kept an elegant, classic feel but infused so much of their own personalities into their day with fun, unique details! And how adorable are Briana and Brian?! I feel like I know them and they would be a TON of fun to be around!
So tell me, what kind of fun details are you planning on incorporating into your wedding? Did Briana's details give you any ideas?
Cheers!
Samm
Vendors who made it all happen…
The following two tabs change content below.
Samm is the co-owner of Imprint Cinema with her husband Alex, who she married a little over a year ago. She loves everything about weddings- from what she does (filmmaking), to the details... and especially the little sparkles :)
Latest posts by Sammantha (see all)