Five Tips for Stress-Free Family Portraits on a Wedding Day
---
One thing that stresses my couples out more than anything is family portraits on a wedding day. It is one of the biggest sources of stress leading up to the day as well as on the day itself because there is no way to be in control. But, there IS a way to manage it! Below are my top five tips for a stress free formal family portrait time.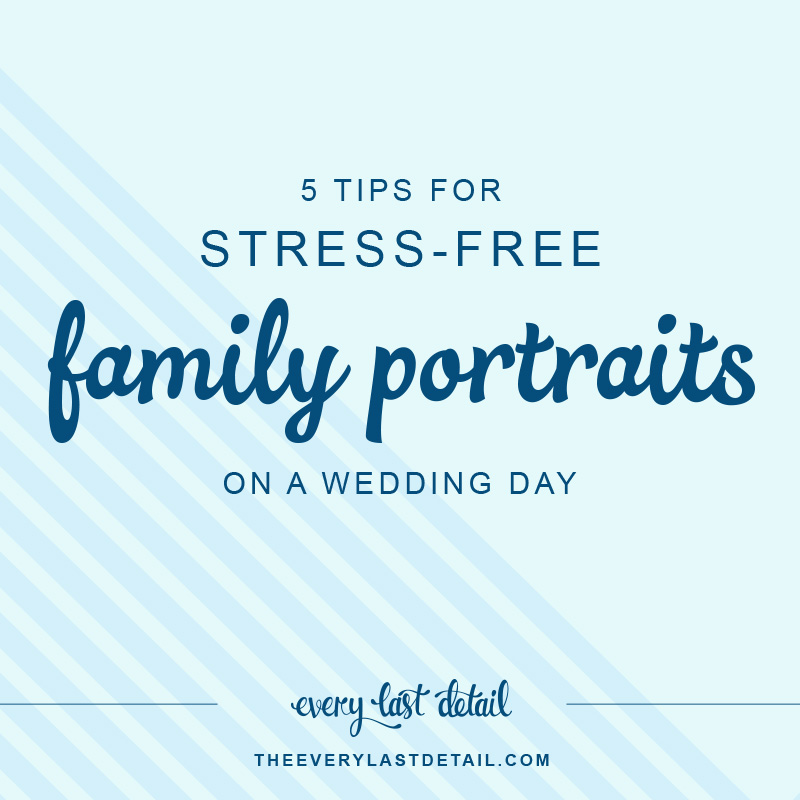 Make A List
Writing up a list of family members you need formal portraits with is an absolute must! Give this list to your photographer(s) so they can have it on hand during the scheduled formal portrait time. Having a description (such as "Groom's Grandma") of the family members as well as their name is a huge bonus! Organize the list largest to smallest. Starting with large group formals is a great way to relieve some stress by dismissing family members that won't be in other groupings.
Keep it to Immediate Family Only
Immediate family is considered parents, siblings and grandparents. Of course, if your siblings have spouses or children, they would be included as well! If there is an extended family member or guest (such as a Godmother) that is very special to you, feel free to include a shot with them! For the rest of your extended family and friends, plan to snag some informal photos with them during the reception. The less people you include in your family portrait time, the less stressful that time will be!
Let Them Know When & Where
I always tell my couples to inform each family member that they want a photo with during formal portraits where they need to meet us and when! If we are doing formal portraits prior to the ceremony, I advise they tell them to arrive 30 minutes prior to when their scheduled photo time is- that way, we can avoid any tardiness! If formal portraits are being taken after the ceremony, I advise them to inform them that they cannot attend cocktail hour until they are finished with photos. As soon as a family member disappears to grab a drink or run to the restroom, the shot list will be thrown out of whack.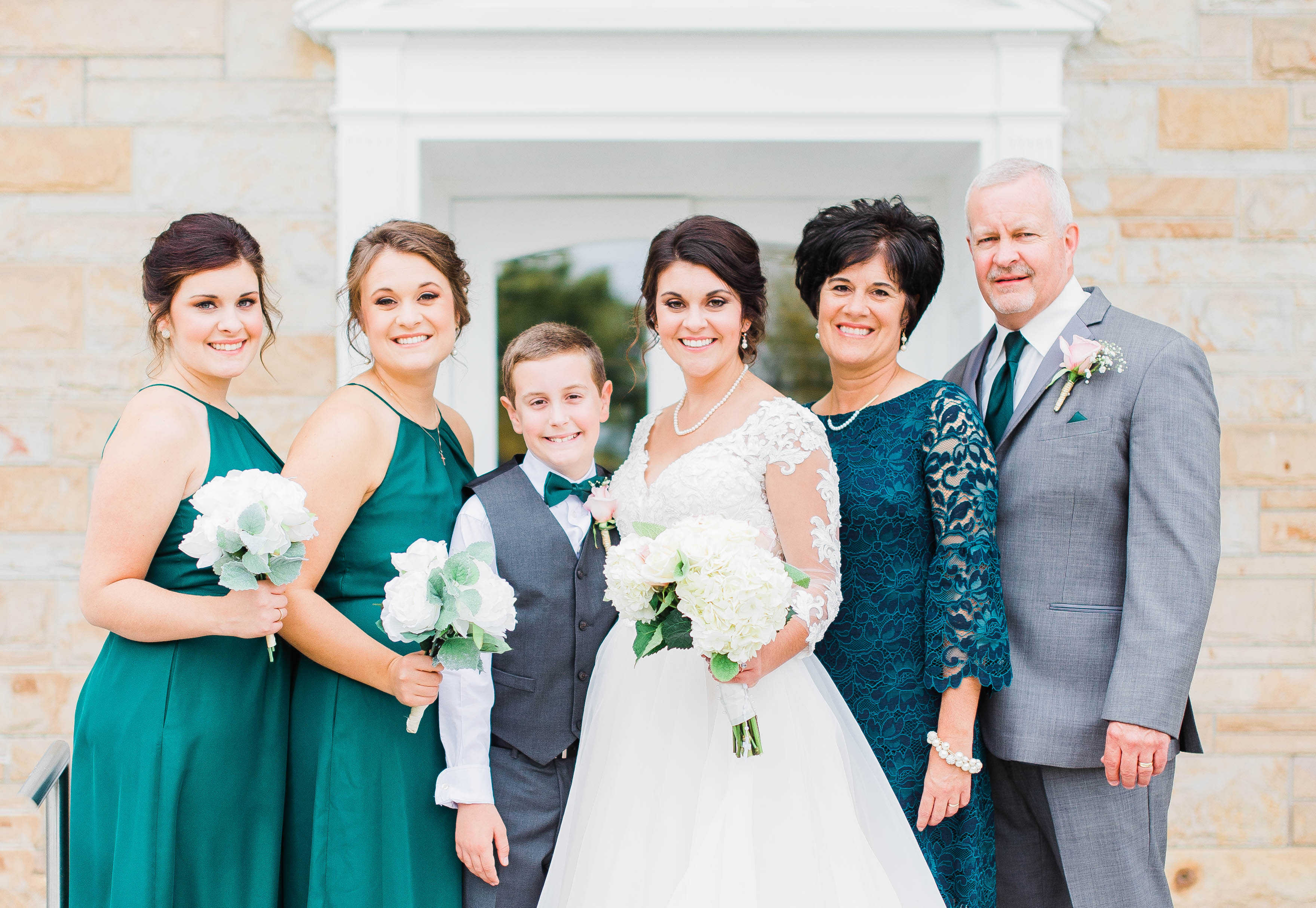 Image by Katerina Marie Photography. Art. Designs. LLC
Help Your Photographer
Nine times out of ten, the order of the list will go out the window due to a family member going missing. Stay calm! This is now the time to team up with your photographer to scan the room to see who is around for a photo since you know names and faces. Look over the list together and call out to any family members you see available for a quick shot while waiting on the missing member(s) to return.

ELD Tip: We also suggest assigning a family member who will be familiar with most of the people on your list to be the designated person to go find missing people. Someone like an aunt or cousin would be perfect for this! 
Drink Wine
Need I say more?! Have one bridal party member go to the open bar (cut the line) and grab you and your groom a drink! Most couples ask for water because wedding day dehydration is a real thing but if you need something to calm your nerves a bit, go for it! Just be sure not to spill on yourselves or drink too much too fast. If you are hungry, ask them to grab you a couple hors d'oeuvres as well!
I hope these tips help you prepare for your own family portrait time. And when in doubt, shut out all the crazy and just take in the moment. Look over at your new spouse and enjoy where you are and what you're doing right at that moment. This is the best day of your life!
The following two tabs change content below.
Kat is the wife half of a nationally published, award-winning husband and wife destination wedding photography team based in the Midwest. Her fine art shooting style puts a large emphasis on natural elements and lighting as well as pure emotions. She loves nothing more than traveling with her best friend to capture hopeless romantics on their wedding days in stunning destinations world wide.
Latest posts by Katerina Foster (see all)