Weddings take lots of planning, which means lots of time. You must carefully plan out every detail in hopes that you haven't forgotten anything and that everything will go smoothly. There are so many moving parts when it comes to wedding planning, and it can be challenging to give each one the attention it needs. However, one snag can affect your entire wedding and the overall experience.
It's important to make a list of what needs to be done before you start planning. A good rule of thumb – always start with the guest list because that will drive your numbers on everything else. This will determine your magic number for chairs, glassware, dinner options, etc. And don't be afraid to ask for help – you'll need it! Find a wedding planner or day-of coordinator you can trust to help make your big day smooth sailing, so you can focus on your new hubby, friends and family members.
Read on for ten things every wedding needs!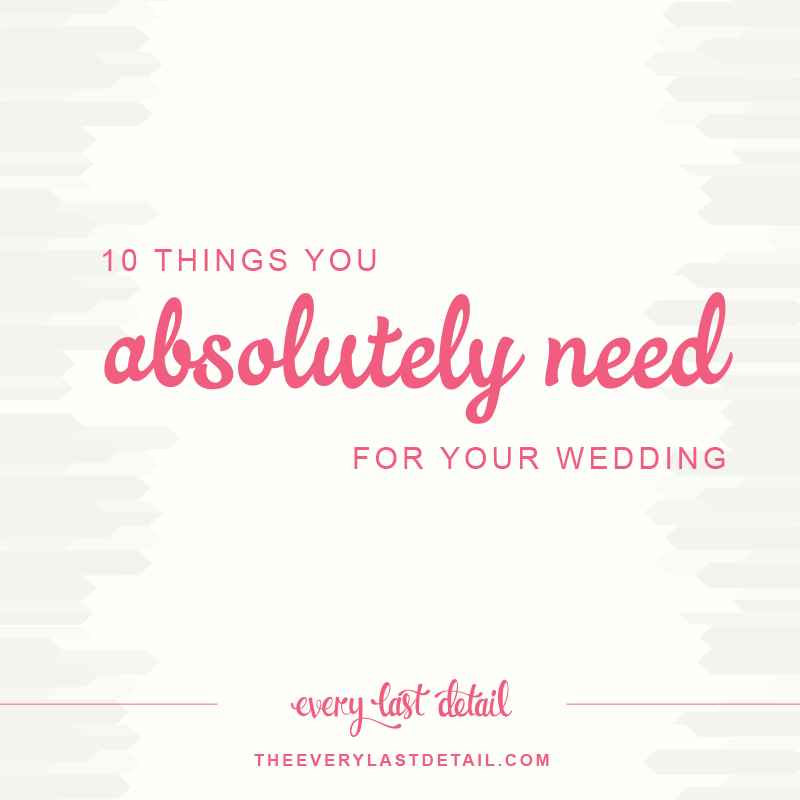 1. A Timeline
Create a timeline of events for your guests so everyone will know the plan for your big day, but also because this will help others assist in moving everything along efficiently. Have set times for the ceremony, reception and recessional, and stick to them. Ask your bridal party to help keep everything on a schedule that way you won't have to worry about it. Your wedding planner will also do their best to move everything along.
Keep a more detailed timeline of events for you and your wedding party. This would include hair/make-up times, photo times, etc. It may seem overkill to plan everything down to the minute, but it could very well save you and your wedding party from losing track of time and throwing the entire day off schedule.
2. Storage
When you tour your venue beforehand, try to foresee things like storage for you and your bridal party's things during the day of. Everyone will want to be able to store their purses, clothes, makeup, etc. securely so they can enjoy the night's events without worrying. You may also need extra storage for wedding supplies, decor and whatever else your vendors bring along with them.
Since you're the bride, and this is your show, you likely won't have time to go back and collect your things before your departure. One of your friends or family members will probably have to handle for you. Choose a designated area for everything that needs to be stored, so it's easily accessible to that allocated individual.
3. Transportation Plan
Make sure your venue has enough parking for all your guests. Otherwise you will want to let them know beforehand that it's best to Uber or carpool. Some venues even lock their gates after a time at night, so if your guests have had too much to drink and leave their cars behind, they may not be able to access them until sometime later the next day.
Talk with your reception site manager to find out your parking options and if staff will be available to guide guests in and out. If you have it in the budget, you can even hire a party bus to shuttle guests or a full-team valet service. Whatever you do, don't take on transportation all by yourself or leave it up to guests. Especially if you have lots of out-of-towners, you'll want to figure out an easy way for them to shuttle or carpool to the wedding and reception.
4. Extra Drinking Glasses
Imagine everyone having the time of their lives at your reception, and then the bar tells guests they can no longer be served because there are no more glasses. Don't let this happen. Even if it seems like overkill, make sure you over-order on glassware, so you don't have to worry about running out before your night is over. It's better to have too many than not enough.
Try to opt for renting glassware that way the caterer can tell you how much you will need per your guest count and also handle the clean-up after. If you choose to supply your own glasses, you'll have to do the complex math it takes to determine how many glasses are right for your reception. You'll also have to figure out how to store them, deliver them, who will be in charge and who will clean them up. A caterer is the best way to go.
5. Contracts
While legal agreements are never fun to deal with, they're more than necessary to protect you and your family. Get an executed contract from your venue, planner, photographer and other vendors you hire for your big day. Make sure each agreement covers the scope of services, cancellation policy, flexibility options, explicit representation of payments, etc.
Without a properly executed agreement, vendors can always find loopholes that could end up costing you extra money or leave you without a photographer on your big day. A contract is nothing without both party's signatures.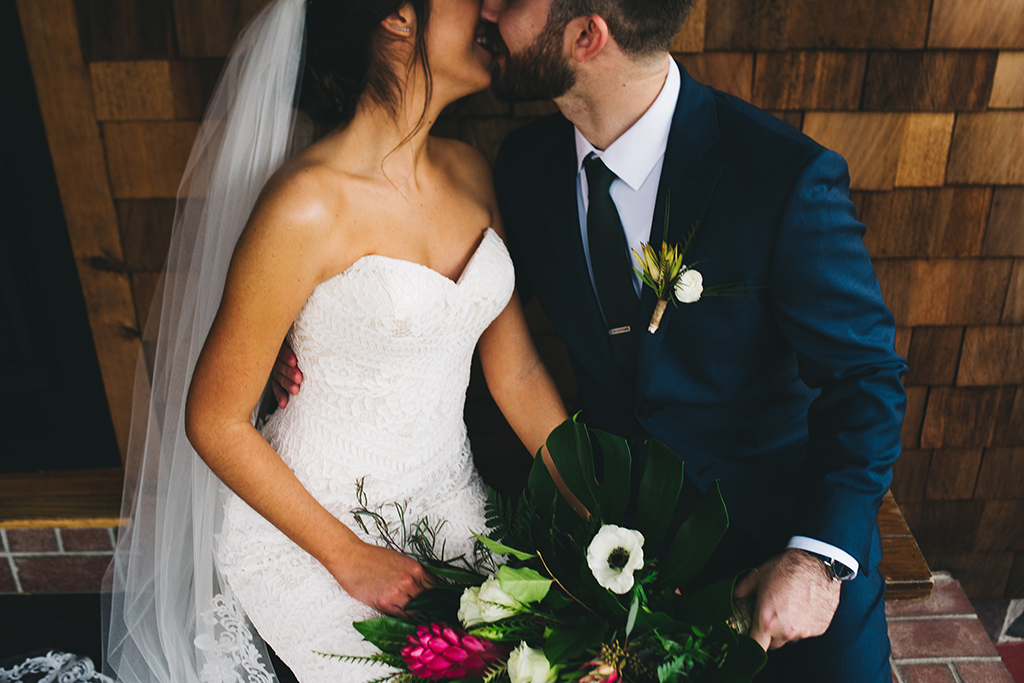 Image by Rudy & Marta Photography
6. Help
You may think you can take on your big day all on your own, but you can't. Don't even try. Hire a wedding planner and other professionals to help you on your big day so you can focus on getting married to the love of your life. If you want to play an integral part in the planning process, consider hiring a day-of wedding planner who is only there to assist on your wedding day. Weigh out your options and consider which is best for your needs.
Whether you realize it now or not, it will be nearly impossible for you to do it all on your own and still enjoy the best night of your life. Find someone you trust and put it in their hands. You can still give input, but without the extra stress and long hours that come with wedding planning.
7. Chairs
Not everyone who attends your wedding will dance the night away. Don't forget about grandma and grandpa and those guests who will want to sit during and after the ceremony. Make sure you have enough seating for everyone in both locations. If you have a sit-down dinner during your reception, this shouldn't be a problem because everyone will already have an assigned seat. If you aren't having dinner, make sure there's ample seating for those guests who will need it.
Work with the chair rental company to determine which type of seating is best for your big day. For outdoor weddings, consider renting chairs with cushions so your guests are more comfortable.
8. A Bridal Bag
Designate a bag for your personal belongings and little things you may need throughout the day like a make-up retouch, deodorant or a Tide-To-Go pen for those clumsy moments. Think of this as your emergency kit. Give the bag to your maid of honor or someone else who plans to be near you for most of the night, so they can provide anything you may need without you having to track it down.
Imagine moments before you walk down the aisle, you realize you've forgotten fashion tape to keep the top of your dress in place. Your maid of honor can quickly save the day with a adequately stocked bridal bag. After all, no one wants a wardrobe malfunction on their wedding day – or ever.
9. Cleanup Help
The least fun part of any wedding is the cleanup portion. Check with your venue to see if they offer cleaning support, as many of them do. If not, hire cleaners to handle this for you after the reception when everyone has left for the night. Whatever you choose to do, don't worry about this part. Let your wedding planner and vendors handle break-down and cleanup. Just make sure there is a plan in place before your big day.
10. Favors
This is a must to show your guests how much you appreciate them being a part of your big day. A good rule of thumb is for your favors to gift something that can be used or consumed. These can be set out at dinner tables for guests to find during the reception. Seeds are another popular gift because guests can plant them when they get home. This commemorates your big day and signifies a long-lasting marriage. If you're looking for something a bit more decadent, gift your guests with already made snack baskets filled with an assortment of chocolate covered nuts and dried fruits.
Wedding planning takes lots of thought and effort. It isn't something that will happen overnight- it's something that will likely consume months of your life. The above ten things are vital to any wedding and should not be put on the back burner to cut corners or buy back time.
This is supposed to be the most magical day of your life, and with proper planning and coordination, you'll have the wedding you've always dreamed of!
The following two tabs change content below.
Kacey
Kacey Bradley is the lifestyle and travel blogger for The Drifter Collective, an eclectic lifestyle blog that expresses various forms of style through the influence of culture and the world around us. Kacey graduated with a degree in Communications while working for a lifestyle magazine. She has been able to fully embrace herself with the knowledge of nature, the power of exploring other locations and cultures, all while portraying her love for the world around her through her visually pleasing, culturally embracing and inspiring posts. Along with writing for her blog, she has written for sites like U.S. News, SUCCESS, Tripping.com and more!