They say Virginia is for lovers and that saying certainly rings true for this sweet couple. Set against the rolling hills of the Commonwealth, this rustic farm wedding from Laura Gordon Photography is full of handmade touches and darling little details (like mini-pies!). The beautiful bride, Heather, is here to share her insight with all of us today: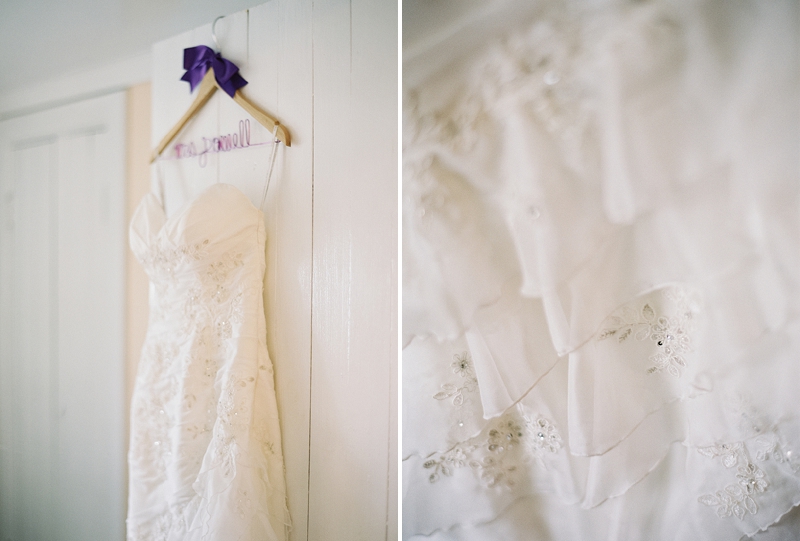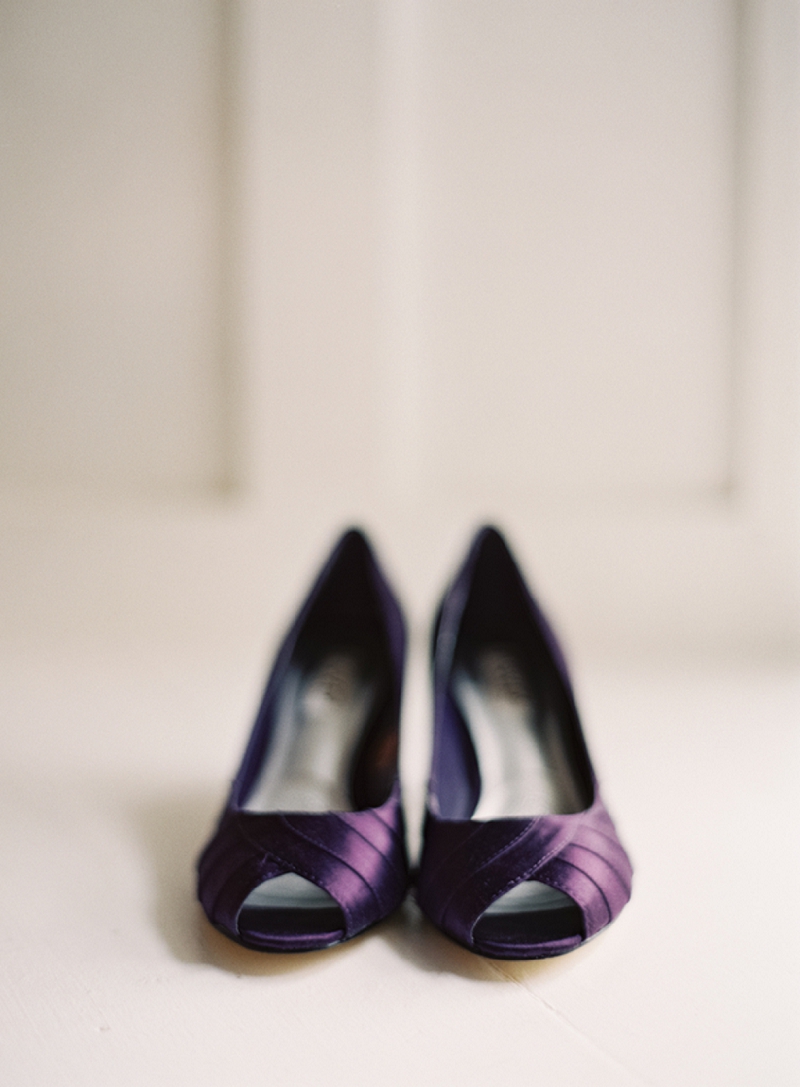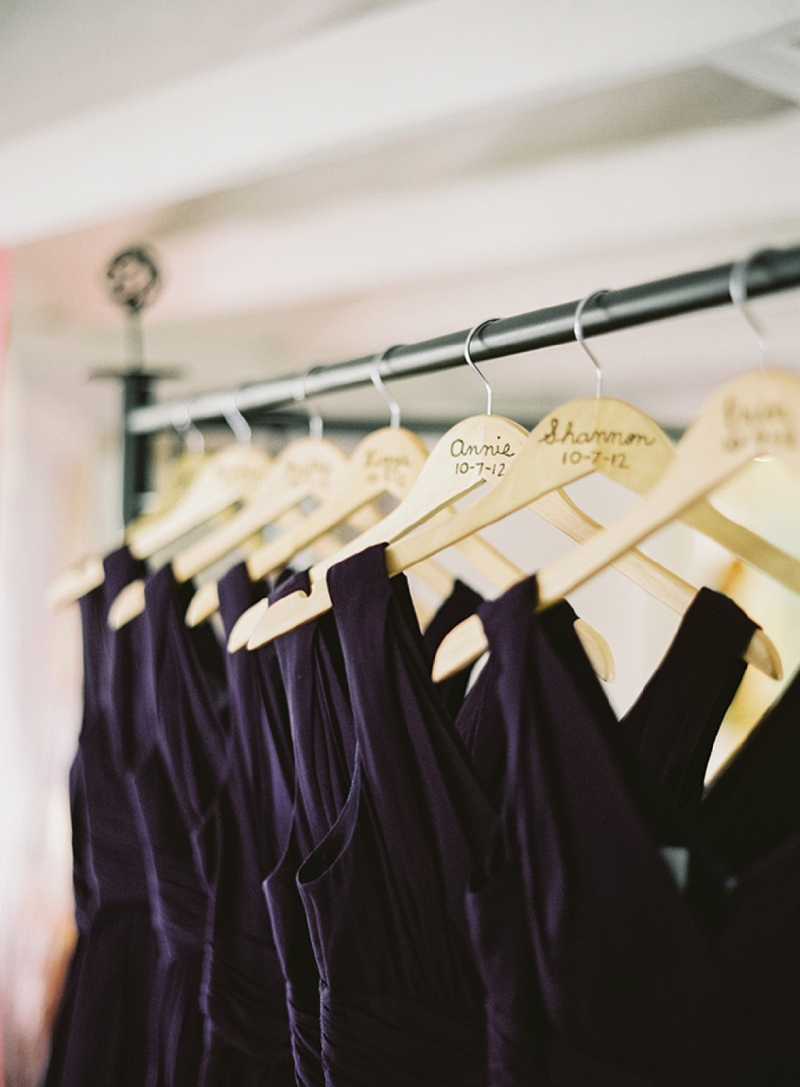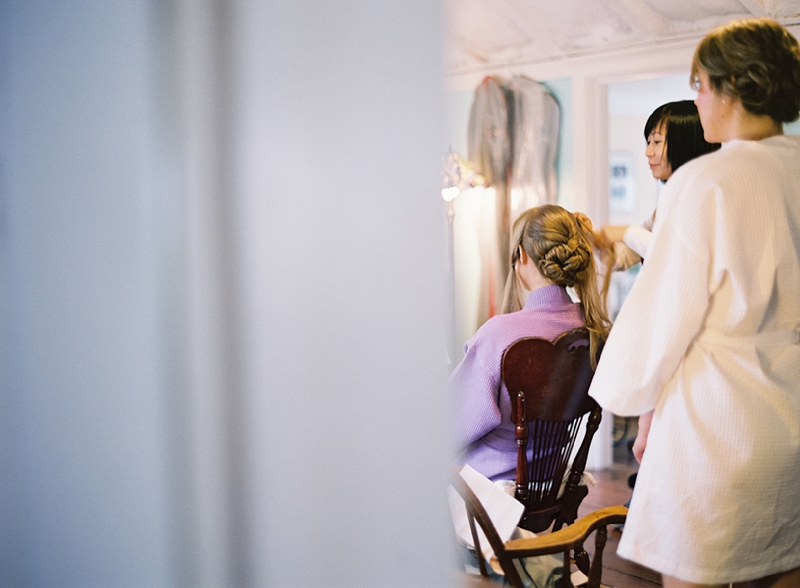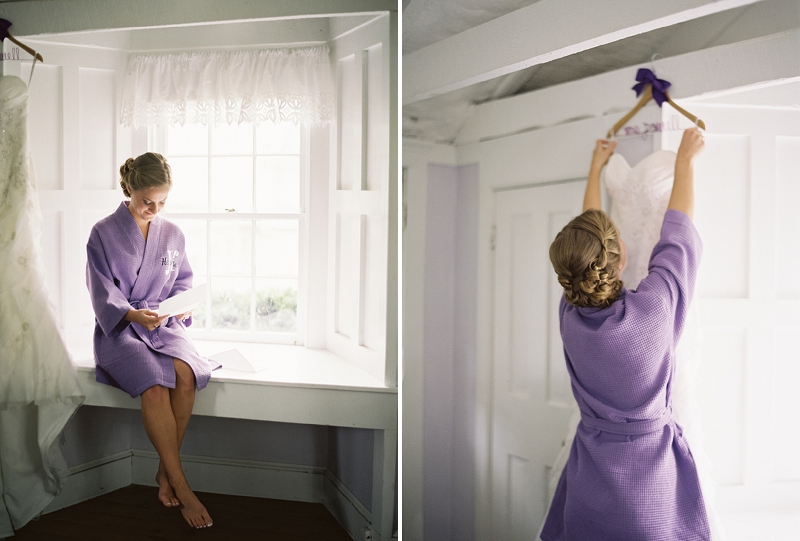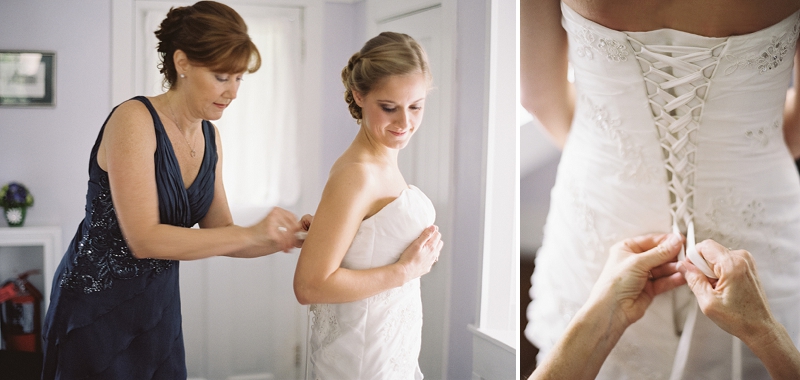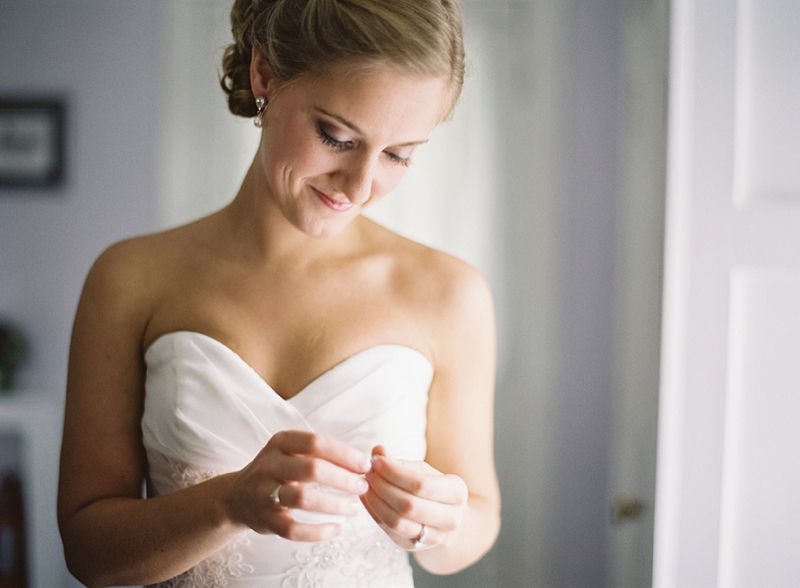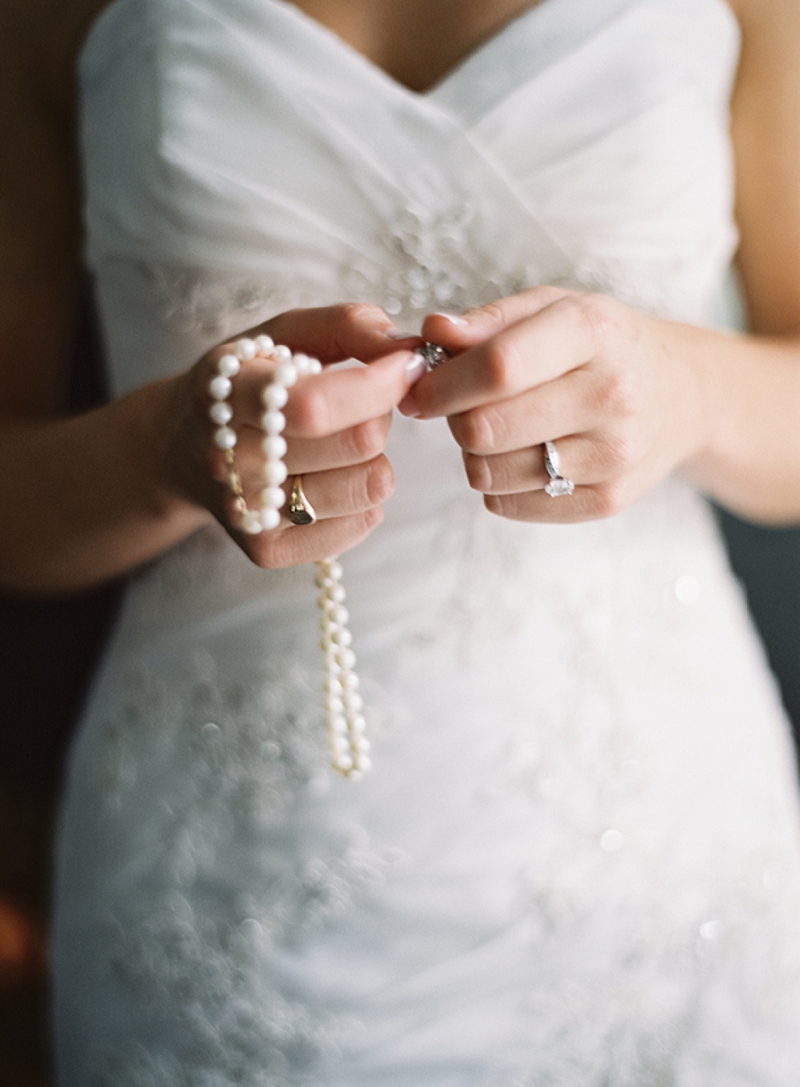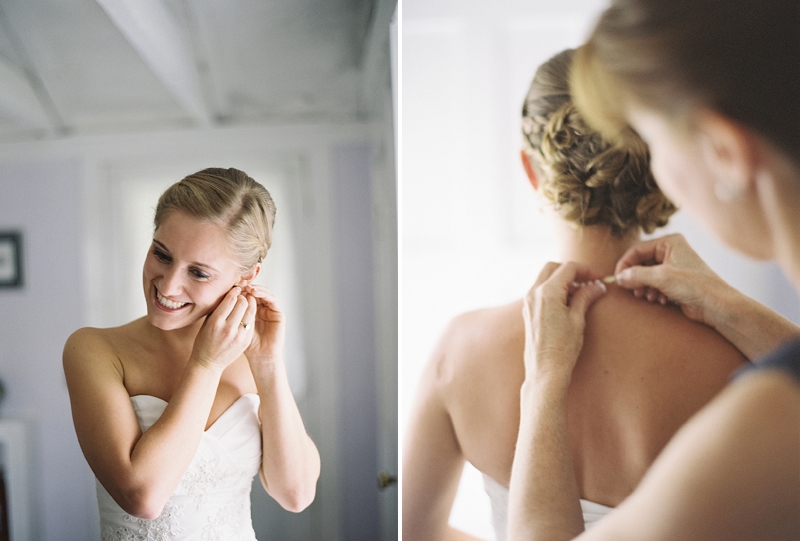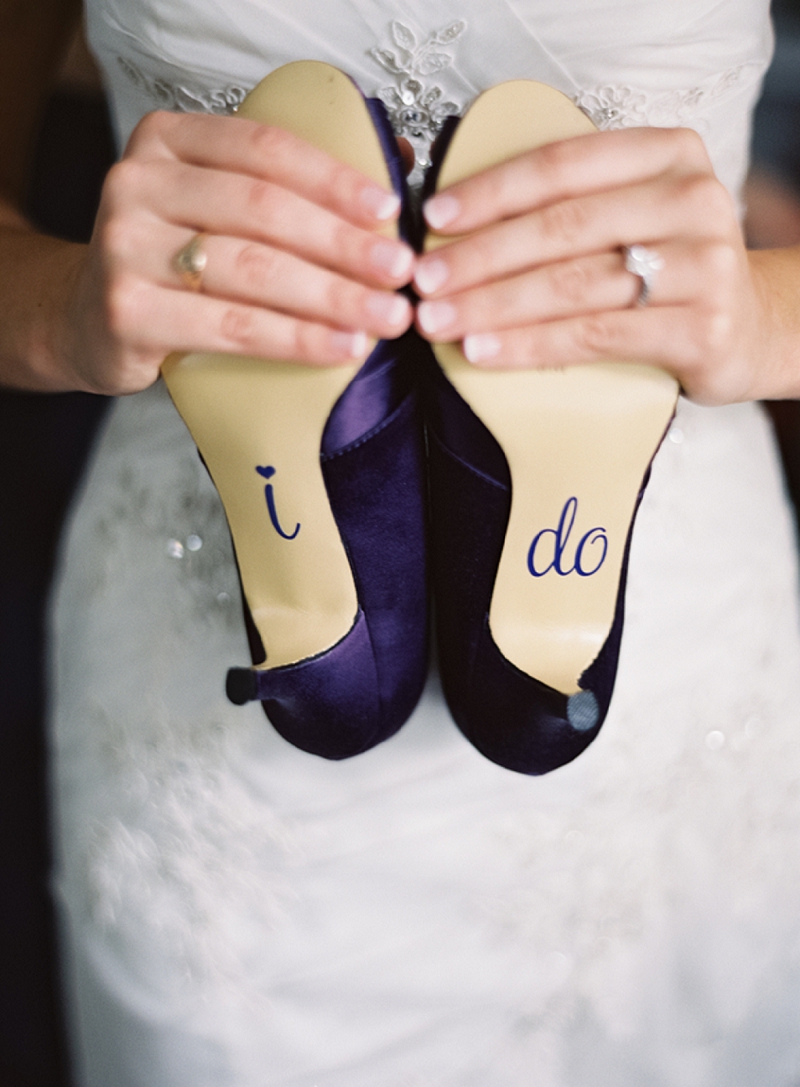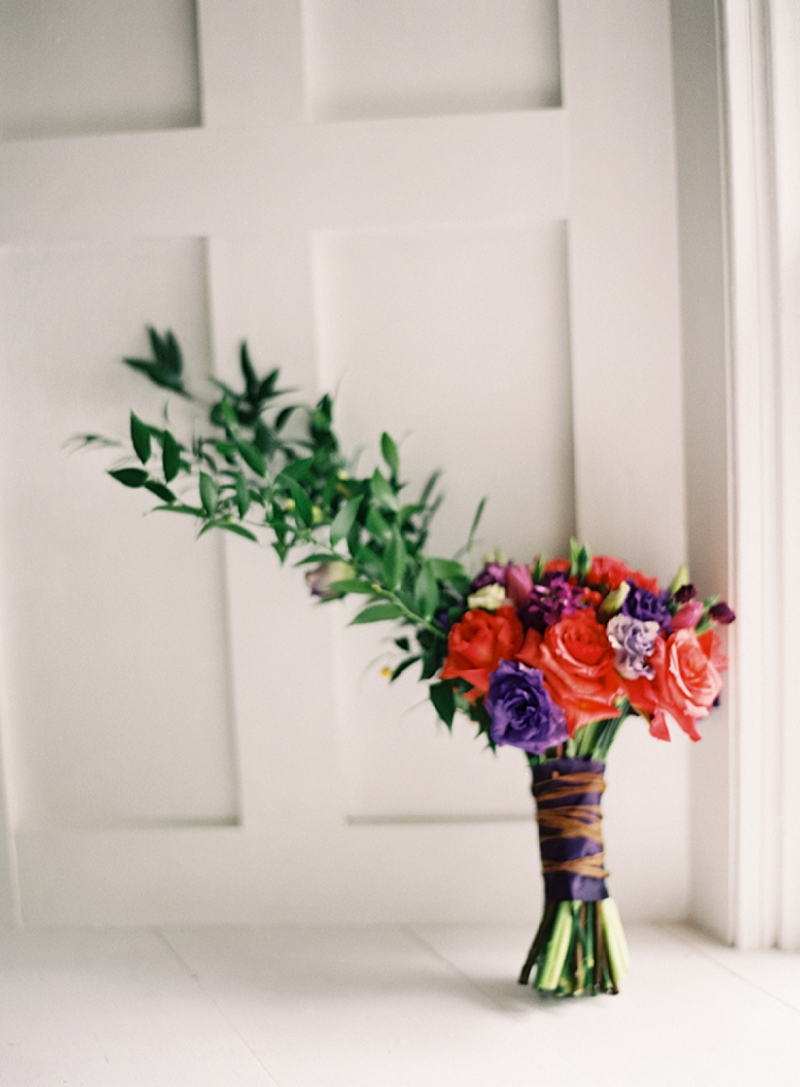 What (or who) helped you most in your planning process and/or on your wedding day?
One of the best things about wedding planning, for me, was the opportunity to work with the best "wedding planner" in the whole world – my mom. She is one of the most creative, inspiring, and organized people I know with a heart for crafting and creating special, intimate, and lasting memories. She and I, with some help from Pinterest (I definitely suggest creating at least one board, especially because you can now make Secret Boards!), worked together to keep a running list on what needed to get done. It worked best for me to split up the tasks – for example, Mom finalized the florist and caterer's contract while I did the DJ and photographer's, or I designed and printed the invitations while she worked on the seat chart display. We held each other accountable to deadlines and bounced ideas off of each other.On the day of the wedding, though, I wanted to make sure it was stress-free for everyone so we had a family friend help keep everything on schedule, collect coats, set-up a few displays, and make sure people were where they were supposed to be. It definitely helped to have one "go-to" person so neither my mom nor I had to worry much on my wedding day.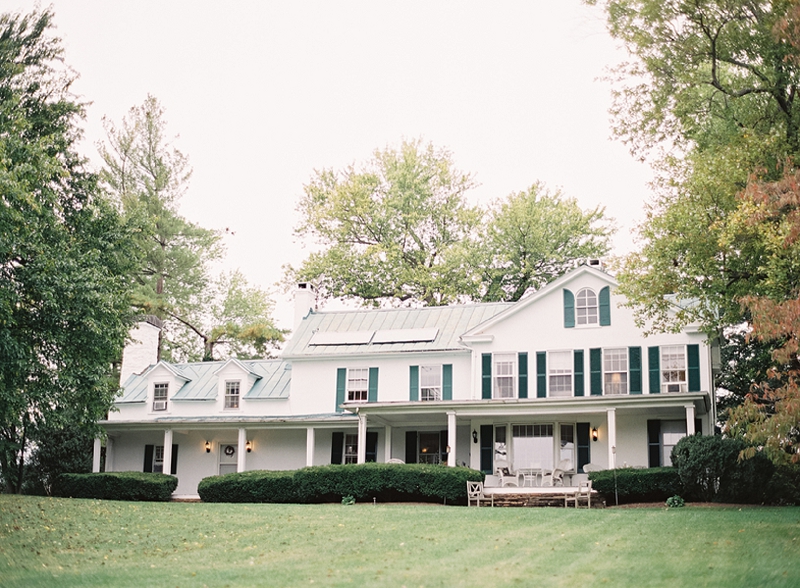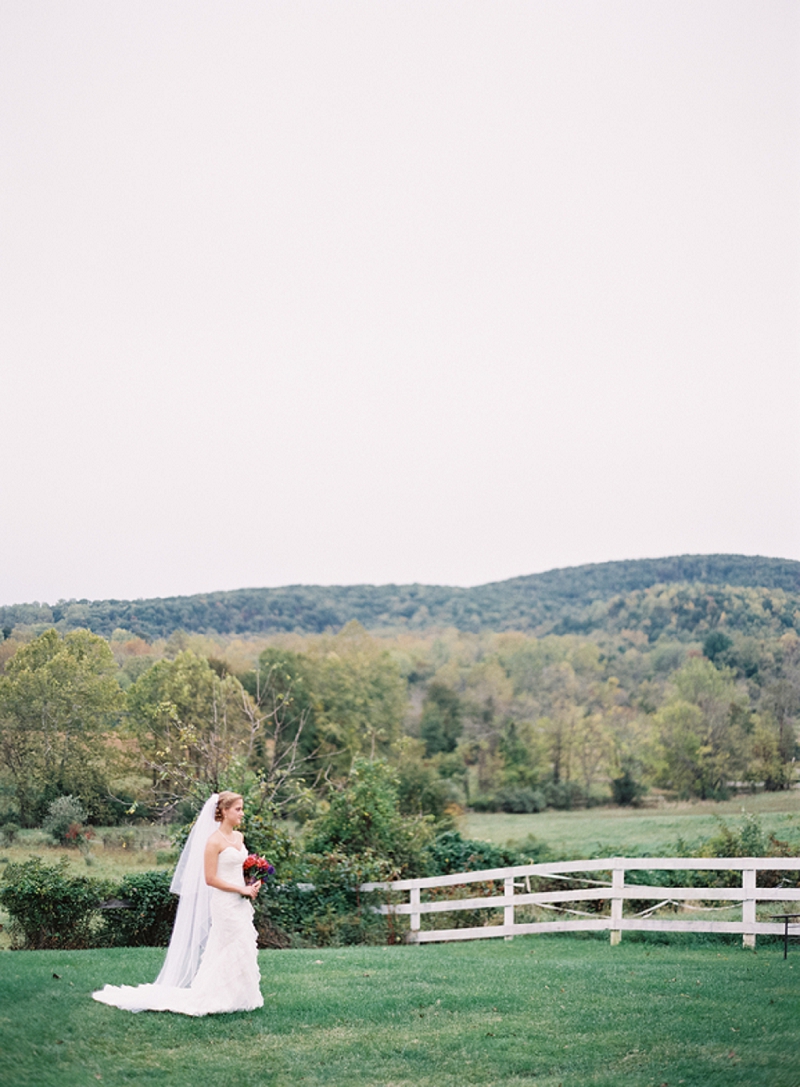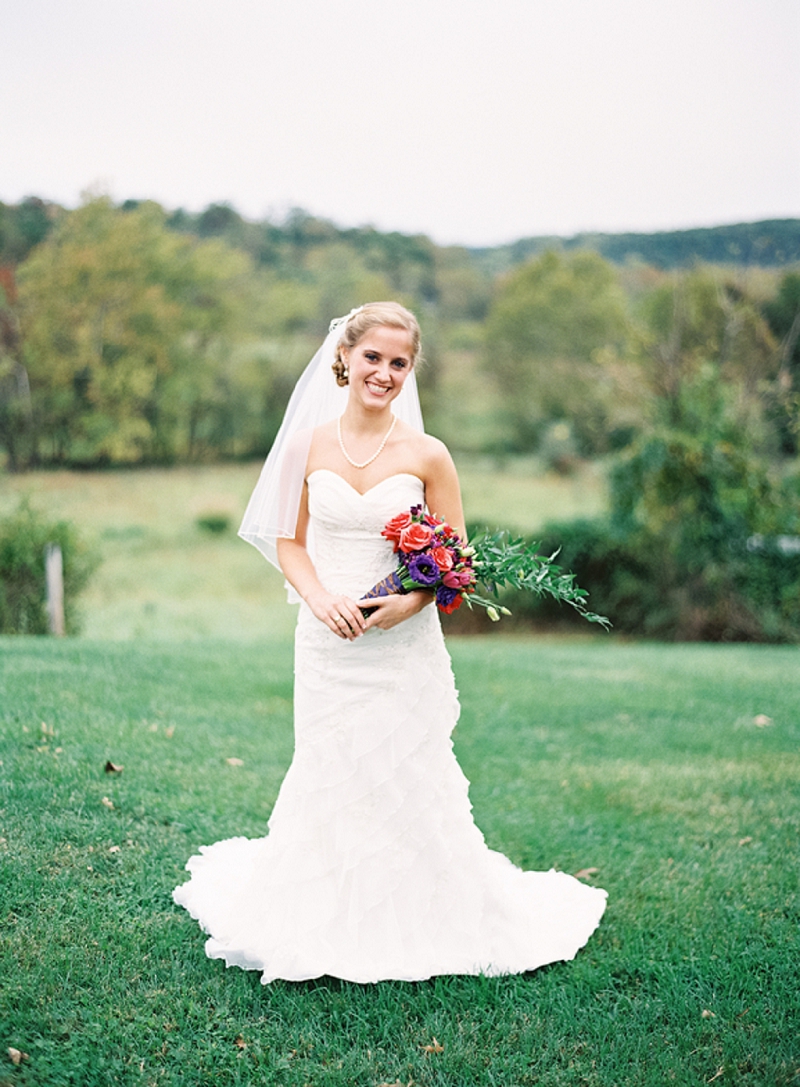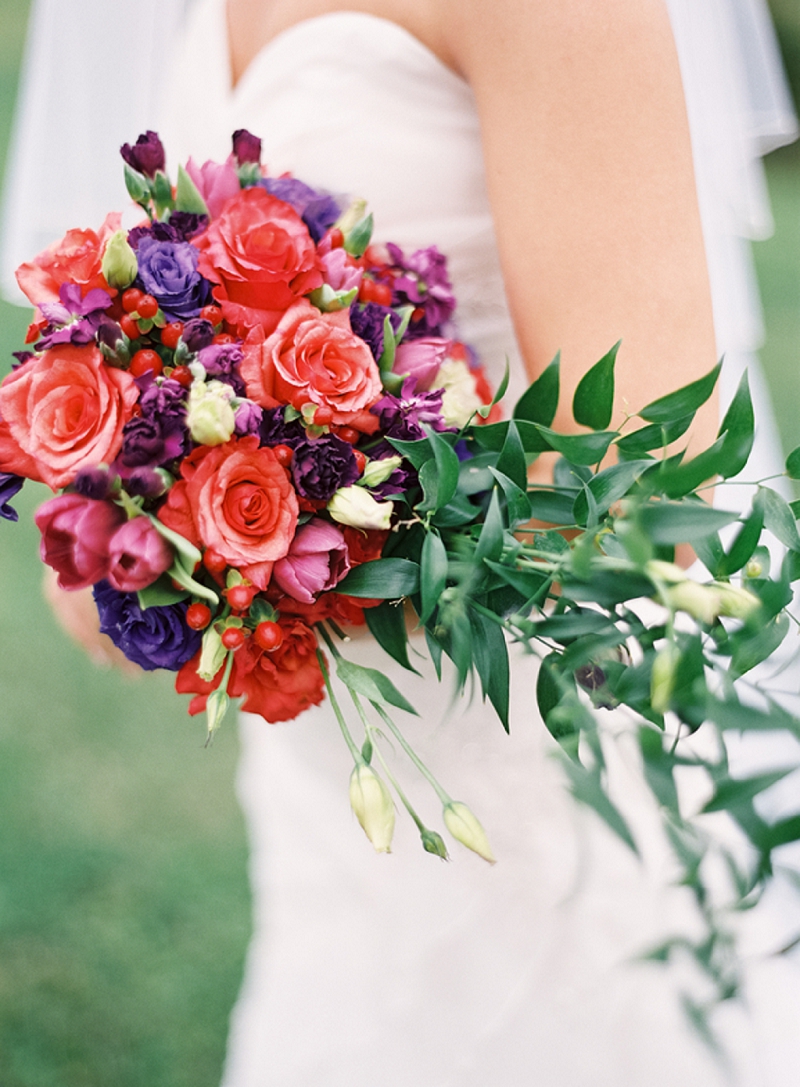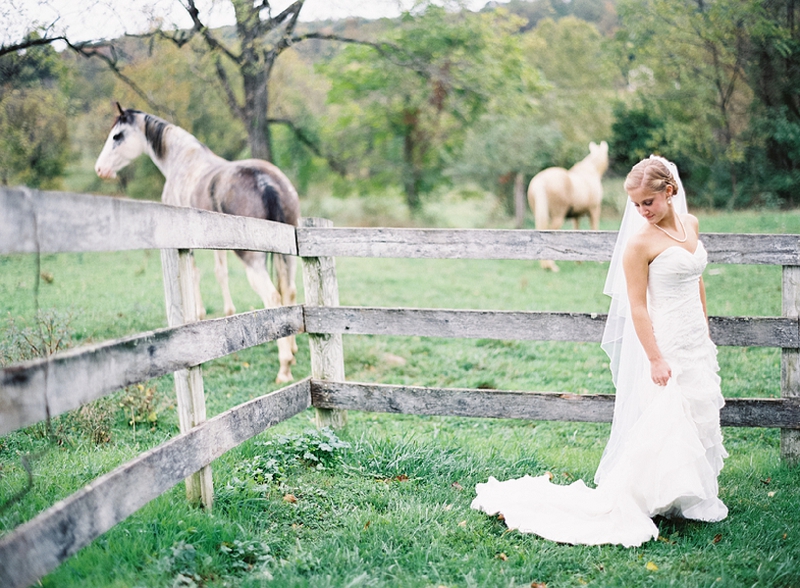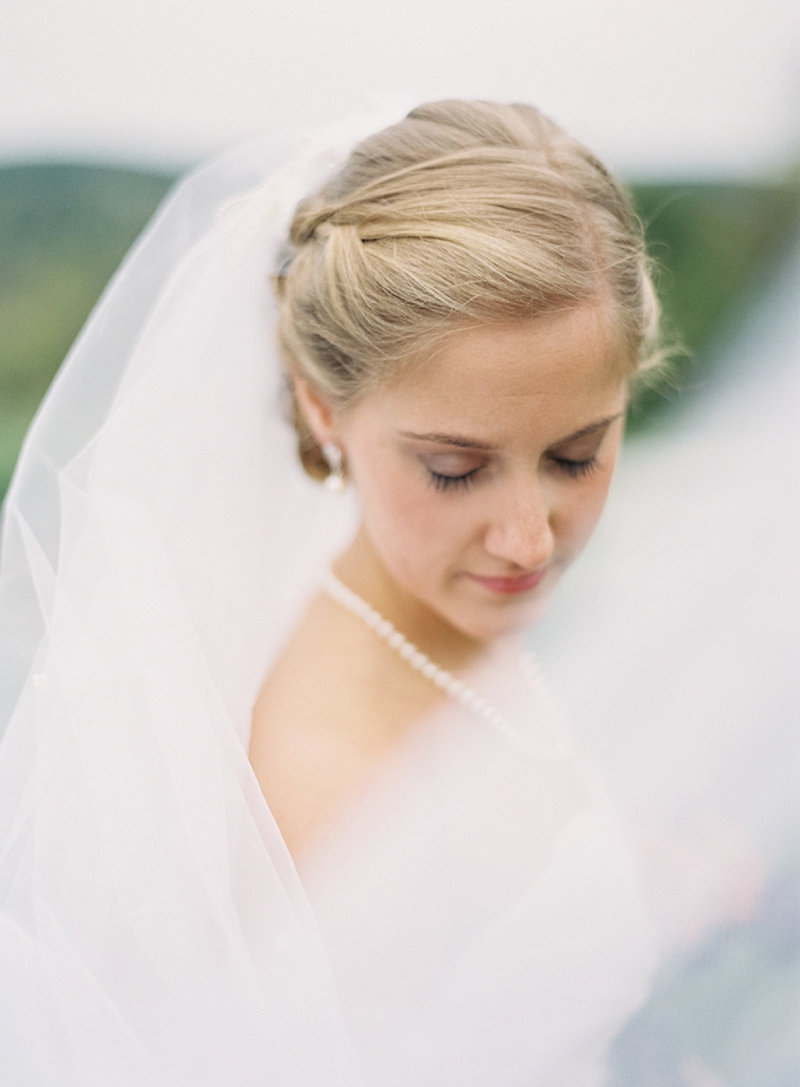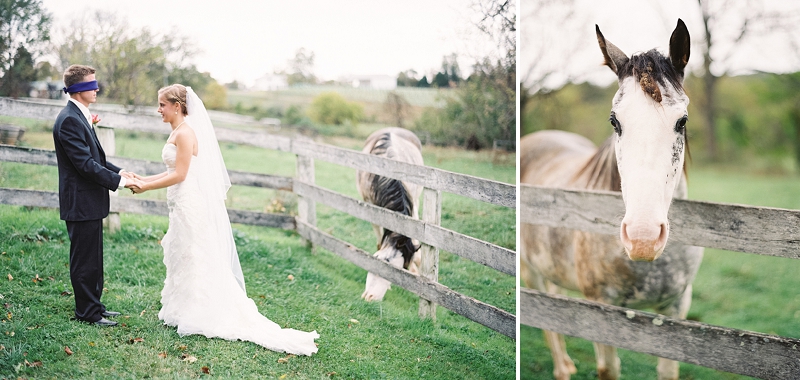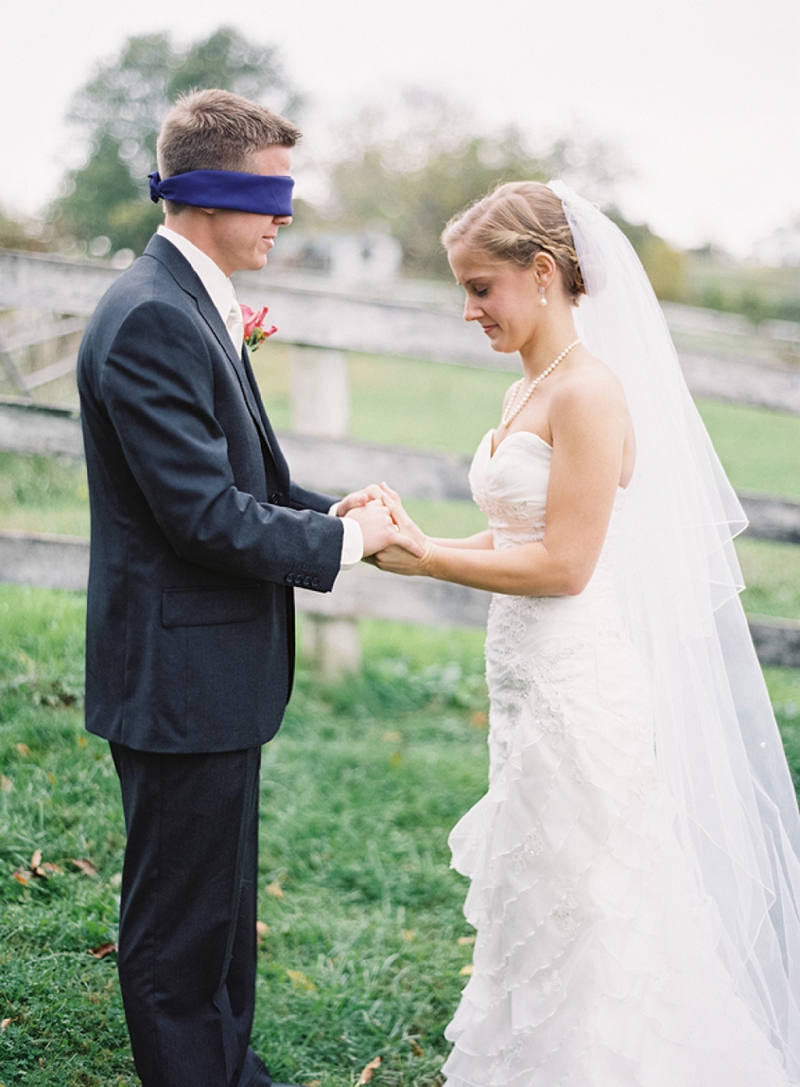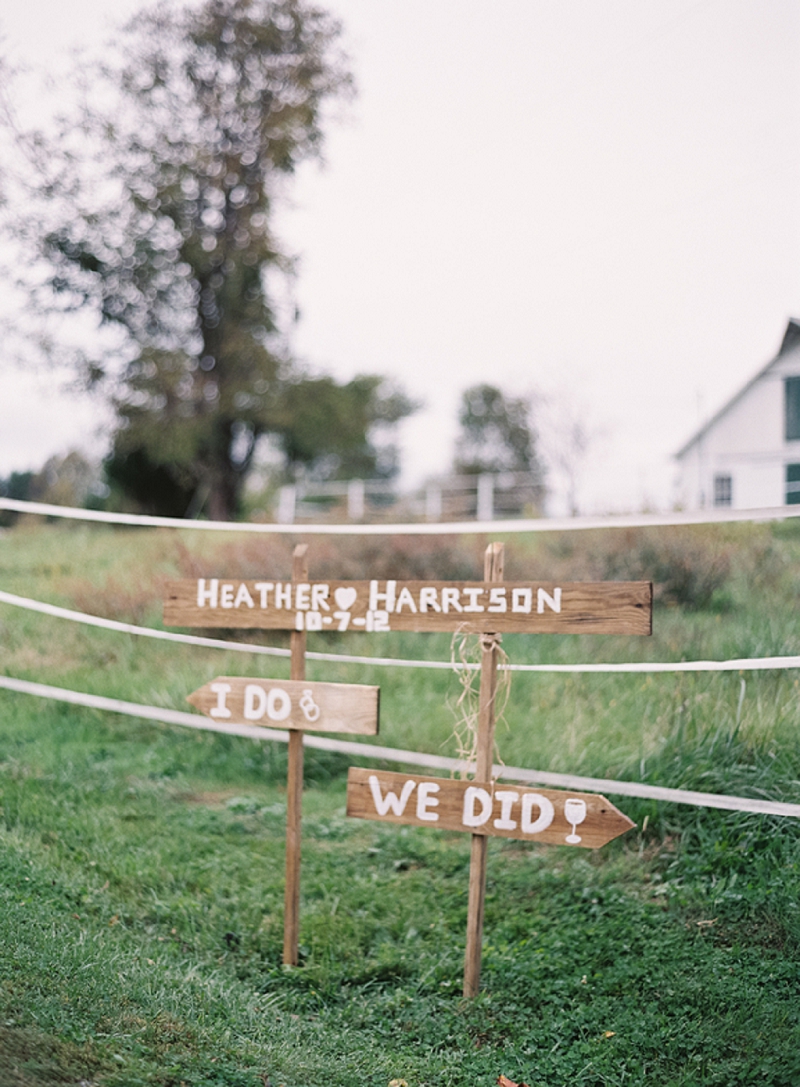 What was the most important thing to you when deciding who to work with for your wedding?
There were two things that were most important to me as I chose my vendors. First, I made sure that I connected with them on a personal level because we were going to be communicating a lot the following months. I even ended up developing a friendship with my photographer and we still talk today – she's awesome! Second, I looked for vendors who could understand and create my vision. As a creative person myself, I wanted to make sure we were on the same page and that they could help me bring my vision to life in the best way possible.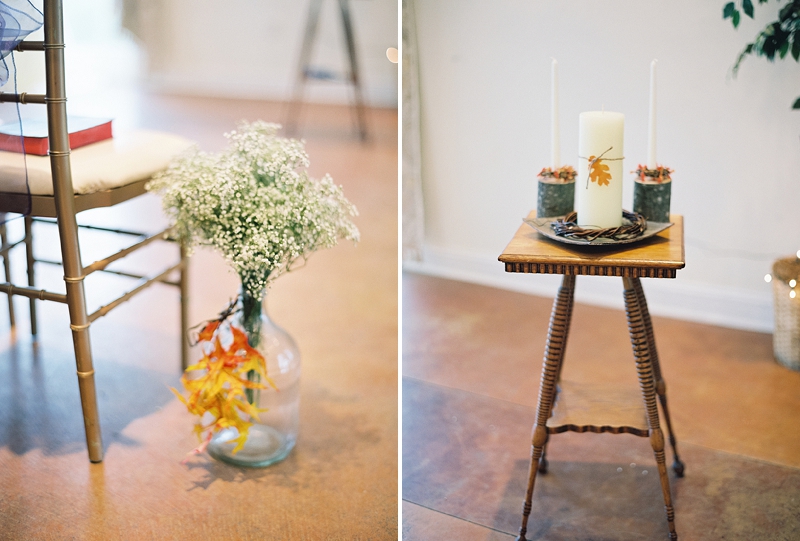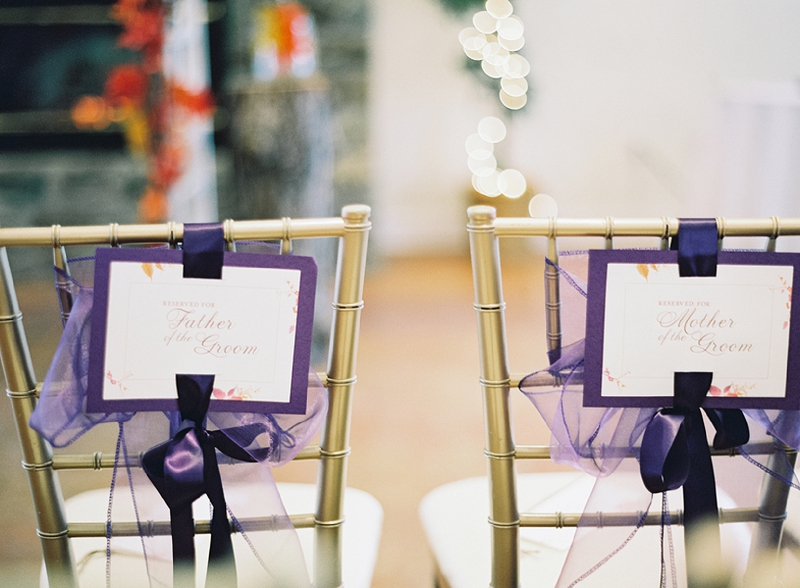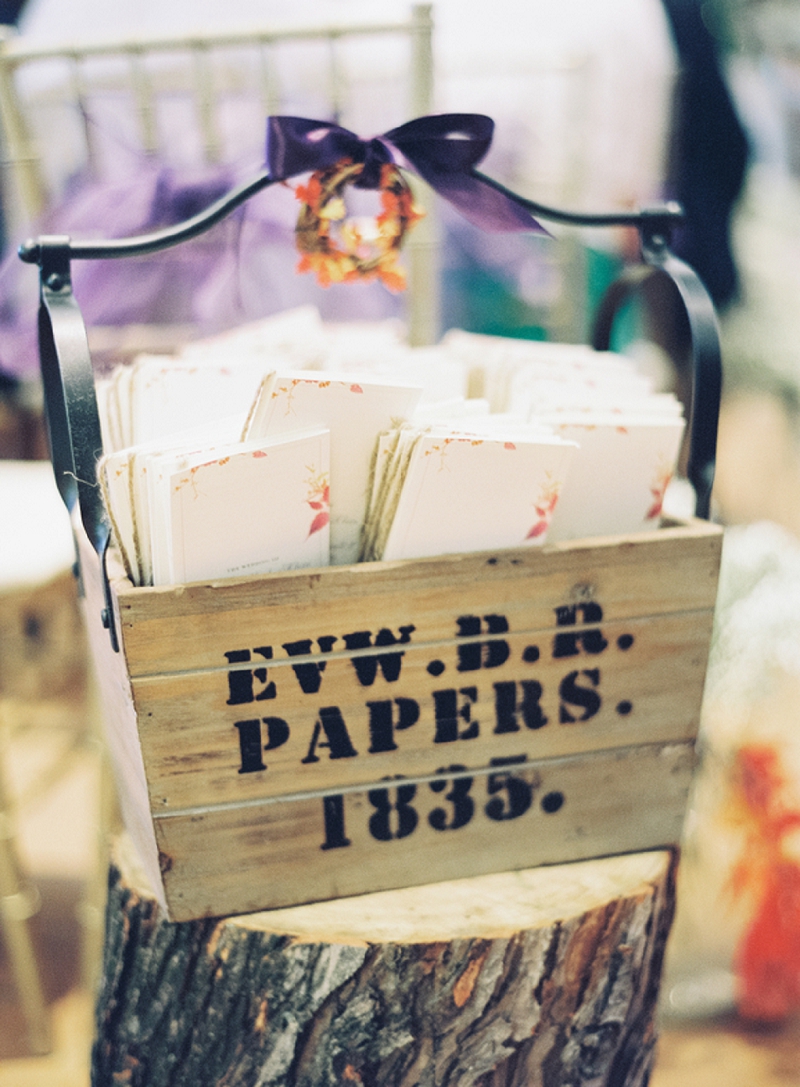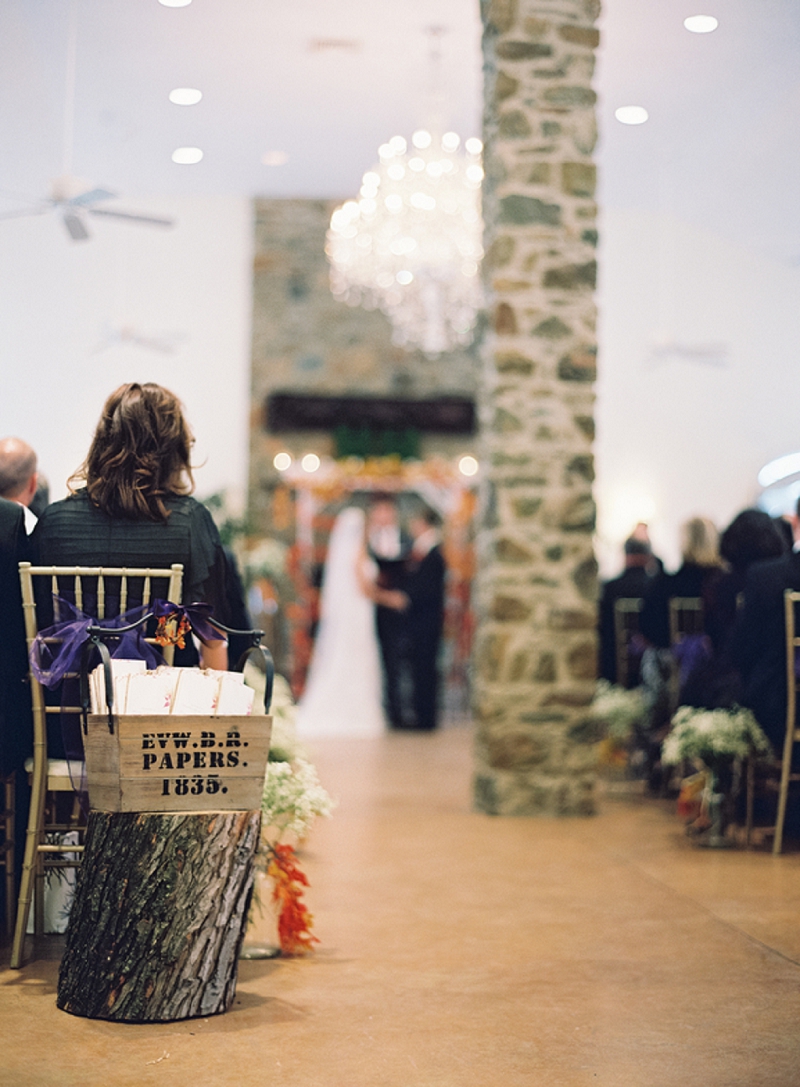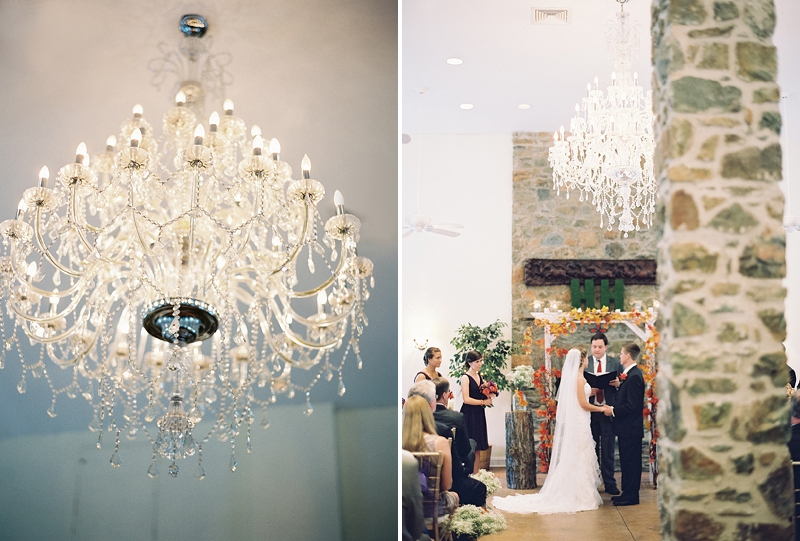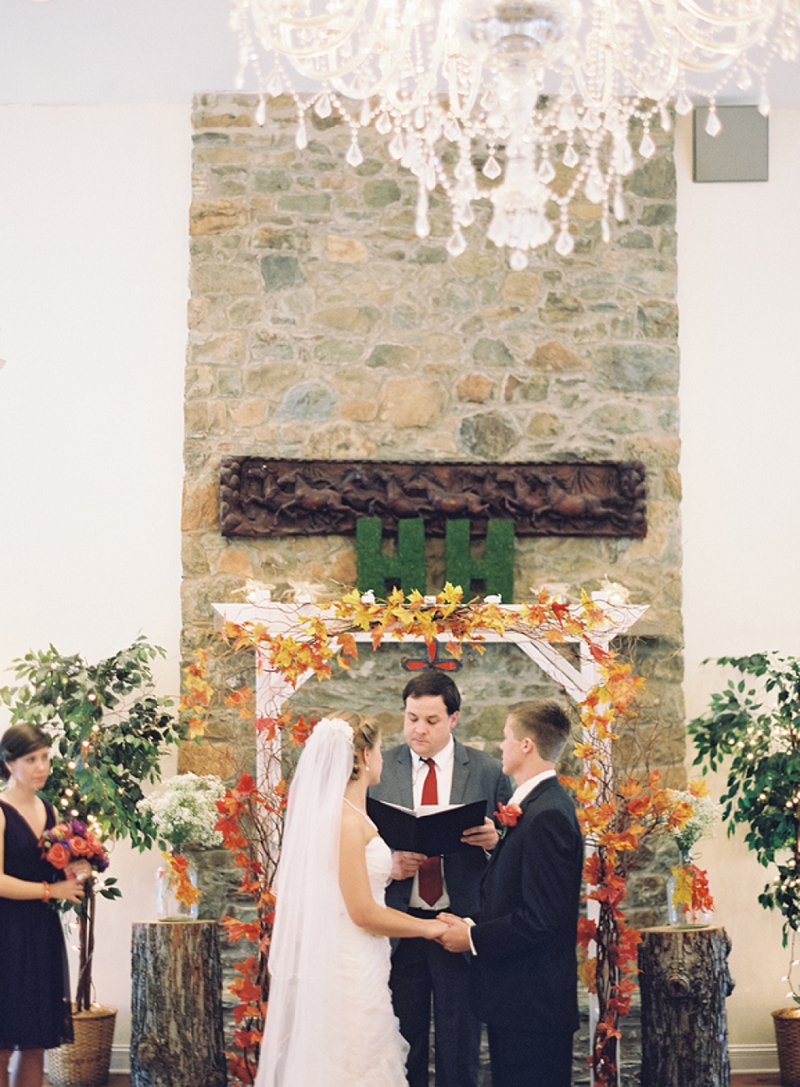 What was your inspiration for your wedding details and/or design?
I absolutely loved my wedding colors and theme. Since I was young I have always loved plum purple, so I knew I wanted to start there. I chose an awesome Fall accent color, orange, to complement the deep, rich purple because we were getting married in October at a beautiful bed & breakfast (Briar Patch Bed & Breakfast) in the mountains of Virginia. The overall theme was Fall/elegant rustic with wood, leaves, moss, mason jars, floating candles, oil lanterns, mini pies and other outdoorsy and autumn details.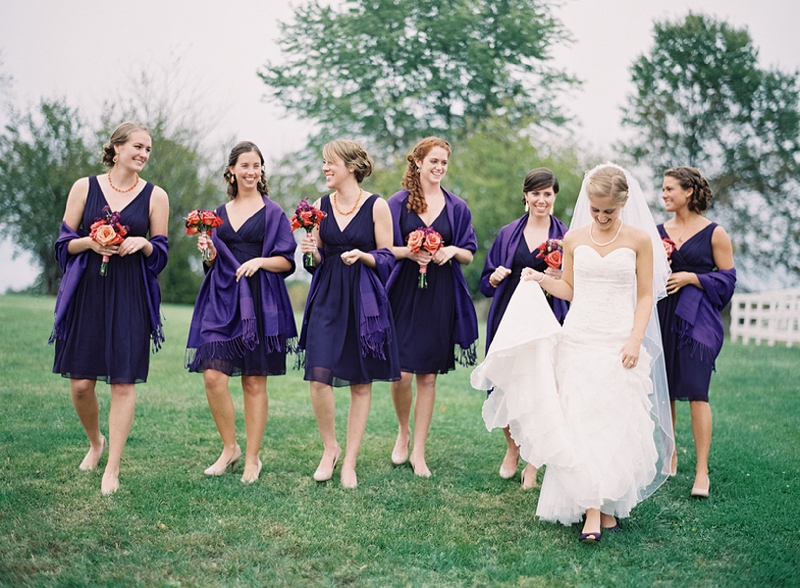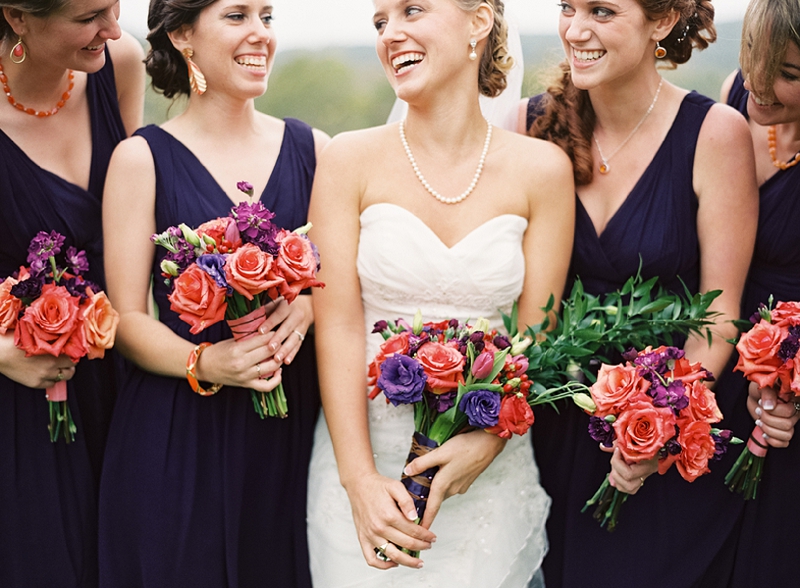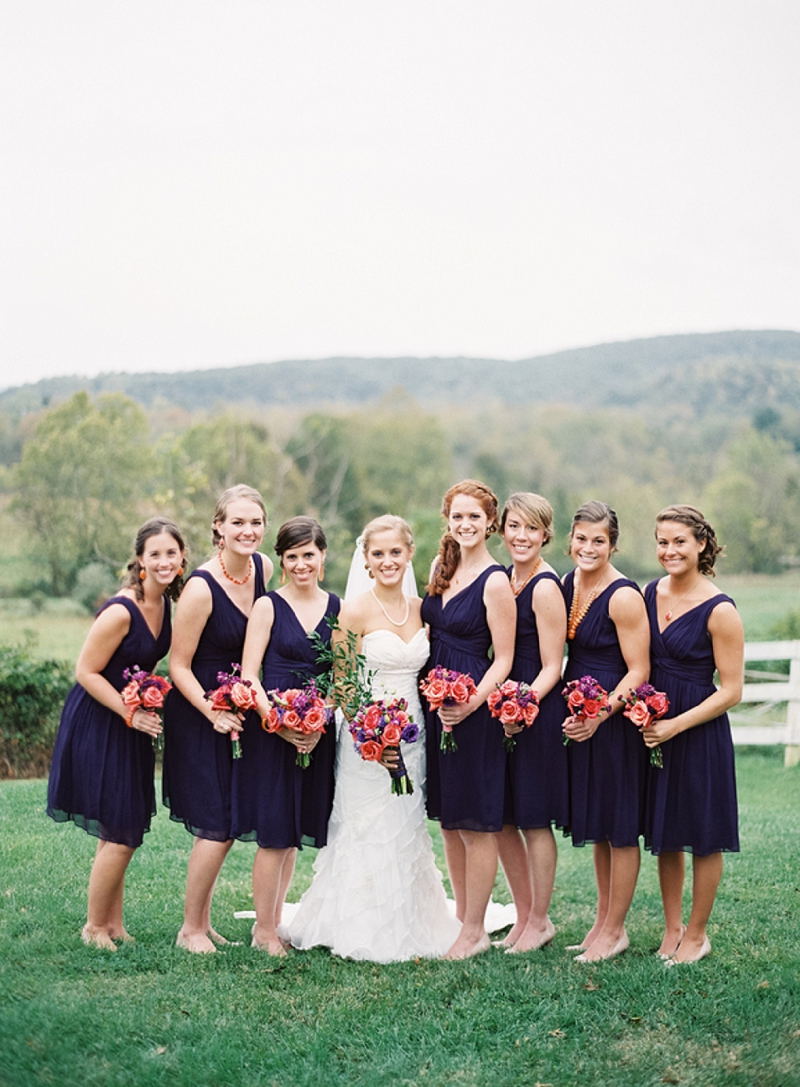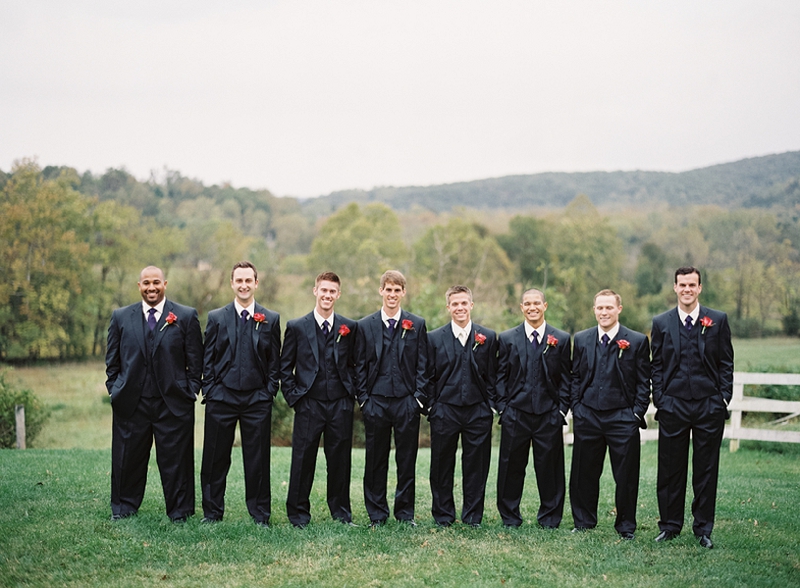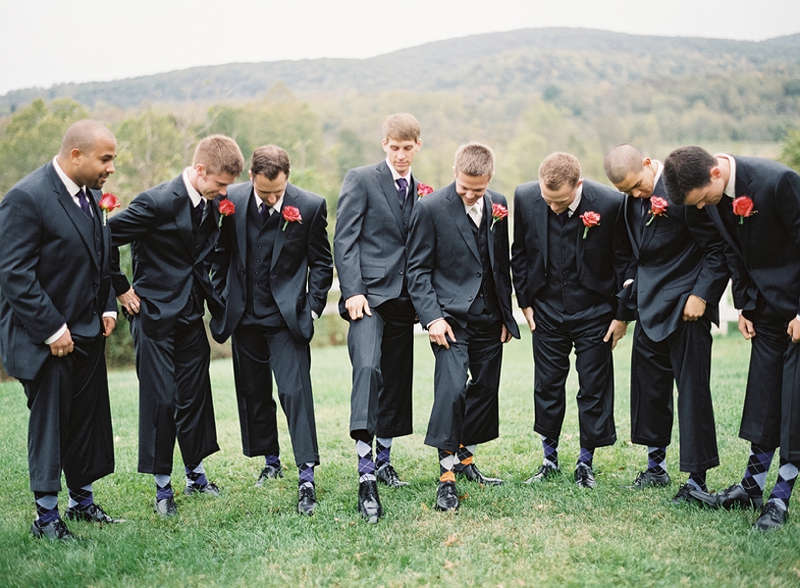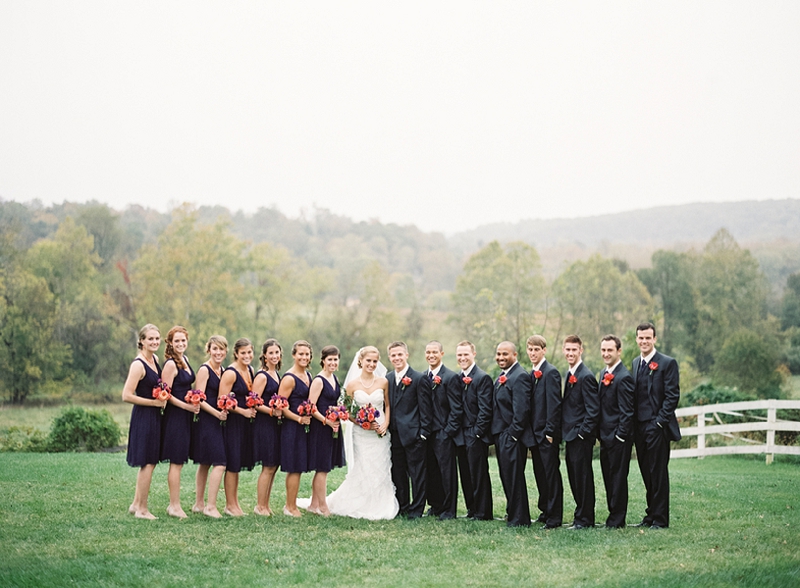 What was your favorite thing about your wedding?
My favorite thing was definitely marrying my best friend, Harrison. But besides that I loved the little non-traditional moments in my wedding. Before the wedding ceremony Harrison and I wanted to pray over our marriage together. In keeping with tradition, I did not want him to see me before the ceremony so I had him blindfolded. His sisters led him to where I was (outside next to the horses at our beautiful venue!), we held hands, and he prayed for us. It was one of the most moving things I have ever experienced.Another special moment for me was the "ring ceremony". Before the rings were handed to the pastor we had them tied to my grandmother's Bible (the Bible that she carried in her wedding and that my mom carried in hers) and we passed it around the congregation. Each person held the Bible and said a silent prayer/blessing over the rings. During that time my twin sister and one of Harrison's good friends sang one of our favorite Christian songs. The moment was truly beautiful for everyone there.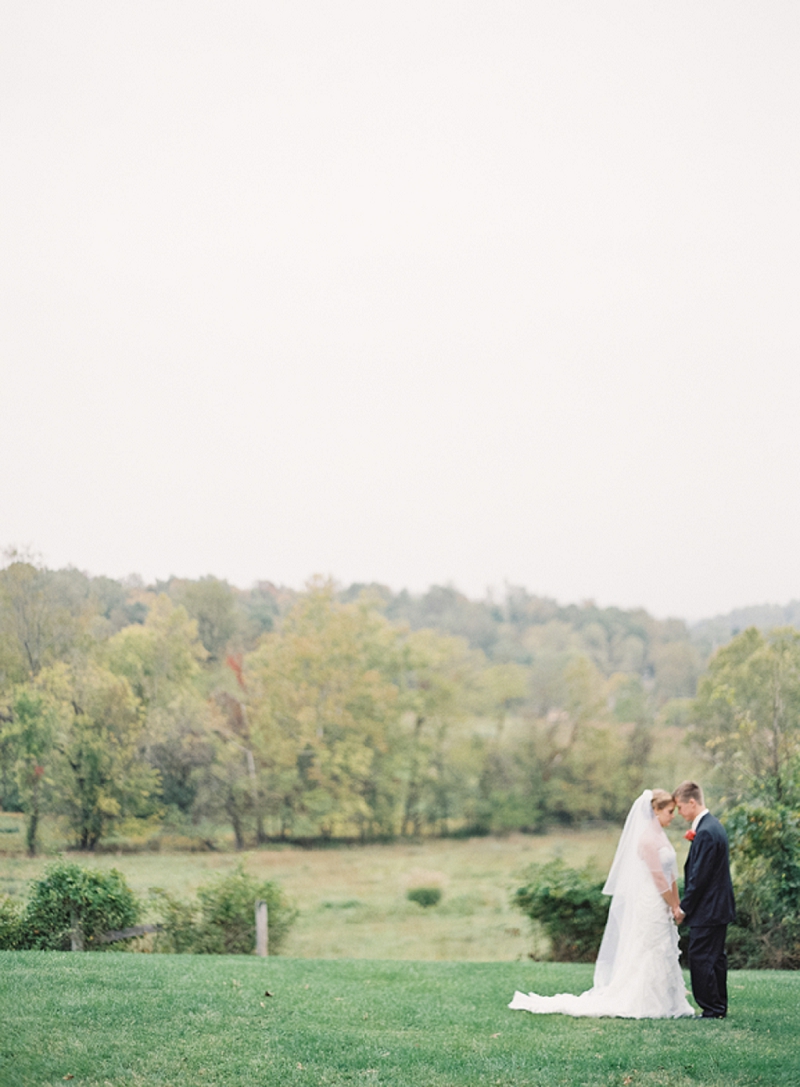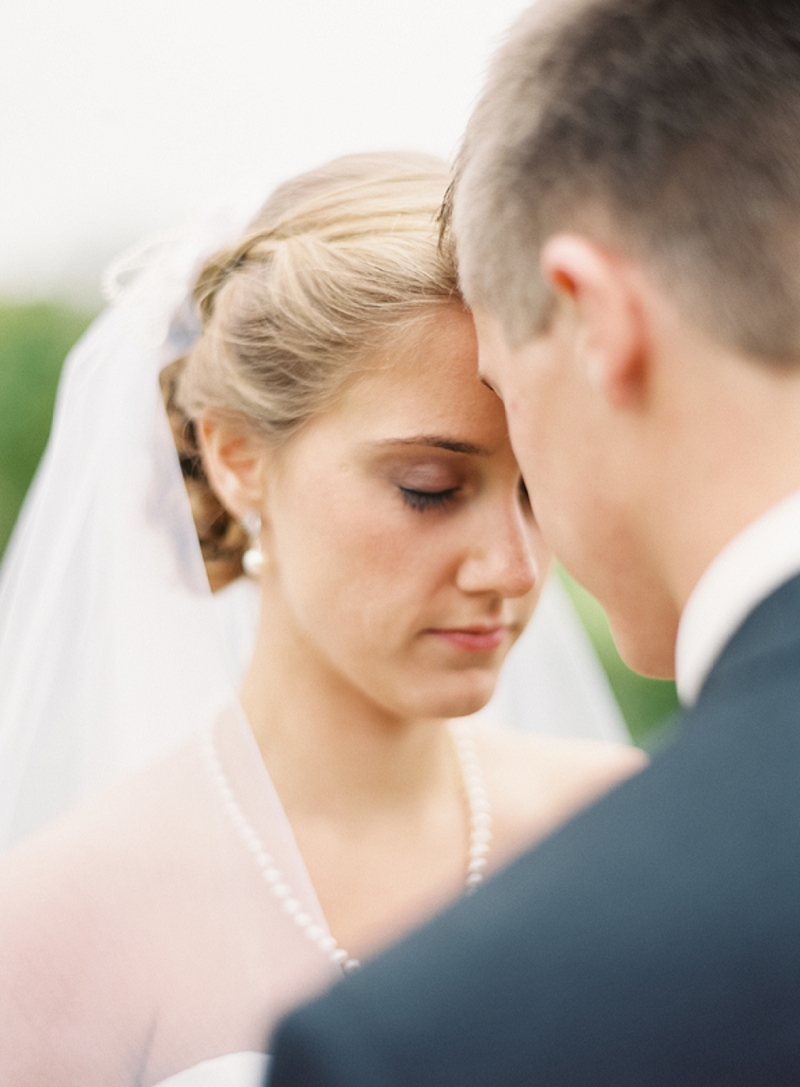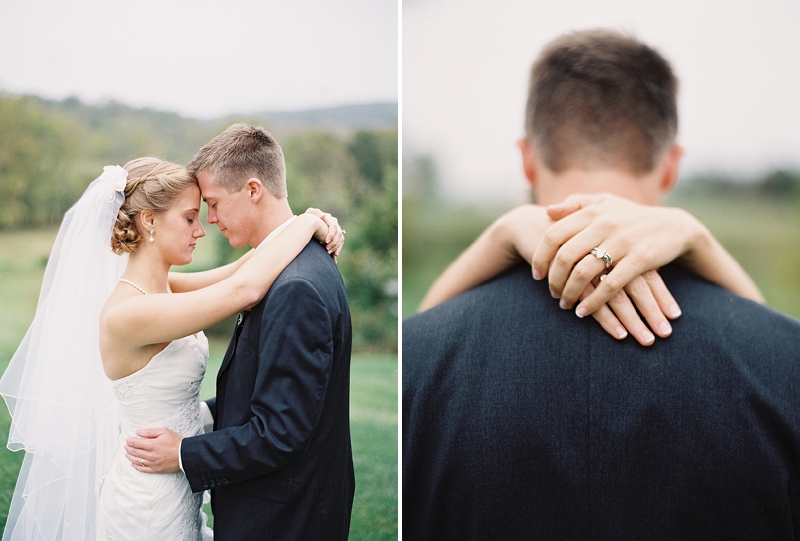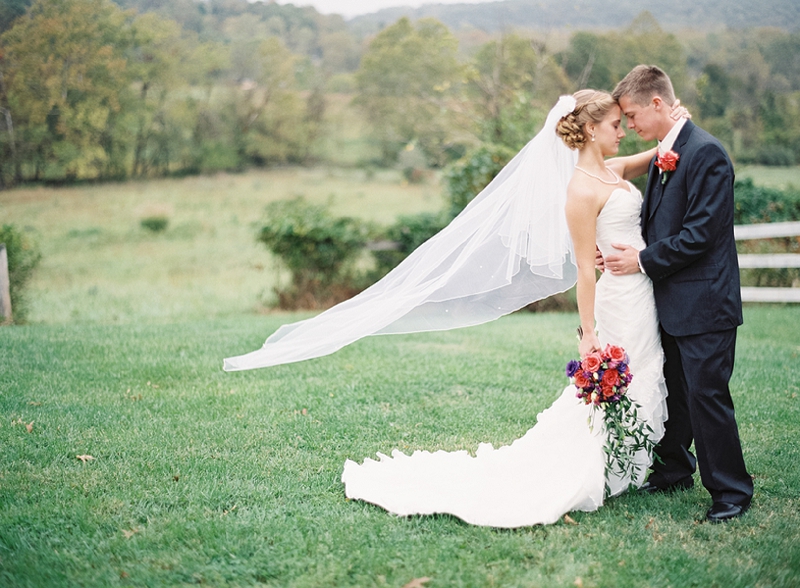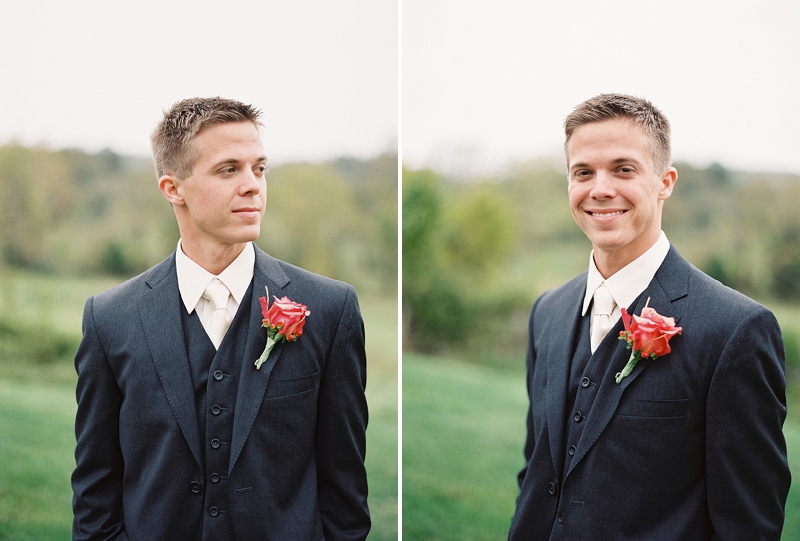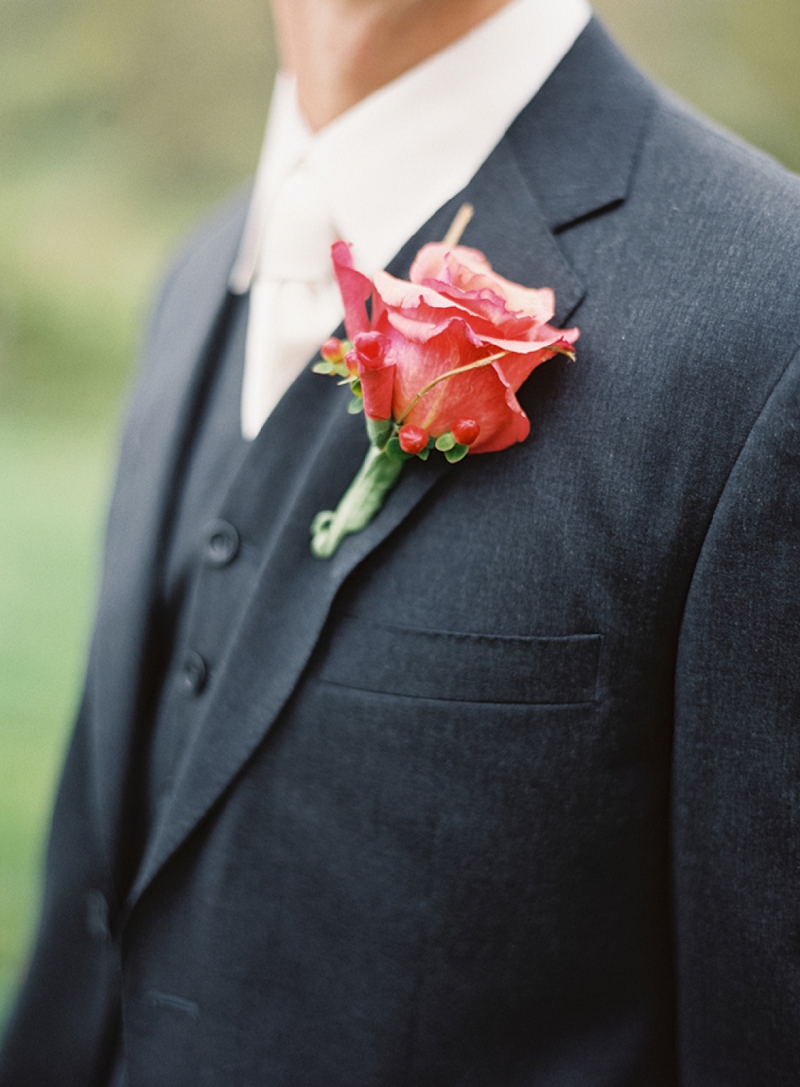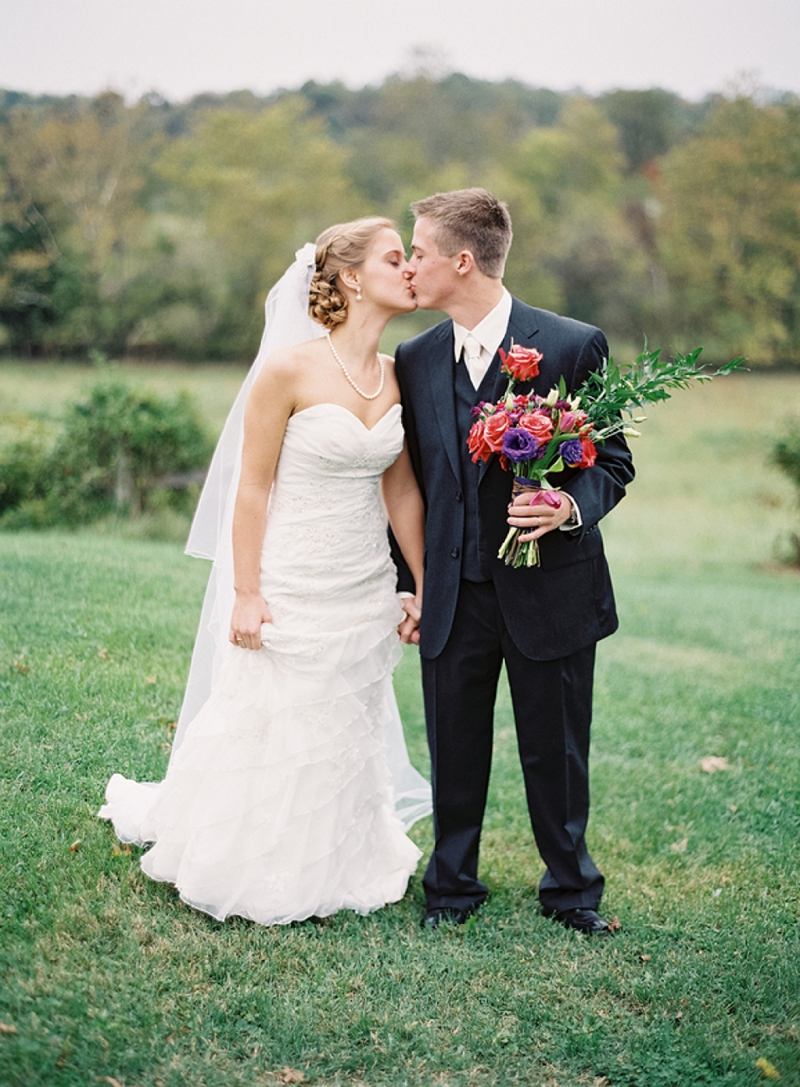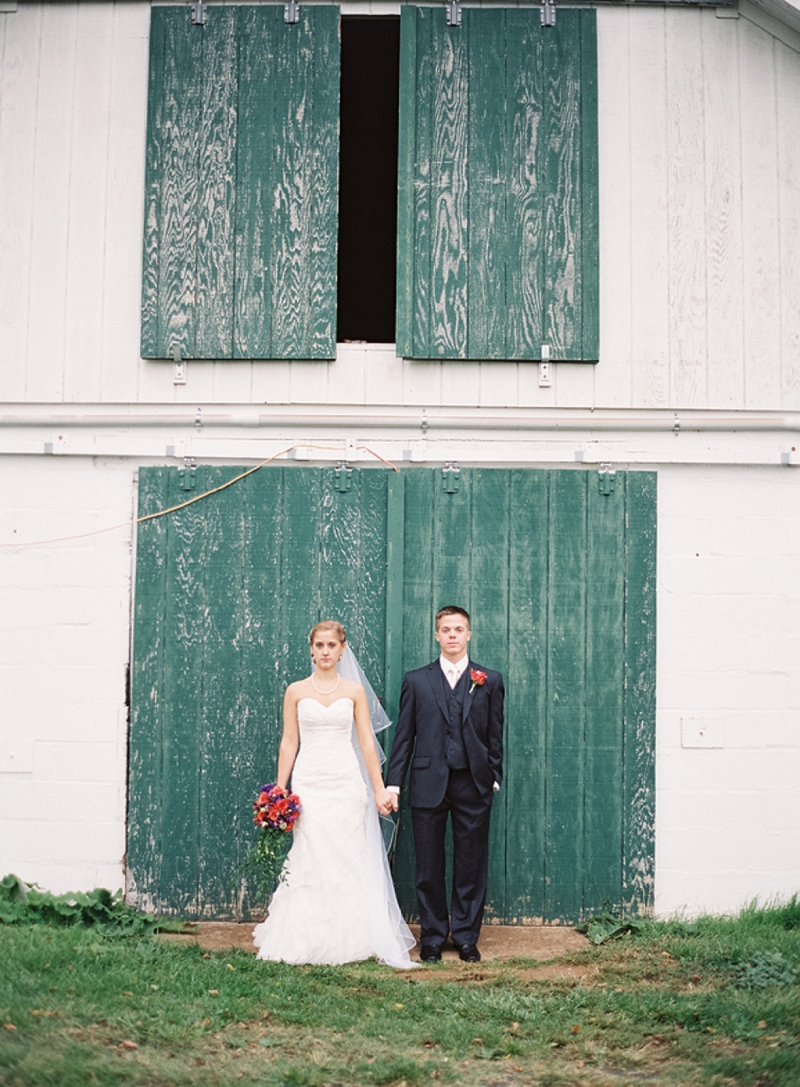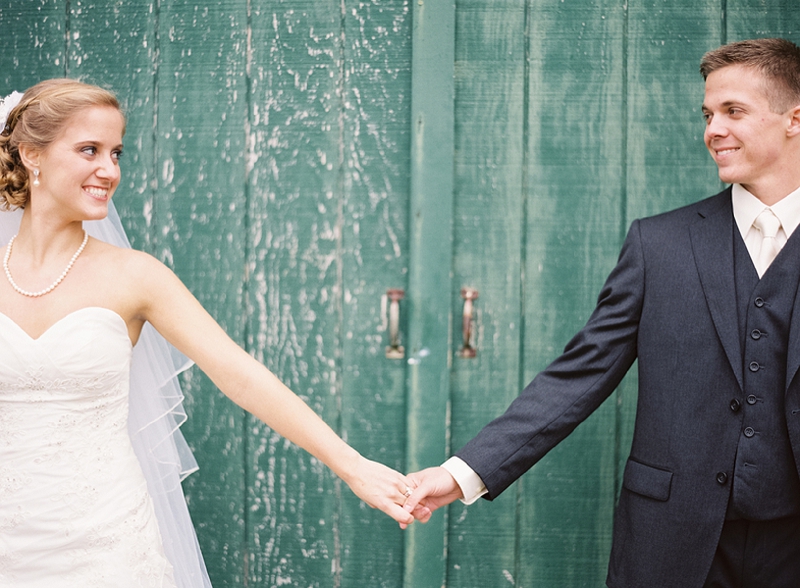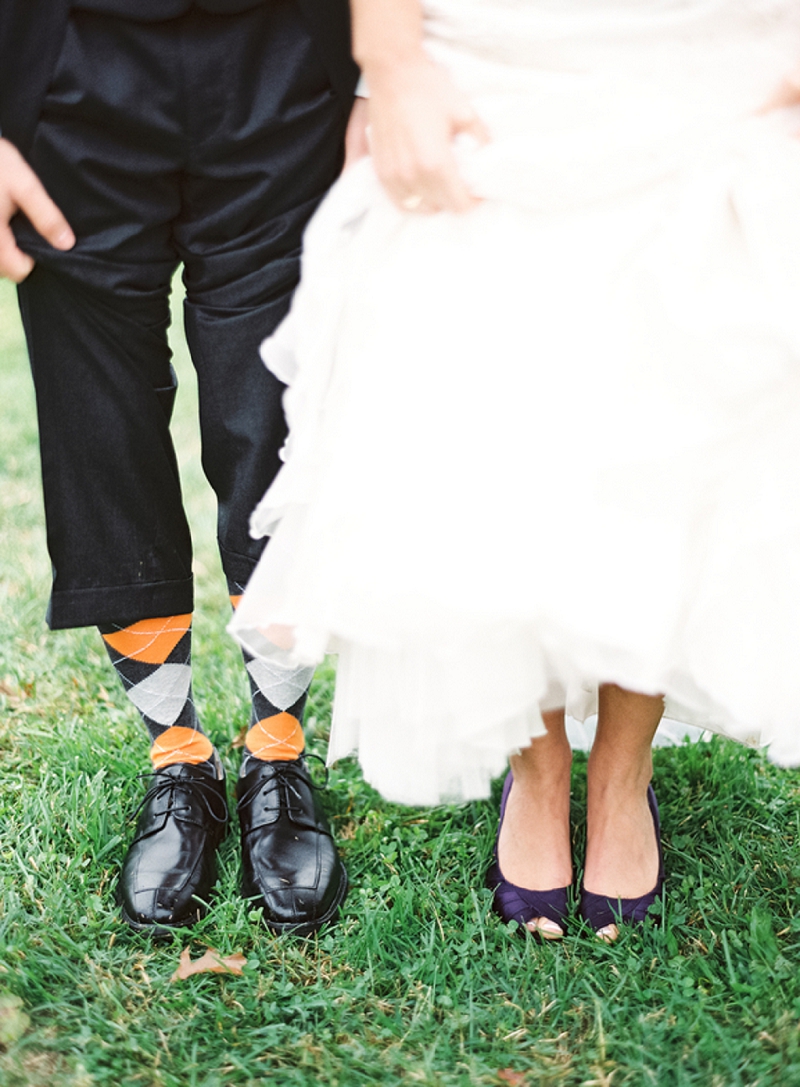 What is your best piece of advice for other brides?
My best piece of advice would be to take the process step-by-step by using lists and more importantly to celebrate little victories. It can be a long, tedious, stressful, inspiring, fun, and tiring process, so it needs to be taken in small bite-sized chunks. That way you always know what you are finished with, are focusing on, and have left. Don't forget to celebrate your accomplishments though – if you cross something off of your list then reward yourself by taking a break, calling a friend, watching a TV show, or something other than the wedding.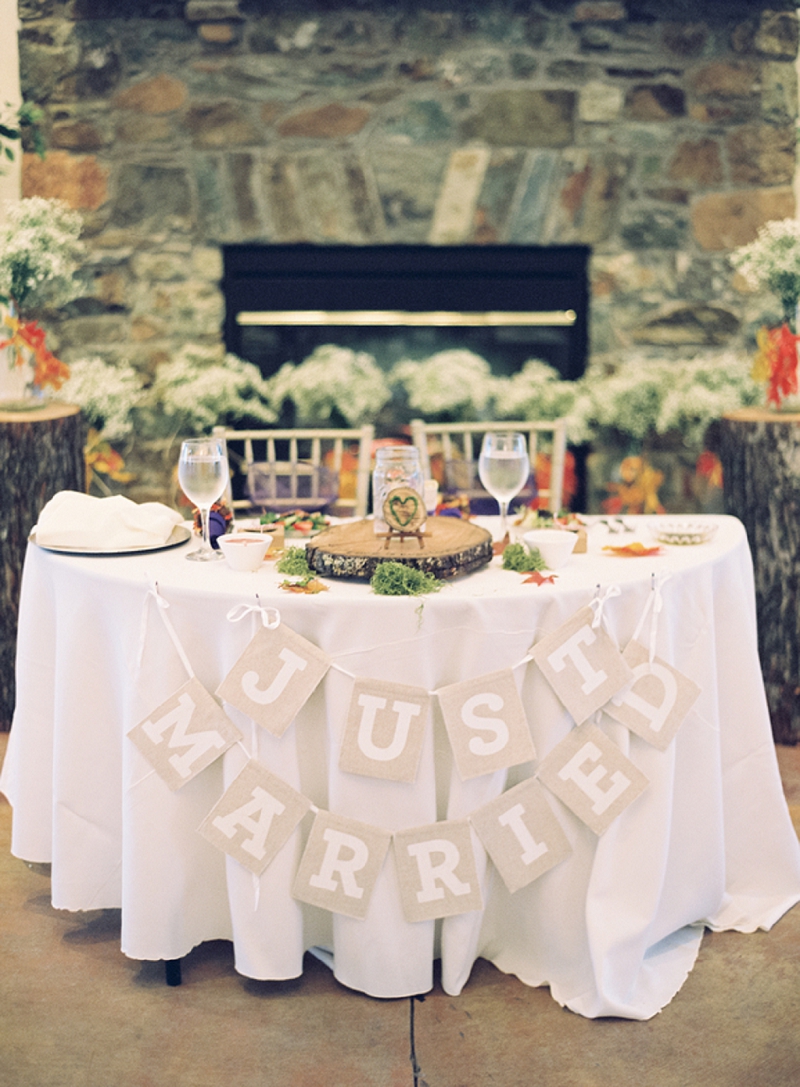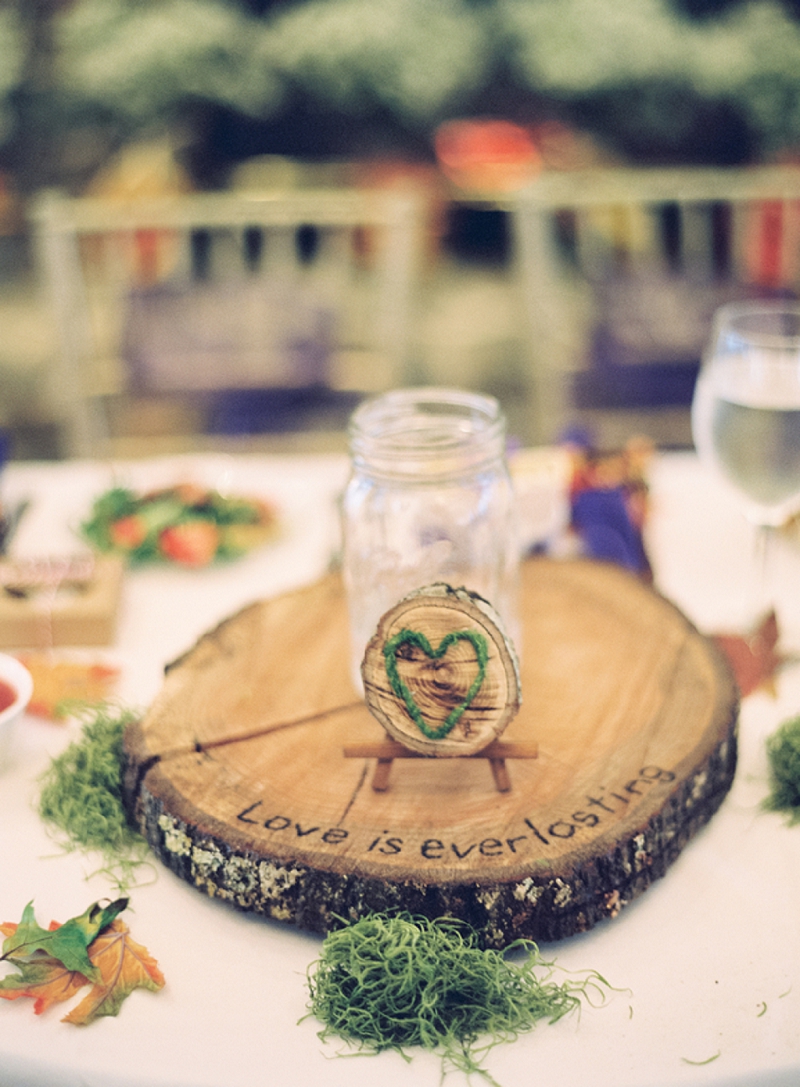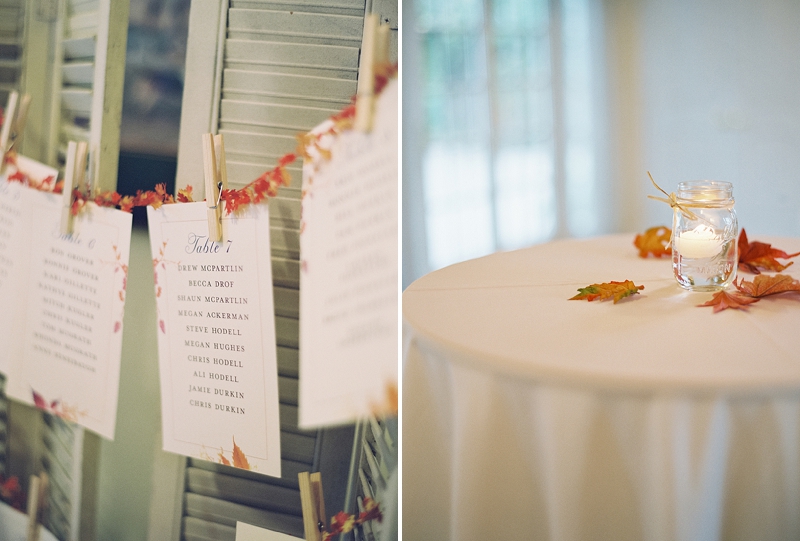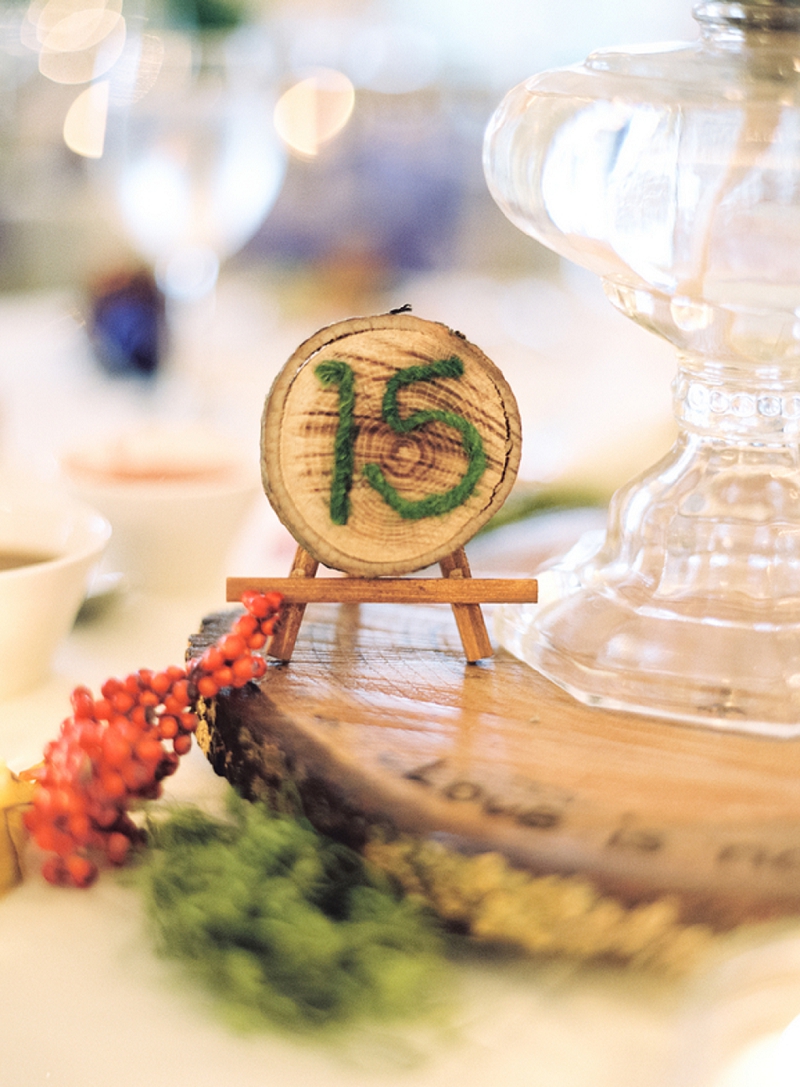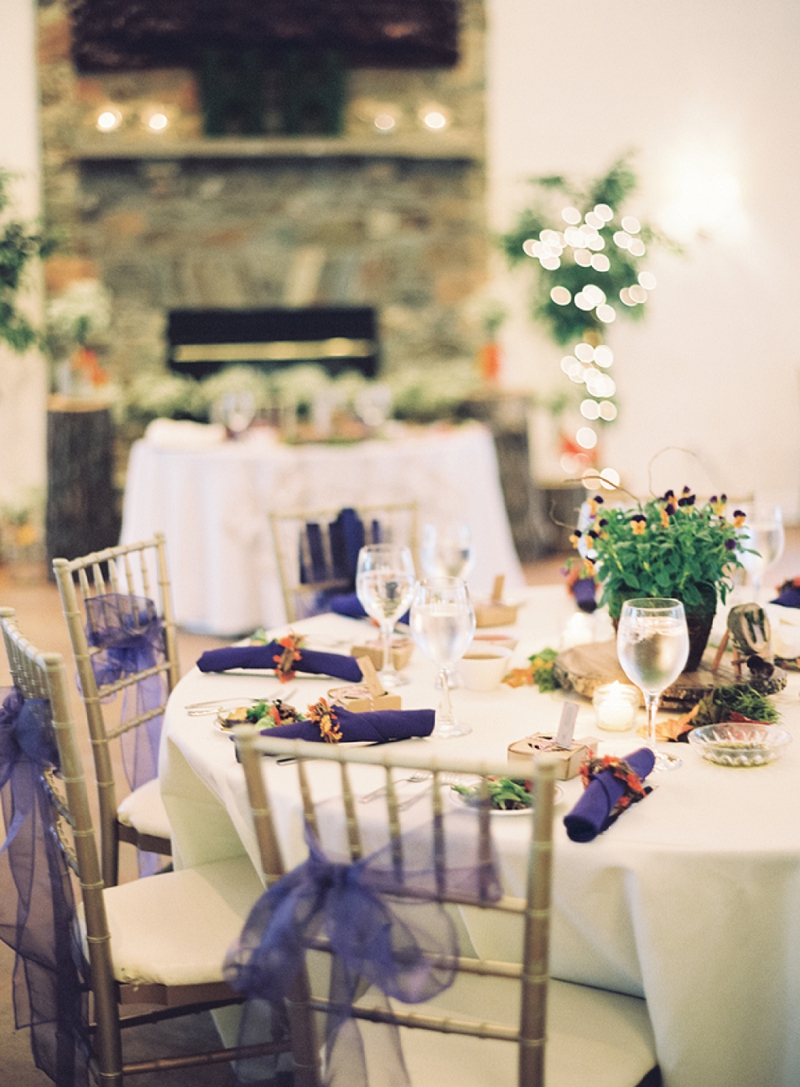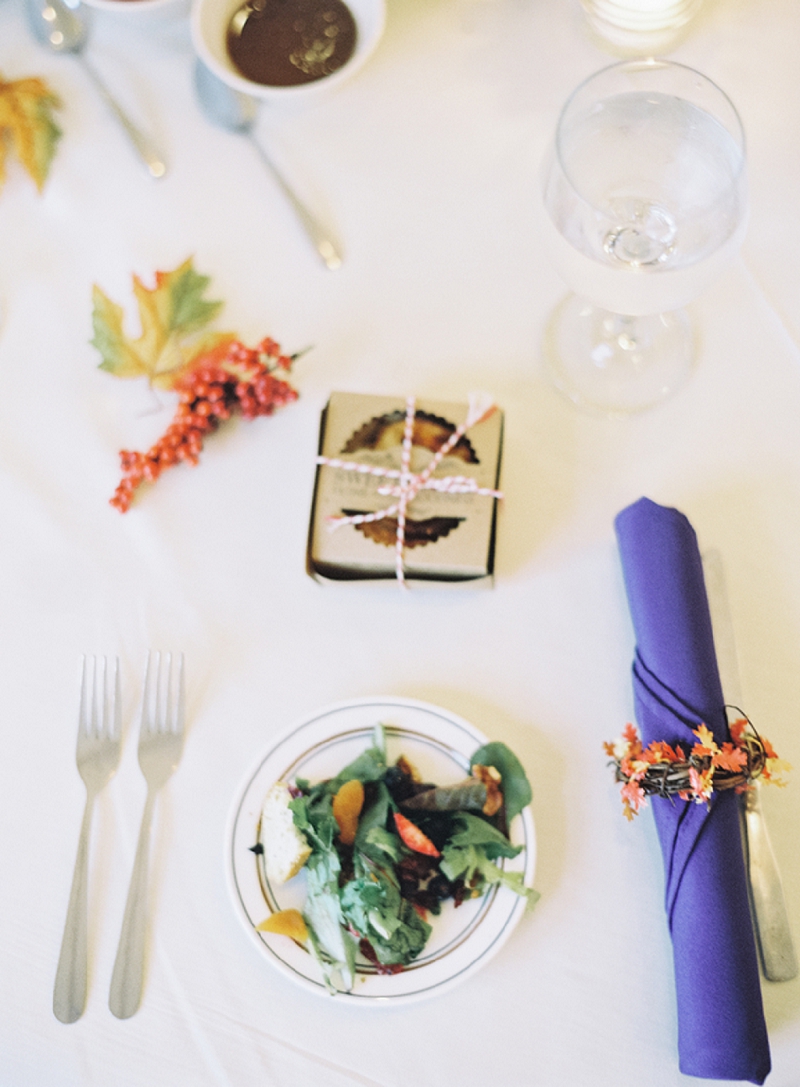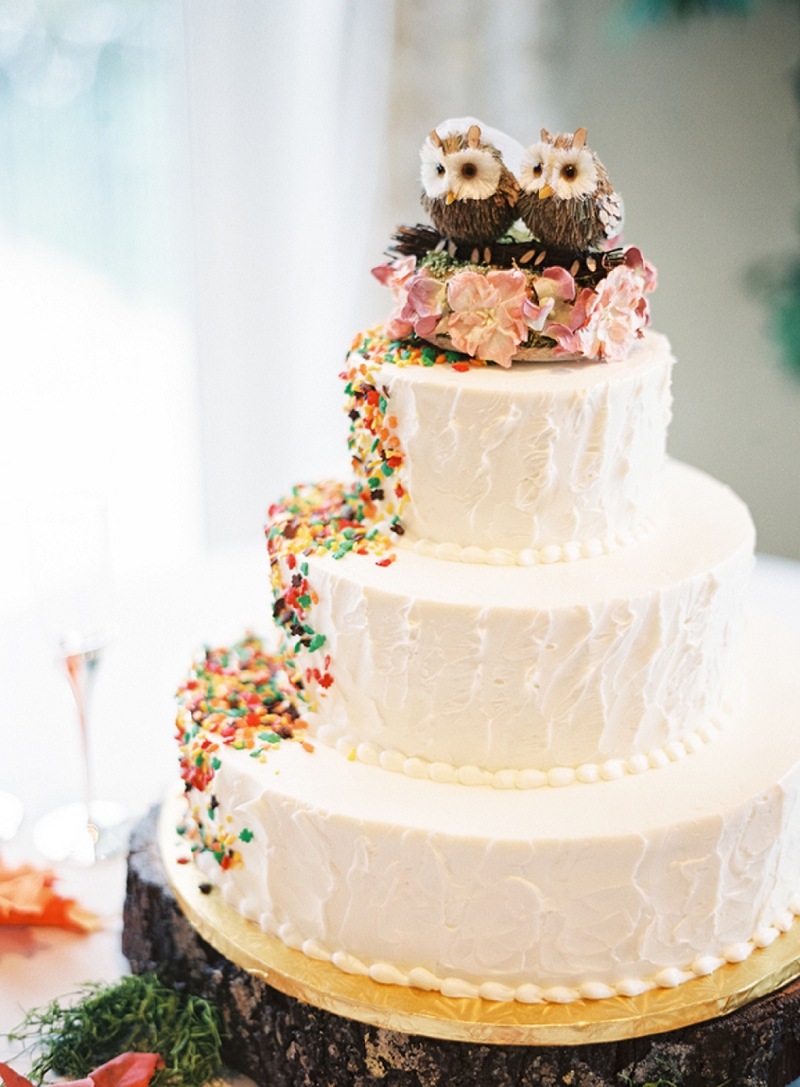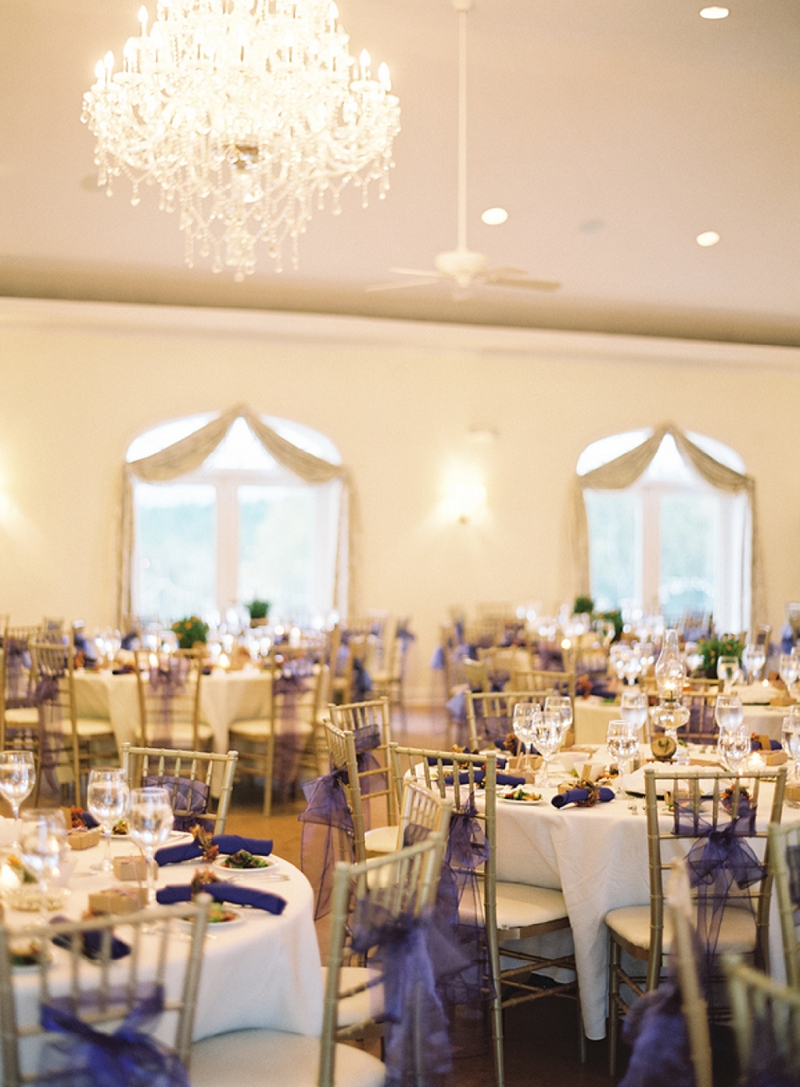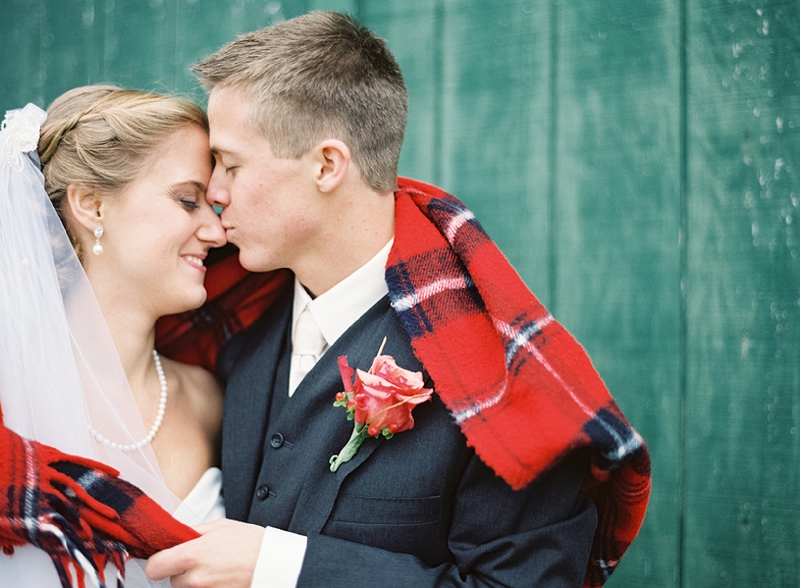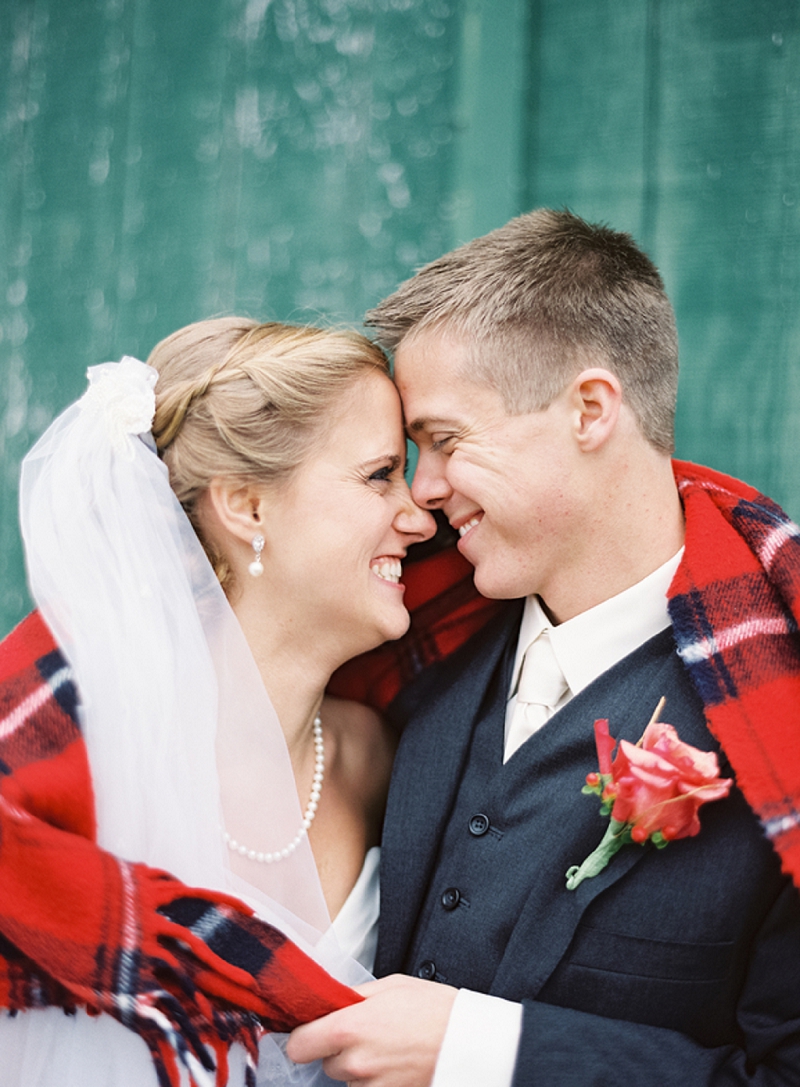 I love that Heather and Harrison met by those beautiful horses to pray prior to their ceremony. What a wonderful way to begin a marriage! To make it even sweeter, Harrison was blindfolded so that he wouldn't see Heather until the ceremony. Are you planning to see your groom for a "first look" or do you prefer to wait until you go down the aisle? I would love to hear your thoughts in the comments below!
XOXO,
Carlee
Vendors who made it all happen…
The following two tabs change content below.
Carlee Sizemore is an editorial and event stylist and designer of fabulous accessories. Like many others, she joined the wedding industry after planning her own wedding. Originally from the South, Carlee currently resides on the coast of Connecticut with her darling husband and adorable little boy.