I don't know about you, but one of the very first things I wanted to do when I got engaged was look for wedding dresses- and I'm pretty sure I'm not the only one! But once you have your dress, you may forget about one very big piece of the puzzle- your wedding jewelry! In my case, I totally forgot about my jewelry until a few weeks before my wedding. Not only that, but I really had no clue about what to look for and how to match to my dress. I ended up finding some great earrings, but it was purely by luck- I definitely wish I had some guidance to help!
Fast forward to this past Fall, when I met the fabulous owner of Thomas Laine Jewelry at Bridal Market. We of course got to chatting about wedding jewelry and accessories, and I shared my own jewelry story with her. Since I of course want to be able to provide as much information as possible, I figured why not inform brides about how to choose their wedding accessories?! And with that thought and the help of Thomas Laine, today's feature was born!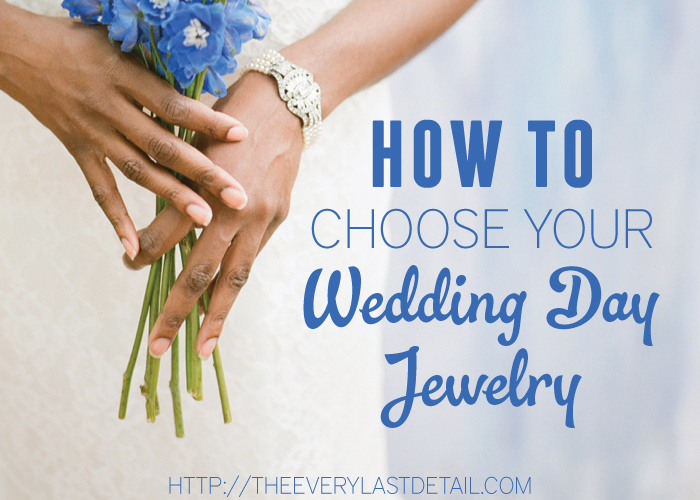 Armed with absolutely stunning pieces from Thomas Laine and using various wedding dress necklines, I created several different looks that show how you can accessorize yourself on your wedding day. In addition to the lovely looks that Esther Louise Photography captured on film, I also have tips and guidelines from the experts of Thomas Laine that you can follow when accessorizing each type of dress neckline. So no worries friends- no matter what style of dress you have, this will definitely help you choose your wedding accessories!
  ———————————————-
Bateau/Boat Neck
———————————————-
The bateau neckline follows the natural curve of the collar bone. Keep your accessories simple and elegant, so as not to compete with the fabric close to the neck. Necklaces with a little length are perfect for this retro style. You could also forego a necklace and go with mid-length earrings and a matching bracelet. We recommend drop earrings to create some movement, but not so long that they graze the shoulder or come close to the dress fabric. Depending on your hairstyle, you can accessorize with a hair comb as well for some extra bling.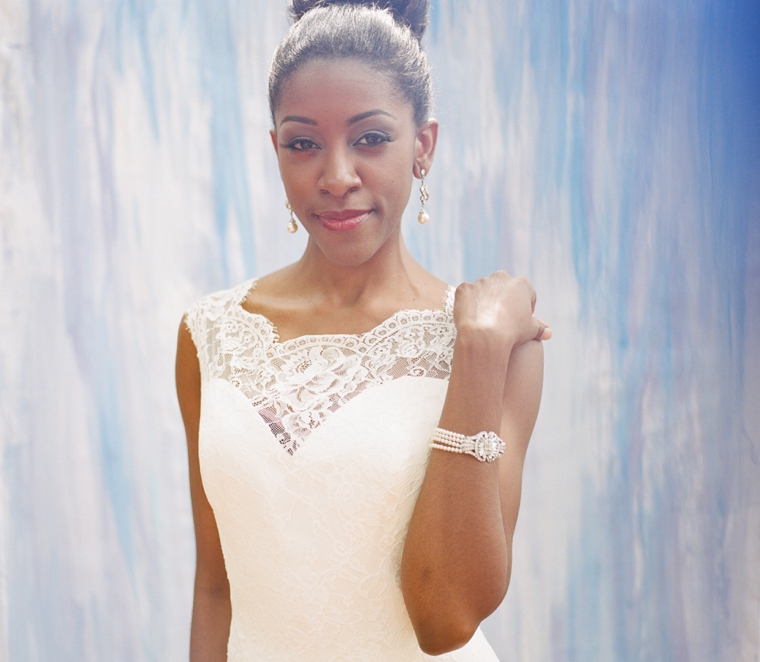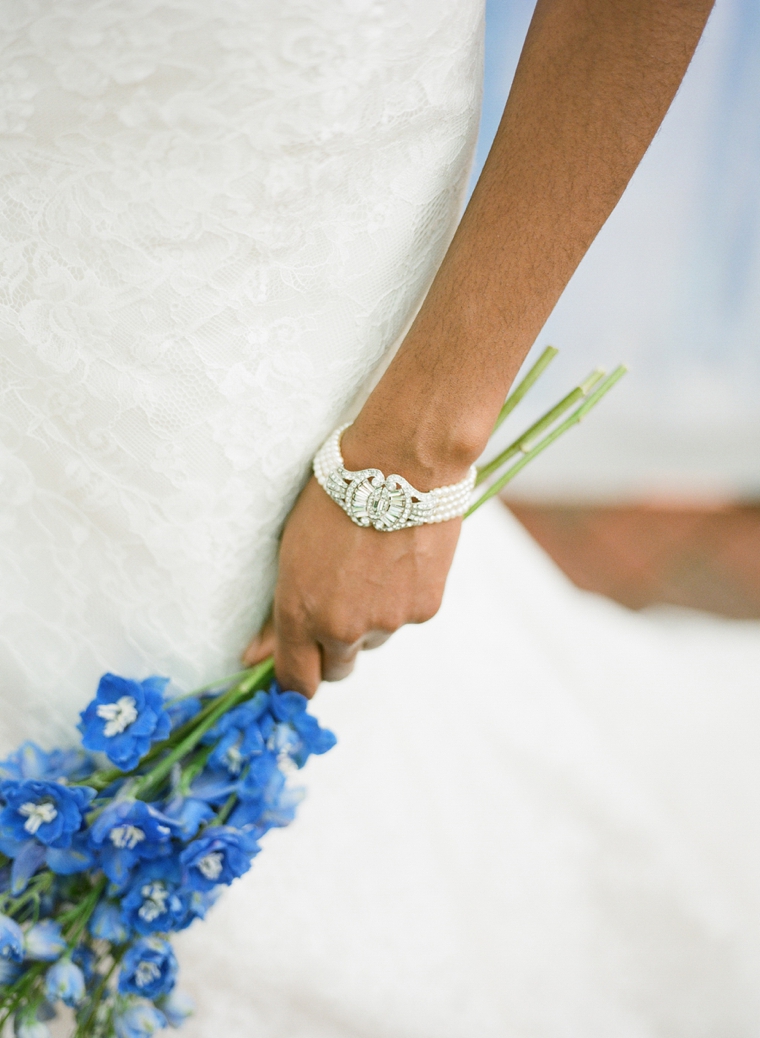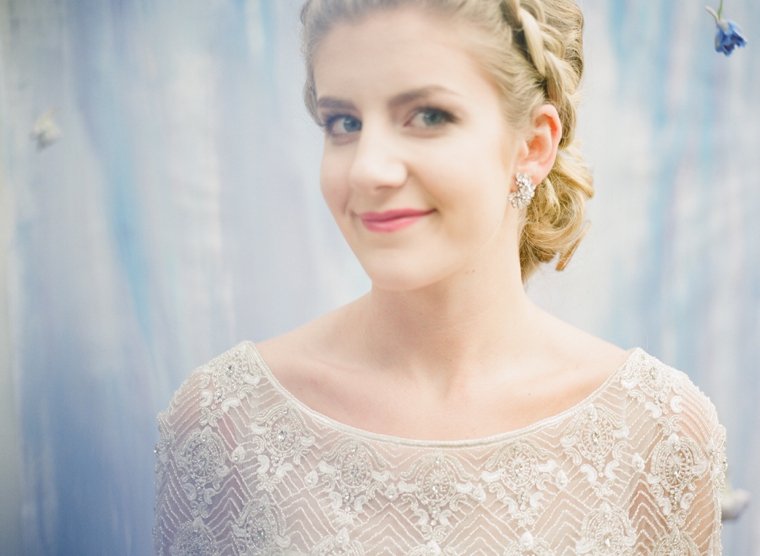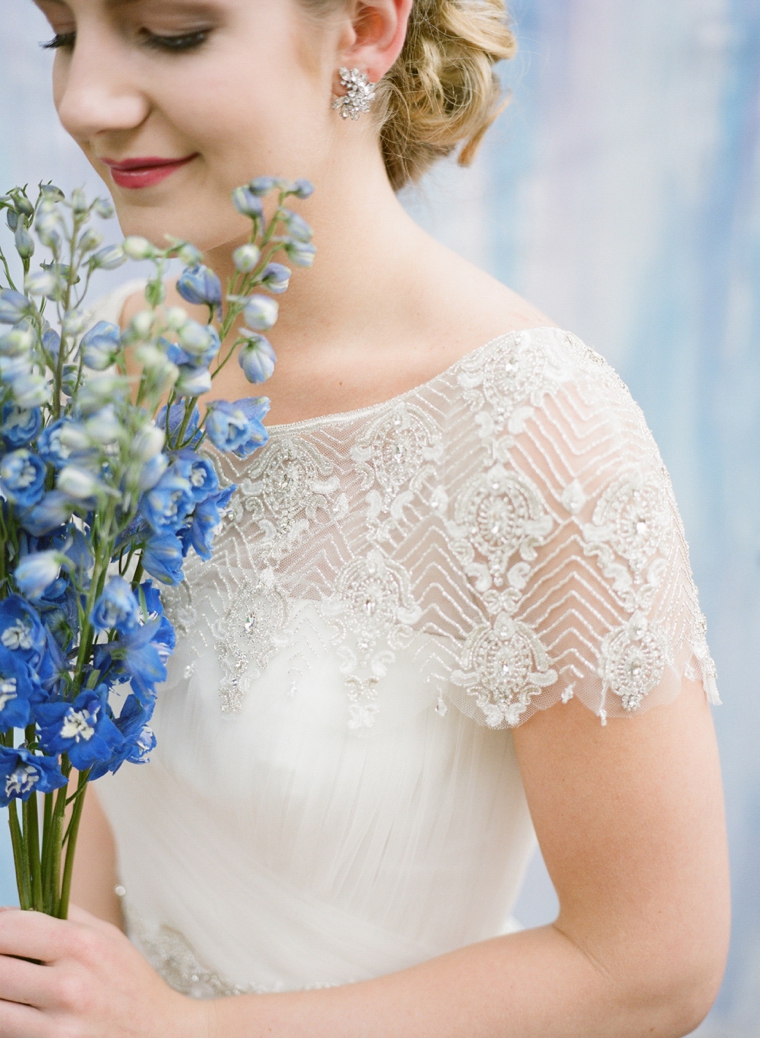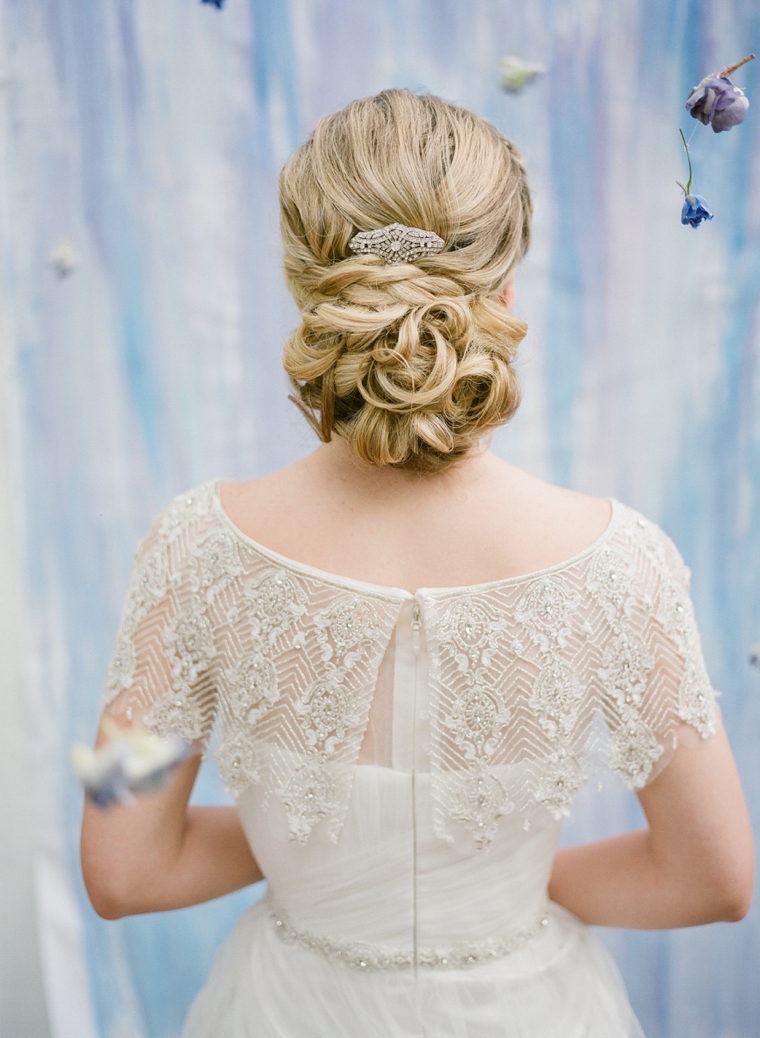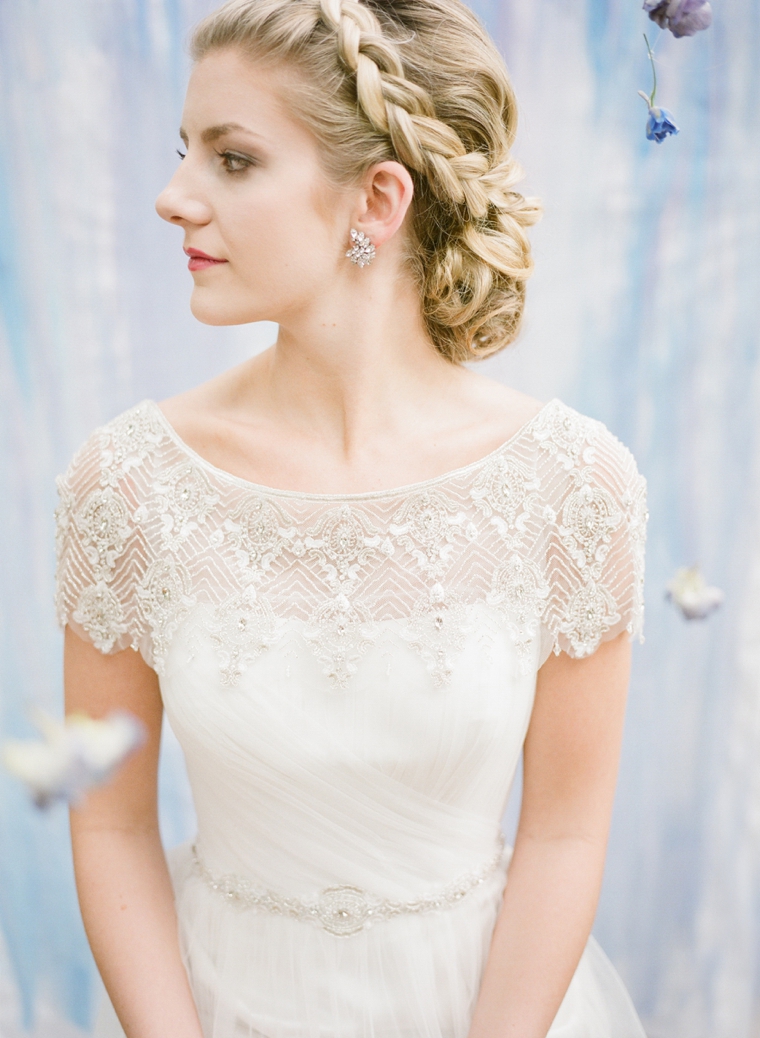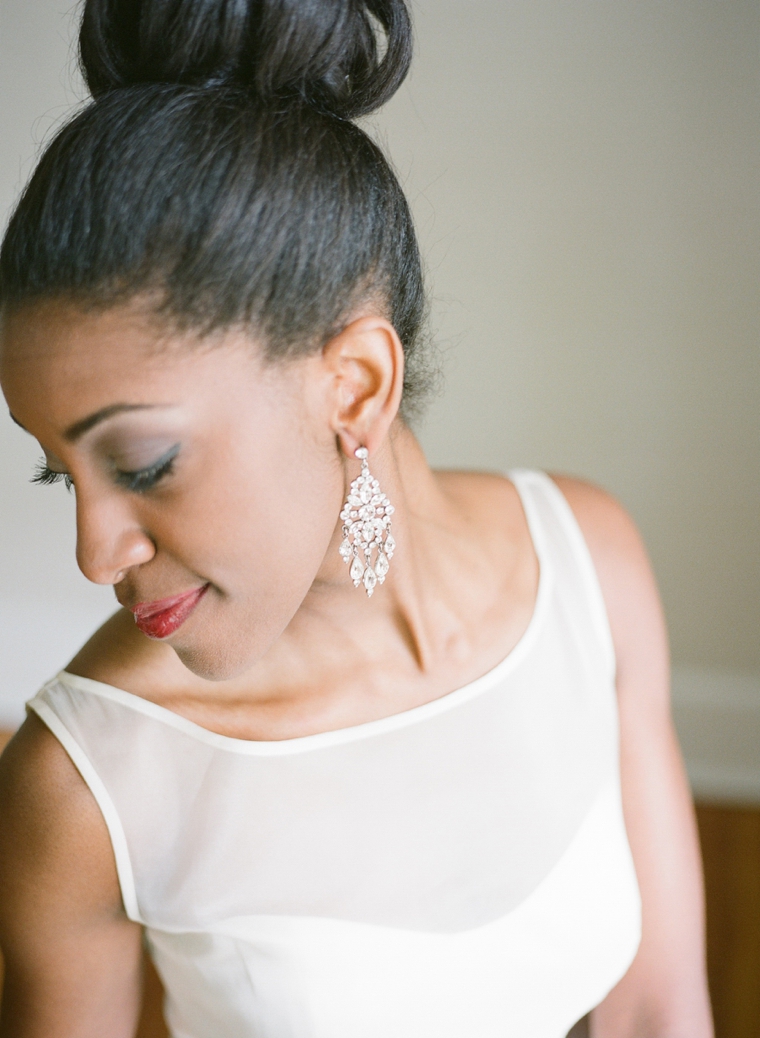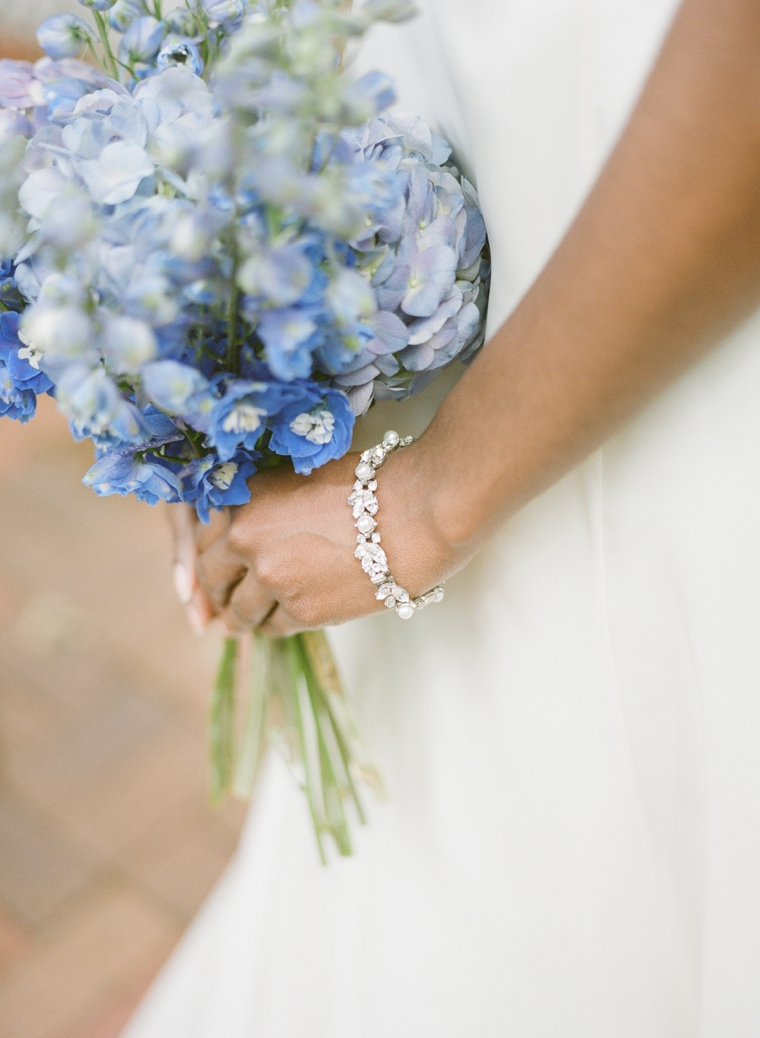 ———————————————-
Strapless
———————————————-
A strapless gown is fun and easy to accessorize because you can pair just about anything with it! Bold, multi-strand necklaces, bejeweled bibs, and even classic pearls pair nicely with this dress shape. If you go the bold route for your necklace, make sure you follow the less is more mantra for your earrings: studs or small drops are perfect. [Editor's note: Statement necklaces are my FAVORITE!!! ]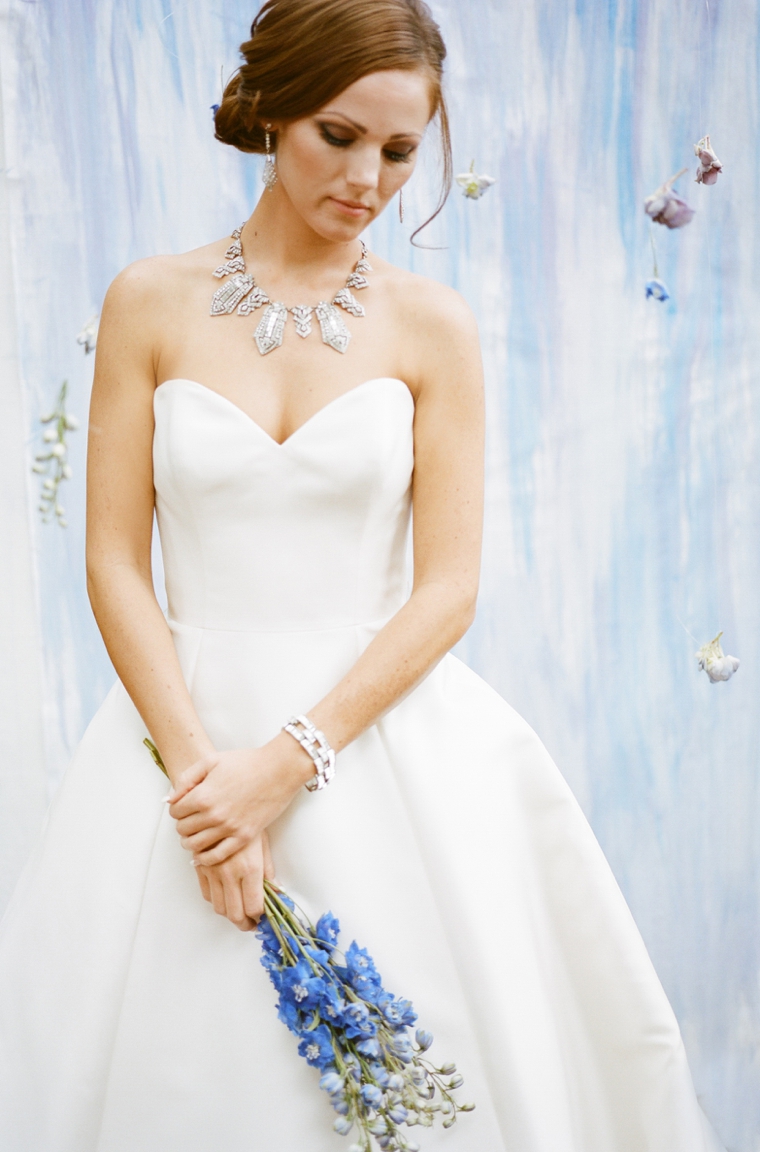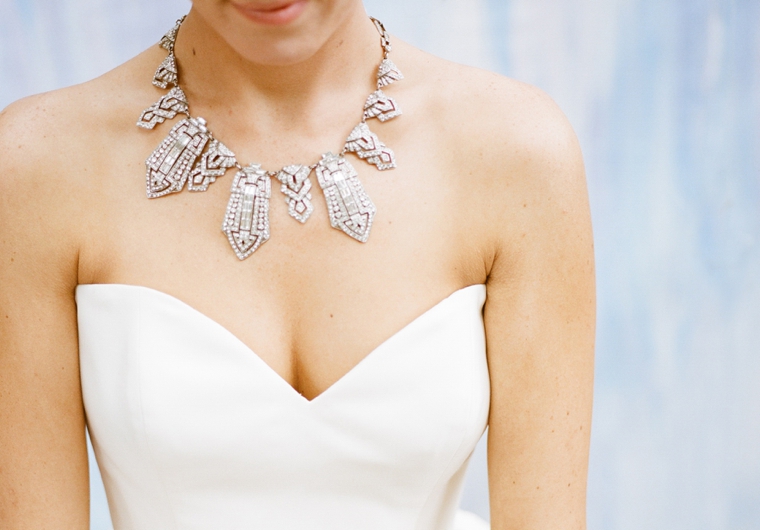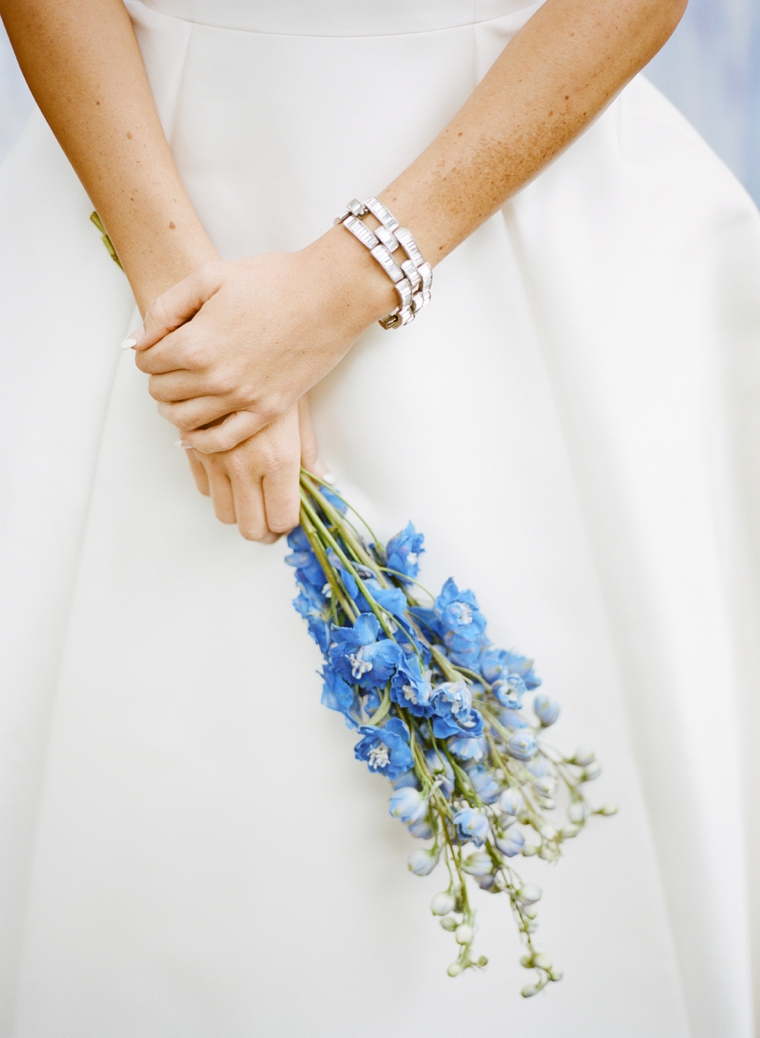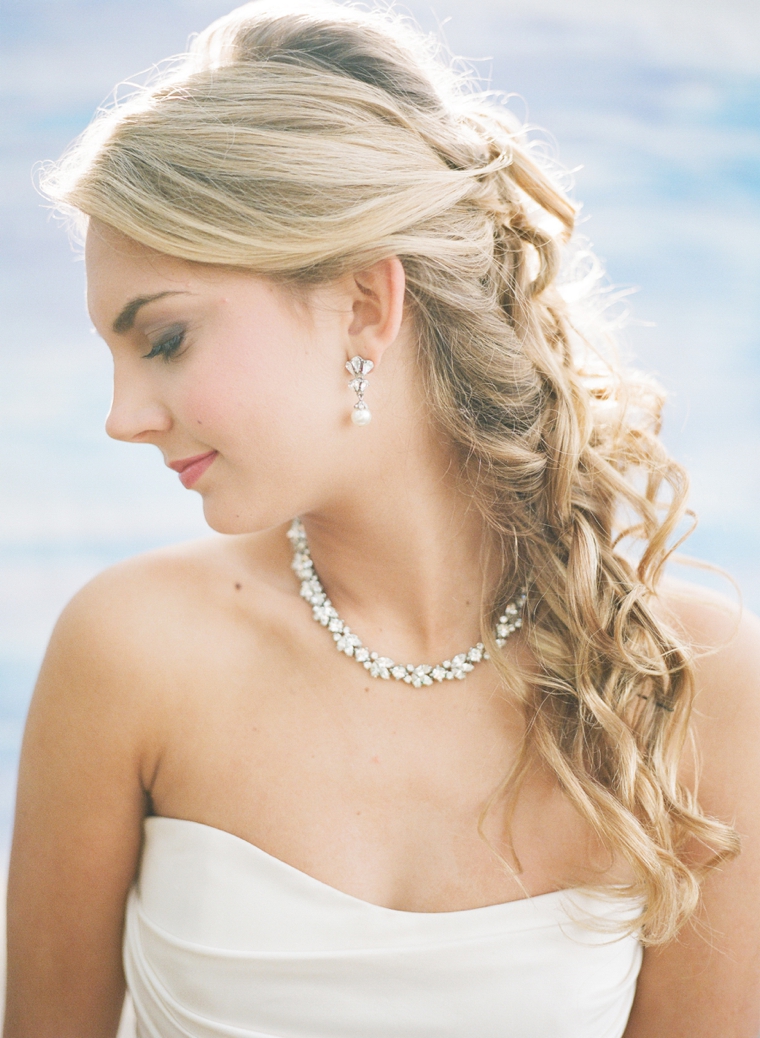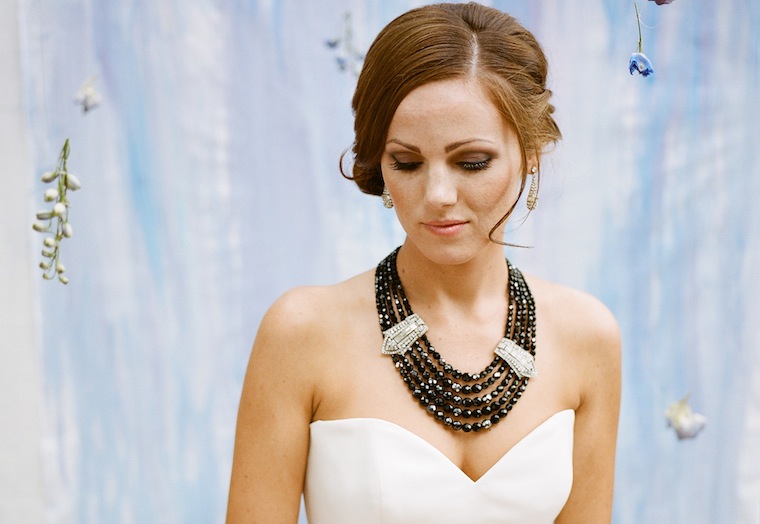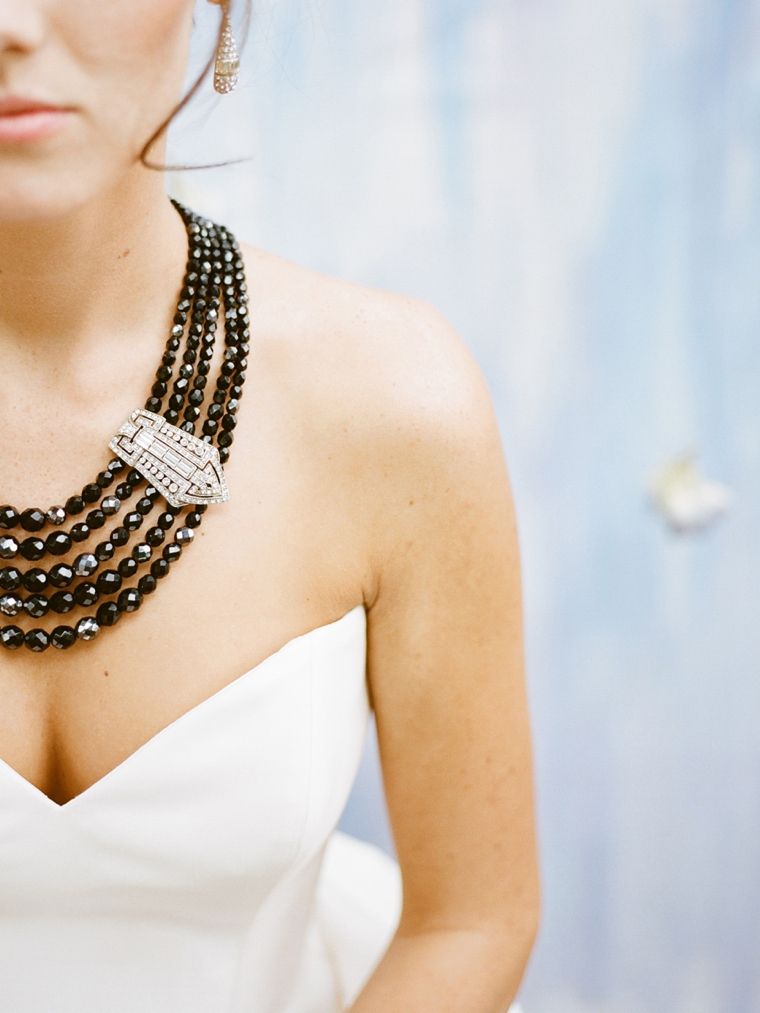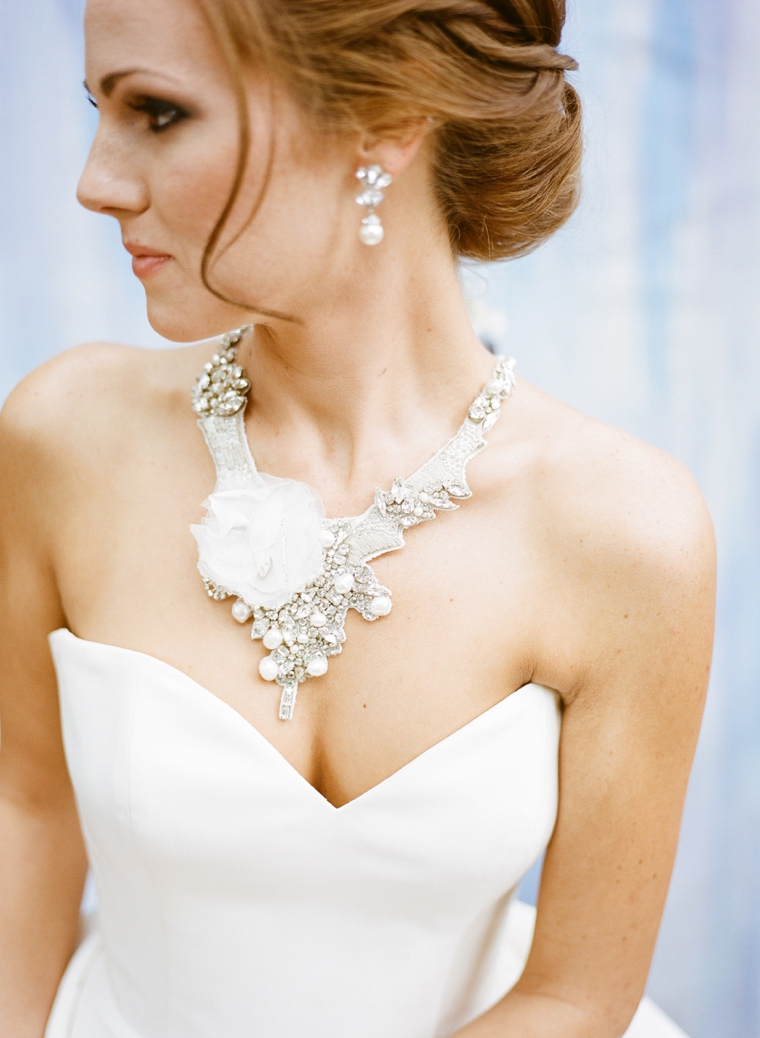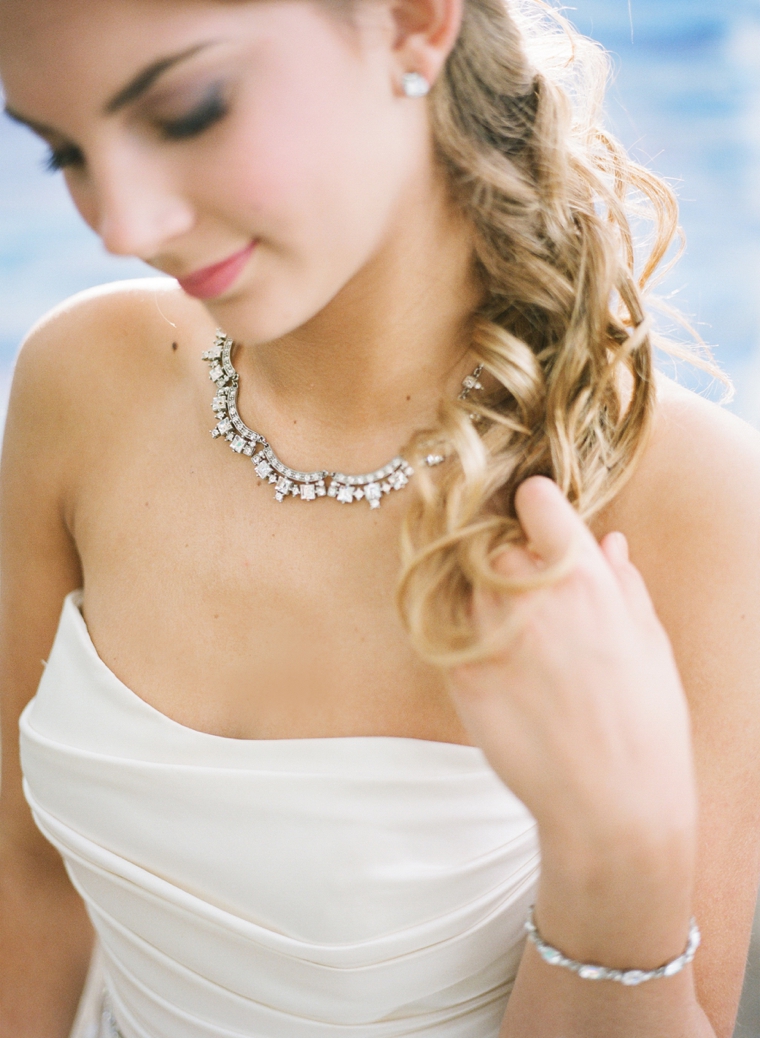 ———————————————-
V-Neck
———————————————-
The v-neck is being seen among many different styles of dresses lately. Depending on the style of dress, you could consider a simple pendant or pearl necklace, or even just a simple pair of earrings paired with a bracelet. A good rule of thumb is that you don't want your necklace to compete with the neckline of the gown. If the V-neck has a deep plunge and you want a glamorous look, you can go a step further and try an all crystal necklace that will really accentuate the plunge.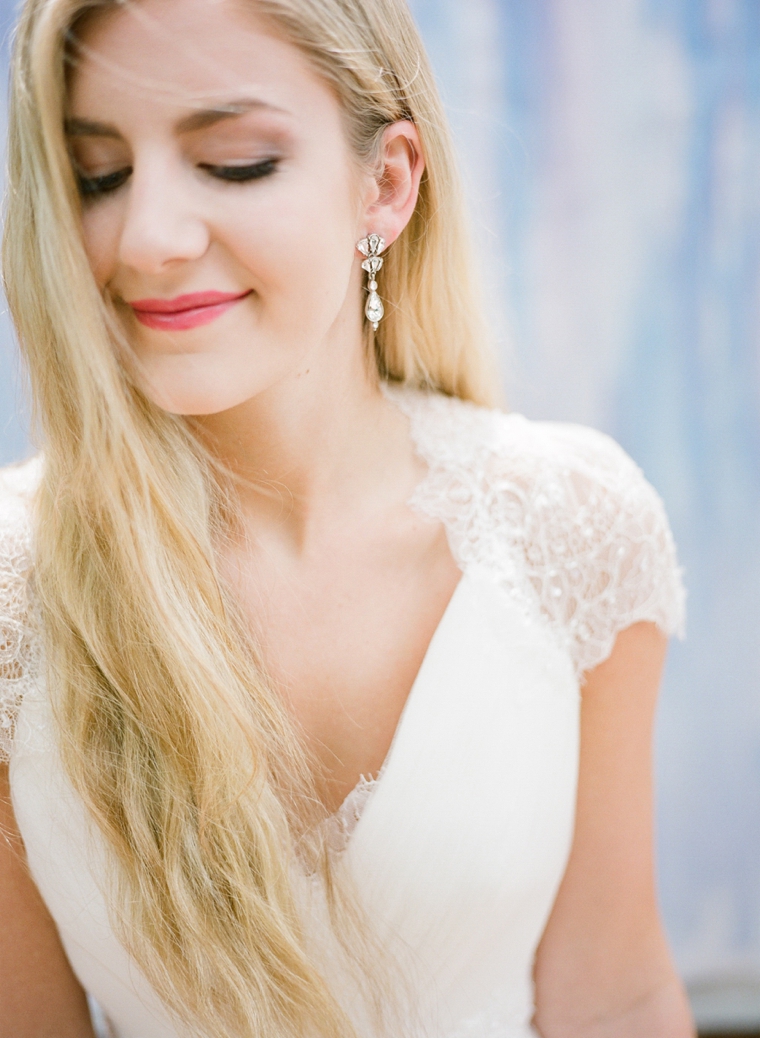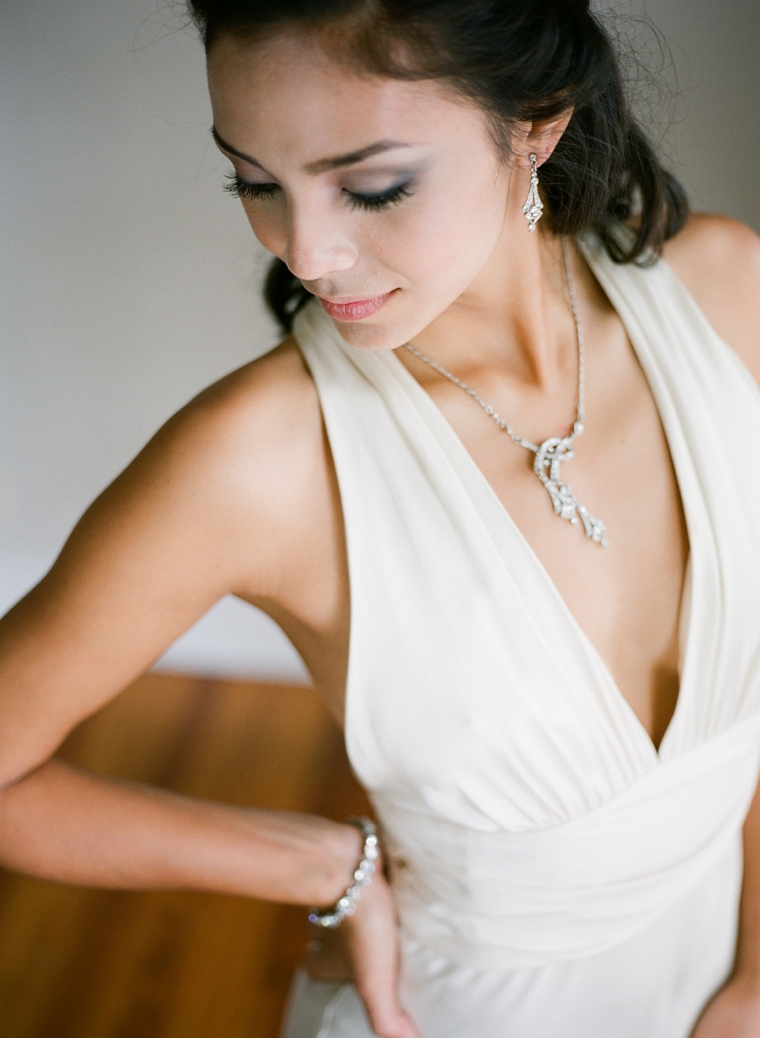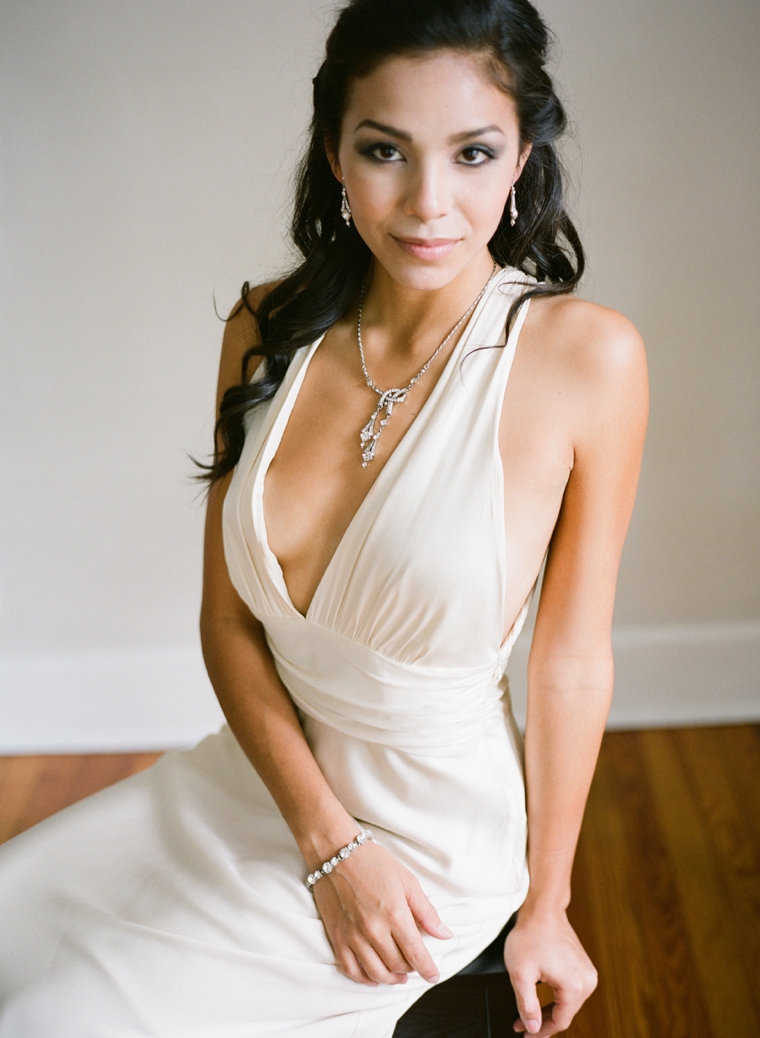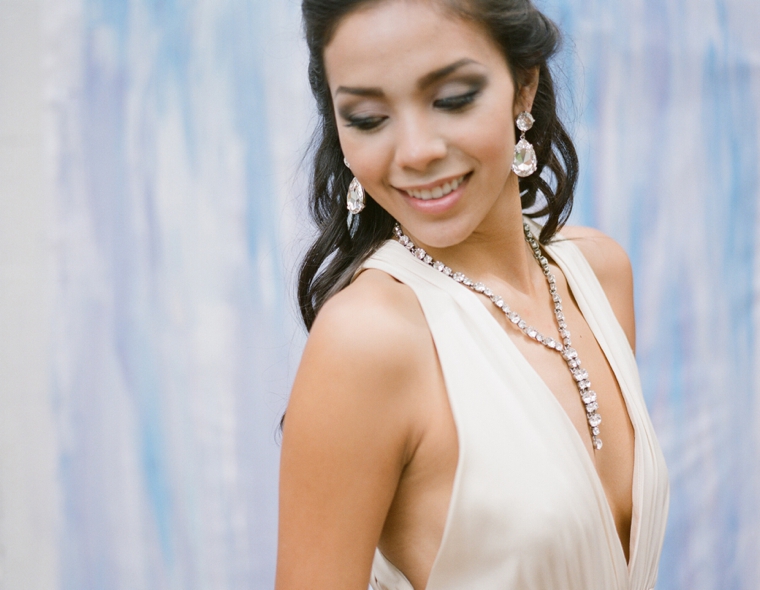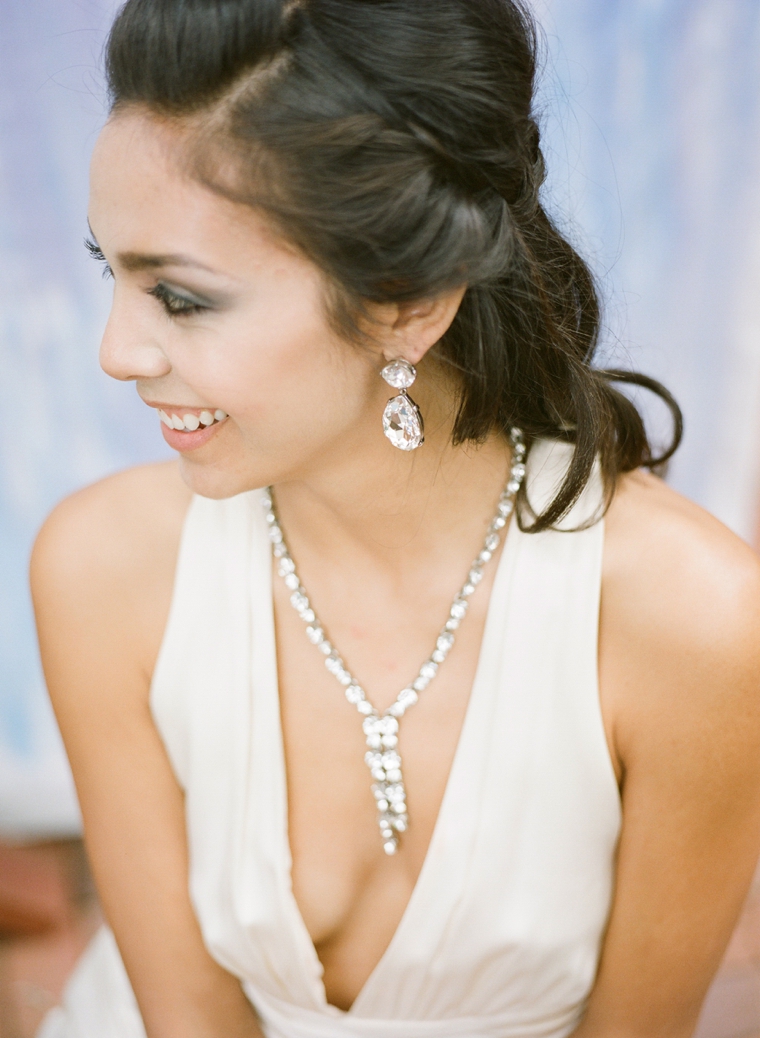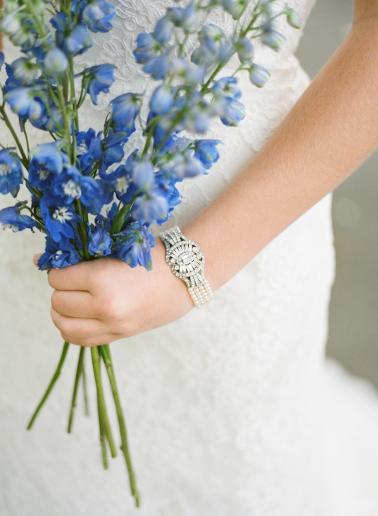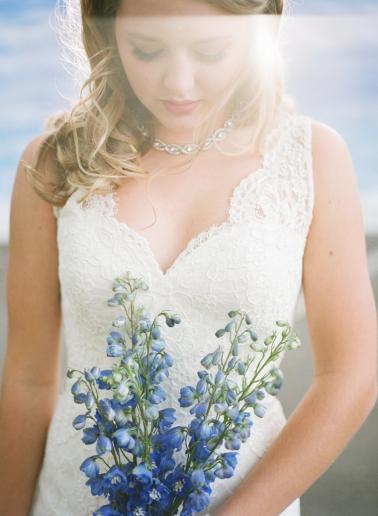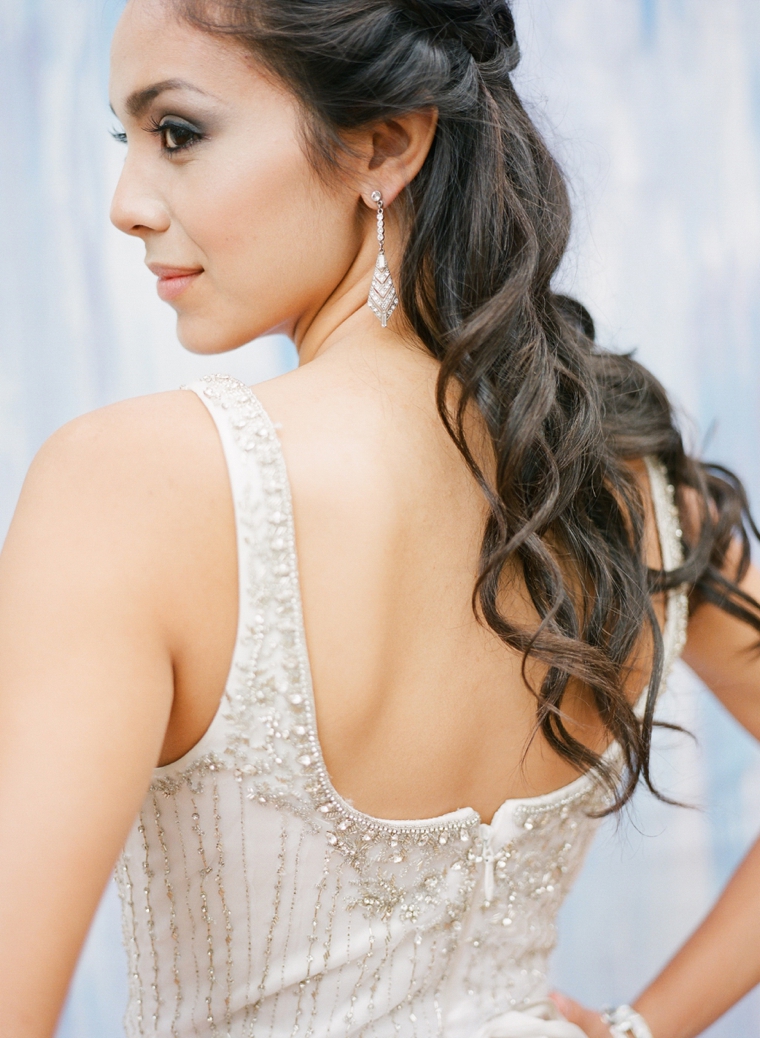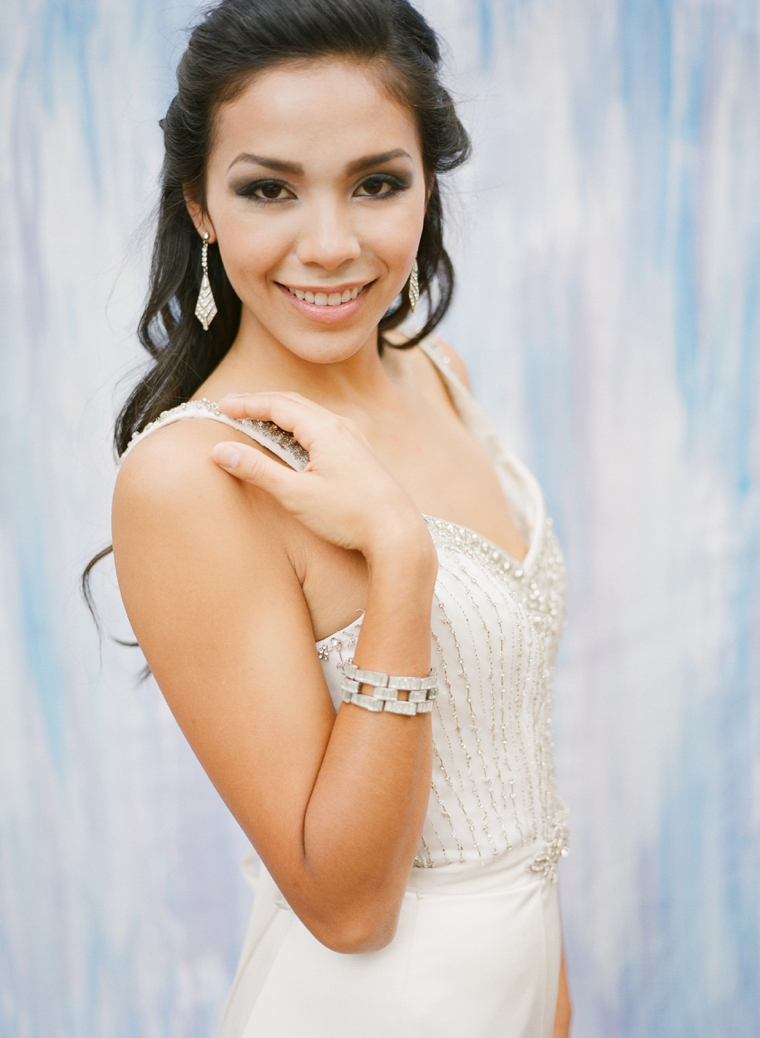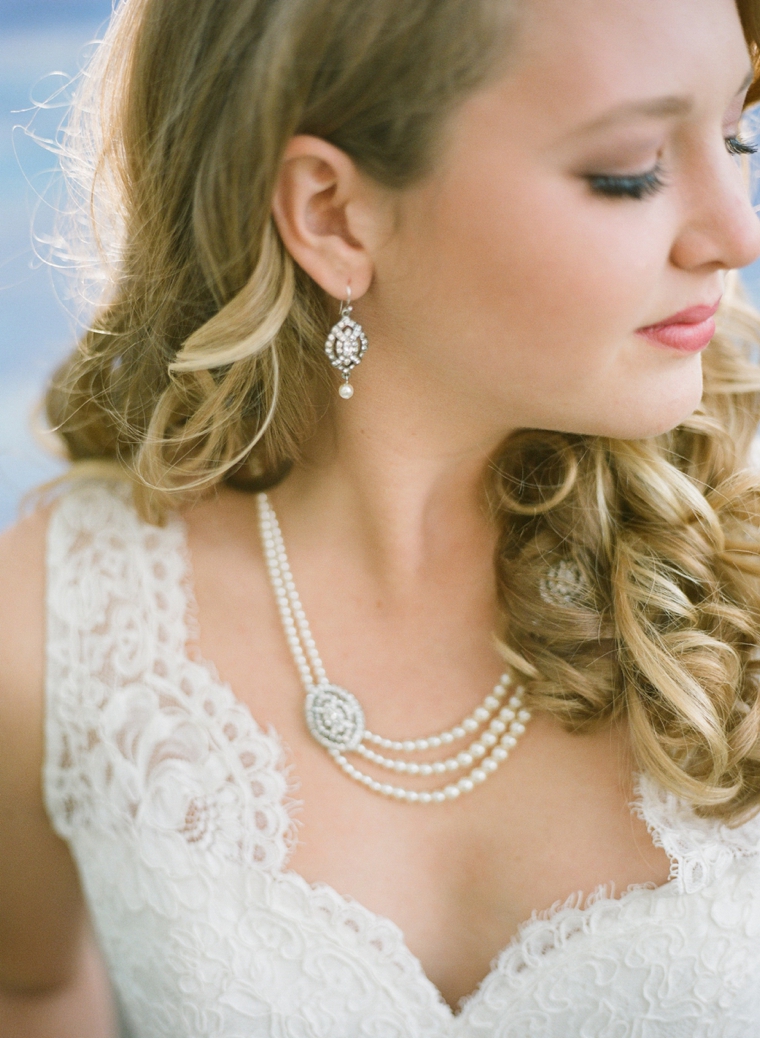 ———————————————-
One-Shoulder
———————————————-
Accessorizing a dress with a one-shoulder neckline will really depend on the dress itself. The dress used here was very simple, so we chose to accessorize with a necklace and earrings- similar to how we would accessorize a strapless. However, if you have a one-shoulder dress that has more detailing, then opt to just go for some gorgeous eye-catching earrings.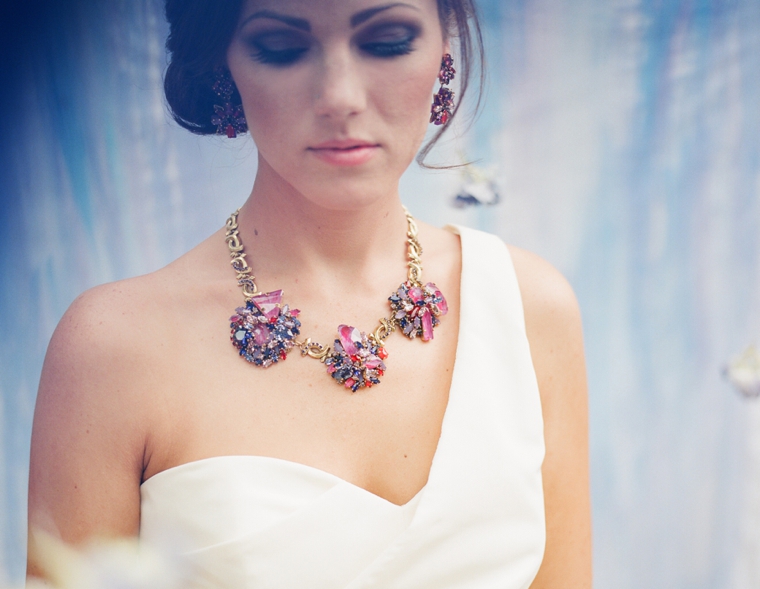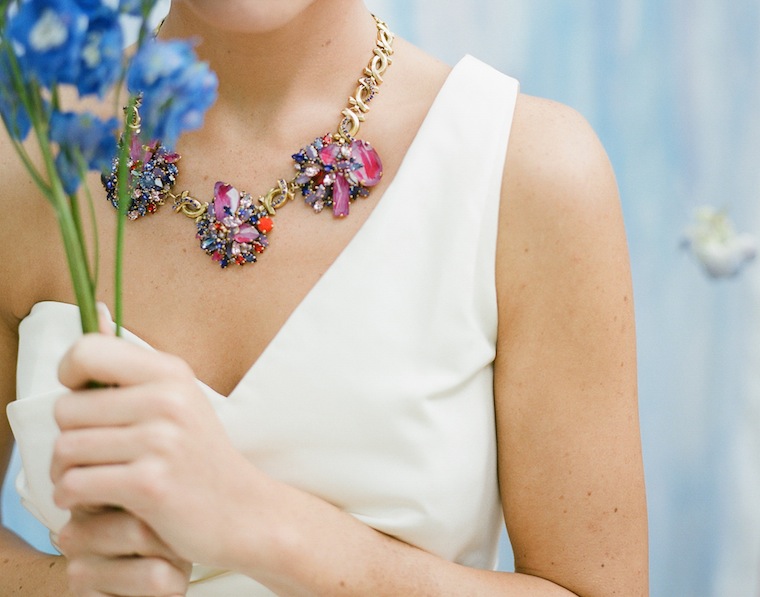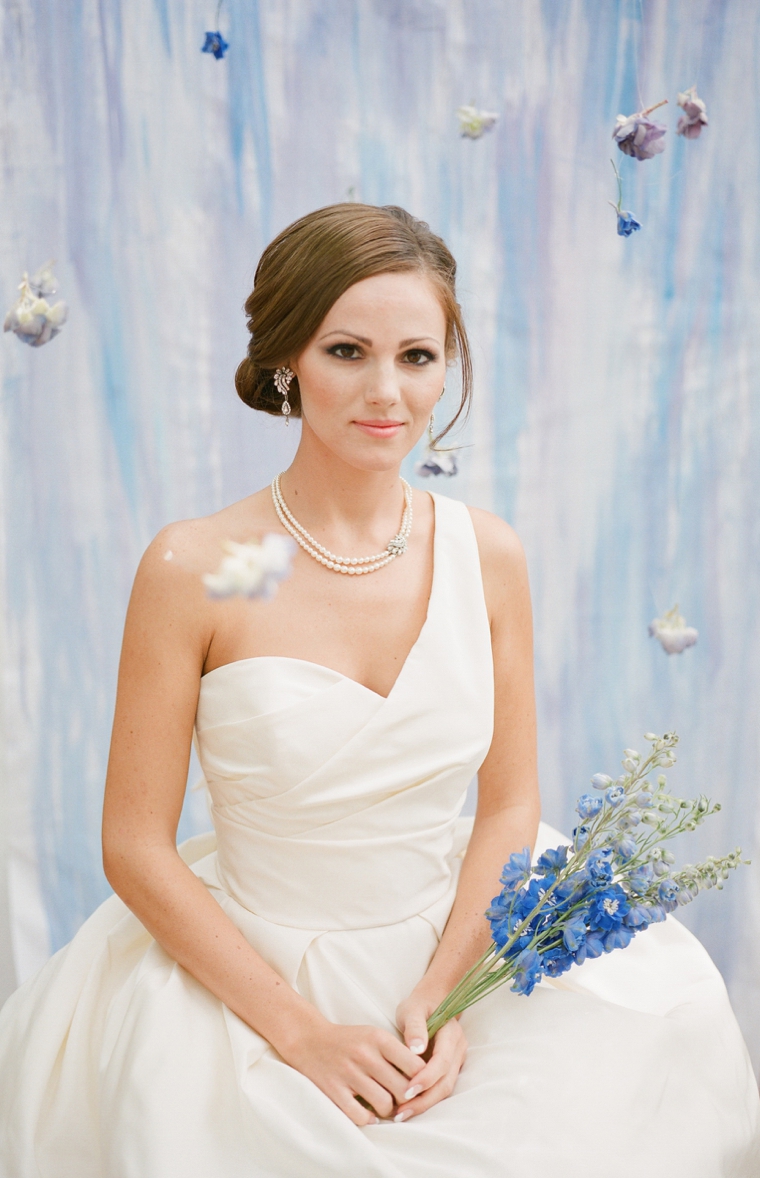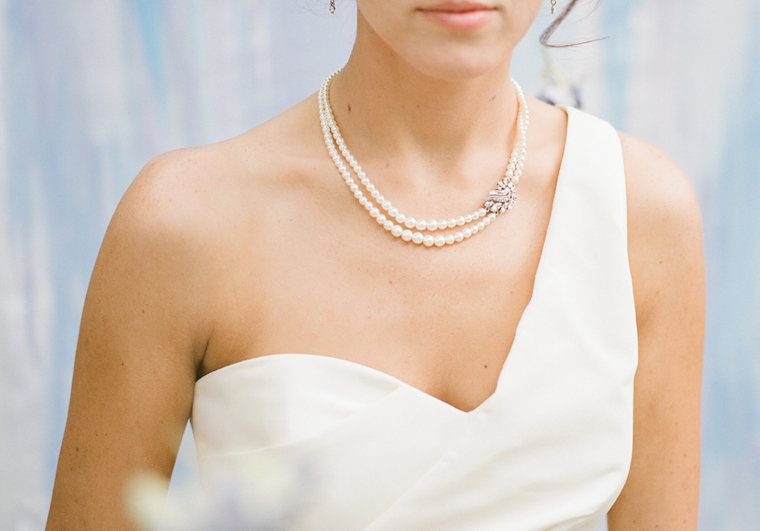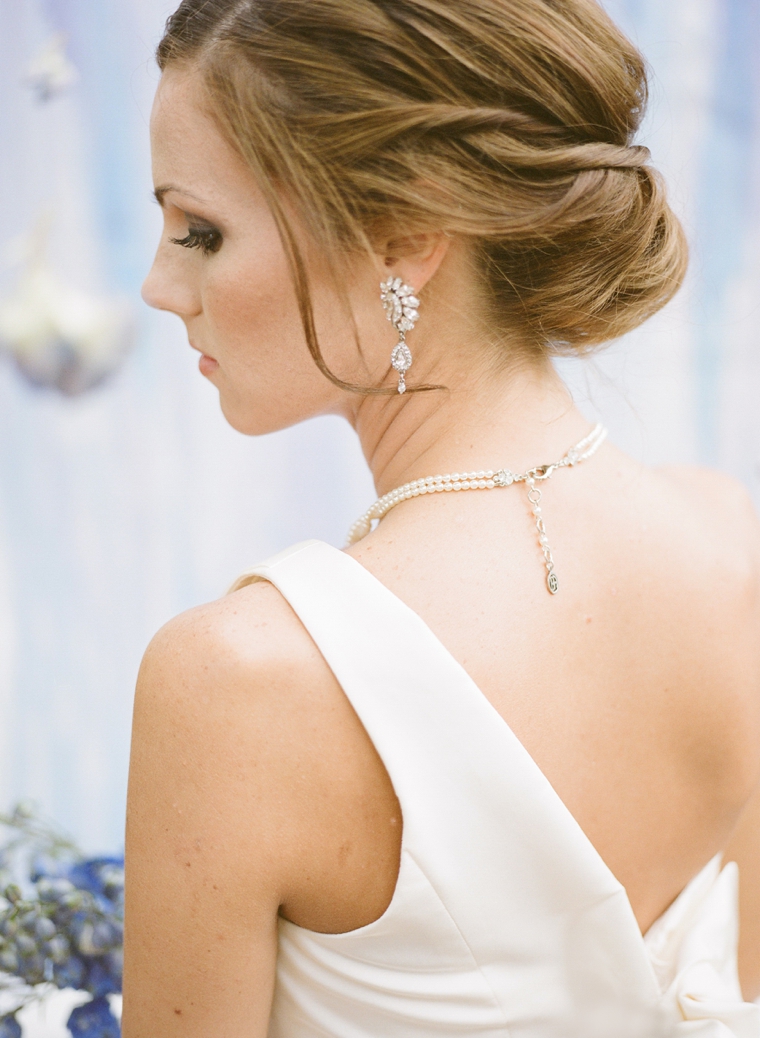 ———————————————-
Spaghetti Strap
———————————————-
If there are embellishments or beading on your spaghetti strap dress, as with a majority of gowns in this style, focus on earrings and a bracelet. If the gown has little to no beading on the bodice (as seen with the dress here) try a necklace that has a triangular shape to it.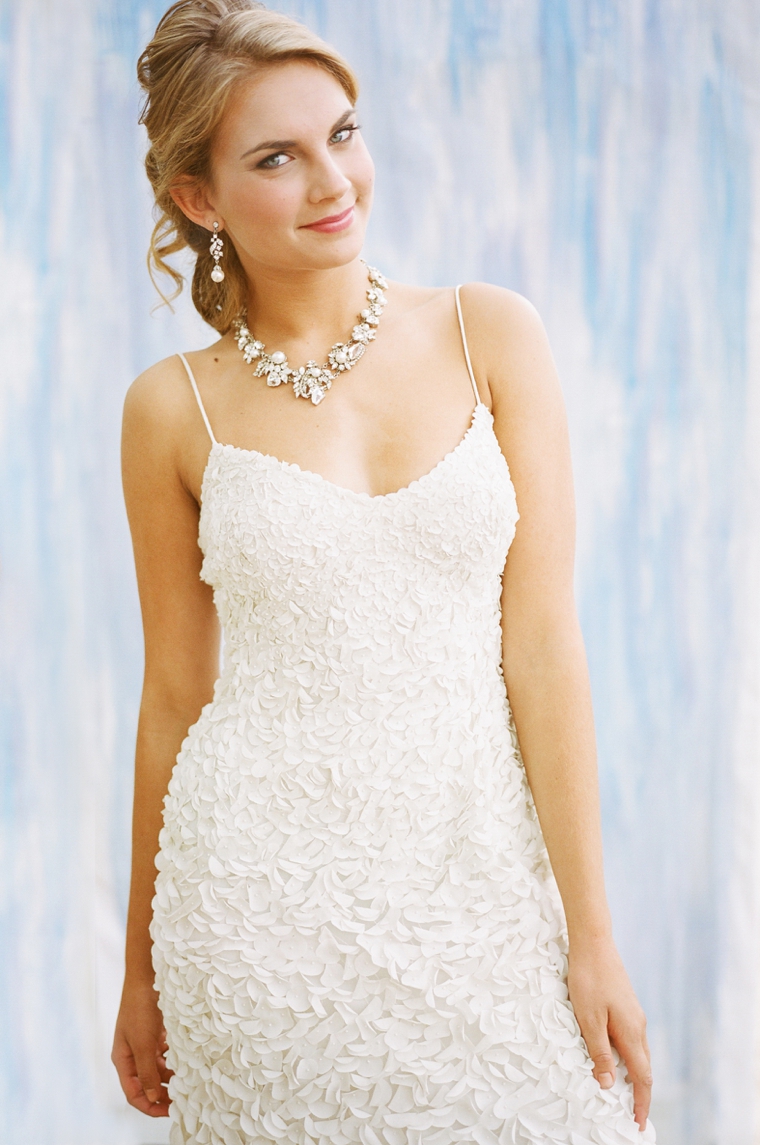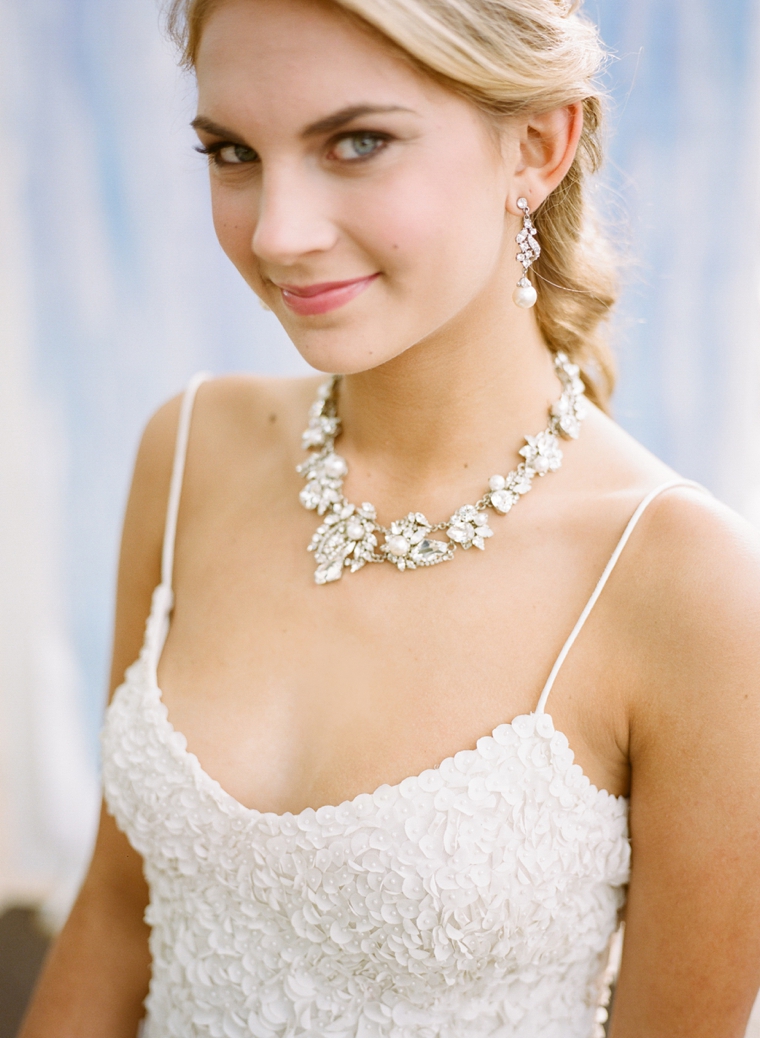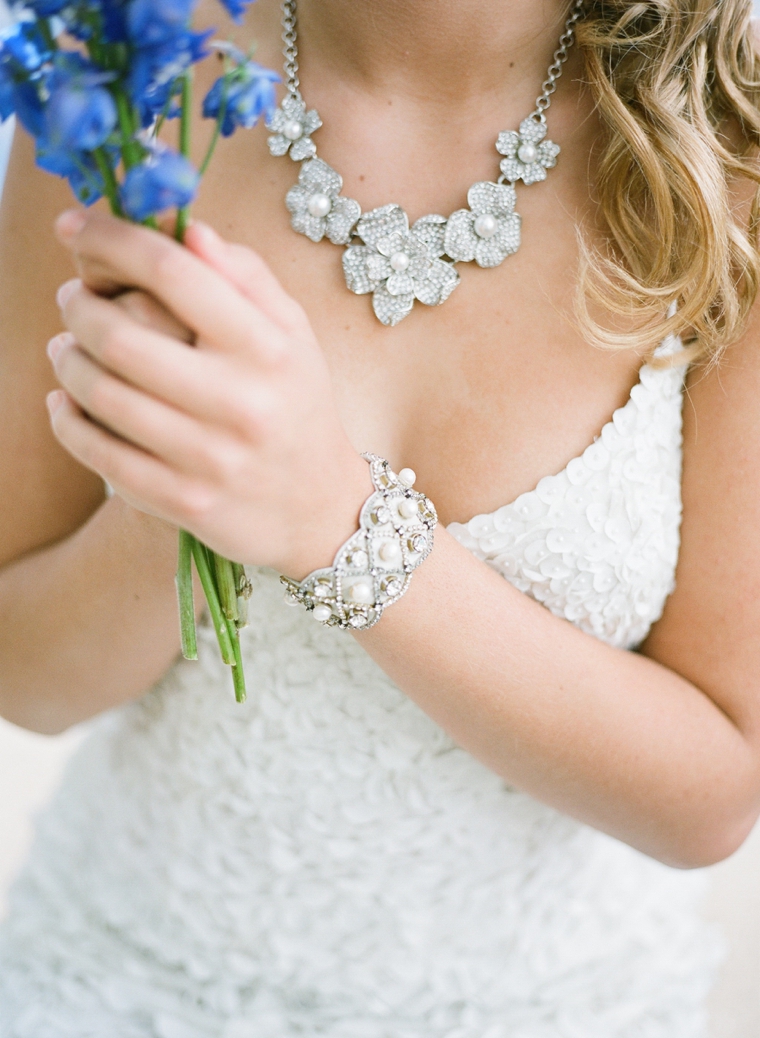 ———————————————-
Halter
———————————————-
The halter neckline is one that isn't seen too often, but they're definitely out there! Since the halter portion of the dress already draws a lot of attention, it's best to opt for mid-length earrings and a matching bracelet for this style. This is also a great opportunity to add some sparkle to your hair too!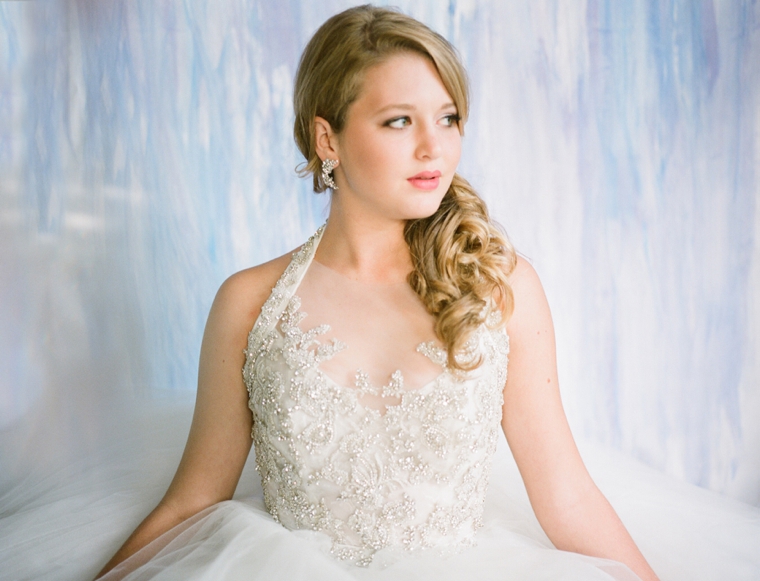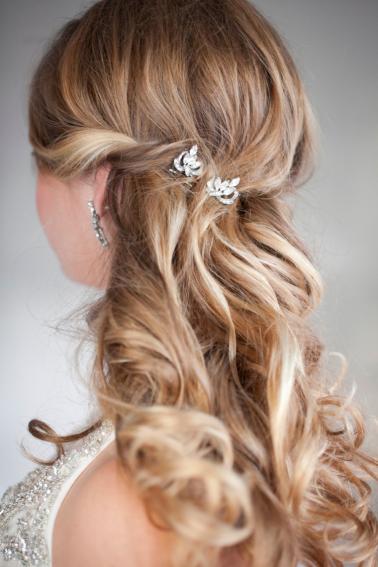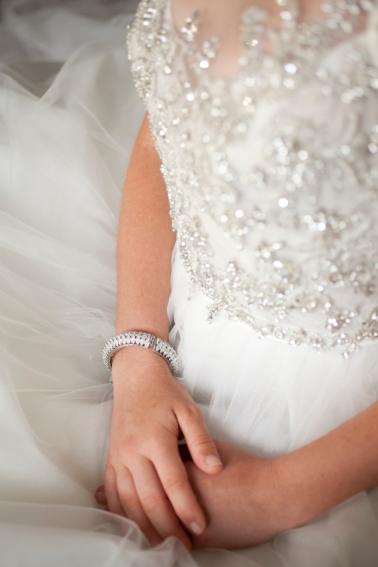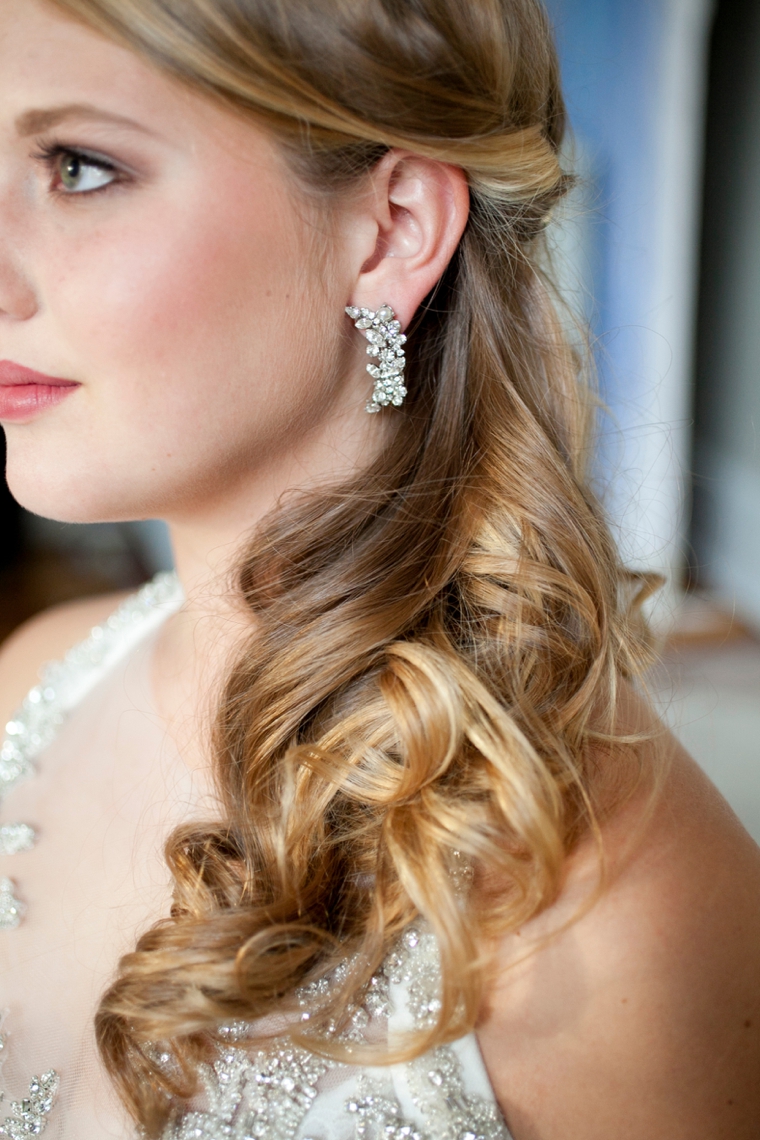 And now after all that pretty, you may be wondering about when you should choose your wedding accessories. Of course you don't have to rush right after getting your dress, but I recommend purchasing no less than 2 months before your wedding day. That way you can have your jewelry with you when you go for your dress fitting and you can try everything on all together!
———————————–
So there you have it! Six different wedding dress necklines and examples of how you can accessorize each one using gorgeous Thomas Laine wedding jewelry!
Out of all these looks, which one is your favorite? As I've said before, I'm definitely a fan of the statement necklaces!! But now with all this wedding day jewelry talk, I'm curious- have you started thinking about what you'll be doing for your wedding day jewelry?
This post was sponsored and made possible by Thomas Laine. All opinions, styling, and images are the author's own.
Vendors who made it all happen…
The following two tabs change content below.
Lauren Grove is the editor and owner of Every Last Detail. A clueless bride-turned-wedding planner, Lauren uses her experiences and knowledge to educate and inspire brides all over the world.